I think its time I confess something. I'm a pasta-a-holic. [Phew. I feel better.] And to be honest, its not really my fault. You see my mom's Italian and she loves pasta. She genetically passed down her love of pasta to me. [Its science.] So I can't help it, I love pasta. And if it were possible I would eat it every night. I have to limit my pasta intake during the week to one or two nights. One of those nights will most likely be something similar to this artichoke and penne skillet casserole. Or maybe both nights. Its really that good.
This recipe is inspired by my fellow Italian foodie, Emily. You see she made this amazing one skillet baked spaghetti and I drooled all over my keyboard. And then I went on the hunt for a cast iron skillet because hello – who wouldn't want to make a pasta dinner in one pan?! I was desperate for a cast iron skillet but the prices were holding me back. So I fretted for a few days and then scored a beautiful cast iron skillet for $17! It was like the pasta gods were shining down on me.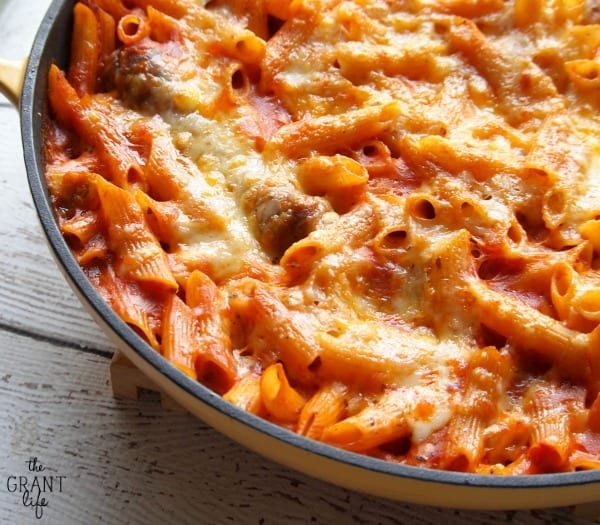 I brought home my treasure and Ryon was excited. He had been wanting a cast iron skillet for some time but I just didn't see the need for one. Well if you show me pasta in a cast iron skillet, I'm going to want one. [Heck, show me pasta in a rain boot and I'll want to buy one.] I seasoned the skillet and then tried Emily's recipe. Oh my gosh was it good yall! It was gone the next day. The kids ate it up and so did we.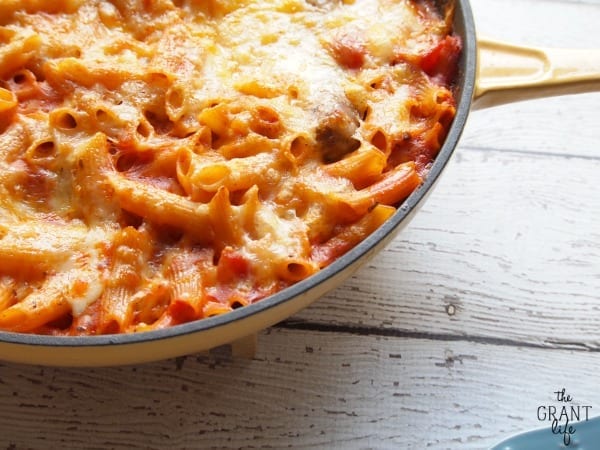 Day two of pasta was this artichoke and penne skillet. Like the next night. I fired up my cast iron and created my own pasta dish in my new skillet. And it was good. Like I called my momma over to have dinner with us because I knew she would love it – kind of good. And when Ryley asked for seconds that night my pasta loving momma heart grew ten times its normal size. That's good pasta genetics.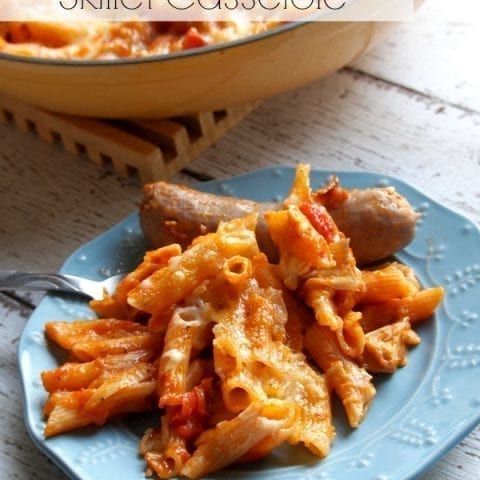 Artichoke and Penne Skillet Casserole
Ingredients
1 bag or box of penne pasta
1 small jar of marinated artichoke hearts
1 small jar of roasted red peppers
1 28ox jar of pasta sauce or crushed tomatoes
1 tsp basil
1 tsp oregano
1 package of brats (or meat of choice)
2 cups of water
1 cup of shredded cheese (I used Swiss)
Instructions
Pour both the artichokes and roasted red peppers into your skillet, including the liquid.
Add your meat and spices and cook until browned.
Pour in the pasta sauce and the water.
Add your pasta but make sure to push it down under the liquid.
Let boil on the stove top for 15 minutes or until your noodles are al dente.
Your water should be mostly absorbed at this point.
Remove from the stove top and cover with your cheese.
Place until the broiler for 5 minutes, or until your cheese is melted.
Carefully remove, let cool and enjoy!
Nutrition Information:
Amount Per Serving:
Calories:

1024
Cholesterol:

175mg
Sodium:

1837mg
Carbohydrates:

74g
Fiber:

16g
Sugar:

13g
Protein:

51g
Hungry for more posts like this one?