One of my friends told me the other day that I might be obsessed with my cast iron skillet. [I'm looking at you Kiki Mojo.] And you know what, I think I am. If given the option of my cast iron or my regular fry fan, I'll pick the cast iron every time. [Unless its dirty and I'm hungry, because let's keep it real, I don't want to wash dishes when I'm hungry.] I could list the reasons I love it or I could just share delicious recipes like this easy skillet blondie. Because if you can make desserts in a cast iron skillet, then what more do you need?!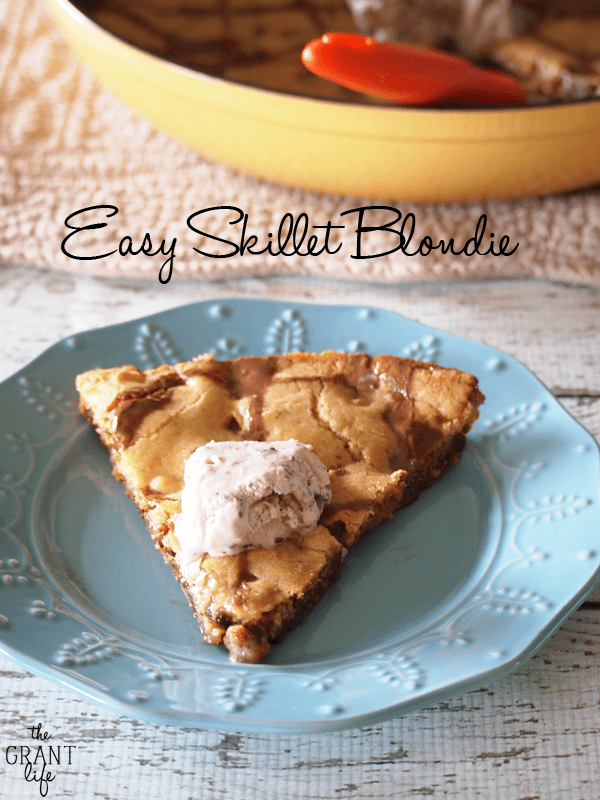 The answer is nothing. You don't need anything more then a dessert baked in a skillet. A side of homemade ice cream maybe, but nothing besides that. Ok, maybe a little chocolate sauce on top of it all. But seriously. Nothing more then that!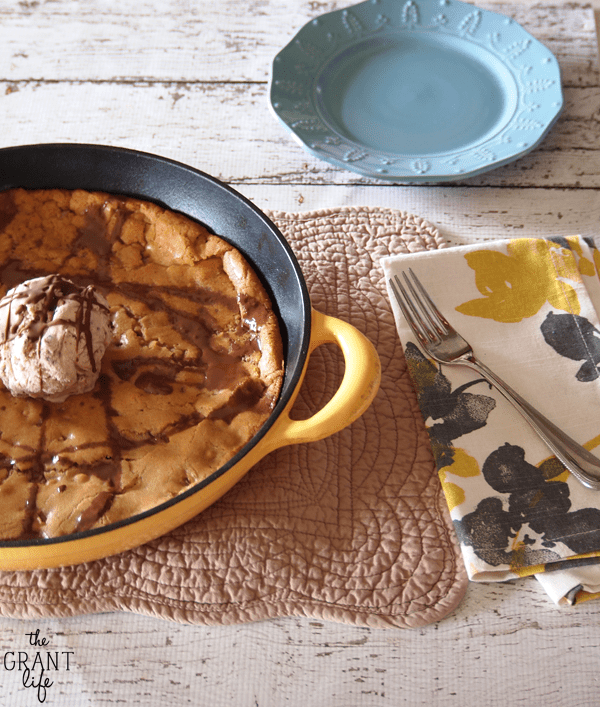 I have made blondies [and brownies] before, but this was the first time making them in my beloved skillet. I was slightly nervous when I put it in the oven for fear that it would stick to the bottom on the pan. That would ruin a perfectly good blondie and skillet in one recipe.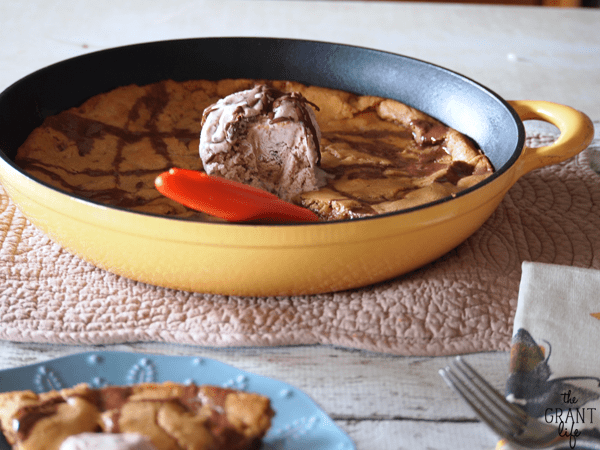 I made sure to coat the bottom of the skillet with butter to help reduce any stuck on blondie mishaps. [Even though I would have scrapped it out and eaten it either way. Just keepin it real again.] The butter also helped to crisp the bottom and sides of the blondie but kept the top soft and chewy. [It's ok if you drooled a bit. I totally understand.]
Drizzle a little chocolate sauce and add a scoop of ice cream and you are all set. And then sit back relax and think of how much you love your cast iron skillet for making you such a delicious treat.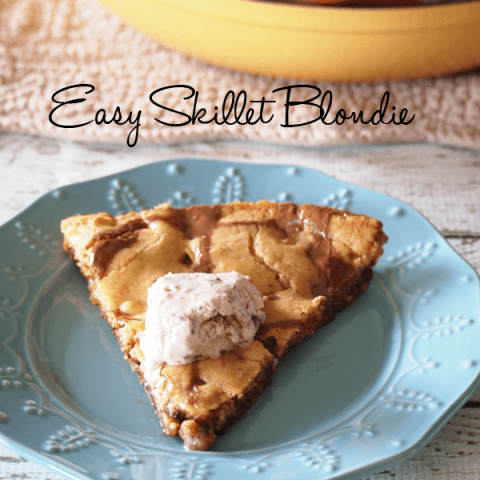 Easy Skillet Blondie
Ingredients
6 tablespoons butter, melted
1 cup light brown sugar, firmly packed
1 egg
1 tablespoon vanilla extract
1 cup flour
1/2 teaspoon baking powder
1/8 teaspoon baking soda
1/2 teaspoon salt
1 cup chocolate chips
3 tablespoons butter, for seasoning
Instructions
Preheat the oven to 350 and put your in your skillet.
Cream the butter, brown sugar, egg and vanilla together.
Add in the flour, baking powder, baking soda and the salt.
Blend together before adding the chocolate chips.
Remove your skillet from the oven (careful! Its hot!) and add the 3 tablespoons of butter. Make sure it coats the bottom of the skillet.
Pour the blondie mixture into the greased skillet.
Bake for 25-30 minutes or until the edges are slightly browned and the center is fully cooked.
Let cool before cutting.
Enjoy!
Nutrition Information:
Amount Per Serving:
Calories:

3217
Cholesterol:

499mg
Sodium:

1621mg
Carbohydrates:

414g
Fiber:

9g
Sugar:

302g
Protein:

33g
Want more recipes like this? Check out: