Christmas in cookie form! These gingerbread blossoms are easy to make and full of holiday cheer. They come together quick thanks to a gingerbread cake mix and a few other ingredients. Let me show you how to make these gingerbread cookies!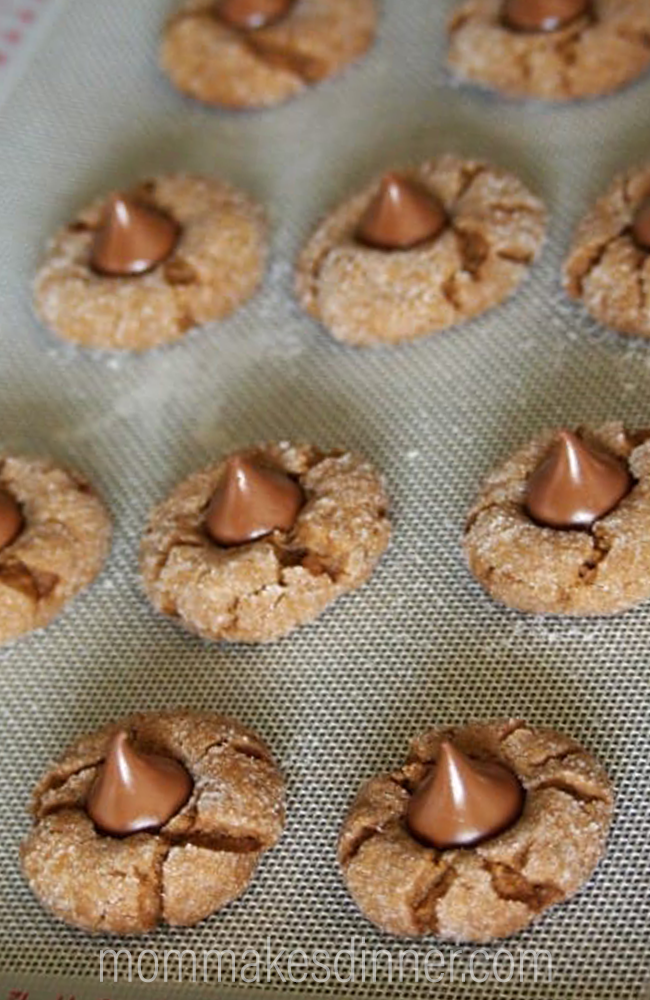 The other day Ryon told me that he wished I would do more holiday baking. After I picked my jaw up from the ground, I reminded him of the mint brownie bark, the peppermint cheesecake and the Reese's brownies that he ate the previous weeks. He just smiled.
I had already planned on baking more anyways despite his subtle hint for more sweets. One of the easy homemade recipes that I had planned on making were these gingerbread blossoms.
What are gingerbread blossoms?
Gingerbread blossoms are similar to the popular peanut butter blossoms but are made with gingerbread dough. They are a fun alternative to the classic peanut butter cookie topped with a Hershey's kiss. Just sub peanut butter for gingerbread!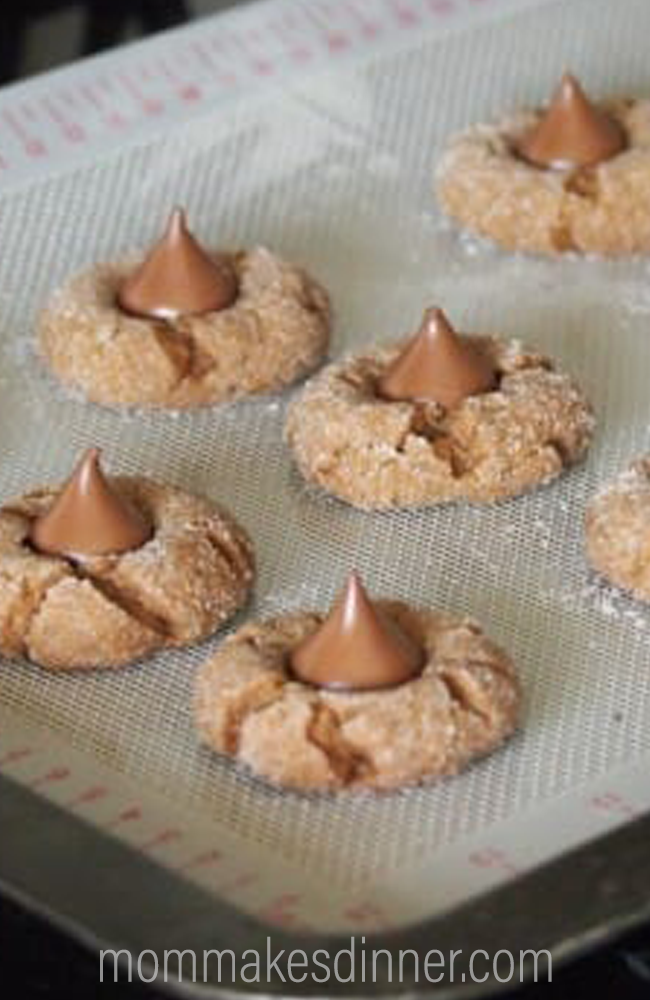 Gingerbread blossom ingredients
I have another secret – these are semi-homemade gingerbread blossoms. They are made easier with a gingerbread cookie mix. Don't worry – they are just as delicious!
To make these cookies you will need:
1 bag of gingerbread cookie mix
1 stick of butter butter
an egg
1 tbsp water
1 cup of sugar
Hershey kisses, unwrapped
Gingerbread cookie mix – I used Betty Crocker gingerbread mix for these gingerbread blossoms. It's the bag with the gingerbread men on the front. Feel free to make homemade gingerbread cookies – if you'd like to go the from-scratch route.
Butter – You need one stick of butter for this recipe. I do not suggest using margarine – you will need real butter here.
Sugar – The sugar is used to roll the gingerbread in before baking. This created a nice crust on the cookies.
Hershey's kisses – Grab a big bag of Hershey's kisses for these cookies. The recipe makes about 2 dozen cookies, depending on the size of your cookies.
Other things to grab
Once you have all your ingredients you will also need to grab:
a mixing bowl
a spatula
a small bowl
a cookie sheet
wire cooling rack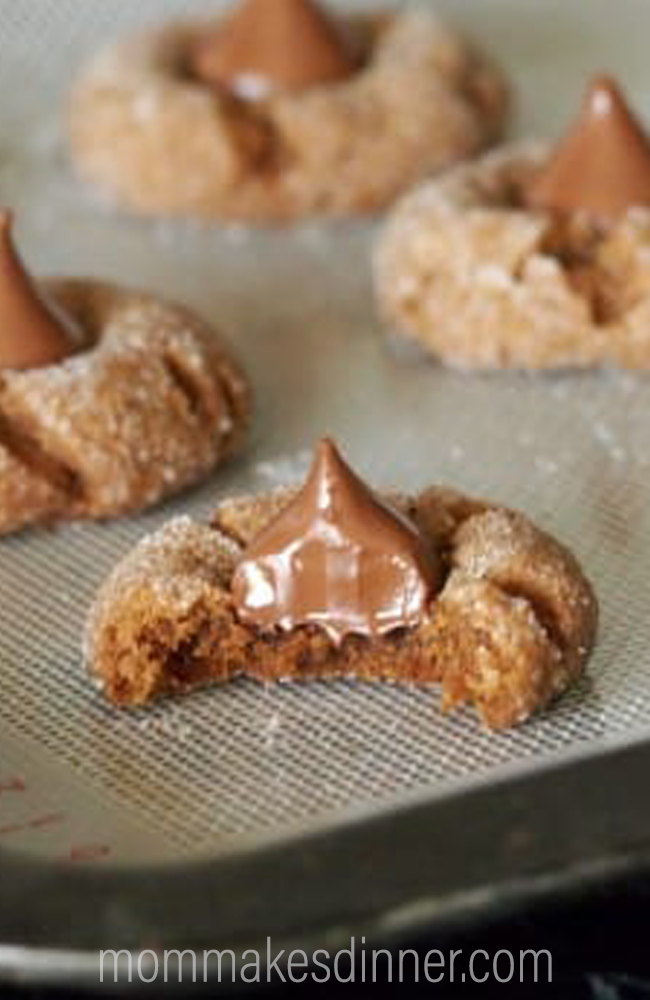 How to make gingerbread blossoms
These cookies can be broken down into four steps. Make the dough, roll in sugar, bake and add your Hershey kiss.
Start by pre-heating your oven to 350 degrees. Line a cookie sheet with either a silicone baking sheet or a quick spray of baking spray. This isn't a necessity but I would hate for your cookies to stick to your cookie sheet if I didn't suggest it.
Make the cookies according to the bag – which is to combine your cookie mix, egg, butter and water until a dough forms. Shape your dough into 1 inch round balls.
Take your dough ball and roll it in the sugar to coat it. Put them on your cookie sheet and bake for 8-10 minutes, or until the edges are starting to brown slightly.
When they come out of the oven let them cool for a bit and then add a Hershey kiss so that it can start to get all melty and ooey gooey. Transfer to your wire cooling rack and allow to cool completely.
The gingerbread is chewy and the chocolate is melty and its just like Christmas cookie heaven. I made these and they were gone within a few days.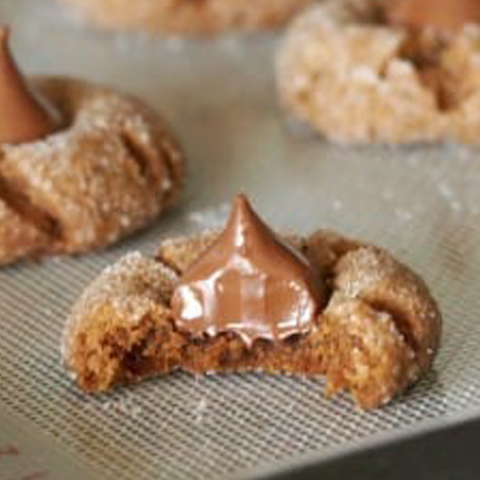 Gingerbread blossoms
A chewy gingerbread cookie topped with a chocolate kiss!
Ingredients
1 bag of gingerbread cookie mix
1 stick of butter, softened
an egg
1 tbsp water
1 cup of sugar
Hershey kisses, unwrapped
Instructions
Preheat the oven to 350 and line a cookie sheet with a silicone liner.
Mix together the butter, egg, water and cookie mix in a large mixing bowl.
Shape the dough into 1 inch balls and roll them in the sugar.
Place on the cookie sheet and bake for 8-10 minutes, or until the edges start to brown slightly.
Remove from the oven, allow to cool slightly and then add a Hershey kiss to the center.
Transfer to a wire rack and allow to cool completely.
Nutrition Information:
Yield:

24
Serving Size:

1
Amount Per Serving:
Calories:

83
Total Fat:

5g
Saturated Fat:

3g
Trans Fat:

0g
Unsaturated Fat:

1g
Cholesterol:

19mg
Sodium:

39mg
Carbohydrates:

10g
Fiber:

0g
Sugar:

10g
Protein:

1g
How do I store gingerbread blossoms?
Once the cookies have cooled completely, place them in an airtight container. Store on the counter or in the fridge for up to a week.
Can you freeze gingerbread blossoms?
You can freeze either the dough once it's made or the cookies after they are baked. I would not freeze the cookies with the Hershey kiss already added.
Other cookies to try:
Christmas cookies
Even more Christmas cookies to try this holiday season!
An easy butter cookie that everyone will love!
Be sure to PIN this recipe!