Looking for a decadent treat that will help increase your milk supply? Oh mama, I got you! These lactation brownies are homemade and full of ingredients, including brewers yeast and flax seed, that will help with nursing. They are also ooey and gooey and absolute brownie perfection. Let me show how to make this easy lactation recipe!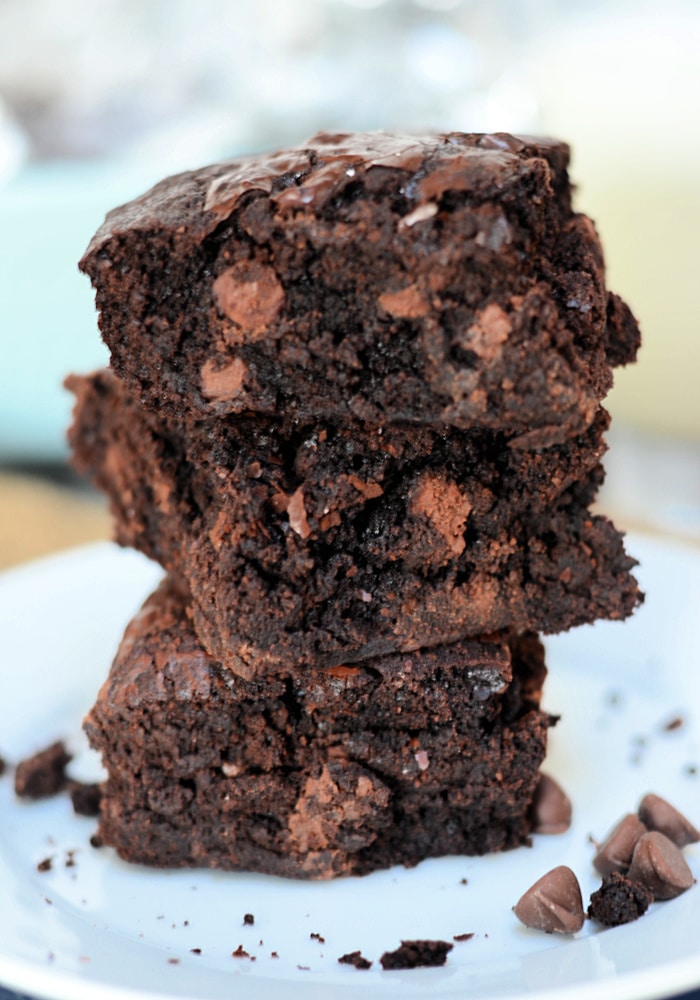 Lactation what?! Oh yes. Lactation BROWNIES! And don't worry – they don't taste like cardboard or oats at all. These brownies are crisp on the outside and soft on the inside and full of good for you ingredients that will increase your milk supply.
After my 3rd baby was born I swore by lactation energy bites. I had them on hand for the first few months after he was born. Now with baby number 4, I am all about these lactation brownies! It's probably because I saw a few brands selling lactation brownies online. I thought that was a great idea, I just didn't want to pay that much for a brownie. So I made my own!
What are lactation brownies?
These brownies are made from scratch and include great milk boosting ingredients like ground flax seed, brewer's yeast, and dark chocolate. The combination of these ingredients in the brownies should help increase your milk supply. I say "should" because if you don't have a good breastfeeding relationship established you may not get the full benefit from these brownies. Make sure you check out these breastfeeding tips to help.
These brownies are also great for anyone not nursing as well. No one would be able to tell that these brownies are for breastfeeding mamas. My kids devour them and didn't even bat an eye. They taste great and make a great addition to your lactation recipes line-up.
Lactation brownie ingredients
To make this lactation treat you will need:
butter
sugar
cocoa powder
eggs
salt
baking powder
vanilla
flour
chocolate chips
flax seed
brewers yeast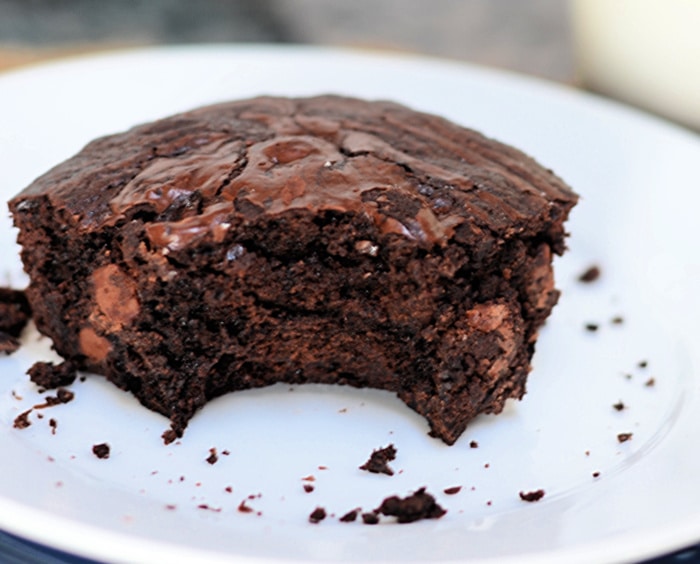 Most of these ingredients are common pantry baking items that I bet you already have on hand.
I will say that you want to use high quality cocoa powder, vanilla extract and chocolate chips, if possible. The better the quality, the better your brownies will taste. (Not that I've ever met a brownie I didn't like..)
Flax seed – This is one of the ingredients that helps with lactation. I use ground flax seed in most of my lactation recipes.
Flax seed full of Omega 3 fatty acids and fiber. Flax seed has been found to lower cholesterol, blood pressure and helps keep you full due to high amounts of protein.
I suggest Spectrum Organics ground flax seed.
Brewers yeast – Most lactation recipes contain this ingredient since it is known to help increase supply.
It is also packed with fiber and vitamin B. It helps with blood sugar levels, to boost your immunity and aids in anemia. There are also a host of other benefits to using Brewers yeast in your diet.
I've always used Solgar's Brewer's yeast for my lactation recipes.
Want to make these lactation brownies without Brewer's yeast? Feel free to omit it!
Lactation brownies from scratch
I love that these brownies come out so decadent and chewy. They are better than a box mix and don't take much more time than one.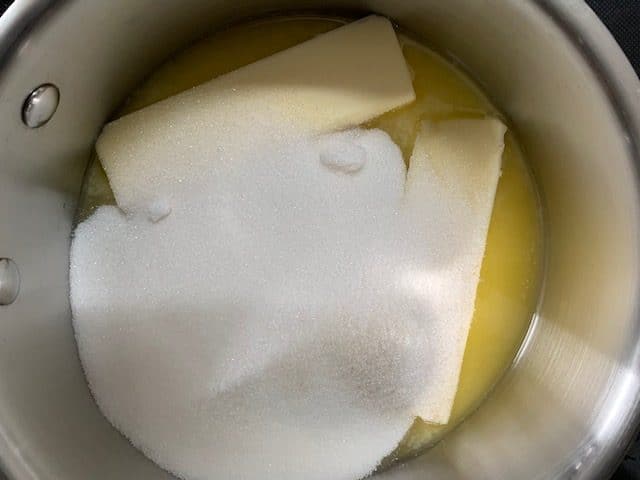 Step 1: Melt the butter in a saucepan over medium heat. Add in the the sugar and stir to combine. The sugar will dissolve in the hot butter.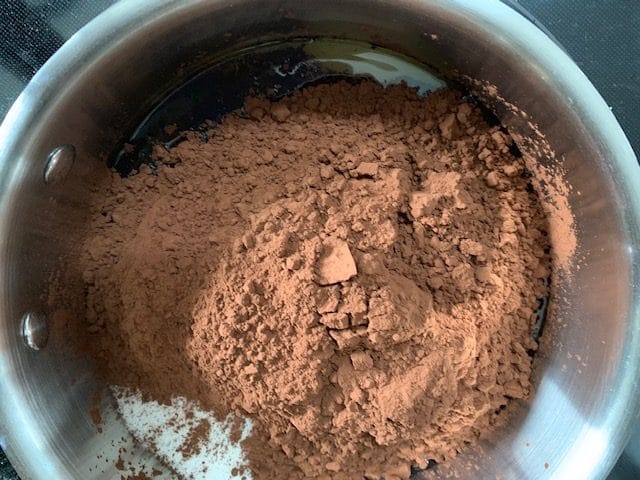 Step 2: Once the sugar and butter has dissolved, stir in the cocoa powder. Remember, the better quality the cocoa powder, the better your brownies will taste. I love Ghiradelli Dutch Process Cocoa for my lactation brownies.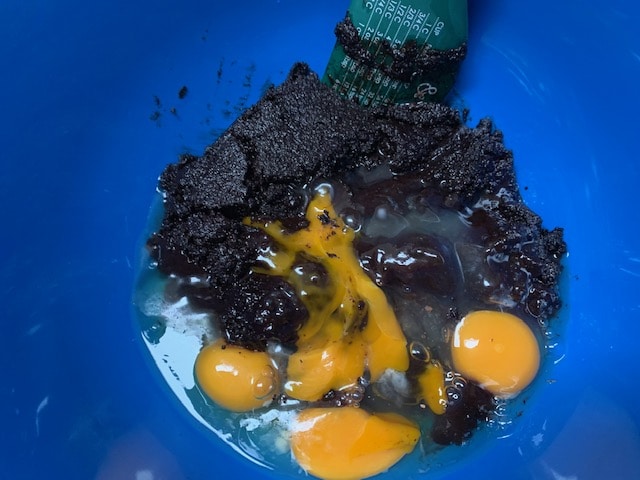 Step 3: Transfer the warm cocoa/sugar/butter mixture to a bowl. The mixture may be gritty but will become smooth after mixing. Add your eggs and mix until combined.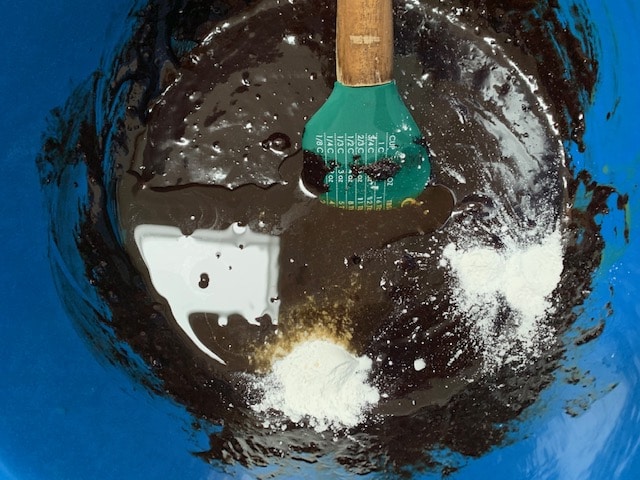 Step 4: Add in your salt, baking powder and vanilla. Combine again.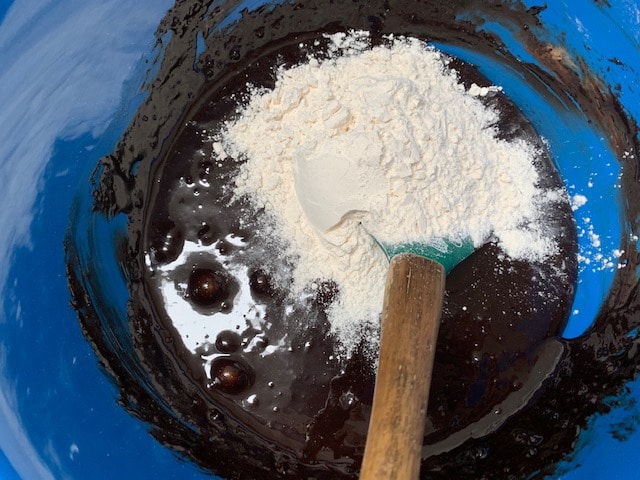 Step 5: Add your flour and stir until just combined. You don't want to over stir your brownies!
Step 6: Add your Brewer's yeast and ground flax seed. Stir once or twice to combine. Fold in your chocolate chips.
Step 7: Pour the lactation brownie mix into a prepared dish. Prepare a 9×13 baking dish by lining it with foil and then spraying it with baking spray. You can also add oil to the bottom and spread it around to coat all sides.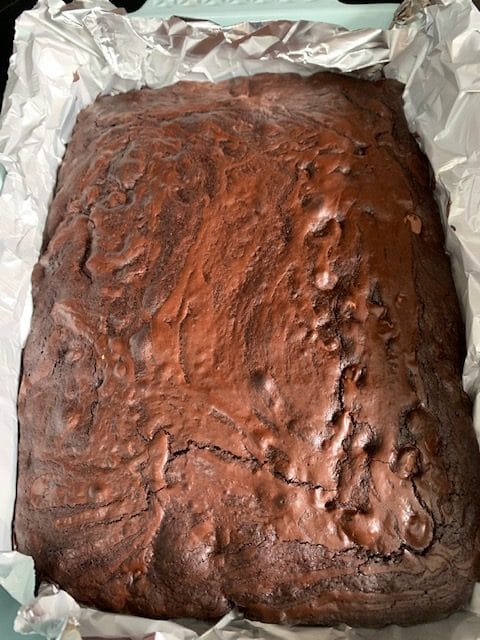 Step 8: Bake for 30 minutes at 350 degrees or until a toothpick comes out clean in the center. Remove, allow to cool and slice.
Can I use a box mix?
You can! If you want to save time, use your favorite box mix and add in the flax seed and Brewer's yeast! I love the Ghiradelli brownie mix for semi-homemade brownies.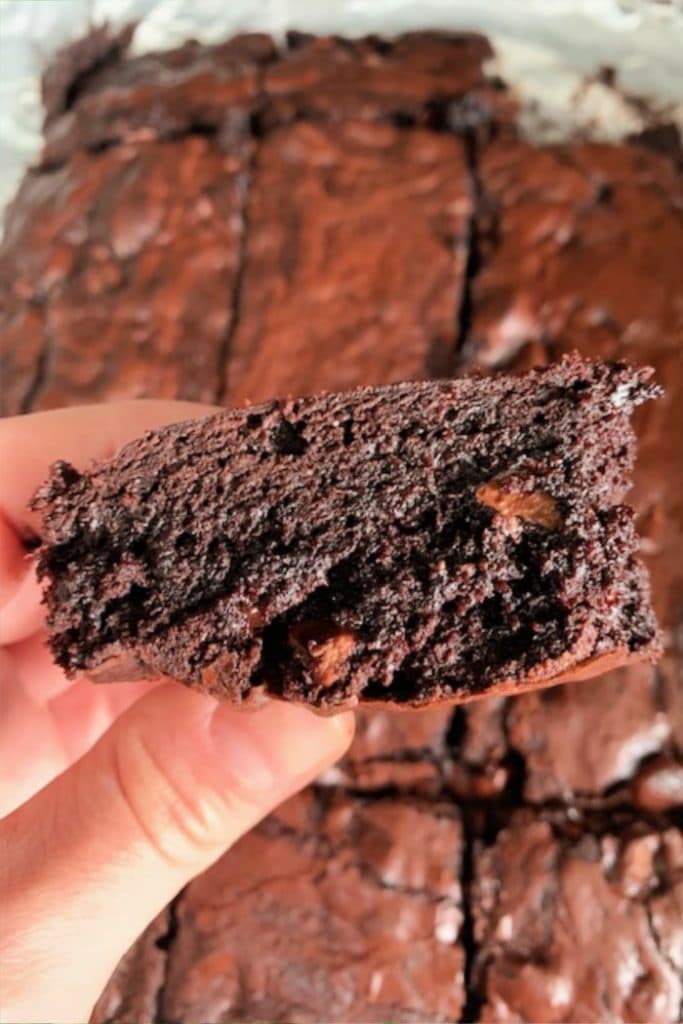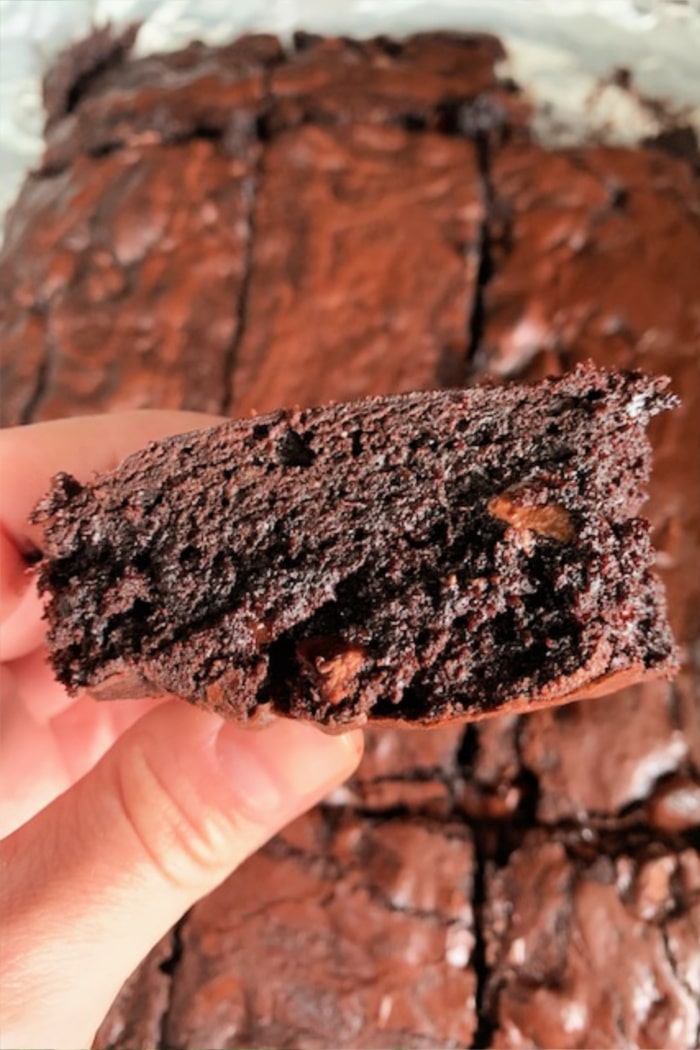 How many lactation Brownies should I eat?
My personal (non professional) opinion is to eat two brownies a day. This should give you enough lactation boosting ingredients to see an increase in supply.
How long does it take for lactation brownies to work?
It depends on the person, but within a day or two. They will not work right away and they will not work if you aren't practice healthy breastfeeding supply suggestions. These brownies, combined with a good routine, a strong latch and plenty of liquids will help increase your milk supply.
How to store leftovers
Store you leftover brownies in an airtight container on the counter. You can put them in the fridge if you'd like, but I have found that they stay soft and chewy longer on the counter.
Can I freeze lactation brownies?
Absolutely! Place your cooled and cut brownies on a cookie sheet. Put the cookie sheet in the freeze and allow the brownies to "flash freeze" for 2-3 hours. This will allow the brownies to harden for longer storage.
Place the brownies in foil and then a ziploc baggy. You can then put the baggy in the freezer for storage up to 6 months. To eat again, simply thaw on the counter for a day and enjoy!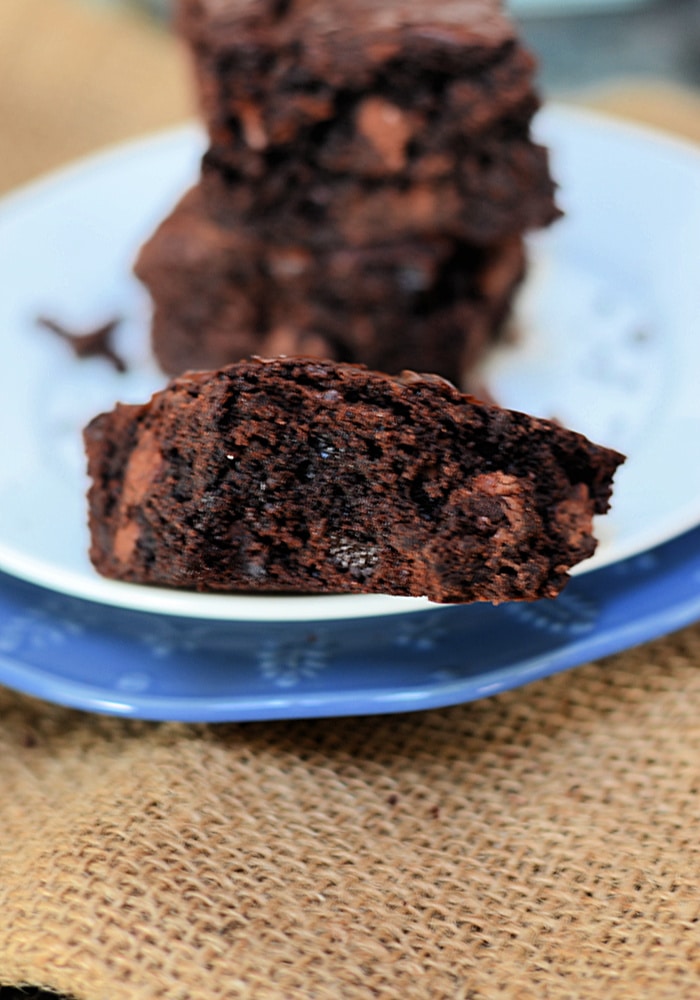 Lactation brownies recipe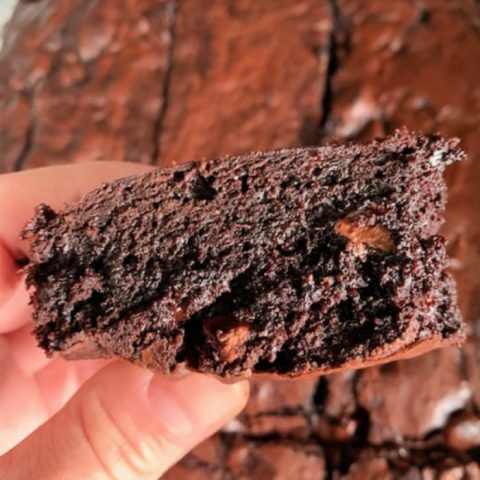 Lactation brownies
How to make lactation brownies from scratch that will help with milk production!
Ingredients
1 cup butter (2 sticks)
2 cups sugar
1 1/4 cups cocoa powder
4 large eggs
1 teaspoon salt
1 teaspoon baking powder
1 tablespoon vanilla
1 1/2 cups all purpose flour
1 cup dark chocolate chips
1 tablespoon ground flax seed
1 tablespoon Brewer's yeast
Instructions
Preheat your oven to 350 degrees and line a 9x13 baking dish with foil coated in oil or non-stick cooking spray.
In a saucepan over medium heat add the butter and sugar. Melt the butter and stir the sugar to combine.
Stir in the cocoa powder. Allow to simmer until dissolved.
Remove from heat and move the butter/sugar/cocoa mixture to a large bowl. Allow to cool slightly.
Mix in the eggs.
Add in the baking powder, salt and vanilla. Stir to combine.
Mix in the flour.
Mix in the flax seed and Brewer's yeast.
Mix in your dark chocolate chips.
Pour into your prepared dish.
Bake for 30 minutes or until a toothpick comes out clean.
Allow to cool slightly, cut and enjoy.
Nutrition Information:
Yield:

15
Serving Size:

1
Amount Per Serving:
Calories:

372
Total Fat:

18g
Saturated Fat:

10g
Trans Fat:

1g
Unsaturated Fat:

6g
Cholesterol:

83mg
Sodium:

294mg
Carbohydrates:

48g
Fiber:

3g
Sugar:

32g
Protein:

5g
Other lactation recipes to try
Lactation recipes
Looking for more lactation recipes to try? Here are some reader favorites!
A delicious way to increase your milk supply AND energy levels!
Monster lactation cookies that are full of peanut butter and chocolate chip goodness!