King ranch chicken is a classic South Texas casserole that is full of Tex-Mex inspired flavor. This easy King Ranch Chicken Chicken soup is a spin on the famous casserole that requires less work but is still packed with flavor! Let me show you how to make this easy dinner recipe in your Crock Pot or your Instant Pot!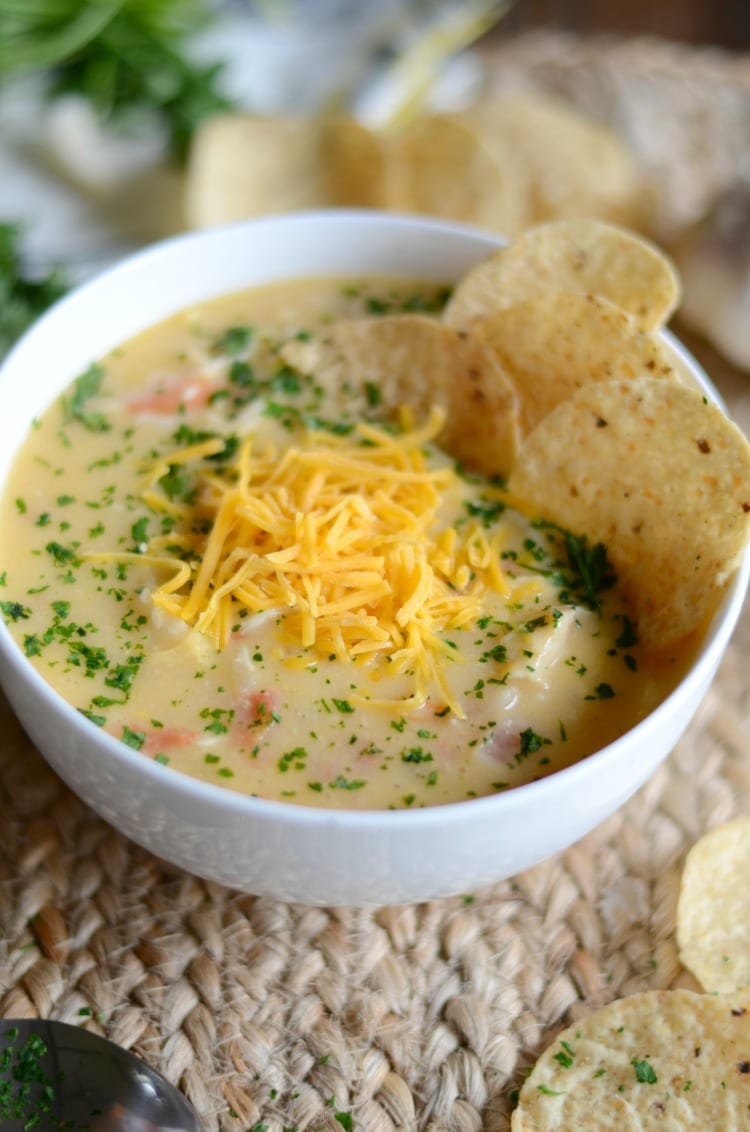 Hey yall!  It's official – it's fall around these parts!  Fall means cooler temperatures, more time with family, sports and an all around busyness. I tend to use my Crock Pot more during the fall and winter months just to make sure we have dinner on the table after practices or games or concerts.
It just makes sense – busy weeknights equals more crock pot dinners. My friend Samantha from five heart home must have figured that out years ago though.  She wrote a cookbook all about crock pot dinners for busy families.  It's called Real Food Slow Cooker Dinners. This King Ranch chicken soup is one of my absolute favorite meals from her cookbook.
What is King Ranch chicken soup?
To answer that, we need to dive into what is King Ranch chicken. The King Ranch is one of the largest (if not THE largest) privately owned ranch in the United States. It is a ranch of over 800,000 acres in South Texas. It is owned by a group on descendants of the King family from over the years. It is a popular tourist destination and an all around fun place to visit.
The King Ranch has a cowboy breakfast every year and invites people to take part in the old traditions of ranching. Although King Ranch Chicken is not served at the breakfast, it is a popular dish that was inspired by the ranches Tex-Mex roots. This recipe takes the classic recipe and turns into a delicious, easy to make soup.
King Ranch Chicken Soup Ingredients
The one thing that I LOVE about Samantha's cookbook is that she uses real ingredients. No cans of cream soup here! To make this soup you will need:
butter
garlic
flour
chicken broth
chili powder
cumin – Gives this soup an authentic Tex-Mex flavor.
garlic powder
salt
pepper
chicken breasts – Boneless, skinless work best. You can also use thighs for this recipe.
diced tomatoes with green chiles
jalapeno
shredded cheese – I love using cheddar or sharp cheddar in this recipe.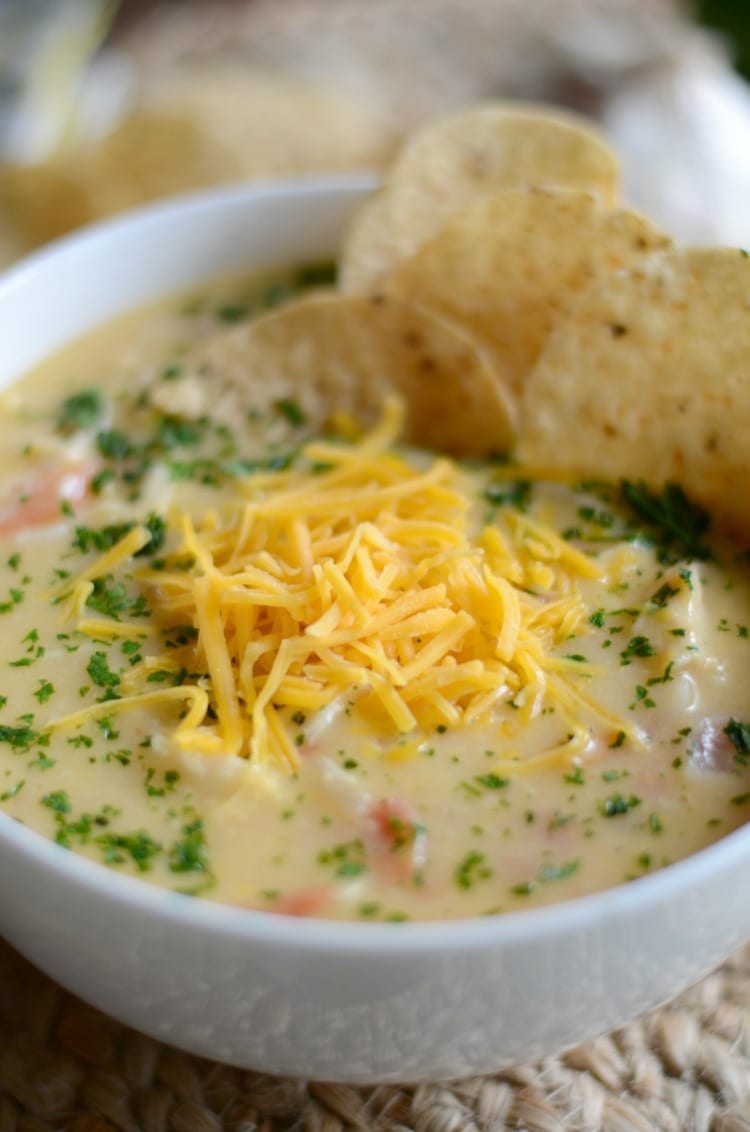 How to make King Ranch Chicken Soup
Once you have gathered all your ingredients, you will also need to grab:
skillet
spatula
measuring cups and spoons
knife and cutting board
Crock Pot or Instant Pot
Step 1 Create a roux Before you start cooking your chicken in your crock pot, you will need to create a roux. This will give you a super creamy soup without using any cream of soups. Saute your garlic in the butter and then add your flour. Stir in the chicken broth and allow to thicken. Add in your spices and combine.
Step 2 Add to the Crock Pot Place your chicken in the bottom of your Crock Pot. Pour your canned of diced tomatoes over top along with your diced jalapeno. Next, add your sauce that you just made.
Step 3 Cook Cover the Crock Pot and cook on LOW for 4-6 hours. You can also cook on HIGH for 2-3 hours.
Step 4 Shred the chicken Once the chicken has cooked through with an internal temperature of 165 degrees, remove it from the Crock Pot. Use 2 forks or a knife to shred it before adding it back to the soup.
Step 5 Add cheese and serve Add in your cheese, cover and allow to melt. This will take about 15 minutes. Give it a final stir and then serve with your favorite toppings!
How to make King Ranch soup in the Instant Pot
I love this recipe because it can be easily made in your Crock Pot or your Instant Pot. You will need the same ingredients to make it in your pressure cooker. Follow these directions to have the soup ready quick –
Saute your garlic and butter in the inner pot.
Stir in your chicken broth and spices. Allow to thicken, slightly.
Scrap the bottom for any brown bits. (This will help NOT get the burn notice.)
Place your chicken in the Instant Pot and seal.
Cook for 10 minutes on manual high pressure.
Allow pressure to release naturally. Related – Natural release vs. manual release.
Shred your chicken and stir.
Add your check and place the lid back on to melt it.
Serve and enjoy!

What is King Ranch chicken?
King Ranch chicken got it's name from the large ranch in South Texas. It is full of Tex-Mex flavors that are inspired by the South Texas landscape.
Do I have to make the roux?
Short answer – no. You don't have to make the roux before adding it to the Crock Pot. I know that some people love dump and go meals when it comes to using their slow cooker. You can totally dump everything in the Crock Pot and let it cook. (Minus the flour.) If you do this, your soup will be a lot thinner and not as creamy. Even adding cornstarch at the end will not make it as creamy. The roux or the sauce that you make at the beginning is what makes this soup extra creamy and delicious.
Side dish recommendations
This soup can be a full meal, but sometimes you need a side to round it out. Some of my favorite side dishes for this King Ranch soup are:
How to store leftovers
Allow the soup to cool before placing any leftovers in a Tupperware with a secure lid. You can store the soup in the fridge for 3-4 days.
Can I freeze King Ranch Chicken soup?
Yes! You can! Allow the soup to cool before adding it to a large Ziplock bag. Place the bag flat in the fridge and allow it to freeze. You can then place the flat bag anywhere in your freezer. Allow to thaw in the fridge and re-heat in the microwave.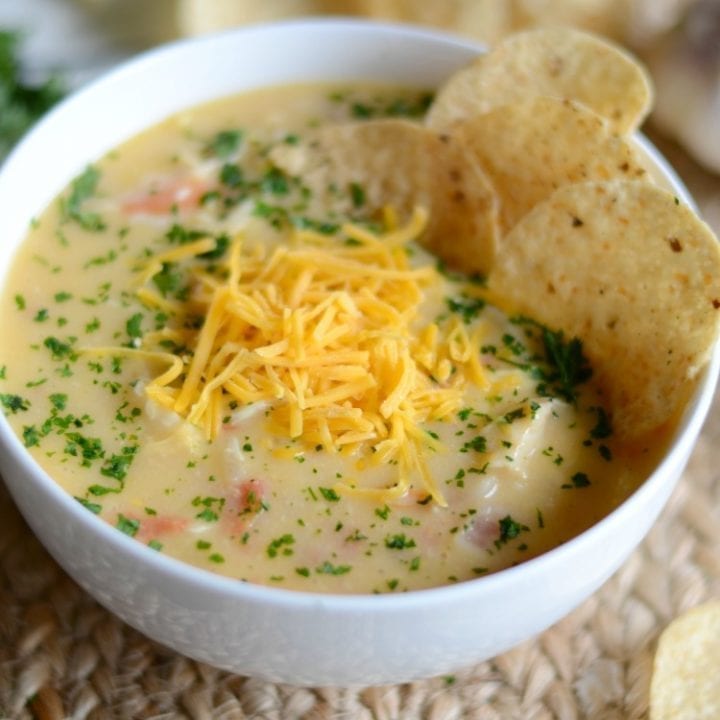 King ranch chicken soup
Total Time:
3 hours
20 minutes
A super creamy soup that is easy to make and is full of Tex-Mex inspired flavors.
Ingredients
8 tablespoons butter
2 cloves garlic, minced
1/2 cup flour
4 cups chicken broth
4 teaspoons chili powder
1 tablespoon cumin
1 tablespoon garlic powder
1 teaspoon salt
pepper, to taste
1 1/2 pounds boneless, skinless chicken breasts
1 (10oz) can diced tomatoes with green chiles
1 medium jalapeno, minced
2 cups shredded cheese
tortilla chips, for serving
fresh cilantro, for serving
Instructions
Melt butter in a medium saucepan over medium low heat. Add the garlic and saute until it is fragrant and light golden brown, about 1 minute.
Stir in the flour and whisk continuously for one minute.
Slowly whisk in the chick broth. Increase the heat to a simmer and whisk continuously for several minutes, until the sauce is smooth and thickened.
Remove the saucepan from the heat and stir in the chili powder, cumin, garlic powder and salt. And black pepper to taste.
Place the chicken in your crock pot.
Top with the diced tomatoes and jalapeno.
Pour the sauce over top.
Cover and cook on low for 4 to 6 hours, until the chicken is tender and cooked through. Can cook on high for 2-3 hours.
Transfer the chicken to a cutting board, stir in the cheese and cover.
Pull the chicken apart into large chunks using two forks and place back in the slow cooker.
Cover the crock pot for 15 minutes, or until the cheese is melted.
Stir well. Serve with crushed tortilla chips, extra cheese and cilantro.
Enjoy!
Other Crock Pot dinners to try
You know I love a good Crock Pot meal. Some others that I recommend trying are:
Did you try this recipe? I'd love for you leave a review in the post. Want to make it later? Pin the image below. THANK YOU for your support!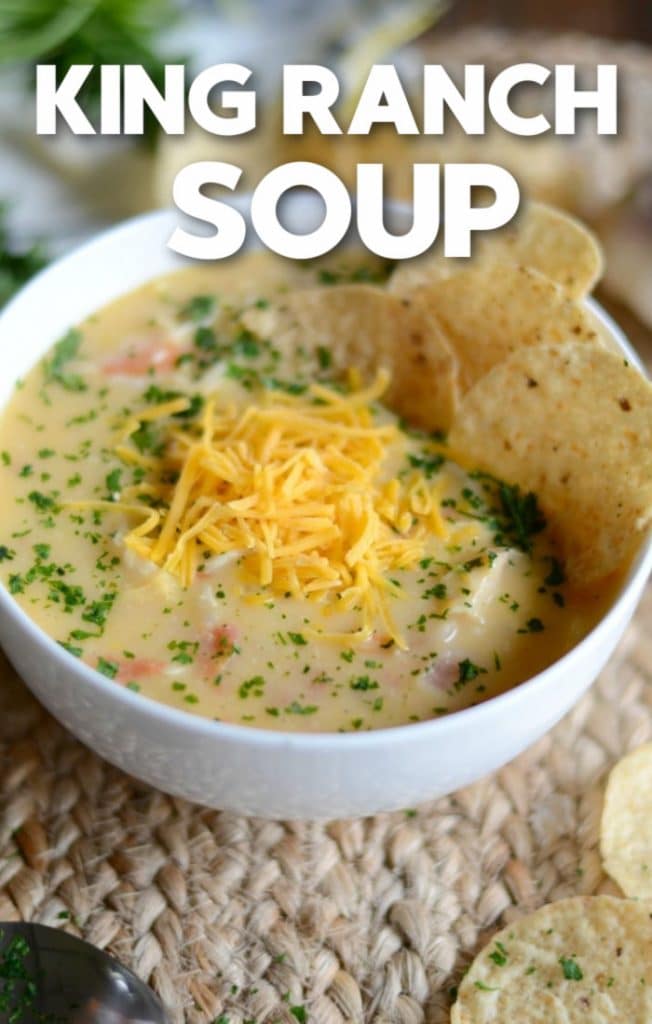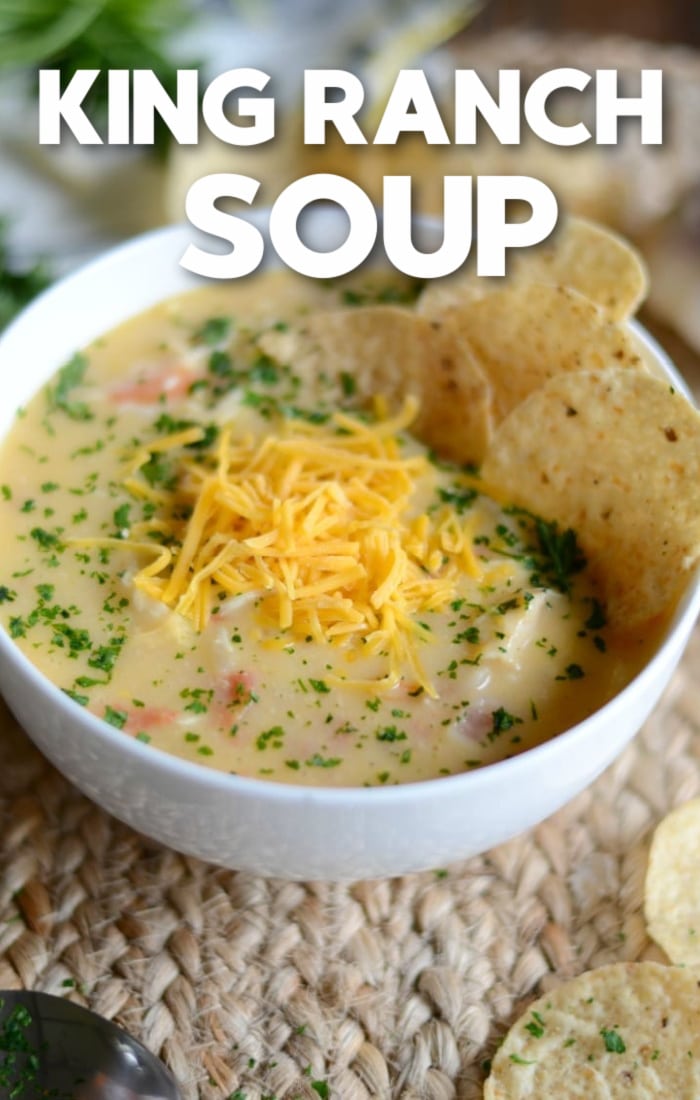 Another shout out to Samantha and amazing cookbook – Yall.  Her cookbook is pure magic. She has a full page photo ON EVERY PAGE that makes you want to drool.  And did you catch the title?  REAL FOOD!  Nothing processed.  It's good food for you and your family.  YOU NEED THIS COOKBOOK delicious.