If you love quick and easy dinner recipes that are full of flavor, this crock pot Mississippi chicken is for you! It's great because you do 5 minutes of prep in the morning and have amazing dinner come evening. Let me show you how to make this Mississippi chicken recipe!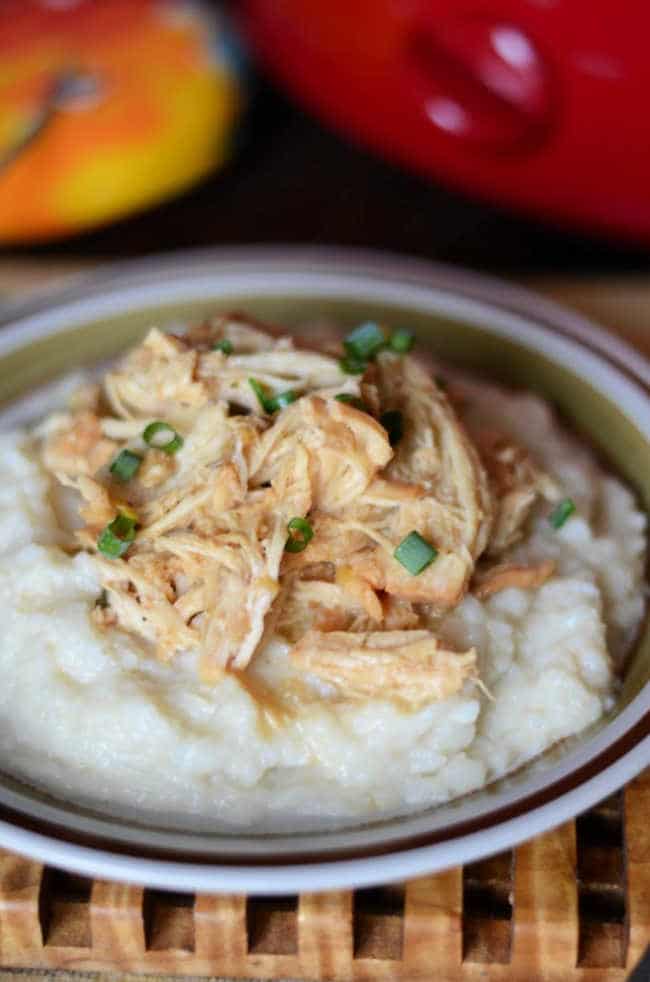 Y'all. I know I talk about food a lot and I test new recipes all the time, but this is legit my favorite quick and easy dinner of all time. I'm not being dramatic or trying to sell you on this recipe. It's my favorite.
I thought that my original Mississippi pot roast recipe was the best for awhile. And then a friend suggested trying it with chicken instead of beef, so I did. HOLY MOLY. It's good.
Crock pot Mississippi chicken
Now that I have unintentionally hyped up this chicken recipe, let me tell you what it's all about. The original Mississippi recipe calls for a pot roast, butter, ranch seasoning packet, au jus seasoning packet and pepperoncinis . You put it all in a crock pot and let it simmer to perfection.
Now take that idea and replace is with chicken instead of pot roast. Whoa. Such amazing flavor and so easy to make! And no, I'm not sure why they call it "Mississippi" roast or chicken. I don't question deliciousness.
This recipe is also Keto/low carb friendly and gluten free. You do need to watch your seasoning packets to make it totally gluten free.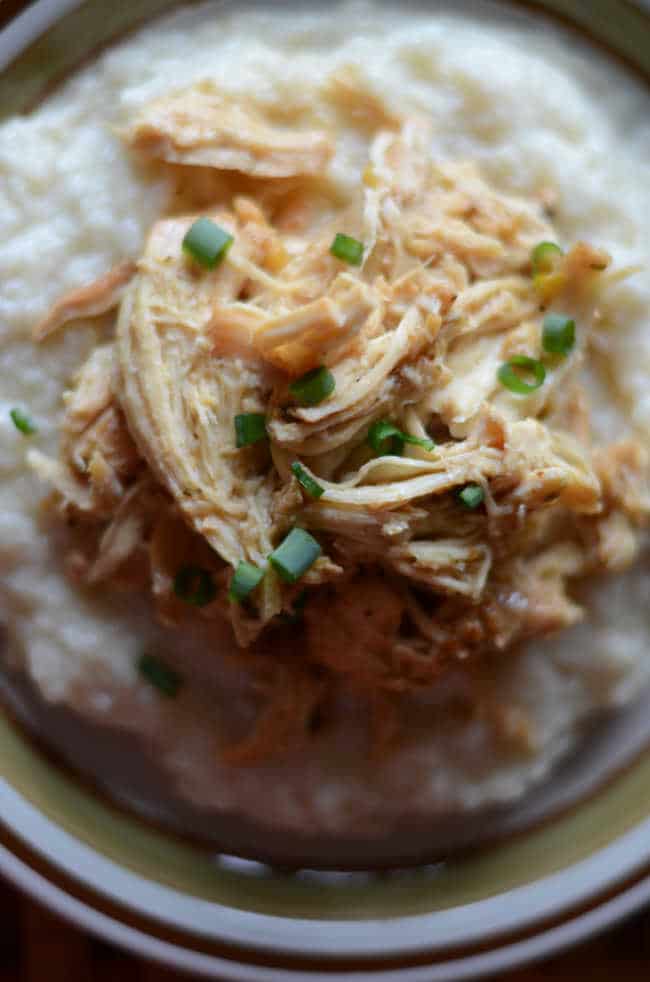 Mississippi chicken ingredients
The one of the many great things about this recipe is that the ingredient list is very simple and small. It's crazy to me that you get so much flavor out of 5 ingredients tossed in a crock pot.
To make this Mississippi chicken you will need:
chicken
ranch seasoning packet
au jus seasoning packet
butter
jarred pepperoncinis
Chicken – Yes, you can use any type of chicken here that you like. I know that's a big question, but feel free to use breasts, thighs or even tenders. I do suggest boneless/skinless chicken here though.
Seasoning packets – You need two seasoning packets for this recipe – a ranch and an au jus one. If you want to keep this recipe gluten free, double check your seasoning packets. I like the Simply Organic ranch seasoning and the McCormick brown gravy mix. And yes, you can sub a brown gravy seasoning packet for au jus. You can also try this homemade ranch mix as well!
Butter – One stick of butter is needed for this Mississippi chicken. I do not suggest subbing margarine for this recipe. use UNSALTED butter to reduce the sodium content.
Pepperoncinis – Last, you will need a jar of pepperoncinis. Pepperoncinis are similar to banana peppers can be found in the same aisle. They give this chicken amazing flavor and the vinegar helps tenderize the meat. I like the Jeff's natural pepperoncinis because they are gluten free and do not contain any food dye.
How to make Mississippi chicken
Ok here is the absolute best part of this recipe – it takes 5 minutes of prep! That's right. No chopping, prepping, marinating. None of that. Simply grab your crock pot and get started.
Step 1 Add your ingredients Start by placing your chicken in the bottom of your crock pot. Sprinkle both of the packets over the chicken. Place the pepperoncinis around the chicken and add a splash of juice from the jar. Add your stick of butter on top and place the lid on.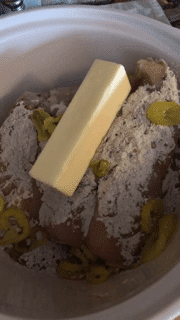 Step 2 Cook Cook on low for 6+ hours or high for 3+ hours.
Step 3 Shred the chicken When the chicken is done, use two forks to shred. Pair it with your favorite side dishes and you are all set!
How to make Mississippi chicken in the Instant Pot
Want to make this Mississippi chicken recipe even faster? Use your Instant Pot! This is a great option if you have frozen chicken. You need all the same ingredients plus 1 cup of water.
Place all of your ingredients in the inner pot of your Instant Pot. Add your water!
Seal your Instant Pot and set to manual high pressure.
Cook for 10 minutes.
Allow to come to natural pressure – this means to leave it alone until your pin drops. Related – natural pressure vs. manual pressure
Remove from your Instant Pot and shred.
Place back in the pot and stir to coat the chicken.
Serve and enjoy!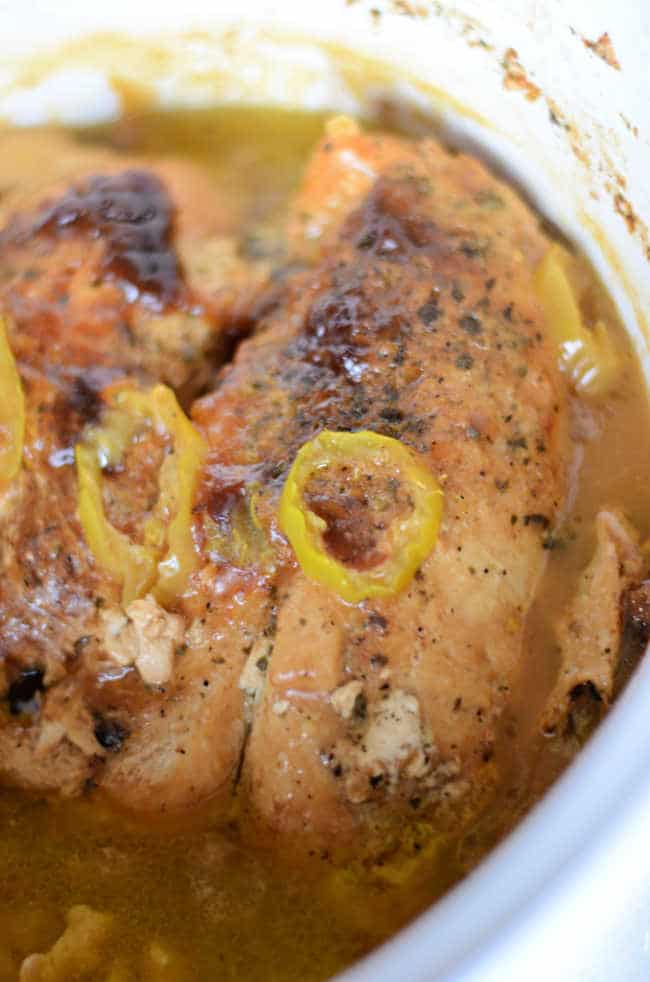 Tips and tricks
You can use frozen chicken in this recipe. I normally cook it on high for 5 or so hours and then switch it to low. You can do it that way as well or cook it on high the whole time.
You do not need to grease your crock pot, but you can use a crock pot liner if you'd like. They make crock pot clean up super easy!
Feel free to top your chicken with fresh herbs or spices. I love using chives on top on mine!
This would make a great meal prep dinner. Make it one day and use the extra chicken for tacos, nachos, or even enchiladas! (Or whatever else you like.)
If cooking in your Crock Pot, use your Instant Pot to make a quick and easy side dish!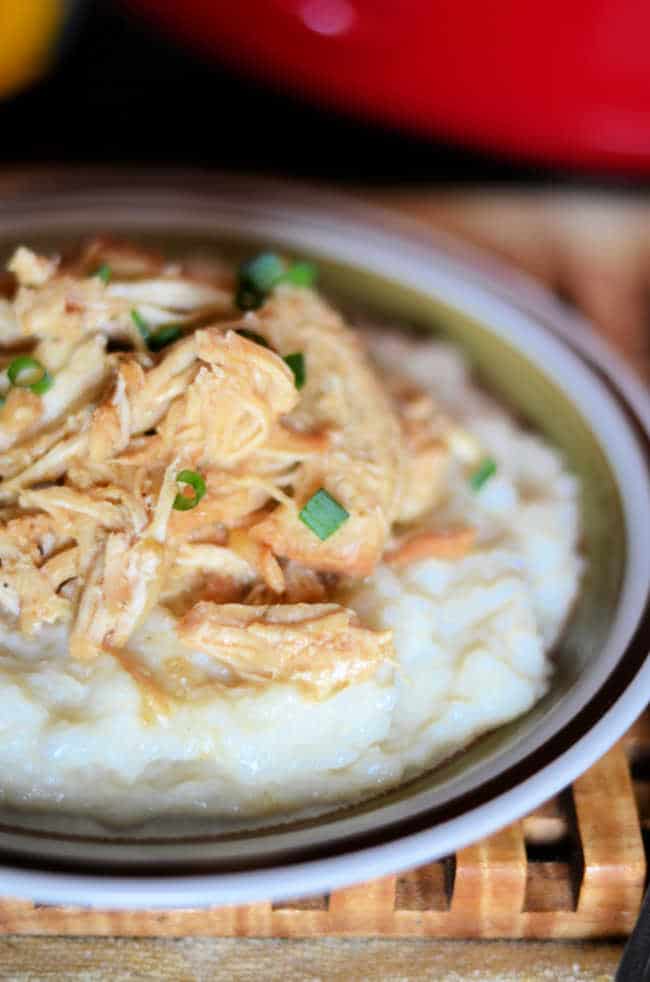 How to serve Mississippi chicken
The great thing about this recipe is that you can eat it a bunch of different ways! If you want, you can even serve a whole chicken breast along with your favorite sides. I like to put mine over mashed potatoes and a veggie. You can serve this Mississippi roast on a hoagie roll or a slider bun and eat it like a sandwich. It can also be served in a bowl with your favorite veggies like my chicken carnitas bowl.
What to eat with Mississippi chicken
Some of my favorite side dishes for this Mississippi chicken are:
Is Mississippi chicken keto friendly?
Some people may wonder if this crock pot Mississippi chicken is healthy or keto friendly, and the answer is yes! It is a keto friendly crock pot dinner. One 8 ounce serving has 7 grams net carbs, making it a great low carb dinner option.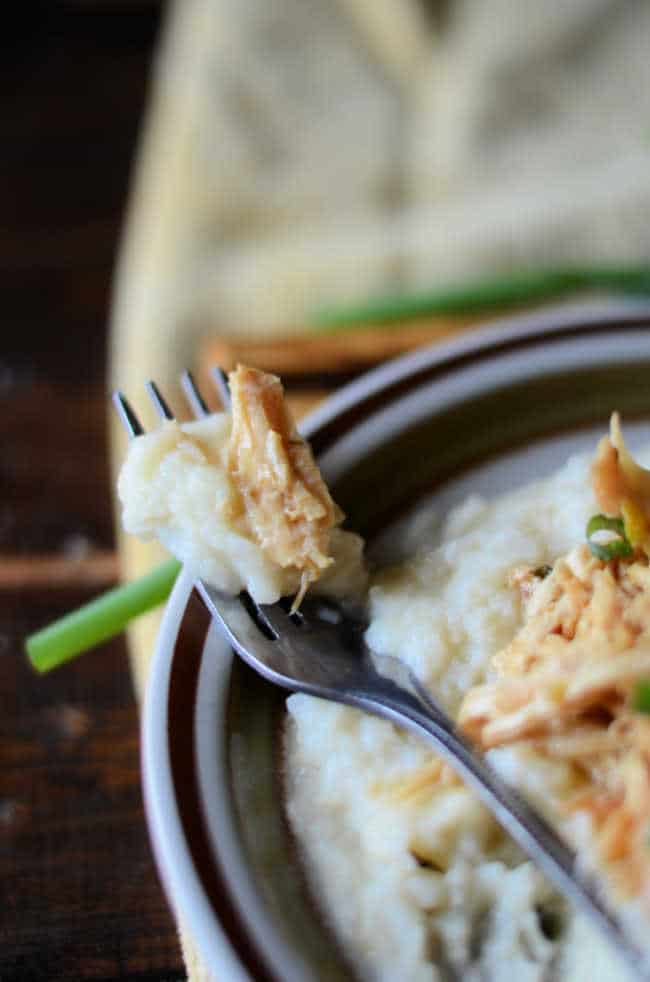 How to store leftovers
Place any leftovers in an airtight container or a Ziplock bag, after it's cooled. Place the container in the fridge for up to 4 days. Reheat in the microwave.
Can I freeze Mississippi chicken?
Yes! You can! This crock pot Mississippi chicken is a great freezer meal. The best way to freeze it is to allow it to cool completely after shredding it. Place the shredded chicken in a Ziplock bag and remove all the air. Lay the bag flat on a cookie sheet and allow it to flash freeze, which will take about 2 hours. Once the chicken is frozen, you can place the flat bag anywhere is the freezer.
To reheat, allow to thaw in the refrigerator and then heat in the microwave. Serve with your favorite easy side dish.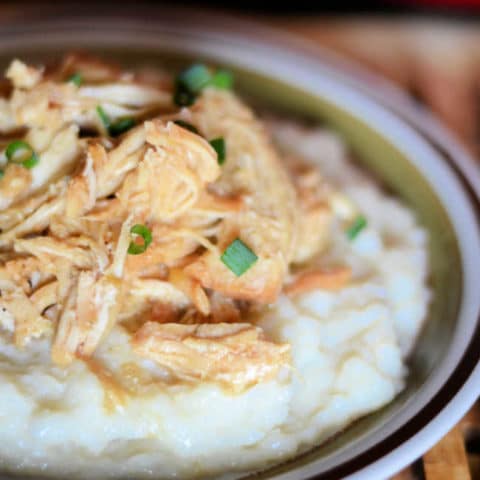 Crock pot Mississippi chicken
Total Time:
6 hours
5 minutes
Super flavorful, this crock pot Mississippi chicken is quick and easy and will become a family favorite!
Ingredients
2-3 pounds chicken
1 ranch seasoning packet
1 au jus or brown gravy packet
5-6 pepperoncinis
1/4 cup pepperoncini juice
stick of butter
Instructions
Place the chicken at the bottom of your crock pot.
Sprinkle the ranch and au jus seasoning packets over the meat.
Add the pepperoncinis around the meat and pour in the juice.
Place the stick of butter on top of the meat.
Cover and cook on high for 4-6 hours or low for 8+ hours.
Shred with two forks and enjoy over potatoes, rice or mashed cauliflower!
Nutrition Information:
Yield:

10
Serving Size:

8 ounces
Amount Per Serving:
Calories:

429
Total Fat:

28g
Saturated Fat:

11g
Trans Fat:

0g
Unsaturated Fat:

14g
Cholesterol:

154mg
Sodium:

1137mg
Carbohydrates:

8g
Fiber:

1g
Sugar:

5g
Protein:

35g
Other dinner recipes to try
You may also like these other quick and easy dinner ideas:
Did you love this recipe? I'd appreciate if you left a review for others in the recipe card above or in the comments below. Want to try it later? Pin it to your favorite board with the image below! THANK YOU FOR THE SUPPORT !