Need an easy and comforting dinner idea? This crock pot loaded potato soup is the answer!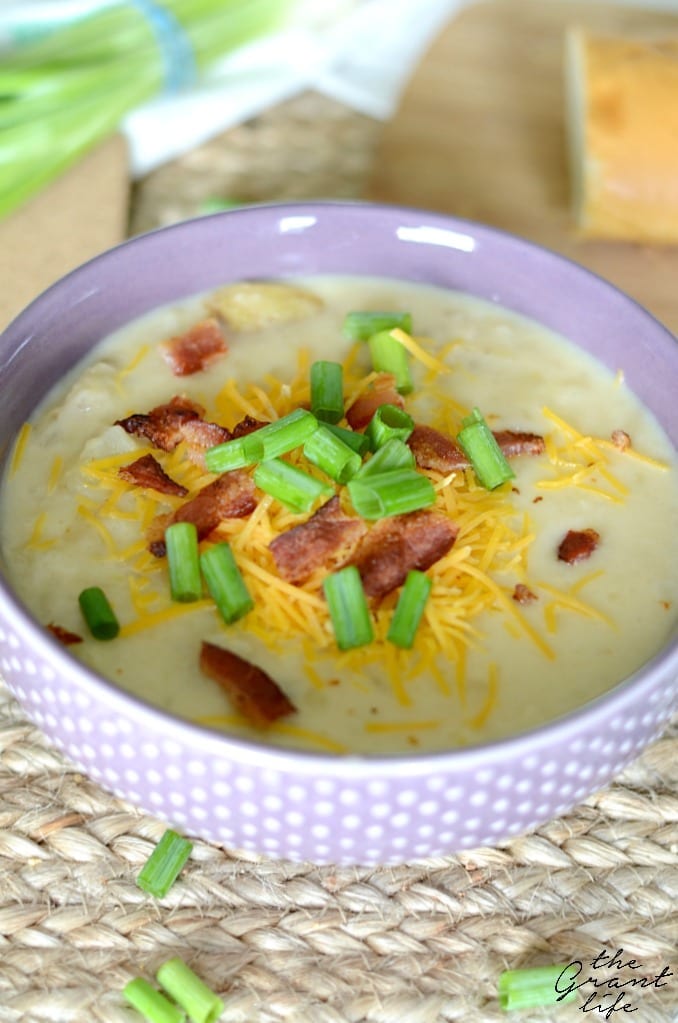 Hey yall! Two things – it's starting to feel like fall down here! Yesssss! I love the colder weather. So much. People think I'm crazy when I tell them that I loved living in Michigan. I like cold weather that much. Which is especially weird since I was born and raised (and currently live) in South Texas. Which is NOT known for its cooler temperatures.
But the temperature is dropping so I'm all like – COMFORT FOOD HEYYYY. And also – LET'S BAKE HEYYYY. Basically let's heat up the house with yummy smells. (I wish my keyboard had emojis like my phone because I would put the guy with his hands in the air right HERE.)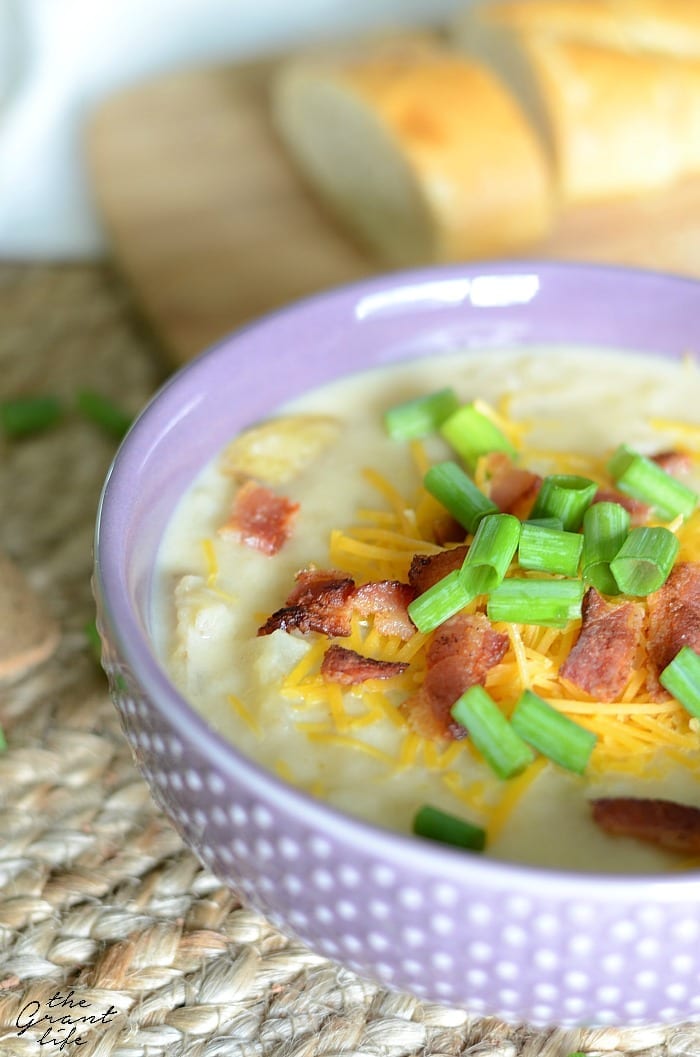 The second thing is that we still have 5 out of 8 puppies. Oh yes. A house full of puppies still. Which has been ok since they have a kennel and play area. We bought a super yard and attached it to the kennel so they have a play to romp and stomp and sleep. It has worked out well.
Until two of the pups decided they wanted to bust out of that joint and have learned to jump OVER the play yard. So when we come home or wake up there are two puppies at our feet like "Hey, that was cute that you wanted us to sleep in that kennel. We prefer the outside now."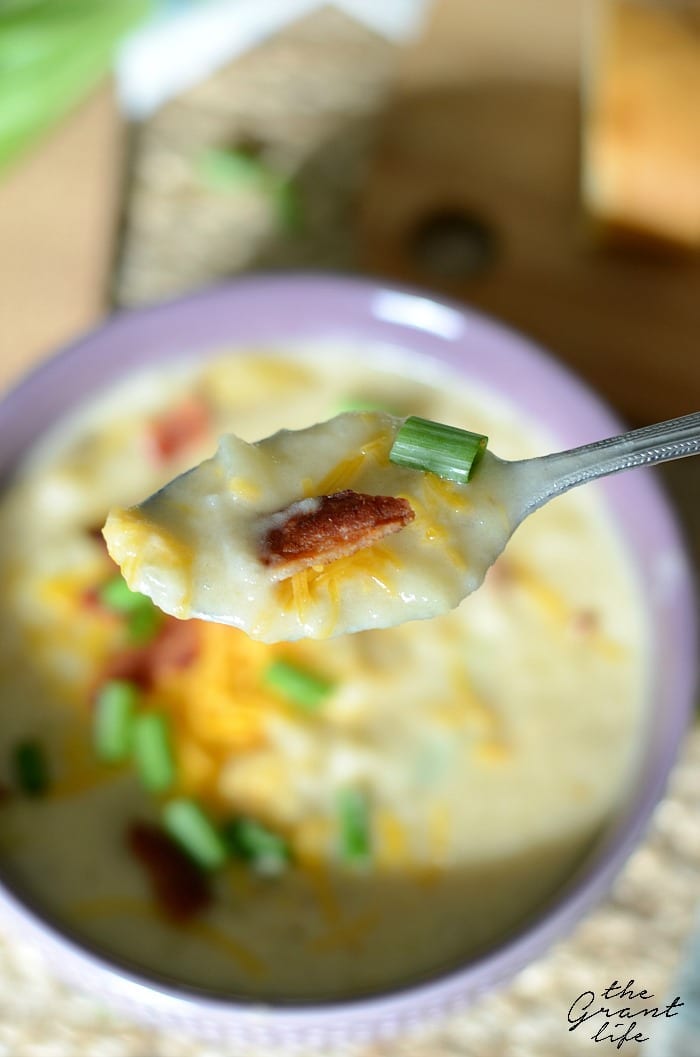 The plus side of the dogs escaping is that I have two more crumb catchers hanging around. Which is good because a.) I cook/bake/drop things a lot and b.) I have messy kids. And an extra bonus plus to the situation is that they are freaking adorable and have the biggest brownest puppy dog eyes ever.
So yea. I'm excited about cooler weather down here in South Texas and semi-ok with my puppies jumping the coop. Oh and soup. Loaded potato soup that is. Because COMFORT FOOD. And CROCK POT RECIPES. Insert heart eye emoji here.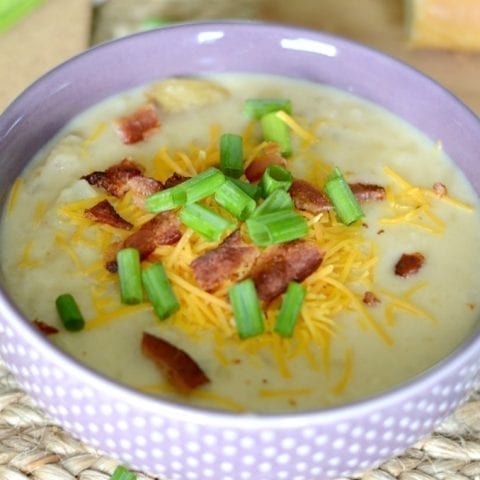 Crock pot loaded potato soup
Ingredients
6 slices of bacon
1 onion, diced
3 cloves of garlic, minced
1 tablespoon rosemary or a few sprigs of fresh
2 tablespoons flour or gluten free flour (https://amzn.to/2KvECOx)
4 cups chicken broth, divided
6-8 large potatoes of choice, diced into small chunks
2 cups cheese (plus more for topping)
1/2 cup heavy cream
salt and pepper to taste
3 scallions, sliced for topping
Instructions
In a large skillet cook the bacon until crisp. Remove with slotted spoon and set aside. Do not drain grease.
Add the onion, garlic and rosemary to the bacon grease. Cook until the onions are slightly brown and fragrant.
Stir in flour and cook for a minute or so. It will be a thick mixture but that's good! Just try to remove any lumps.
Add in 1 cup of the chicken broth to loosen up the bit stuck to the skillet. Transfer everything in the skillet to the crock pot.
Add the remaining broth and potatoes to the crock pot. Set to cook on high for 3-4 hours or low for 4-6 hours.
Once the potatoes are and heated through, use a potato masher to mash the taters. I like mine a little lumpy so I leave a few unmashed in the soup.
Stir in the cheese and allow to melt. Add in the heavy cream and heat for about 5 minutes.
Spoon in a bowl and top with cheese, crumbled bacon and scallions. Add salt and pepper as needed.
Enjoy!
Like this recipe? Be sure to check out: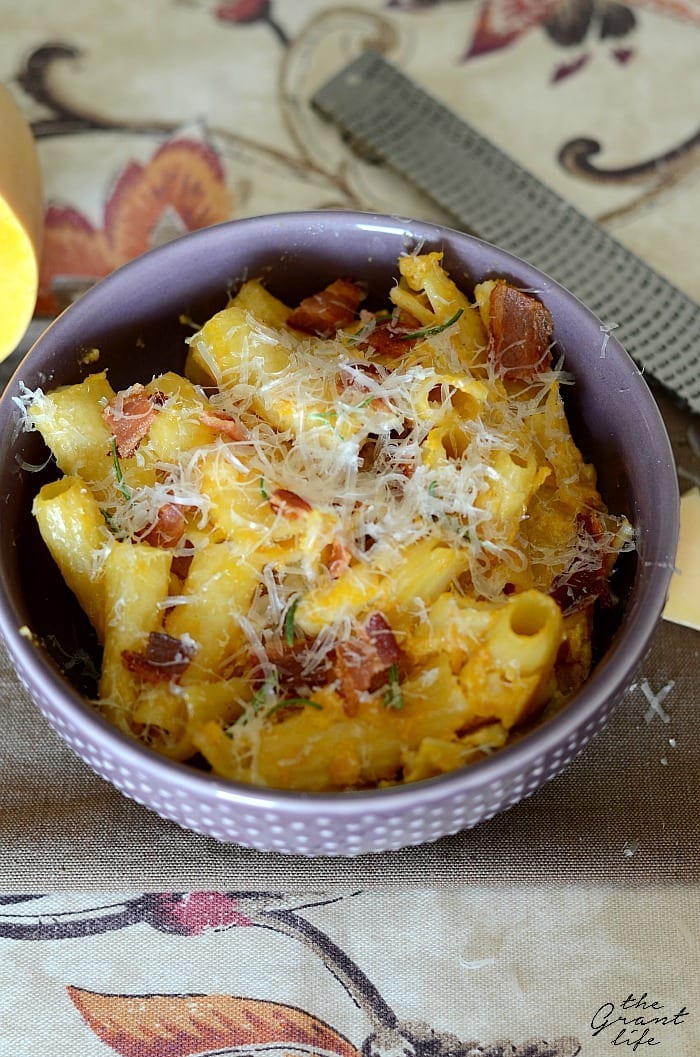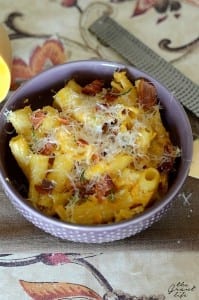 One pot creamy butternut squash pasta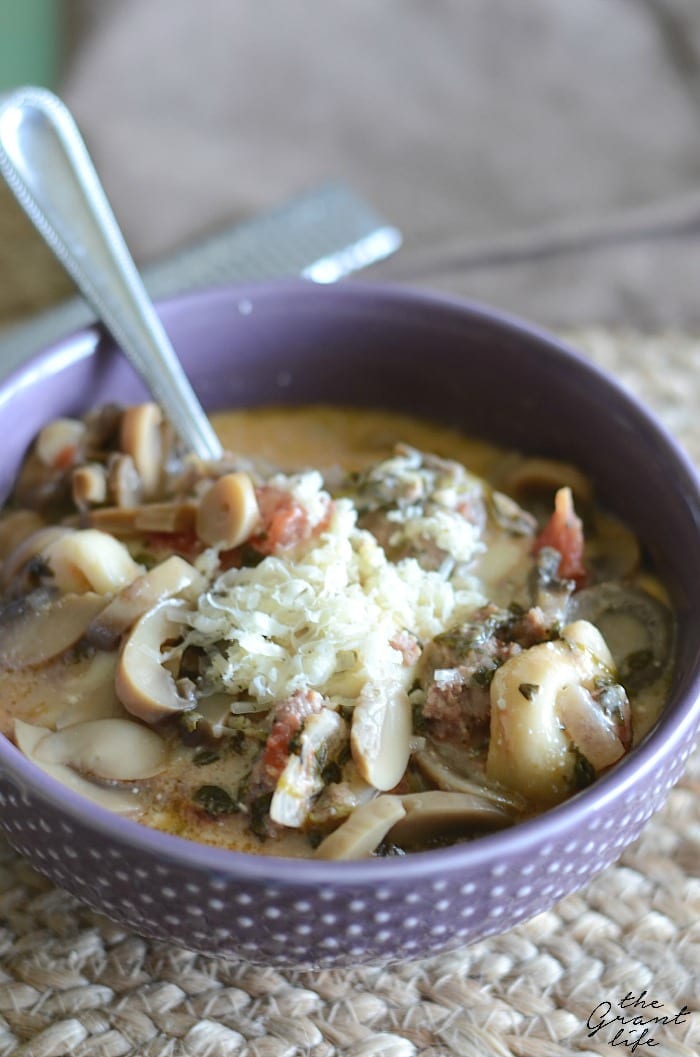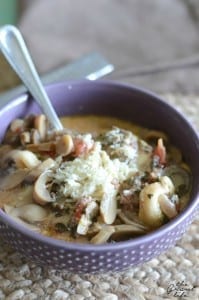 Spinach and mushroom tortellini soup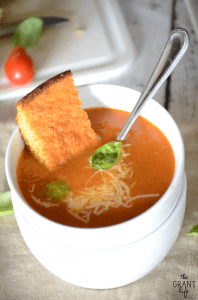 Like it? PIN IT!