Bring your favorite summertime recipe inside with this easy crock-pot whole BBQ chicken! There's nothing more delicious than chicken seasoned with delicious spices, smothered with BBQ sauce, and slow-cooked to perfection. When it comes to a quick and easy meal idea, this one takes the cake.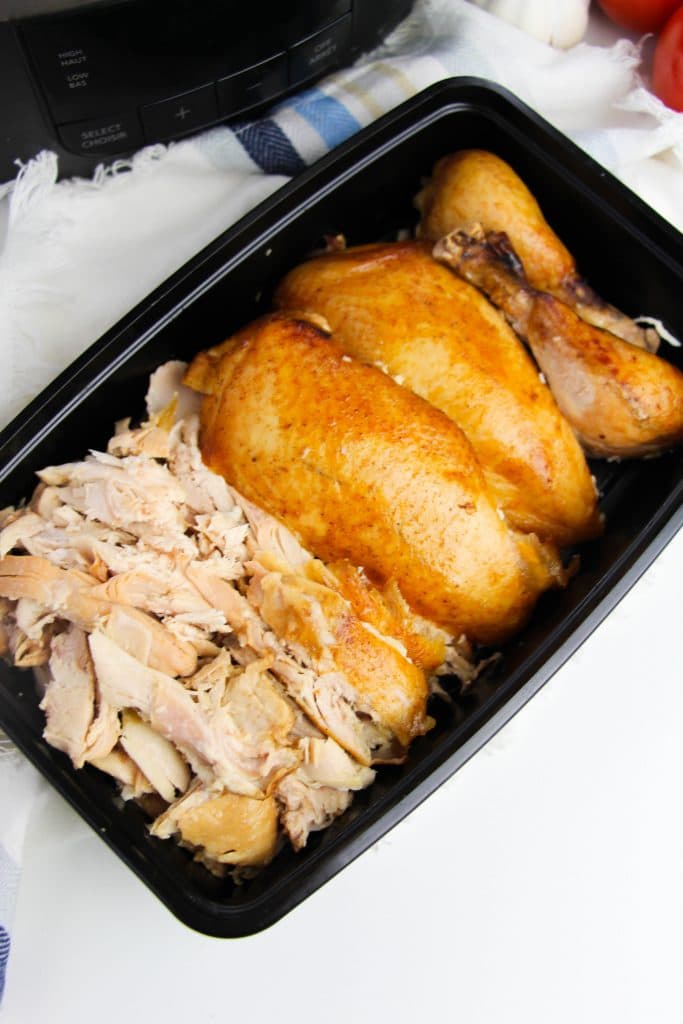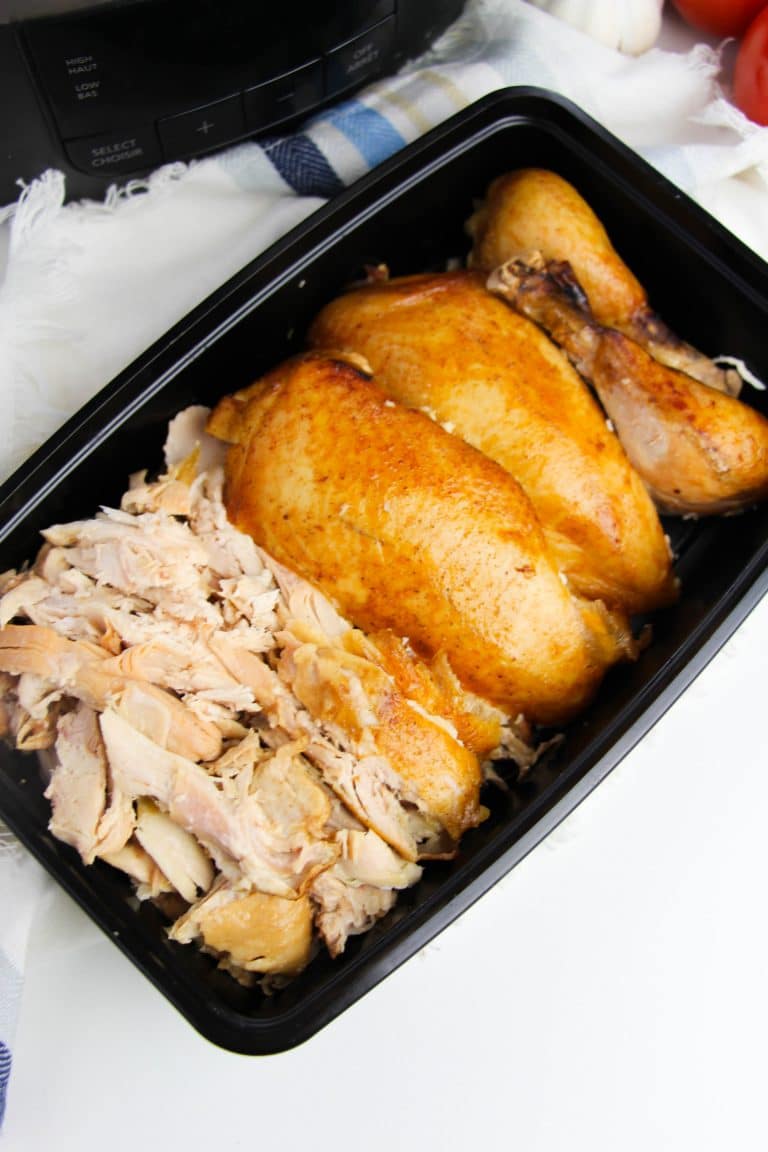 As a working mother, I love quick and easy meals. There are just some days that I don't have the time, energy, or motivation to cook dinner. This easy Crockpot whole BBQ chicken is perfect for days when you don't have the time or energy to whip up a gourmet meal. Plus, it's paired with a variety of sides the whole family will love.
Why You'll Love this Crockpot BBQ Chicken
Don't get me wrong, I love BBQ chicken straight off the grill, but this recipe gives the same delicious BBQ flavors without slaving over a hot grill. Here's why you'll love this crock-pot whole BBQ chicken!
You don't have to watch it. What I love about this recipe is that I can put my chicken in the crockpot while I'm working, and dinner is ready when I need it to be.
Simple ingredients. This recipe is made with simple ingredients that you can find at your local grocery store.
There's no prep. With your crockpot, you just need to throw all the ingredients in. No prep makes everyone's life easier.
It's versatile. You can eat the chicken with some sides, or you can shred it up and put it on a bun for a delicious pulled BBQ sandwich.
Crock-pot Whole BBQ Chicken Ingredients
Most of what you need for this recipe is seasonings to give your chicken a delicious savory flavor. Here's what you need to get started:
Chicken: For this recipe, I use a whole chicken. However, you could use whatever chicken you have as long as you remove the bones and skin while shredding it.
Apple cider vinegar: Apple cider vinegar helps tenderize your bird. It breaks down the proteins and gives your chicken a nice flavor.
Brown sugar monkfruit: Monkfruit makes this recipe low carb, but if you don't care about that, you can just use brown sugar.
Coconut Aminos: This is a dark sauce that tastes similar to soy sauce. If you don't have any, you can just use soy sauce instead.
Worchestershire sauce: Worchestershire sauce pairs beautifully with soy sauce and helps to tendersize your chicken.
Spices: You will need garlic powder, onion powder, chipotle powder, paprika, salt, and pepper to completely season your bird.
BBQ sauce: You can use your favorite BBQ sauce, or you can make my Easy Homemade BBQ Sauce, here.
Scroll to the recipe card at the bottom for a full list of exact ingredients!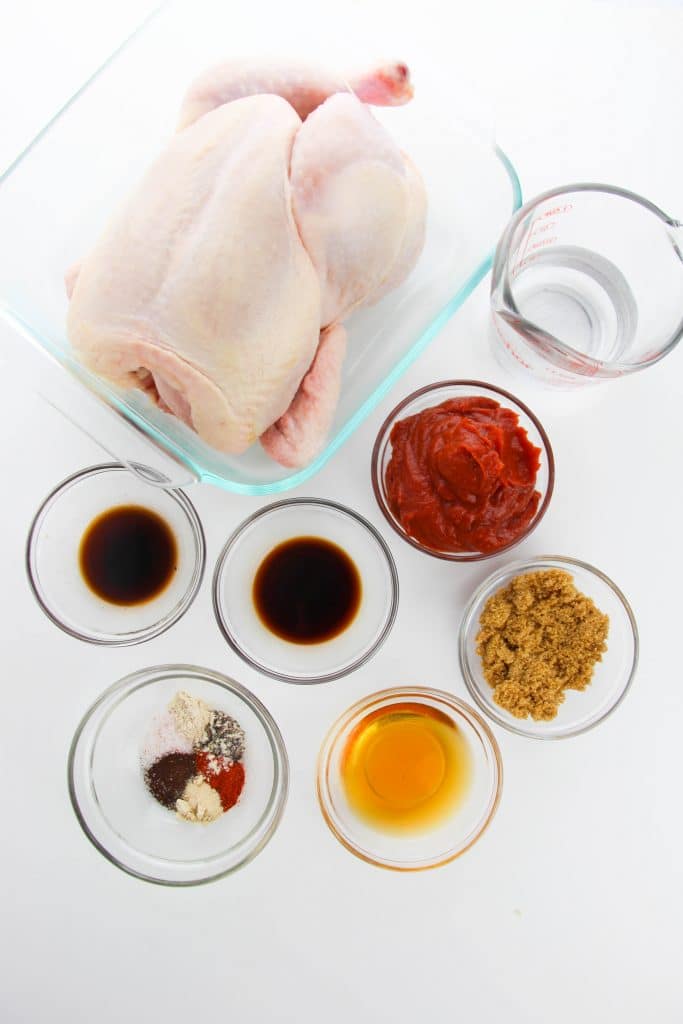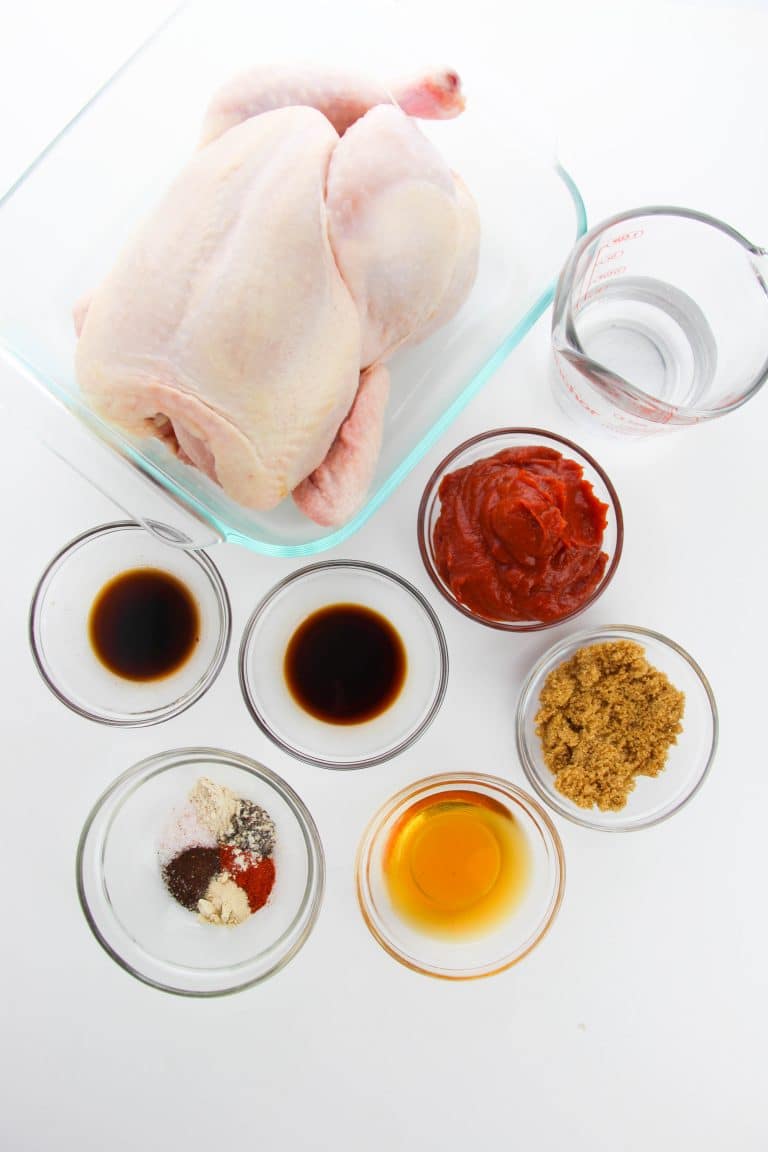 How to Make Crockpot BBQ Chicken
You won't find an easier recipe than this! Follow the simple steps below for an easy, hearty, and delicious dinner.
Step 1: Put everything in the crockpot
Put all of your sauce ingredients into the crockpot and stir well.
Step 2: Add Chicken and BBQ sauce
Add your whole chicken to the sauce in the crockpot. Then, coat the chicken completely with your favorite BBQ sauce.
Step 3: Cook the Chicken
Next, secure the lid on your crockpot and set it to high. Let the chicken cook for 3-4 hours. Use a thermometer to ensure the internal temperature reaches 165F.
Step 4: Shred the Chicken
Remove the chicken and shred.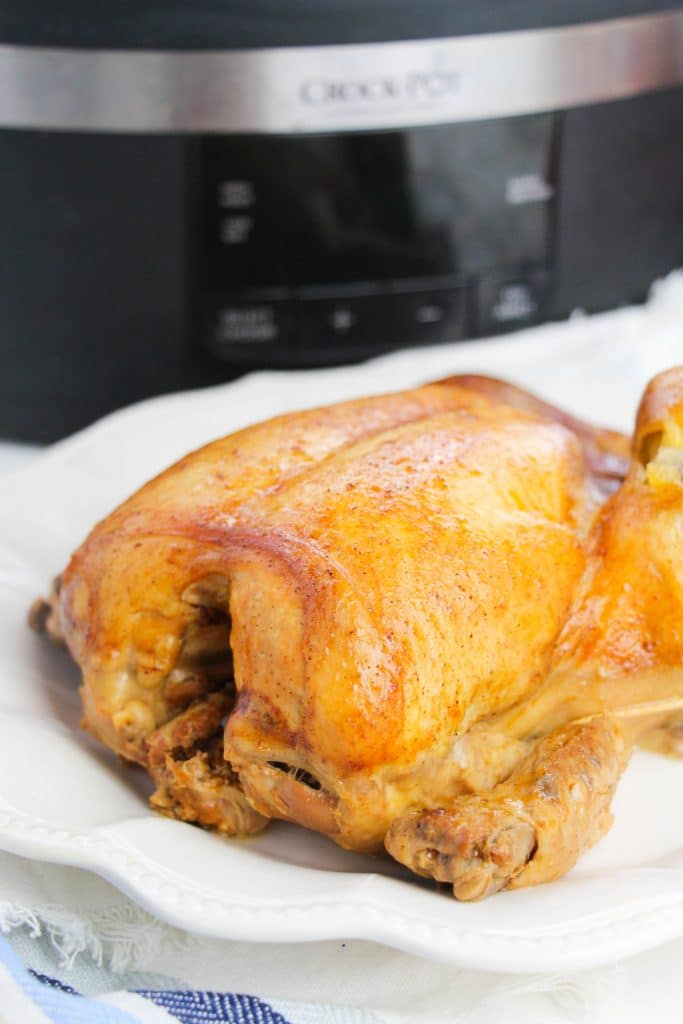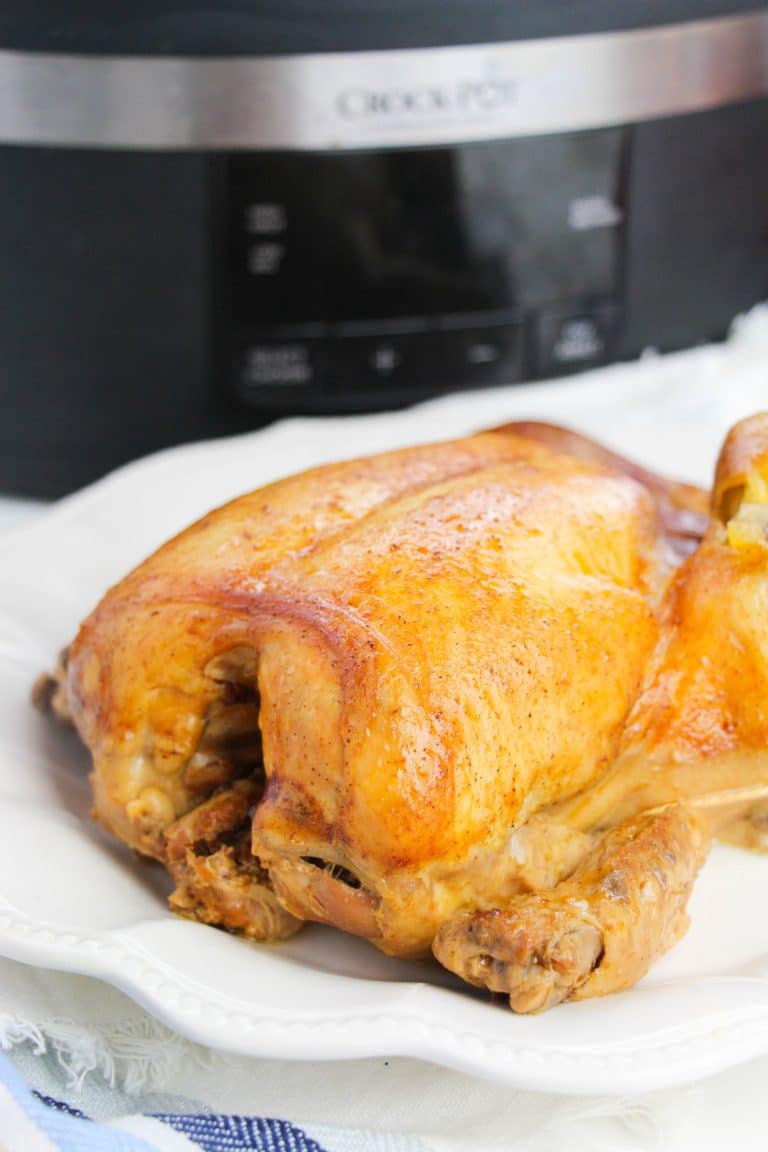 How to Make BBQ Chicken in the Instant Pot
If you have an Instant Pot, you can make BBQ chicken even faster!! And, you can even cook the chicken from frozen. To make this in the Instant Pot, follow my Instant Pot BBQ Chicken Recipe, here.
Can You Put Raw Chicken in the Crockpot?
Absolutely! The beauty of using your crockpot is that it cooks your meats low and slow. This means you get a perfectly juicy chicken when it's all done.
How Long Does It Take to Cook Raw Chicken in the Crockpot?
For this recipe, we are cooking a whole chicken on high. It will take about 3-4 hours to fully cook a chicken using the high setting. However, you could cook the chicken on low for 6-8 hours. I recommend the low setting if you want to throw everything in before you leave for work in the morning.
How Do I Keep Chicken from Drying Out in the Crockpot?
Don't cook your chicken for too long! Chicken is a lean protein which means it doesn't have a lot of fat to keep it moist and juicy. If you overcook your chicken, it will become dry. To prevent this, make sure to check the internal temperature of your chicken every 3 hours. Once it reaches 165F, you need to remove it from the crockpot.
Can I Slow Cook Chicken Without Liquid?
Yes, you can! In fact, one of the biggest mistakes many people make is adding extra liquid to every recipe when using their crockpot. Unless you are making soup or stew, you really don't need to add liquid. Any water or liquid in your meat or ingredients is plenty to seep into your crockpot.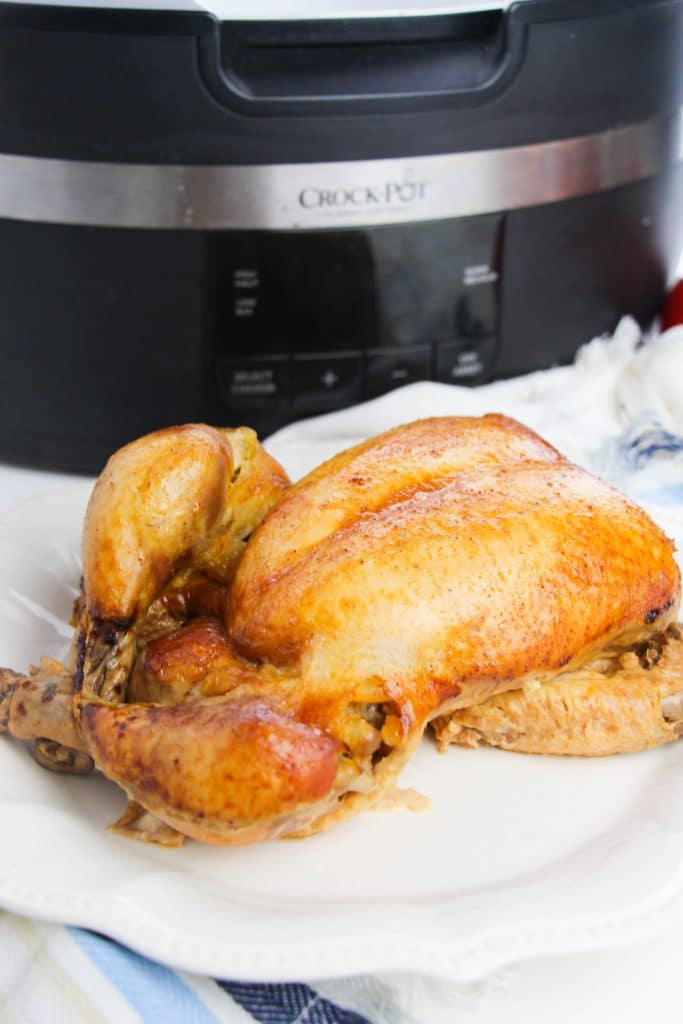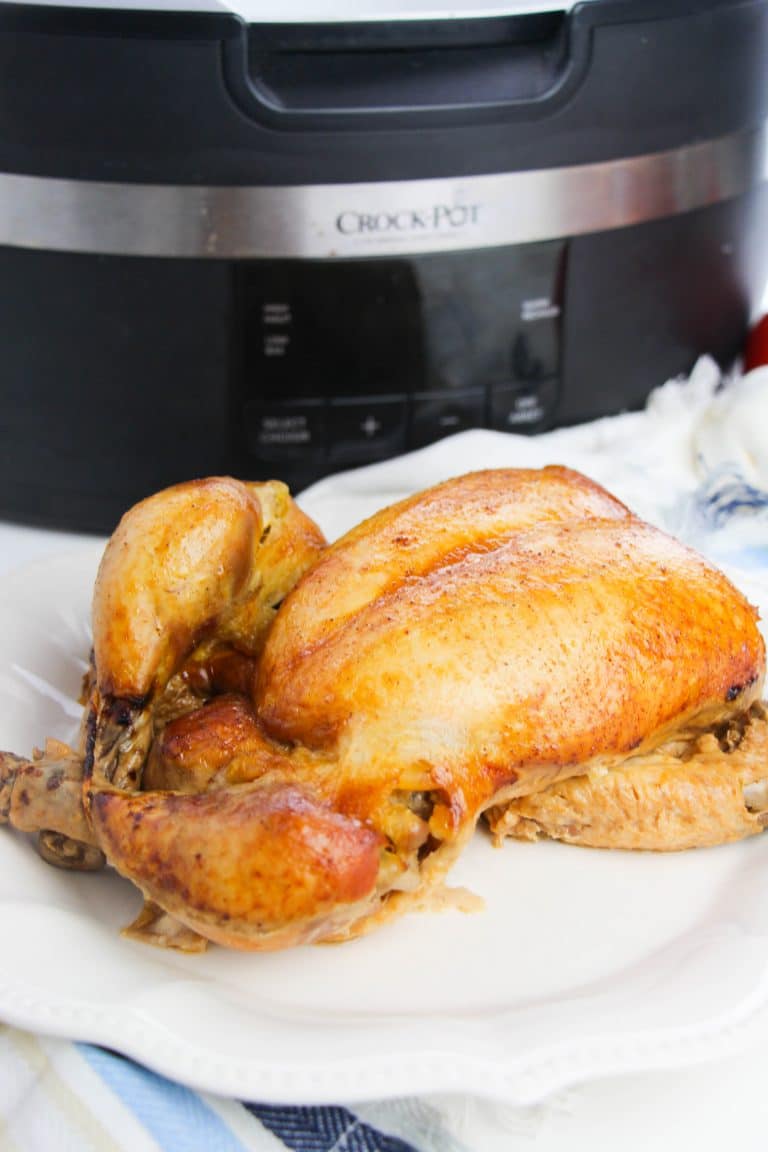 How to cook in your Instant Pot
Want to make this BBQ chicken even faster? Make it in your Instant Pot! To make a whole chicken in your Instant Pot you will need to:
Mix all of your spices and BBQ sauce together.
Coat the bird with the BBQ sauce mixture.
Place a trivet in the bottom of the Instant Pot.
Place the coated chicken on the trivet.
Add a cup of water.
Seal the lid.
Cook on high pressure for up to 30 minutes. If you have a smaller bird, you can cook it anywhere between 20-25 minutes. The internal temperature should be 165 degrees when it's done.
Allow the pressure cooker to come to natural pressure.
Remove the trivet using oven mitts and slice the chicken.
Enjoy!
Side Dish Suggestions
Whether you are eating this BBQ chicken on a bun or simply on the side, there are a variety of different sides you can choose from. Here are a few of my favorite sides to make:
How to Store Leftovers
Storing leftover crock-pot bbq chicken is super easy to do. Simply let the chicken cool, place it in a Tupperware bowl with the sauce, and place it in the refrigerator. It will keep for 3-5 days before you need to throw it out. Additionally, you can freeze your leftover chicken as well. If you wish to freeze it, place it in a Ziploc freezer bag and put it in the freezer.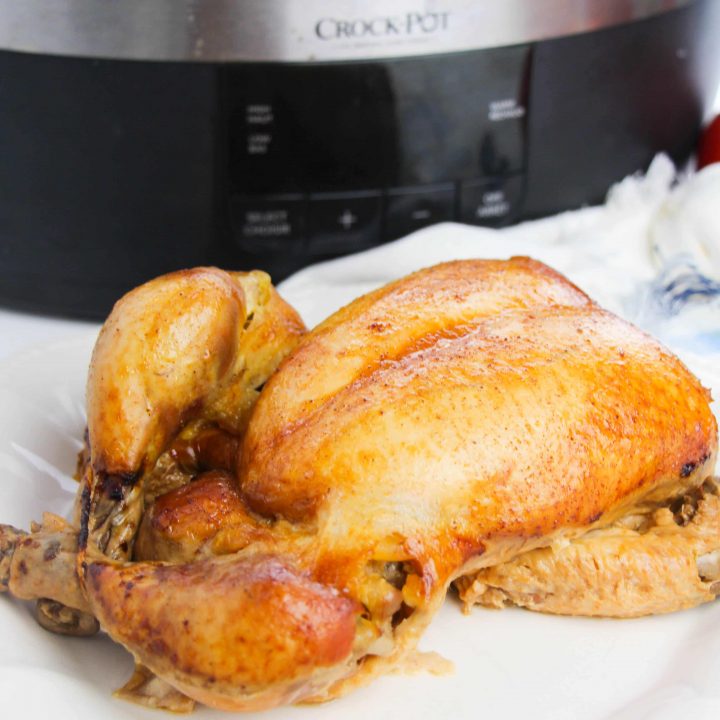 Crock Pot Whole BBQ Chicken
Cook Time:
4 hours
3 seconds
Total Time:
4 hours
3 seconds
Ingredients
3lb Whole Chicken
6oz Tomato Paste
1/2 cup Water, as needed
3 Tablespoons Apple Cider Vinegar
2 Tablespoons brown sugar monkfruit <-- can use brown sugar if not making low-carb
1/2 Tablespoon coconut aminos <-- can use soy sauce
1 Tablespoon Worchestershire sauce
1 teaspoon garlic powder
1 teaspoon onion powder
1 teaspoon chipotle powder
1 teaspoon paprika
Salt and pepper, to taste
BBQ sauce
Instructions
Place all sauce ingredients in your Crockpot and stir well to combine.
Add in the whole chicken and then use a pastry brush or measuring cup to coat the chicken completely in the BBQ sauce.
Secure the lid on your Crockpot. Set heat to high and the timer to 3-4 hours. Ensure chicken is 165F before setting Crockpot to warm or turning off.
Remove chicken and shred.
Can I freeze this chicken?
Yes! You sure can! Allow the chicken to cool and the slice into smaller sections. Place the sections into a Ziplock baggie and put it in the freezer. Make sure you remove all the air first. It will keep for 3-4 months in the freezer. Thaw in the fridge and then warm in the microwave.
Other Crock-pot Chicken Recipes to Try
Looking for more easy dinner ideas? Check out some of my favorite crock-pot chicken recipes, below!