Looking for menu recipes? I've got a whole month of quick and easy dinner ideas for you! I am huge believer in menu planning and I love being able to share my tips and tricks with y'all. If you need help getting started menu planning, check out THIS POST. I break it down and make it easy to get started. No need to fear the menu plan!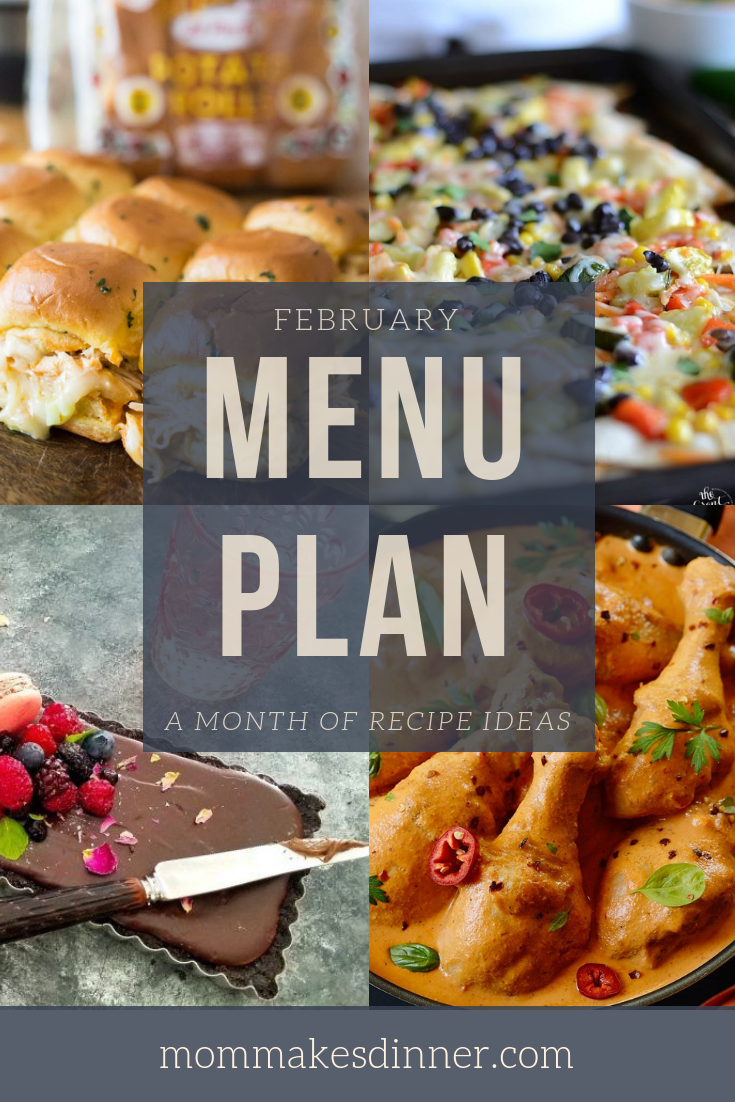 Hey there! Welcome to February! We made is past January! Yaaayyy! It's like we speed through the holiday months and then there are 675 days in January.
But we made it and we are one month closer to summer time! Normally I wouldn't be in a huge rush for summer but we just moved back up to Michigan and well, it's cold. You will never, ever hear me complain about a Texas winter, ever.
A few things to note –
There are 4 weeks of menus below. Each week has 6 main dishes, 2 sides and 1 dessert. Feel free to take recipes from any week and create your own menu plan. These recipes are for here to inspire your own menu plan.
I check all the ingredients and recipes that are gluten free, Keto, Paleo, or Whole30 are marked. I have also marked recipes that use a crock pot or Instant pot or are made using only one pot/pan.
You can also grab a free grocery list and menu planner printable below. Let's get eating!


Week 1:
Main dish – King ranch chicken soup – Crock pot
Main dish – Sheet pan chicken and veggies – One pan/GF/Keto/Whole30
Main dish – Mushroom and mozzarella skillet chicken – Keto/GF/one pan
Main dish – One pot chicken quesadilla pasta – One pot
Main dish – Low Fodmap satay pork meatballs – Low Fodmap/GF
Main dish – Tuscan tortilla vegetable soup – One pot
Side dish – Honey glazed baby carrots
Side dish – Pan fried collard greens
Dessert – Strawberry cream pound cake

Week 2:
Main dish – Weeknight enchiladas
Main dish – Sweet heat chicken kabobs – Keto/GF
Main dish – Pasta with fried zucchini
Main dish – One pot chicken in lime coconut sauce – Keto/GF/one pot
Main dish – Buffalo chicken bread
Main dish – Lobster shrimp mac and cheese
Side dish – Roasted potatoes
Side dish – Asian red cabbage slaw
Dessert – Raspberry chocolate chip bars

Week 3:
Main dish – Skillet lasagna
Main dish – Sheet pan fajitas – Keto/GF/Whole30
Main dish – Minestrone – One pan/GF
Main dish – Buffalo ranch chicken wraps
Main dish – Pork patties with apples
Main dish – Slow cooker pulled pork tenderloin – Crock pot/GF
Side dish – Bacon mac and cheese
Side dish – Parmesan cauliflower
Dessert – Cranberry bliss bars

Week 4:
Main dish – Easy homemade shake and bake chicken
Main dish – Original Mississippi pot roast – Crock pot/GF/Keto
Main dish – Instant pot buffalo chicken sliders – Instant pot
Main dish – Grilled cream cheese stuffed chicken – Keto/GF
Main dish – Spicy chicken salad
Main dish – Chicken enchilada skillet – One pan/Keto/GF
Side dish – Roasted cauliflower
Side dish – Roasted vegetable nachos
Dessert – No bake Nutella tart