You won't believe how easy these weeknight enchiladas are to whip up!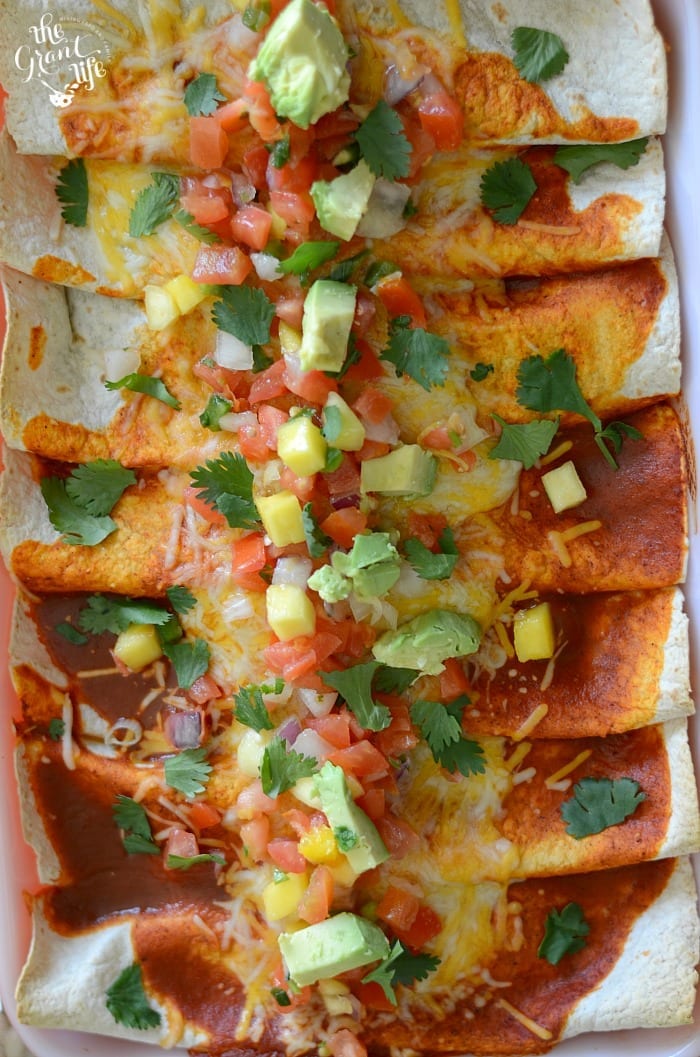 Hiiii friends! How fun are these enchiladas? And by fun I mean colorful. I'm pretty much convinced that the more color in a meal the better it tastes. Which is probably true since these easy enchiladas are full of flavor. Easy weeknight make in 30 minutes flavor.
And that's really the best kind of flavor out there.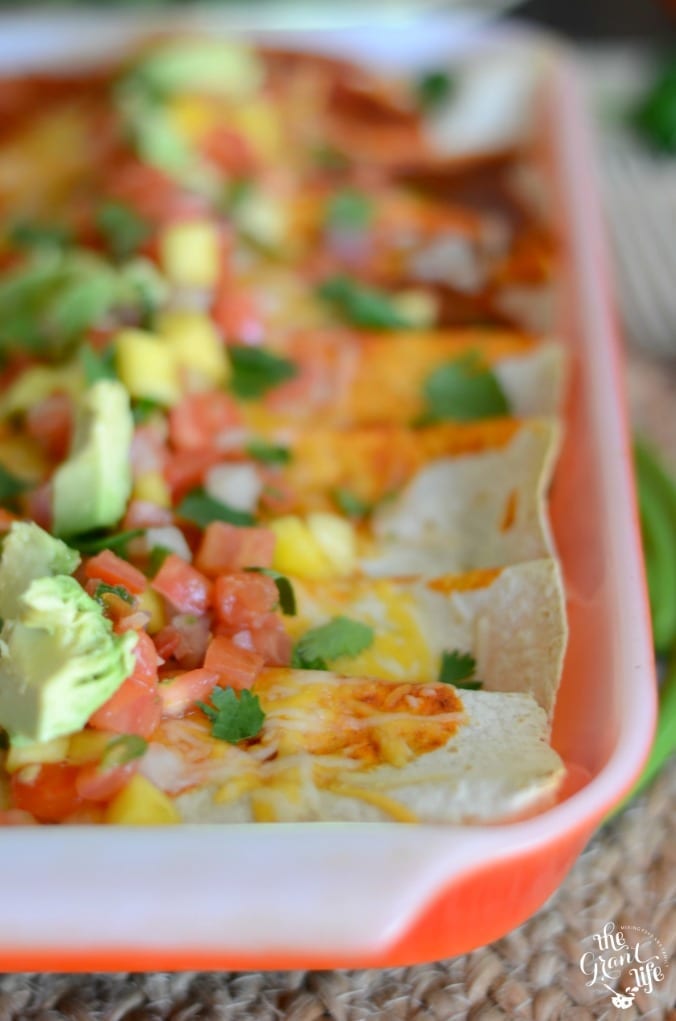 I whipped up these enchiladas one night when we had a friend over. Well, Ryon had a friend over. I was happily cooking dinner while the kids ran circles around dad and his buddy. It's amazing how much faster you can get dinner ready when you don't have to work around two little people.
And I know when I'm older and they are off to college I will miss it. But today? It was a nice break.
I call these weeknight enchiladas because they are easy enough to make on a busy weeknight. Browning the meat is what takes the most time. But if you have leftover hamburger or chicken then even better! Then they are super duper beyond easy weeknight enchiladas.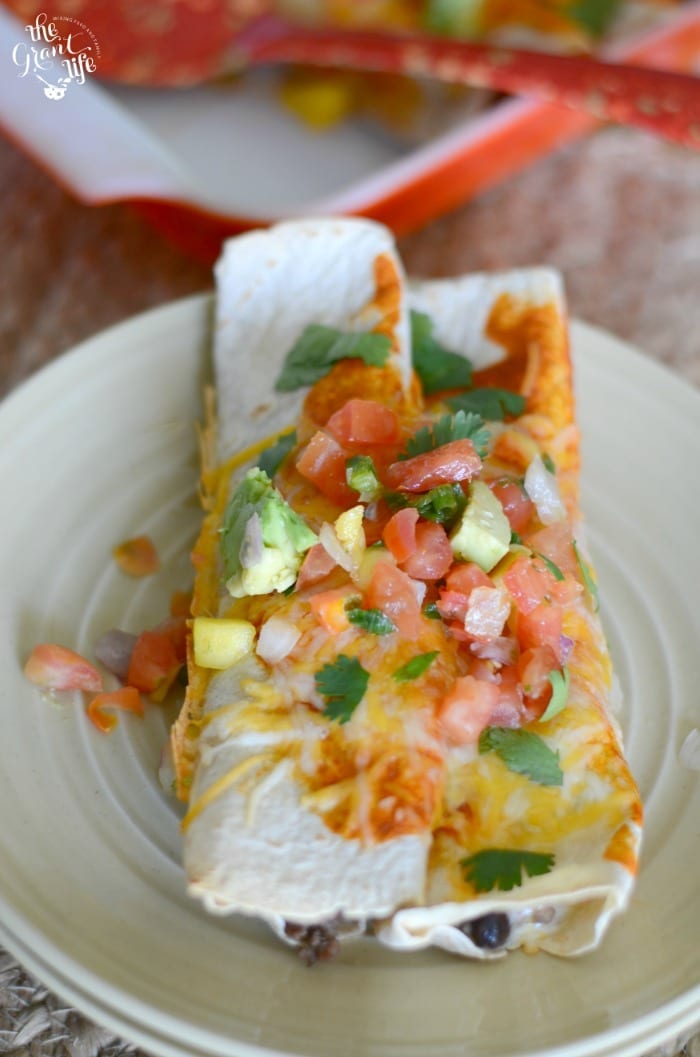 I actually doubled the recipe below because I love leftovers. Ryon came in the kitchen and I told him dinner was ready. He looked confused – "Already? But there's a pan still in the oven." Yup. I made extras. But these one right here are ready to go.
I think I am going to make a batch of these right before the baby is due so I can have them on hand after. They freeze and warm up perfectly and I know I'm going to need the extra help of a quick meal. A super duper extra colorful totally tasty delicious meal. (I know I'm missing a few commas there.)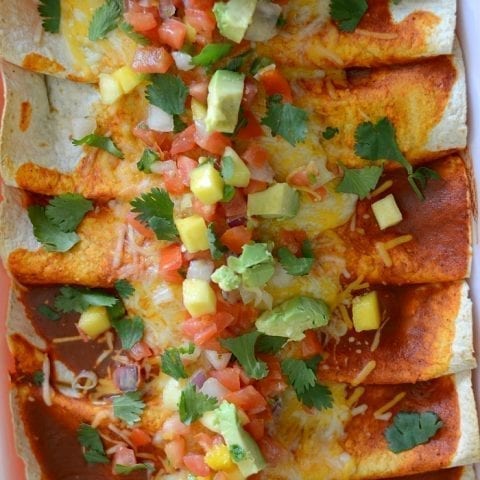 Weeknight enchiladas
Ingredients
1 pound hamburger meat
1 onion, diced
2 tablespoons butter
1 can of black beans, rinsed and drained
3 cups of cheese, divided
12 flour tortillas
1 avocado, diced
1 cup pic de gallo
cilantro
Instructions
Preheat oven to 350.
In a large skillet, heat the butter and add the onion. Cook for 5 minutes, or until the onions are soft and starting to brown. Add in the hamburger and cook until no pink remains - about 8 minutes.
Add the taco seasoning and 1 cup of water. Bring to a boil, reduce heat and let simmer for 2 minutes. Stir in the black beans and remove from heat.
Line one tortilla with 2-3 tablespoons of the meat mixture in the center. Add in some cheese and roll it up. Lay in a baking dish with the seam of the tortilla facing down. Repeat with the rest of the tortillas. Spread the enchilada sauce over the tortillas and add any remaining meat. Cover with the remaining cheese.
Bake for 10 minutes, uncovered, or until the cheese is bubbly on top.
Remove, allow to cool, add the pico de gallo, avocado and cilantro to the top and enjoy!
Like this recipe? Be sure to check out:
Like it? PIN IT!