Are you new to meal planning? Check out these easy tips on how to get started menu planning.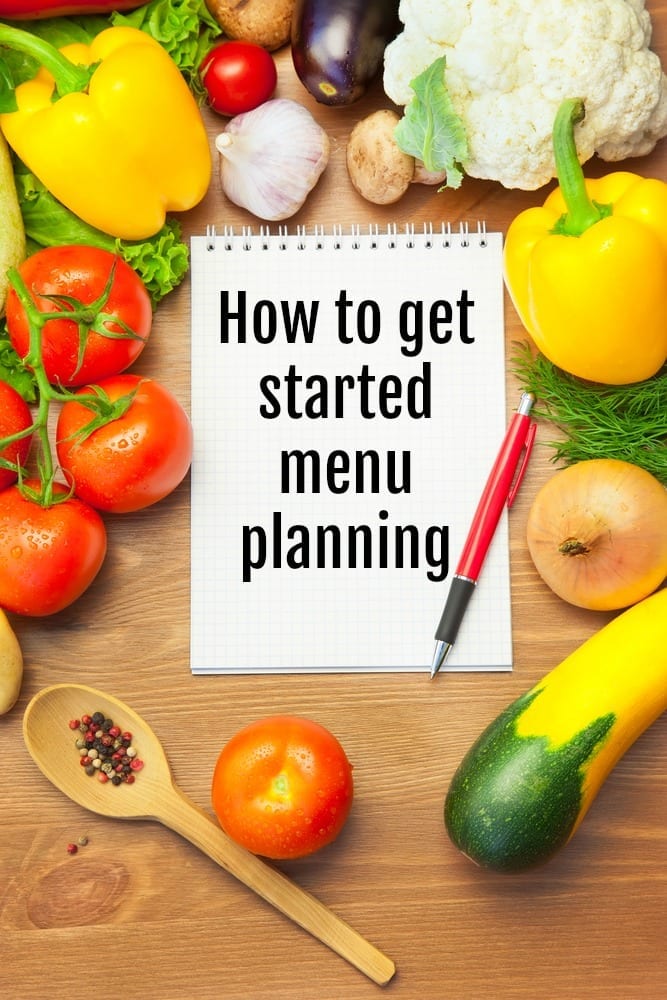 Have you thought about meal planning but just don't know where to start? It can sometimes seem overwhelming in the beginning. I know, I've been there. I wasn't sure how to even begin! But I've been menu planning for a few years and it does get easier. And fun! It's fun to sit down and plan out our meals now. Let me show you how to set a weekly menu plan and actually enjoy it!
Why create a weekly menu plan
There are a few reasons to set a weekly menu plan and vary among each person. Some people meal prep each week to help them lose weight and stay healthy. It's easier to prep their menu and food one day a week and have it ready throughout the week. It reduces the chances of poor eating and helps promote healthy eating habits.
Other people meal plan to help save money. The more you eat at home the less money you spend going out to eat for meals. A solid meal plan and grocery trip reduce the number of trips to the drive thru.
Another reason to meal plan is to keep yourself organized. It saves time and energy when you know what you are making for dinner that morning and know you already have all the ingredients. This is my favorite reason to meal plan! It helps save my sanity with three kids running around.
Your reason to meal plan may be something totally different then the reasons above and that's ok! Everyone has their own reason to get create a weekly meal plan for their family.
Some reasons to meal plan include:
Help with weight loss
Save money
Stay organized
Save sanity
and more!
How to get started meal planning
The first step to meal planning is to get yourself organized. You want to sit down with a notebook, pen and calendar to get started. Take a look at the calendar and find any days that you know you won't be home to cook. Baseball practice, ballet, date night, etc. Mark those on your calendar so you know what days you don't have to cook that week. This helps take some of the stress off of having to cook every night during the week.
That's the point of meal planning yall. To take some of the stress and anxiety out of dinner. The first thing I do is figure out what days I don't need to cook or prepare a meal for the whole family. Then I start to tackle the days that are left on the calendar.
Create a recipe bank
The easiest way to plan out your menu is to pull from a recipe bank you've created. In your notebook jot down your family favorite recipes. Grandma's spaghetti and your famous meatloaf recipe go in the bank. Write down all the recipes that you know how to make and that your family already enjoys each week.
Use those family favorites to fill in spots on your menu calendar for the week. Or if you grocery shop every two weeks, fill in two weeks at a time on your menu plan. It's totally customizable to your family.
You've crossed off your no-cook days and filled in some blanks with family favorites – now what?! Below are some methods to help you fill in your menu plan and have fun doing it!
Use sales and specials
Help fill out your menu plan for the week based on what is on sale at the grocery store. Look through your local grocery ad and make a list based on the deals you find. Chicken on sale this week? Great! Put chicken Alfredo on your menu and add the items needed to make that dinner to your grocery list.
This helps fill out your menu and your pantry with one quick look at the sales and specials at the store.
Shop your pantry
Take inventory of what you have in your pantry on day. If you notice that you have tons of beans then you can add a stew or chili recipe to your menu. Tons of rice? Try a chicken and rice casserole this week!
This method is similar to using sales and specials but you get to use what you already have on hand!
Use seasonal produce
Another way to help fill out your meal plan for the week is to use seasonal produce in your menu. You can find great seasonal produce at your local farmer's market or grocery store. Seasonal produce also tends to be cheaper since there is typical an abundance of it during that season.
For example, if you find asparagus at the store then you can add asparagus pasta or roasted asparagus to your menu. You can build your menu based on what produce is in season during the year.
Use a guide like Seasonal Food Guide to help find the best produce for your area.
Try a theme night
Theme nights are a fun way to fill out your menu plan for the week. Not sure what theme night is? Here are some suggestions:
Monday – meatless Monday
Tuesday – taco Tuesday
Wednesday – we love pasta Wednesday
Thursday – throw back Thursday (a classic dinner recipe)
Friday – pizza night
Using a theme helps fill in your menu schedule. You can go with a tried and true recipe or you can get creative and try a new one!
Also, don't forget to plan in a leftover night if your family likes leftovers. We are big leftover fans here so once or twice a week I don't cook and we enjoy leftovers from the week. It's a win-win!
Get inspired
Now you may be wondering, "where are all these new recipes for my menu plan coming from?" The good news is that you can find new dinner time recipes EVERYWHERE! My favorite places to get inspired and find new ideas are:
Social media – Pinterest or Facebook or Instagram. All of these social media sites are teeming with new recipes for you to try! Pinterest is my favorite and I even have an easy dinner time ideas board you can scroll through.
Cookbooks – I love browsing through cookbooks, new and old. There are always delicious new recipes to add to your meal plan. You can also check out food magazines to get inspired.
Friends and family – Looking for a recipe with beef? Ask your friends and family! People love sharing their recipes with others. All you have to do is ask for some new ideas and your friends and family will help you out!
Don't stress
Are you still with me? I know it seems like a lot, especially if you are just starting to meal plan. The great thing about meal planning is that it is totally customizable to you and your family. Also, once you get started with it each week becomes easier to plan. You figure out what your family likes and start to try new recipes that fit in.
Here is a quick recap of how to get started menu planning:
Get organized – grab a notebook and pen!
Start a recipe bank – jot down your go to recipes
Fill in the blanks by using:

Sales and specials
Your pantry
Seasonal produce
Theme nights
New recipes to try
No matter the reason you start meal planning, I hope that it helps you and your family! I've included a free meal planner and grocery list printable to help. Enter your email below and I will send them right over!
Happy meal planning!