A super easy tutorial on how to build your own DIY Shopkins storage rack!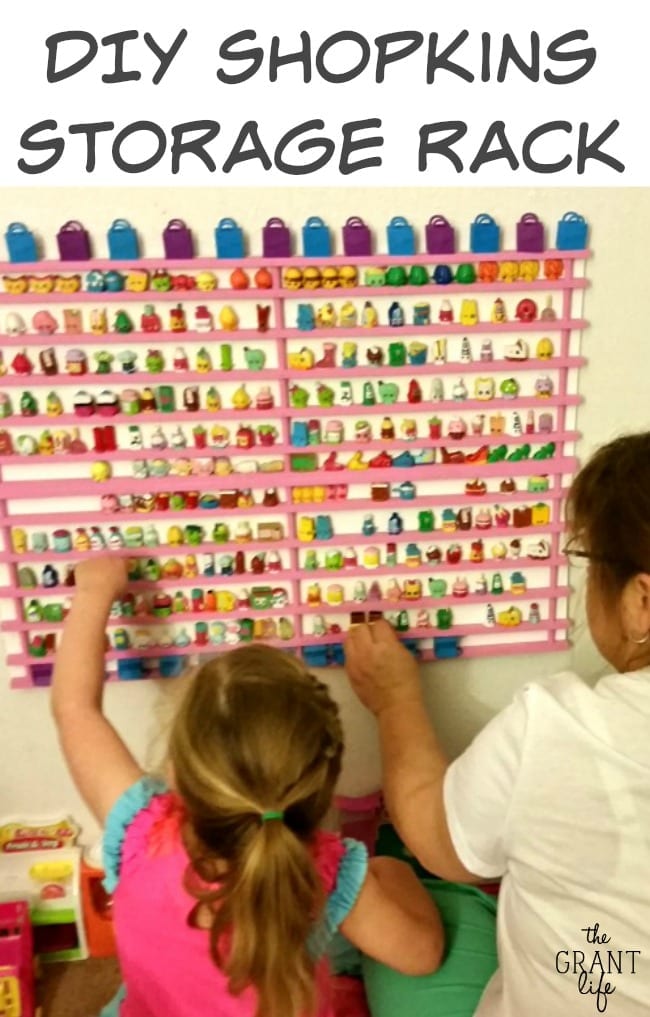 Yall, Ryley is beyond obsessed with Shopkins. Shopkins are these tiny grocery store figurines that have literally taken over our house. I'm not even kidding. She has over 300 of them. And all the accessories that go along with them. The grocery store, the bakery, the fruit and veg stand. And you can't forget the giant shopping cart. Because duh, the tiny figurines need a giant shopping cart to play in.
And I'm not going to lie – I think they are fun to collect too. She gets excited when she finds one that she doesn't have in her collection. And she can tell you all Shopkins in season 1 and 2. And which ones she has, doesn't have and which ones are duplicates. Yup. We needed somewhere to store all these bad boys, so my mom and I made her a Shopkins storage rack for her birthday.
And ps.. Sorry for some of the pictures. We made this rack in the garage after the kids went to bed. Not the best for photographing. Carry on.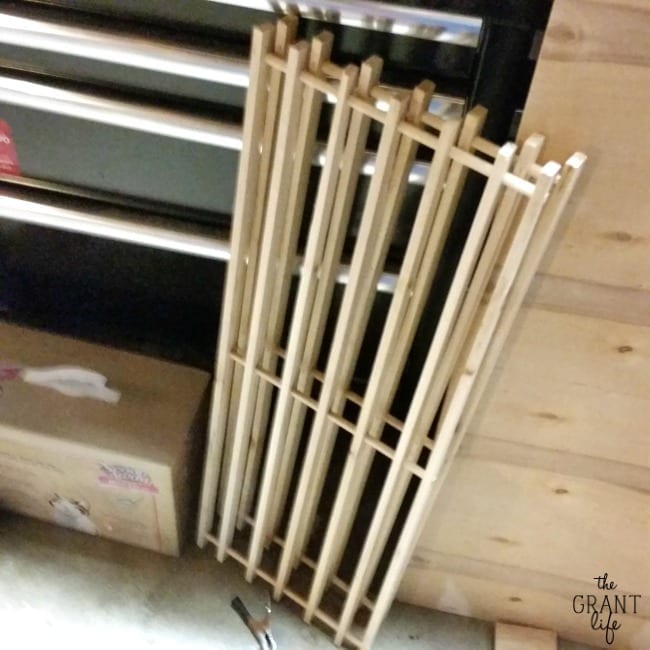 To make your own Shopkins storage rack you will need:
1 – wooden shoe rack (We bought ours at Walmart for less then $8)
1 – piece of plywood
2 – Sawtooth picture frame holders + 4 small nails
6 small nails
2 regular nails for hanging
Paint of choice
Sandpaper
Saw – electric or handheld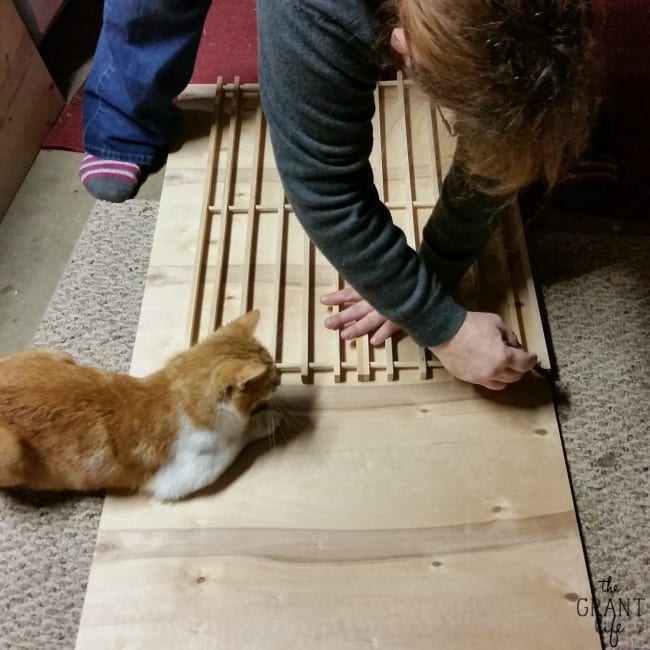 Step 1 – Take the two wood frames from the shoe rack and glue them together using the wood glue. Let them sit over night to dry and sand the dried glue spots off with the sandpaper. We used some clamps to hold the two pieces together overnight. (Note – you will only need the two main pieces of the shoe rack.)
Step 2 – Trace out the now glued together wooden frames onto your piece of plywood. If you have a cute kitten assistant, then you get bonus points. Using a handheld or electric saw, cut out the plywood so that it fits behind the wooden frames.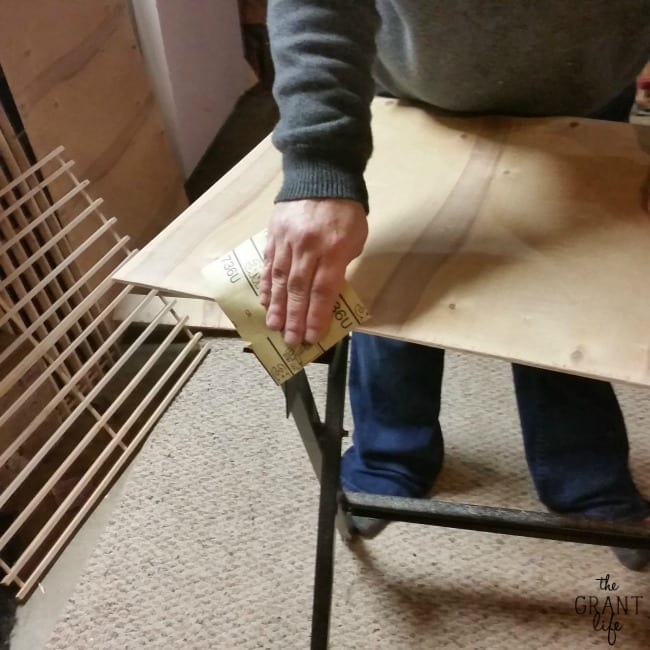 Step 3 – Sand the edges of your newly cut piece of plywood.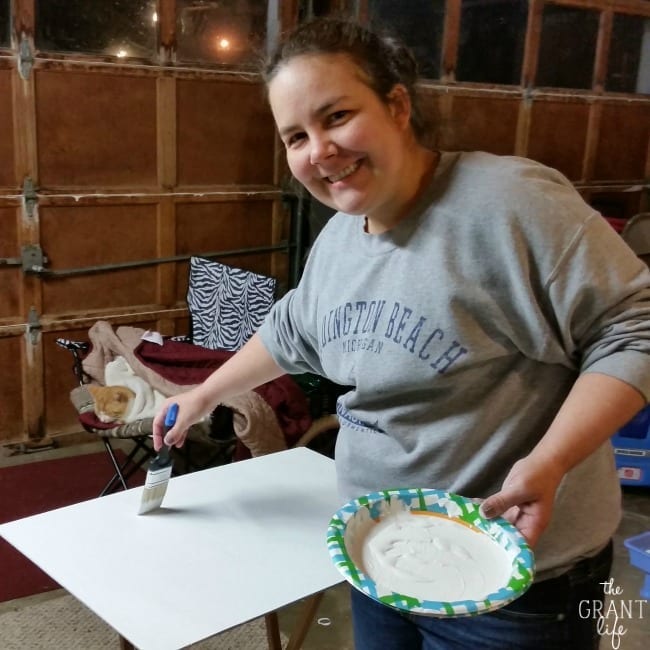 Step 4 – Paint the plywood your color of choice. We choose white for the plywood and pink for the wooden shoe rack part. Paint your shoe rack part as well and let them dry. We used 1/2 bottle of Apple Barrel white paint and two 2-ounce bottles of pink paint for the wooden rack portion.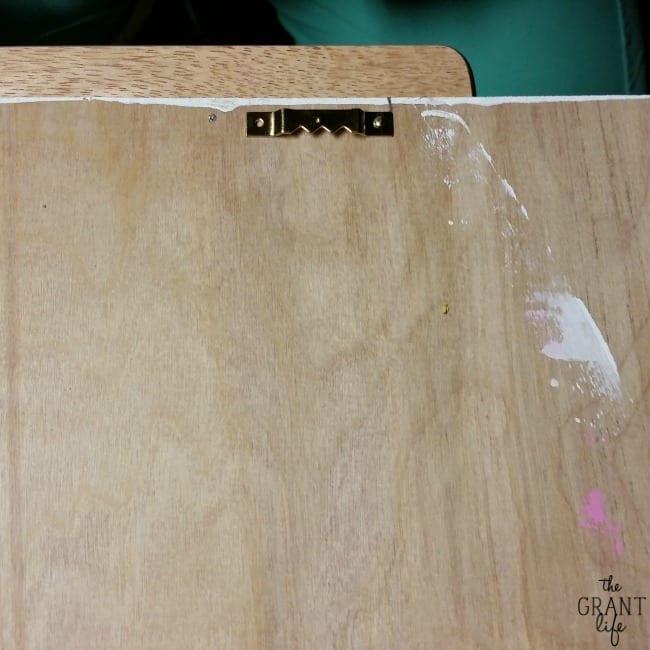 Step 5 – Attach our Sawtooth picture hooks to the back of your plywood using 4 small nails. We had the nails on hand, so I'm not sure what size they were.
Step 6 – Position the painted shoe rack part onto the dry plywood. Hammer in the 6 nails (two on each edge and two in the middle) to the back of the plywood, making sure they attach to the shoe rack on the front.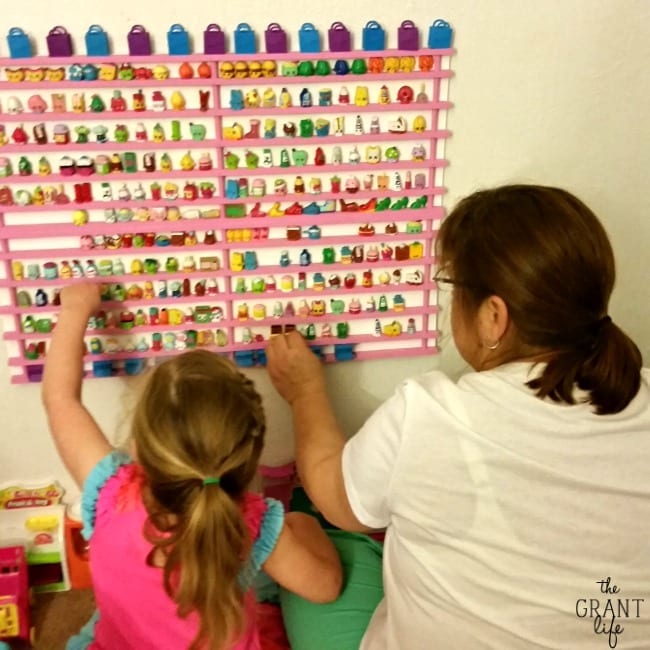 Step 7 – Measure the width of the Sawtooth hangers against the wall, and then hammer in two nails in the wall and attach.
Step 8 – Add your collection of Shopkins to the storage rack.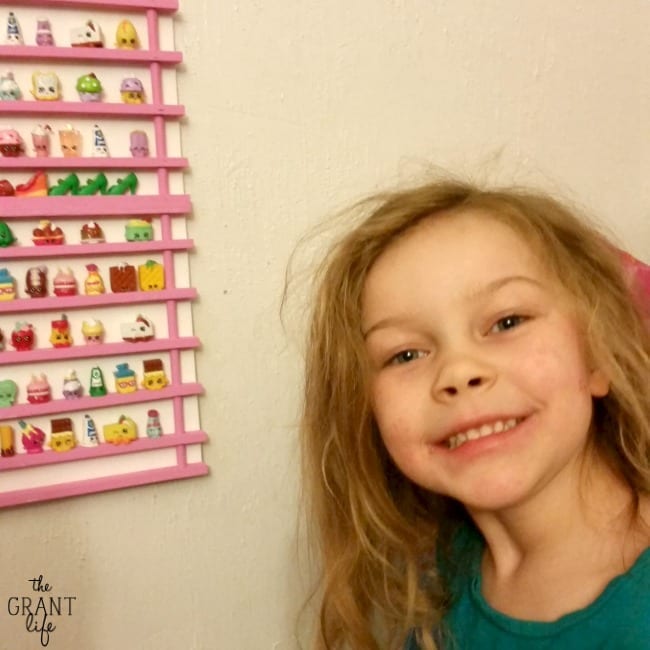 Optional step 9 – Show your now 5 year old daughter her new Shopkins rack and watch her squeal with joy. Totally optional, but totally fun.
Our Shopkins storage rack has been so solid too! I thought with two wild kids that it would last about a week. But both of them have fun putting the Shopkins up there and rearranging them and it has held up. We all love it – the kids because they have a way to display their Shopkins, and me because they are no longer all over the floor. PLUS it entertains both kids for hours! I'm calling this DIY Shopkins storage rack a win!
Like this post? Be sure to check out:
This post contains affiliate links.