Hey yall! Welcome to the second month of #blogfilmfood! This month our month inspiration is: Karate Kid! Brenda from Meal Planning Magic was in charge of the selection this month and I have to say, its a good one! I broke out the big guns for this one – caramel banana wontons!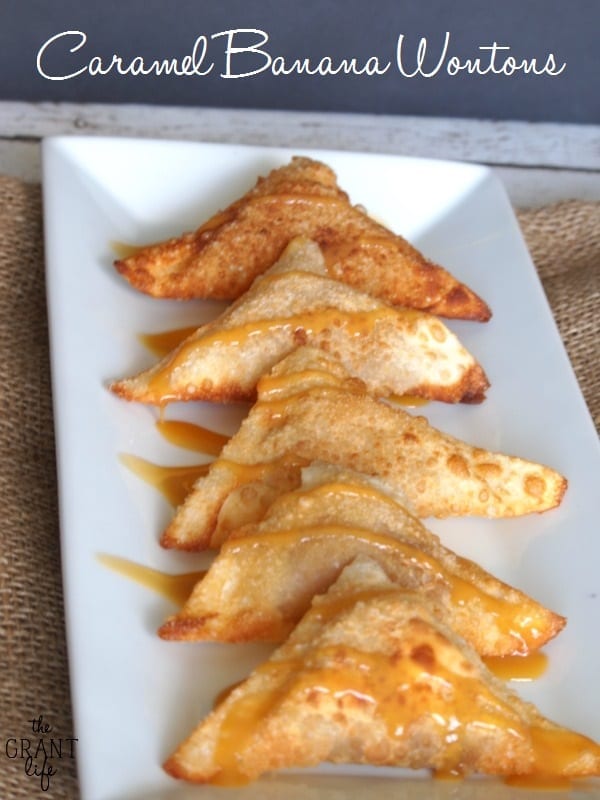 I had never used wonton wrappers before so I hunted some down in my grocery store. [They were around the salad/lettuce/fresh produce at my store just fyi.] Then I had to figure out how to cook them. The package says to either add them to slightly boiling water or to fry them. So of course I tried to bake them first.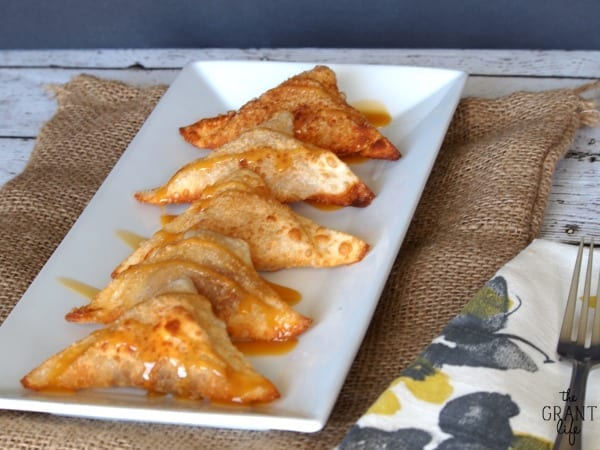 Yea, totally not the way to go. There is a reason they don't have that option on the package – it turns them into cardboard! So making these "healthy" by baking them was out. I tried the boiling water method next. Nope. Came out like soggy goo. It wasn't pretty. [Although they were tasty! I might have eaten two soggy caramel banana wontons. No judgies.]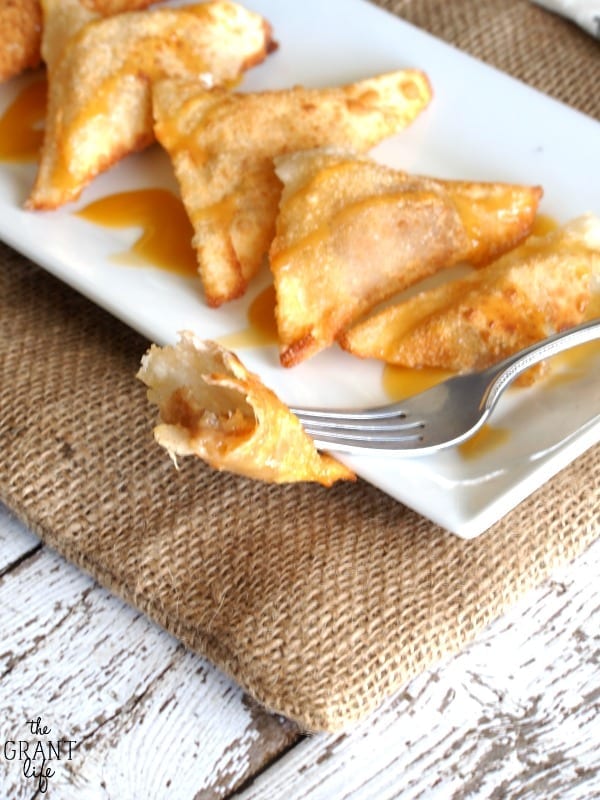 Finally I gave in and followed instructions and fried them. Best idea ever! Or maybe the best idea ever was to drizzle them with salted caramel sauce. All I know is that these didn't last long at our house. I actually had to make more for pictures. My mom came over and ate the last two and then said "Dang, I hope you didn't need to take pictures of these." That's ok mom, I can now say these caramel banana wontons are mom tasted and approved!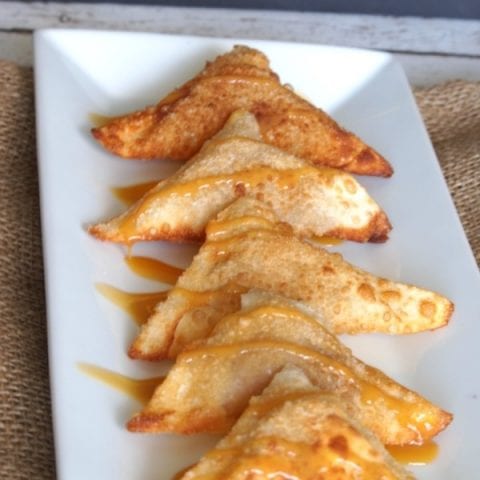 Caramel Banana Wontons
Ingredients
2 bananas, sliced
1 tablespoon coconut oil
1 tablespoon brown sugar
2 teaspoons cinnamon
12 wonton wrappers
oil for frying
caramel sauce for drizzling
Instructions
Put the bananas, coconut oil, brown sugar and cinnamon in a small sauce pan. Cook on low heat for about 5 minutes, stirring occasionally. Remove from heat.
Preheat your oil in another pan.
Place about a tablespoon of the banana mixture onto a wonton wrapper and seal the edges. *see notes
Fry on each side for about 15 seconds, or until the wonton is crisp and golden.
Drizzle with caramel sauce and enjoy!
Notes
I found the best way to seal the wontons is make a triangle shape using a paintbrush and water.
Nutrition Information:
Amount Per Serving:
Calories:

723
Cholesterol:

9mg
Sodium:

581mg
Carbohydrates:

135g
Fiber:

11g
Sugar:

49g
Protein:

13g
Here are what the other ladies brought to the party:
And if you want even more recipes like this check out: