Hey yall! Welcome to our third edition of #blogfilmfood! I am so excited about this month because its filled with chocolate-y goodness! Jessica was in charge of the movie and she picked Charlie and the Chocolate Factory! Seriously I had about a hundred recipes roll through my head. All with chocolate of course. I finally settled on these chocolate covered macaroon bars. And man, am I glad I did!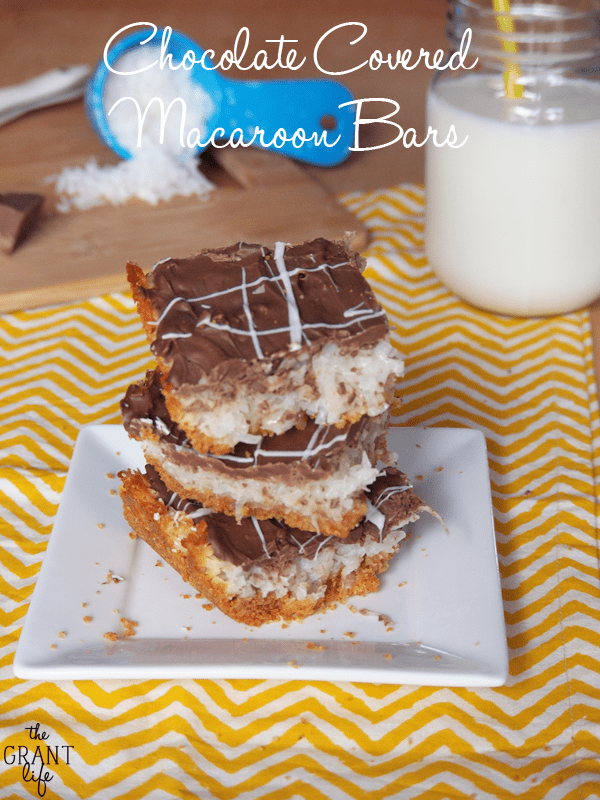 I'm not sure if I've mentioned this before but my mom and I do everything together. We shop together, cook together, chase the kids together. On one of our shopping trips we bought a bought called the Coconut Oil Miracle (affiliate) at Sams because it had a section about Crohns. [Which we both have. See? Everything together! Kidddddding!] It basically said to eat more coconut. I said "will do!"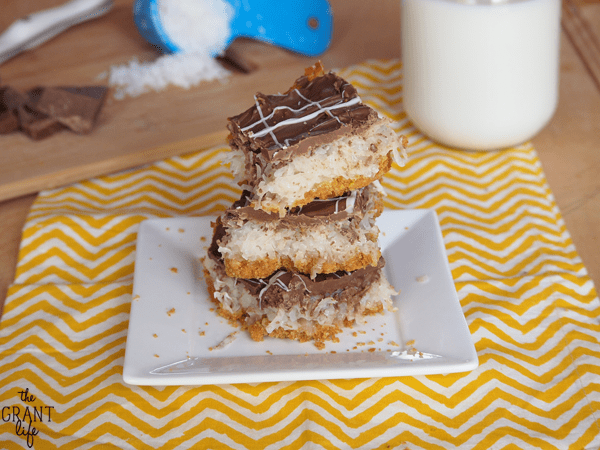 On of the first recipes we tried was coconut macaroons. They were gone in a few hours. Ryon was at work and I told him I was making them and when he got home – gone. Not one left. [To be fair we didn't make that many. And to be even more fair we dipped them in chocolate.]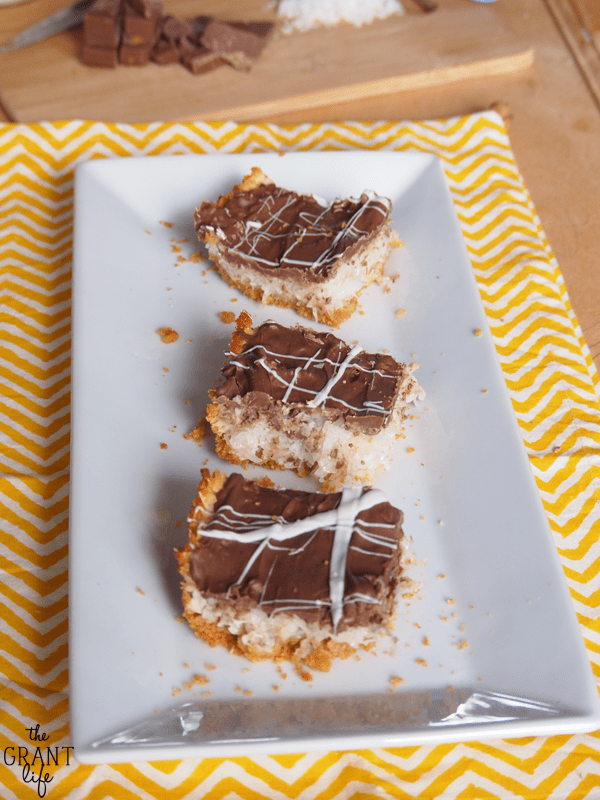 So I texted him and told him I was making these chocolate covered macaroon bars and promised to save him some. I rethought that promise after I ate two of them and forced myself to not eat a third. What I'm trying to say is these are dangerously delicious. I would make these for a group instead of hoarding them for yourself. But its your call either way. I won't judge anyone who makes a whole pan for themselves. Been there, ate that.
[yumprint-recipe id='88']And if that isn't enough chocolate for you, be sure to check out what the other ladies whipped up for our movie night!
And we aren't done yet! We are giving away a copy of the movie! [Squeal!] So check out all the recipes, enter the giveaway and have a grand ole time! [And be sure to check back next month for another movie night!]
And be sure to sign up for our emails! You will get a freebie and tasty recipes delivered right to your inbox!