I'm not going to lie, when I see something on sale I get excited. It doesn't really matter what it is. I know the clearance stickers for the major stores and I am like a clearance hawk when I walk down the aisles. [You know you love those red Target clearance stickers too!] And for some reason, I get really really excited for food sales. Good food sales. [What can I say, I'm a cheap foodie!] So when our grocery store had strawberries on sale, who grabbed 4 pounds? This girl! And after eating a pound and a half, we whipped up these strawberry cake bars.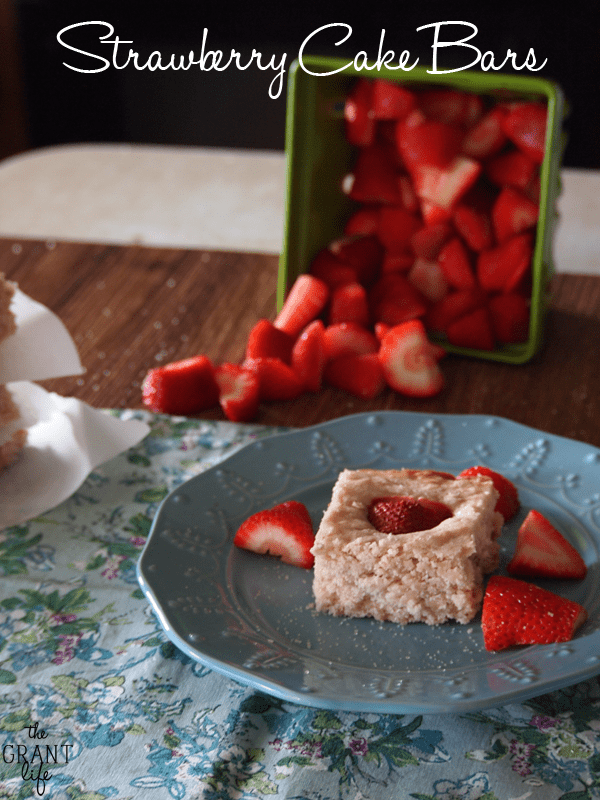 "We" is Ryley and me. She's my baking buddy. She likes to sit on the counter next to my mixer and turn it on. She also helps me pour in the ingredients and sometimes crack the eggs. Depending on the day. On this day she was the mixer turner on-er, the sugar pourer and the strawberry counter.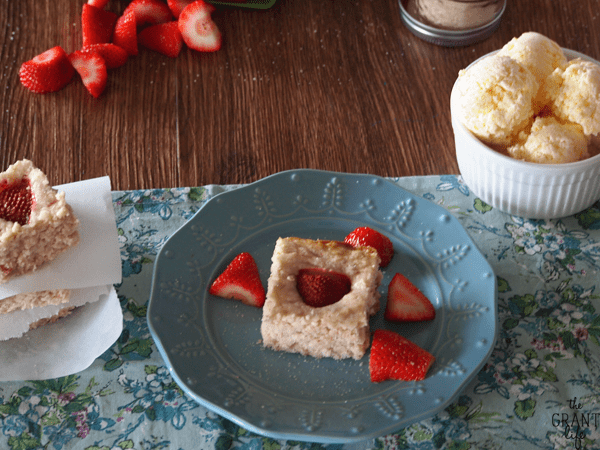 And the strawberry taste tester. I had a bowl of cut strawberries and she could hold one up and say "Look! A strawberry chip!" and dip it in the batter. Well, I guess it is a strawberry chip, why not eat it covered in cake batter? So she sat on the counter and dipped strawberries and just chatted away with me.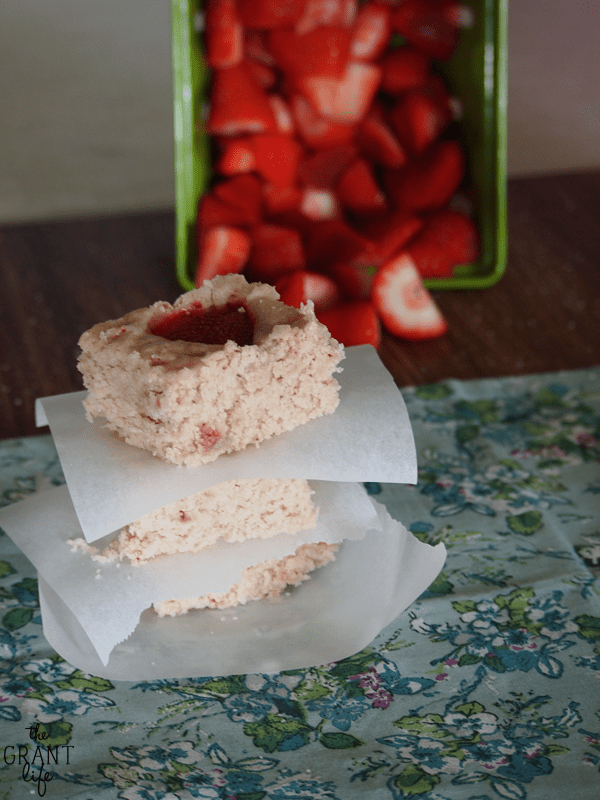 She's also my little shopper too. We love to go "shop shop" at the "popcorn store" together. [Translation – we love to browse the clearance stickers at Target.] It's fun when her and I are able to have a little solo mommy/daughter time. [And we get to spend daddy's money. Duh.]
When we aren't baking or shopping we color, or read Judy Moody books, or watch My Little Ponies. Which are all things I'm sure I did when I was her age. So once the strawberry cake bars were done and I had cut them into squares, I handed her one. And she looked at it funny and said "I don't like it mommy". I titled my head to the side and wondered what the teenage years would bring. [And I had to console myself with two strawberry bars and some ice cream. Alone.]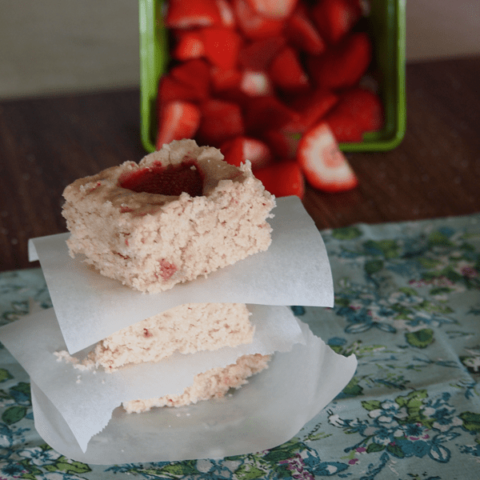 Strawberry Cake Bars
Ingredients
1 cup sugar
1 stick of salted butter, room temp.
1 egg
1 tablespoon plain yogurt
2 tablespoons milk
1 tsp vanilla
2 cups flour
1 tsp baking powder
1 cup cut strawberries
Instructions
Preheat oven to 375.
Spray a 9x13 baking dish with cooking spray.
Cream the butter and the sugar.
Add the egg, yogurt, milk, and vanilla extract.
Mix in the flour and baking powder.
Add the strawberries and beat on high for a minute.
Pour the batter into the baking dish and level out.
Bake for 30-40 minutes, or until a toothpick comes out clean in the center.
Let cool and slice.
Enjoy!

Want more spatula licking good recipes? Check out:
Or sign up for our tasty emails!