Are you looking for a low carb side that is loaded with flavor? You've found it! The best cauliflower mashed potatoes are a low carb vegetable that is transformed into a delicious side dish perfect for any meal. Let me show you how to make these cauliflower mashed "potatoes" and share some main dish ideas with you as well.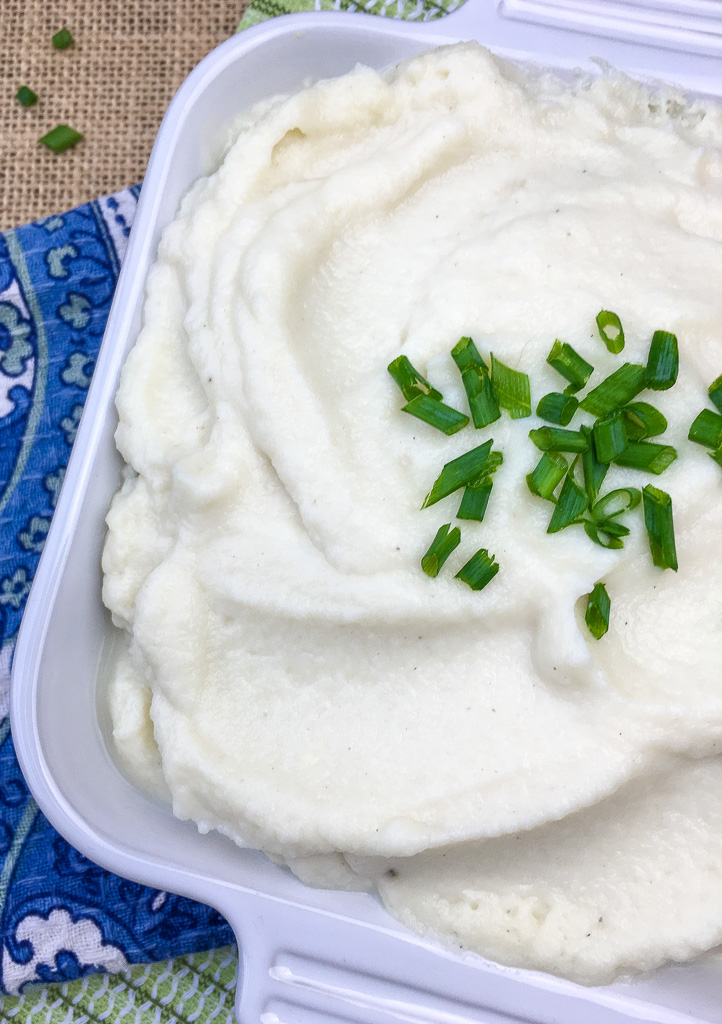 Ok, ok. I have to confess. These are not true mashed "potatoes". There are no potatoes in this recipe. This cauliflower side dish is a dupe for high carb mashed potatoes. Yes, it does have a slight flavor difference, but the texture is spot on. And it is so much lower in carbs that it's totally worth the swap.
Here's the deal – if you are looking for a low carb side that goes along with your Keto, Whole30 or gluten free lifestyle, this quick cauliflower recipe is it. The garlic and spices make these cauliflower mashed "potatoes" full of flavor. I promise, once you try this easy cauliflower recipe you will be a fan.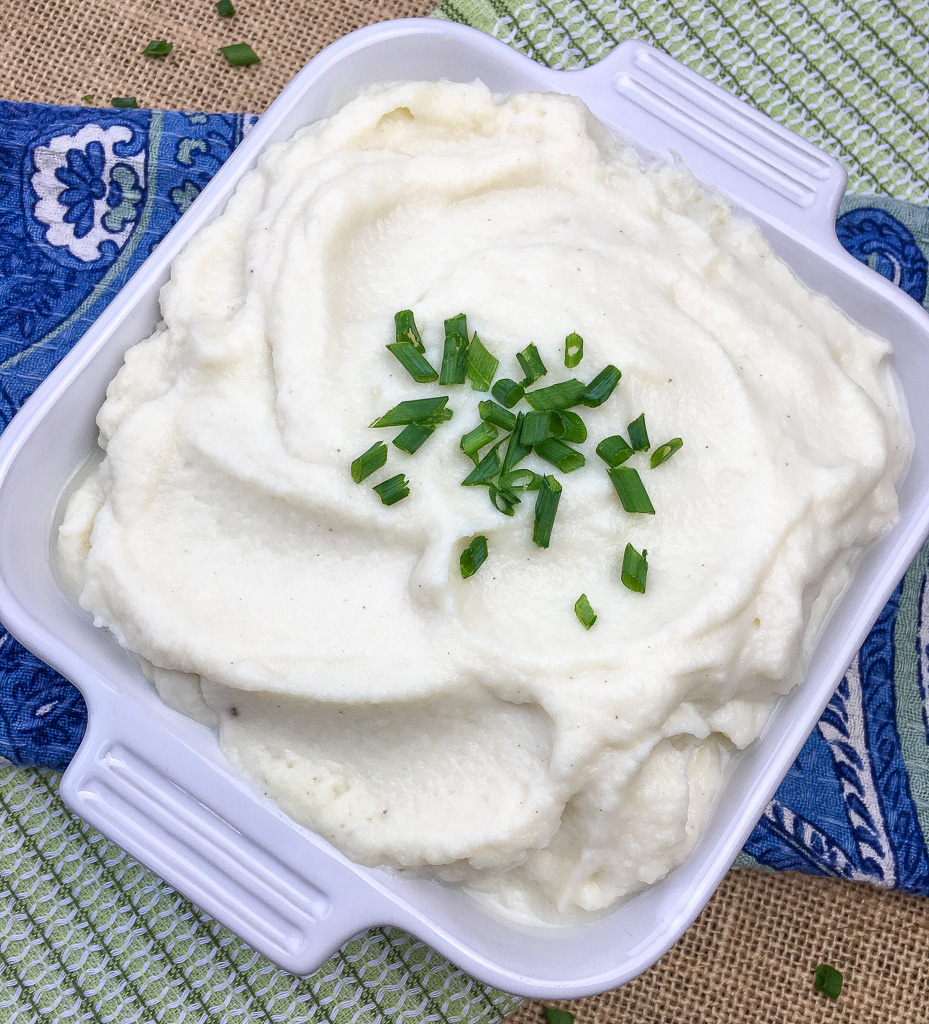 What are cauliflower mashed potatoes?
No, these are not real mashed potatoes. In fact, there are no potatoes in this recipe. What this recipe is full of is flavor, mashed potato texture while holding on the carbs. If you've never had mashed cauliflower as a side, be sure to try this one. It may take some time to adjust to this mashed potato copycat, but you will end up loving it.
Pinky swear.
Just to recap – the cauliflower mashed potatoes are a carb friendly alternative to regular mashed potatoes. There are no potatoes in this recipe and it's Keto, gluten free and Whole30 compliant.
Mashed cauliflower ingredients
Besides being a carb friendly side dish, this is also a wallet friendly one as well. The ingredients in this low carb side are very common and can be found at most grocery stores or farmers market.
To make this mashed cauliflower you will need:
cauliflower
garlic
olive oil
milk
spices
chives
To start, you will need a medium head of cauliflower. You can grab one in the produce section of any grocery store. If you want to get fancy you can grab a purple, yellow or green head instead of the plain white one. The taste won't be affected, you just get extra cool points for the fun colors.
Also be sure to grab a head of garlic. You will need a few cloves for this quick cauliflower recipe.
The rest of the ingredients are pretty straight forward – olive oil, spice and chives for topping. If you are dairy free you can substitute regular milk for almond or coconut milk. Just make sure it's unsweetened.
How to make low carb mashed cauliflower
To make this recipe I suggest a steamer basket. This makes steaming the cauliflower (and other veggies) so much easier. If you don't have one you can steam the cauliflower in a pot with about a 1/2 cup of water.
You are going to want to steam the cauliflower and the peeled garlic cloves together. This does two things – it helps infuse the cauliflower with flavor and softens the garlic for blending later. Allow the cauliflower and garlic to steam together until fork tender, about 15 minutes.
Transfer to a food processor and blend, adding in the remaining ingredients. If you have an immersion blender you can also blend it together in a large mixing bowl. You want to add in your spices, oil and milk while blending as well. (Ps.. be sure to check out my must have kitchen gadgets here.)

I'm going to be honest, this mashed cauliflower is pretty darn tasty on its own. The garlic and the smoothness of the cauliflower give it such a great taste. But you are probably going to want a quick and easy dinner recipe to go with your quick and easy cauliflower side dish. Here are some main dishes that I recommend: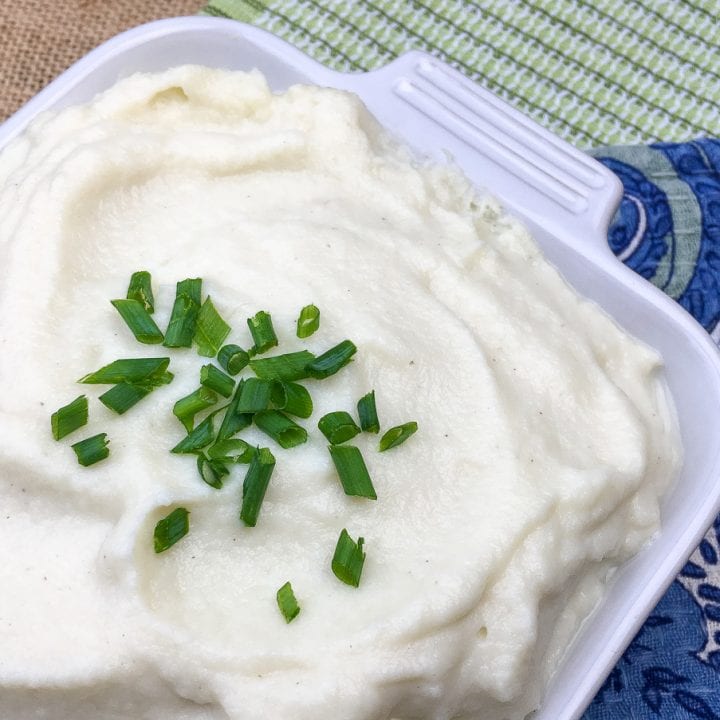 Best cauliflower mashed potatoes
This flavorful cauliflower mash pairs well with a wide range of beef, pork, chicken, and plant-based entrees. Plus, it comes together in under 30 minutes, so it is perfect for those busy weeknights when you want to get a healthy dinner on the table without too much fuss.
Ingredients
1 medium cauliflower head, florets only
2-3 whole garlic cloves, peeled
2 T. extra virgin olive oil
2 T. unsweetened almond milk or milk of choice
1 t. garlic powder
1 t. onion powder
Sea salt and black pepper, to taste
3 T. fresh chives, chopped
Instructions
1. Place the cauliflower florets and the garlic cloves into a steamer basket set over a pot of gently boiling water. Cover and steam until the cauliflower is fork-tender, around 15 minutes.
2. Transfer the cauliflower and garlic to a food processor or blender and add the olive oil, almond milk, garlic powder, and onion powder. Season with salt and black pepper, to taste, and process until smooth and creamy. Taste and adjust the seasonings, as desired.
3. Transfer to a serving bowl and top with fresh chives before serving. Enjoy!
Notes
Feel free to sub spices for whatever you prefer.
Nutrition Information:
Yield:

4
Serving Size:

1
Amount Per Serving:
Calories:

134
Total Fat:

9g
Saturated Fat:

2g
Trans Fat:

0g
Unsaturated Fat:

6g
Cholesterol:

5mg
Sodium:

129mg
Carbohydrates:

11g
Fiber:

4g
Sugar:

3g
Protein:

5g
Be sure to check out these other great side dishes: