Let your crock pot do all the work for this deliciously easy Swiss steak meal. Cooking Swiss steak in your slow cooker allows the meat to become tender and juicy, all with only a handful of ingredients! In fact, you only need 5 ingredients and a handful of spices to make this easy Crock Pot dinner.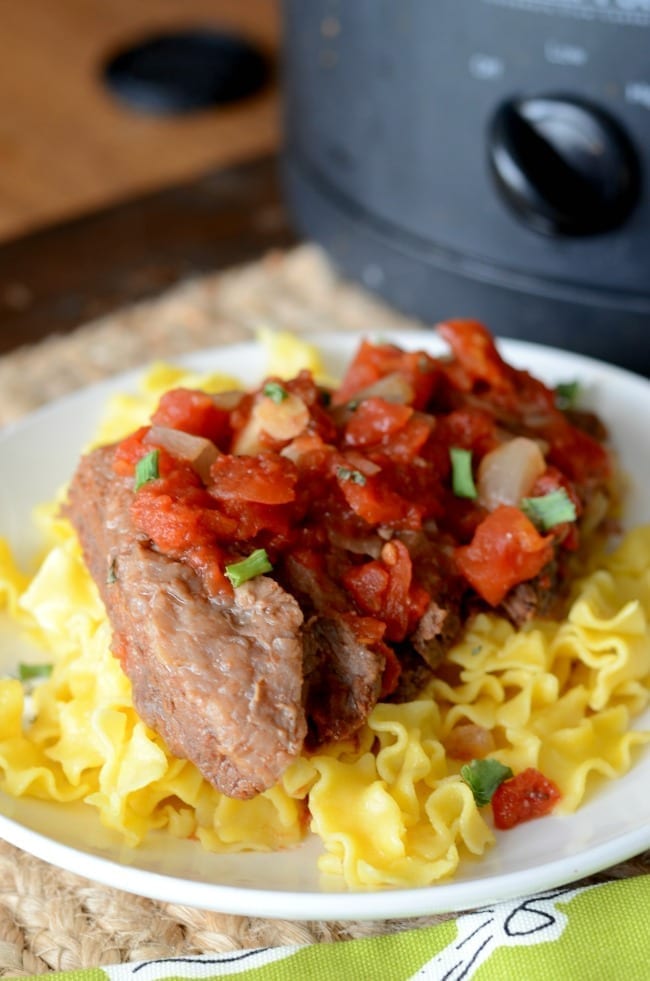 Hey there! It's that time of the year again – crock pot dinner time! The kiddos are back to school and all their extra activities too. Some nights we don't get home til after dark. I try to put a crock pot meal down on our menu plan for the days that I know we are going to be home late. I love that I can prep everything in the morning and have dinner ready no matter what time we roll in.
The best part of having a crock pot meal ready to go is the smell when you walk in the house. Your whole house smells of whatever delicious meal you have waiting for you. This crock pot Italian Swiss steak is not only super easy to prep but smells like heaven when cooking.
What is Crock Pot Swiss steak?
I remember telling my mom that I had bought a big piece of skirt steak and didn't know what to do with it. I used half for sheet pan steak fajitas but still had a big portion of steak left to cook. She told me to make Italian Swiss steak with it like my grandpa used to do. She said he let the steak cook all day in the oven and the tomatoes simmer on the stove top. It's hot here so I decided to take his recipe and re-create in the crock pot. It's super simple and you only need a few ingredients.
Swiss steak is a meat that is tenderized before simmering with vegetables and seasonings. You can do this on the stove top or you can use your slow cooker or pressure cooker to make this tender and flavorful meal.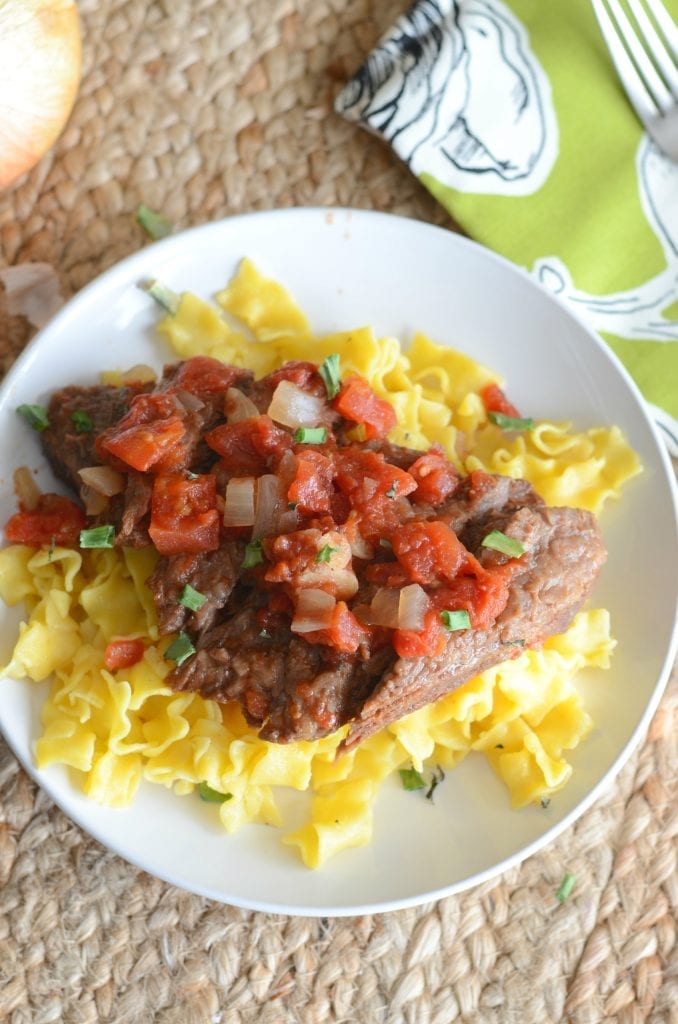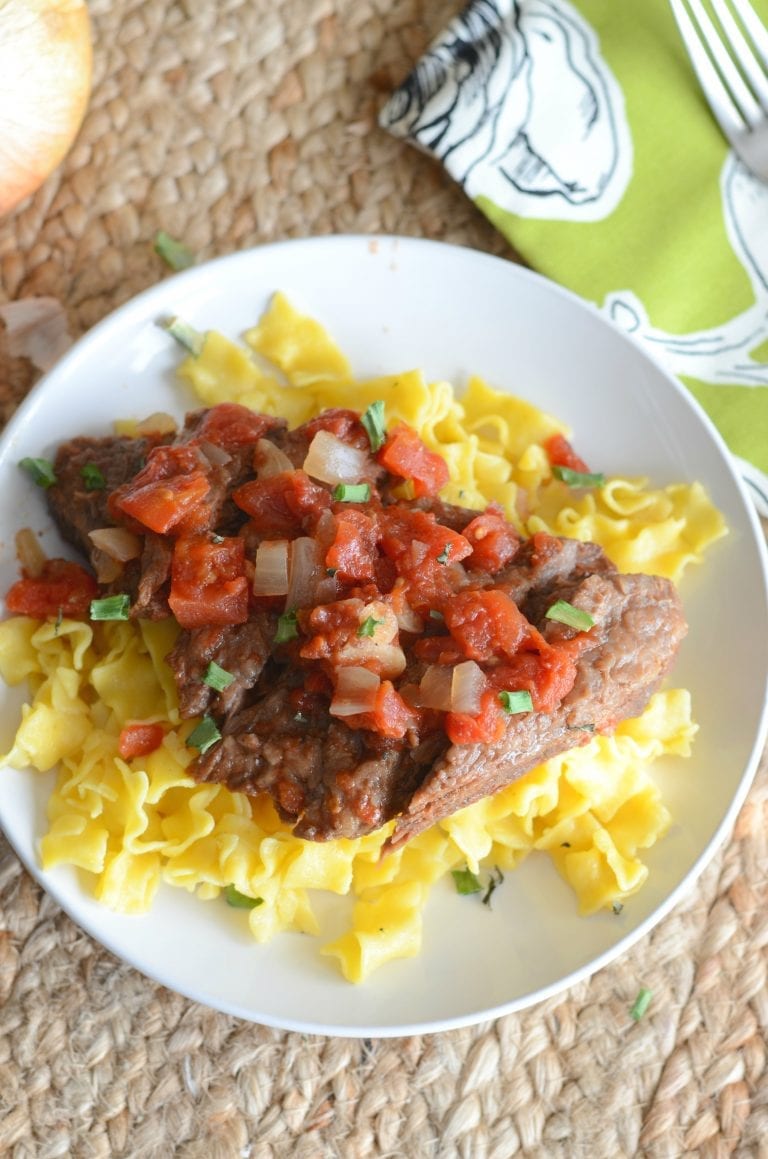 Italian Swiss steak ingredients
To make this crock pot recipe you will need:
skirt steak or similar cut of steak
canned tomatoes – diced, crushed or whole, your choice
onion
garlic
apple cider vinegar
spices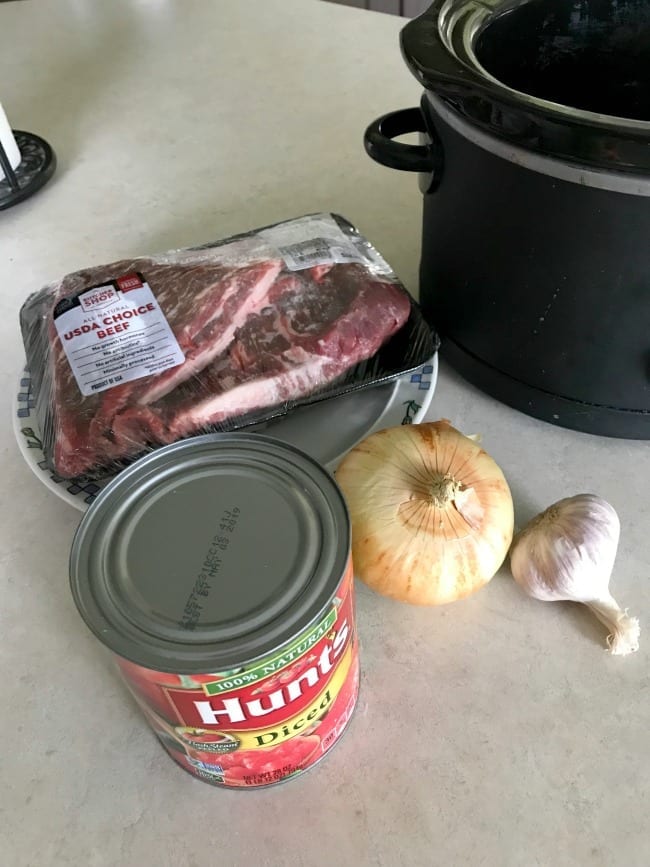 Meat – There are tons of different types of steak out there but a skirt steak or similar cut of steak works best for this recipe. You can also use a flank steak, round steak or a hanger steak. This site shows the different cuts of steak.
Tomatoes – The type of tomatoes that you use are up to you as well. I used diced this time but I've used crushed in the past. Just make sure to add the tomato juice from the can to the crock pot.
Spices -I call this "Italian" Swiss steak due to the spices used. I like to use garlic powder, onion powder, oregano plus salt and pepper. These spices along with the diced onion and garlic add so much flavor to this dish.
Apple Cider Vinegar – And yes, this recipe calls for apple cider vinegar. Sounds a little weird but it helps tenderize the meat during the day. Adding the apple cider vinegar makes the meat literally fall apart after being slow cooked all day.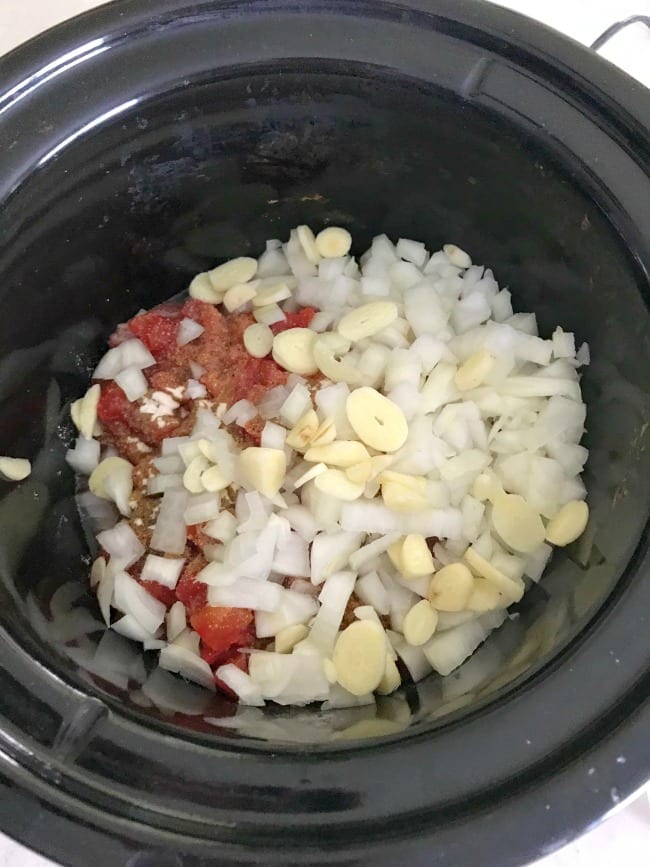 How to make Swiss steak in the crock pot
This is the easiest part. You literally toss everything together in the crock pot and go on your way. Stir it a few times, if you are able, but it's really a dump and go meal.
I put the meat on the bottom and then cover it with the spices, tomatoes, onion, garlic and apple cider vinegar. I like the meat to be covered so that it soaks up all the flavor throughout the day.
Once you are ready for dinner, turn off your crock pot, remove the steak and place it over rice, potatoes or pasta. Spoon the tomato/onion mixture over top, garnish with herbs and enjoy.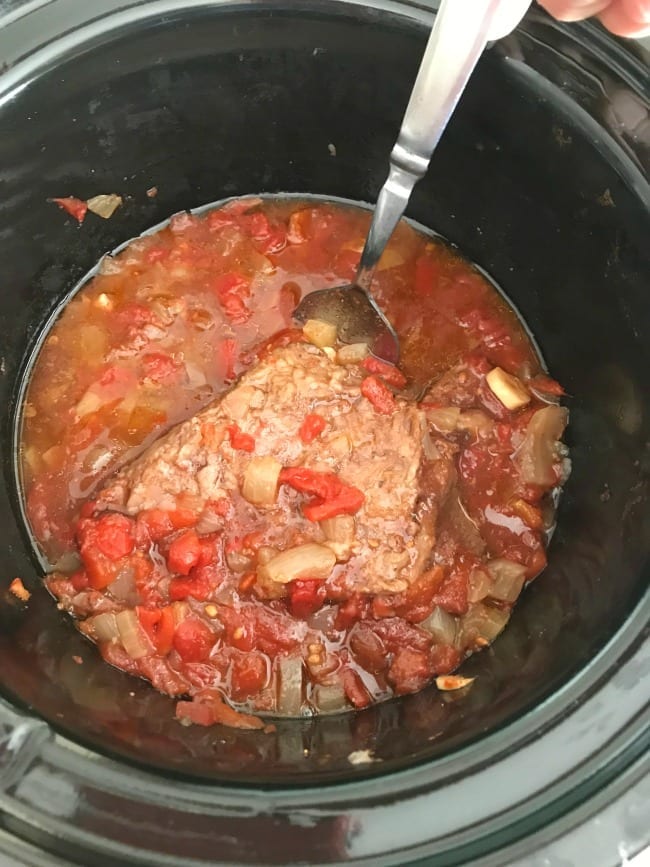 How to make in the Instant Pot
Looking to make this even faster? Grab your pressure cooker and follow the directions below:
Place everything in your Instant Pot, including the juice from the tomatoes. Make sure you have at least 1 cup of liquid, if not add some beef broth.
Seal the lid and cook on high pressure for 30 minutes.
Allow the pressure to released naturally.
Remove lid and serve.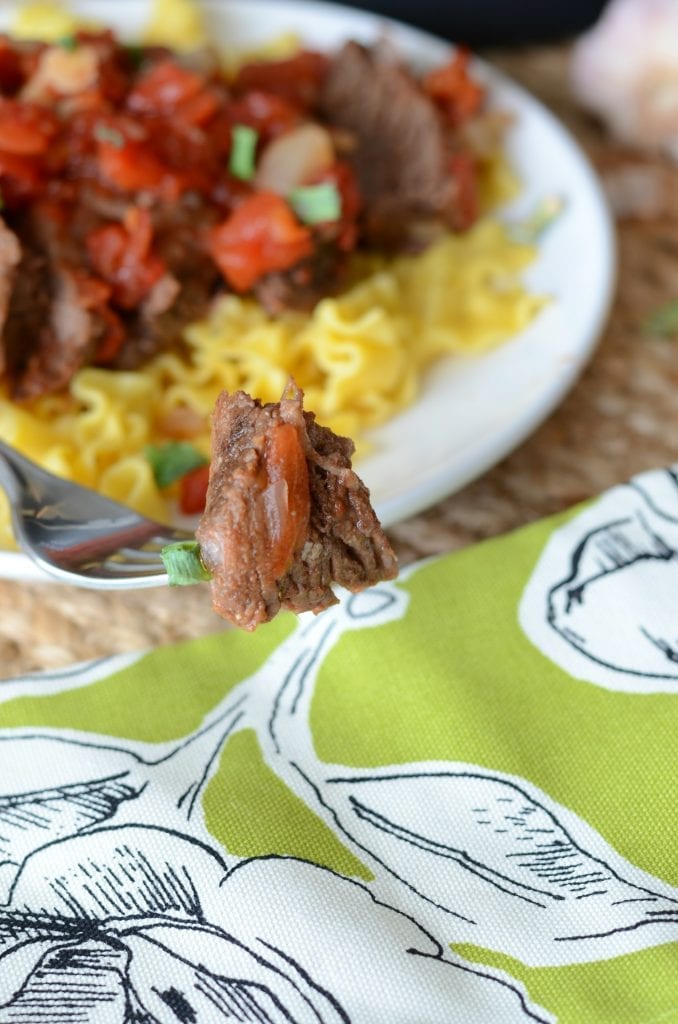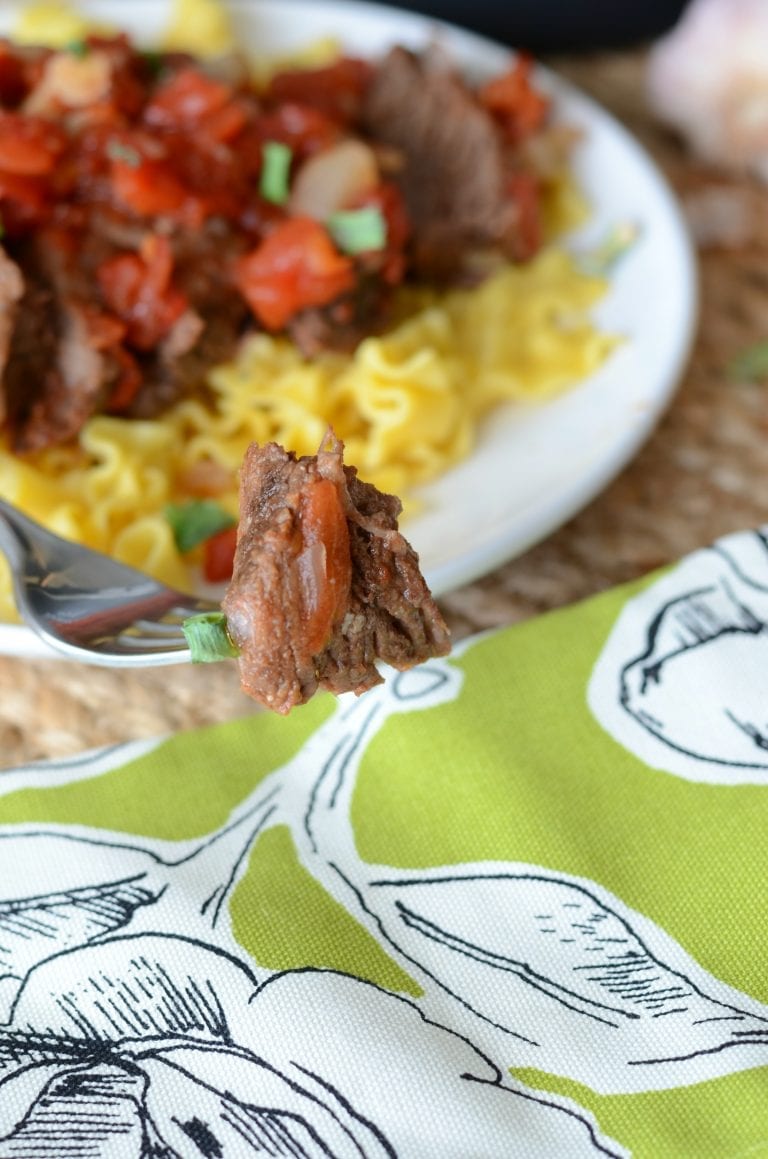 Gluten free side dishes
The skirt steak and the sauce are naturally gluten free so it just depends what you decide to put it on. Some gluten free options for sides are:
rice
potatoes
gluten free pasta
I personally love it over mashed potatoes because they absorb all the delicious tomato juice.
What cut of meat is Swiss steak?
You can use any cut of steak for Swiss steak. The term Swiss steak refers to the a tenderized and browned meat that is simmered with vegetables. Since this recipe is a dump and go version, there is no browning needed. You still end up with a deliciously tender meal.
Is Swiss steak really Swiss?
Nope. Swiss steak has nothing to do with Switzerland at all. It just refers to the way a certain cut of meat is prepared and cooked. In this case, it's tenderized and slow cooked to perfection. I call my recipe "Italian Swiss steak" because I use Italian inspired spices.
How to store leftovers
Place any leftover Swiss steak in an airtight container or baggie and place in the fridge. It will stay fresh for 4 days.
Can I freeze Swiss steak?
You sure can! Cook the recipe as directed and allow to cool. Place the Swiss steak in a Ziplock baggie in the freezer. The steak will stay fresh for up to 3 months.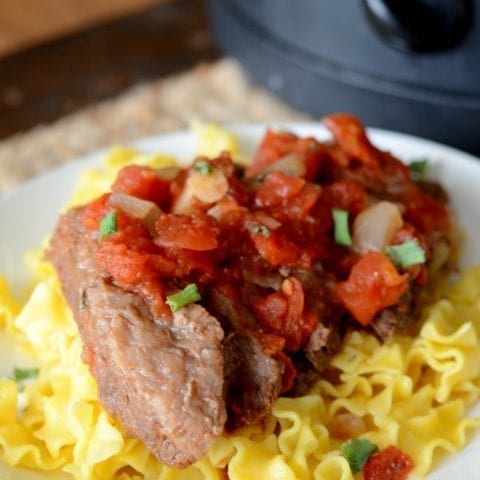 Crock pot Italian Swiss steak recipe
Ingredients
1-2 pound of skirt steak, thawed
16 ounce can crushed, diced or whole tomatoes, with juice
1 large onion, diced
3-4 cloves of garlic, diced
1 teaspoon garlic powder
1 teaspoon onion powder
1 teaspoon oregano
1 teaspoon salt
1 teaspoon pepper
1/4 cup apple cider vinegar
Instructions
Place the steak on the bottom of the crock pot.
Sprinkle the spices over it then the onion and garlic.
Pour the tomatoes with the juice over top. Add the apple cider vinegar.
Cover and cook on low for 6-8 hours or high for 4-6 hours.
Place steak over top rice, potatoes or pasta. Cover with sauce.
Enjoy!
Nutrition Information:
Amount Per Serving:
Calories:

514
Cholesterol:

134mg
Sodium:

763mg
Carbohydrates:

10.4g
Fiber:

2.6g
Sugar:

5.1g
Protein:

62.3g
More dinner recipes
Like this quick and easy dinner recipe? Check out:
Did you try this recipe? I'd love for you to leave a review in the recipe card above or the comments below. Want to make it later? Pin the image to your favorite dinner board. THANK YOU for the support!