You may have noticed that I have been sharing more recipes around here lately. There are a few reasons for that, number one being that I love food. Also, as much as I love to craft – I'm not the best at it. And photographing it – forget about! Food and I get along. I can make it, photograph it and eat it all in one day. Heck, all in one hour if my kids cooperate. I consider food to be my craft. I'm not perfect [far from it] but its something that I love to learn about and experiment with. Plus, I love knowing exactly what I am putting in my family and my bodies. No hidden junk. Just easy homemade recipes with simple ingredients. [Bam! That may be my new tagline yall!]
I asked on my Facebook page what are your go to kitchen appliances or tools. The answers were awesome! I added them to the must have kitchen gadget list and added a few of my own. If food is your craft too, you're going to need a good set of tools! [Ps.. some links are affiliate links which means if you purchase anything I will get a small portion back. Things like this help me maintain this blog!]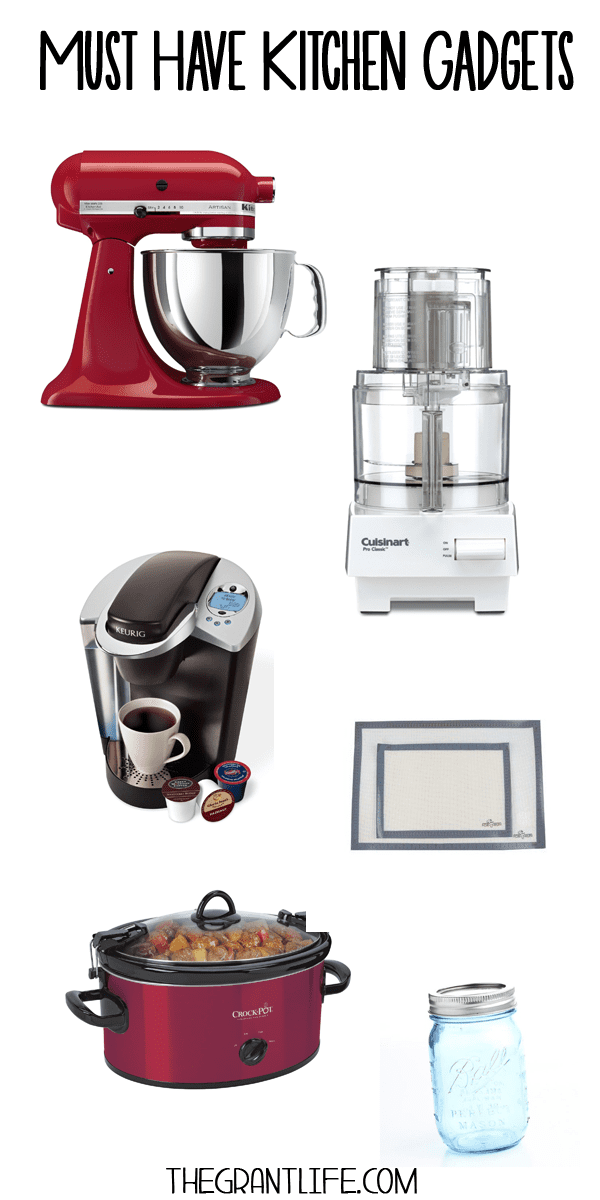 Kitchen Aid Mixer // This was my Christmas present from my hubby this year. It has been ahhh-mazing! I have used it to make homemade french bread, chocolate cherry trifle and even my homemade laundry soap. Yup. You read that right. I used my Kitchen Aid Mixer for laundry soap. Seriously, if had the right attachment it might even do my laundry.
Silicone Spatulas // I'm just going to say that I'm a spatula snob. I have maybe half a dozen and I only use 2. They just have to feel right in your hand.
Keurig Coffee Maker // I personally do not own a Keurig but my parents do. And as much as I try not to like it, I really love it. And not so much for the coffee, but for the iced tea. [Whaaa?] Yup! You can make iced tea in less then 2 minutes with a Keurig. Sweet tea, peach tea, unsweet tea. All kinds of cool teas!
Dutch Oven // This was another Christmas present this year and I'm in love. When you can take a recipe from the stove top and pop it in the oven in one dish, its called love. I just made the most amazing roast that I can't wait to share with yall! [No, I'm not tooting my own horn, its that good yall!]
Crockpot // My trusty kitchen stead! We actually have 2 crockpots in our kitchen because we received them both as wedding gifts. Its another one pot wonder. Drop in frozen meat, veggies and a little liquid and you can cook a meal. I've used mine for the crockpot chicken tacos, crockpot mashed potatoes and a few others.
Mason Jars // I love a good mason jar. It can be used to preserve, store, drink, eat, and decorate with. Plus, they are oh so pretty!
Food Processor // I just recently acquired a food processor [see: I borrowed my moms] and its so much fun! I made the roasted red pepper and artichoke hummus with it a few weeks ago and I have more recipes up my sleeve.
Silicone Baking Sheets // Oh my gosh. These are the absolute BEST invention! I have used them every single time I have made cookies and they rock my world. No spraying, flouring or greasing your cookie sheet. Add a silicone baking sheet and you are good to go. Seriously. If you are looking for a good kitchen gadget on the cheap – this is it yall! [Ps.. mine made an appearance in my gingerbread blossom post!]
Pizza Stone // This one is on my to-buy list. [That should be my to-buy ASAP list, but you get the point.] I love making pizza and I am eager to try homemade pizza dough, sauce and everything else.
Well, these are a few of my picks and a few of your picks! If you could add anything to this list – what would it be?
And if you want more posts like this, be sure to sign up for our tasty emails!