Green bean casserole is an easy side for any meal!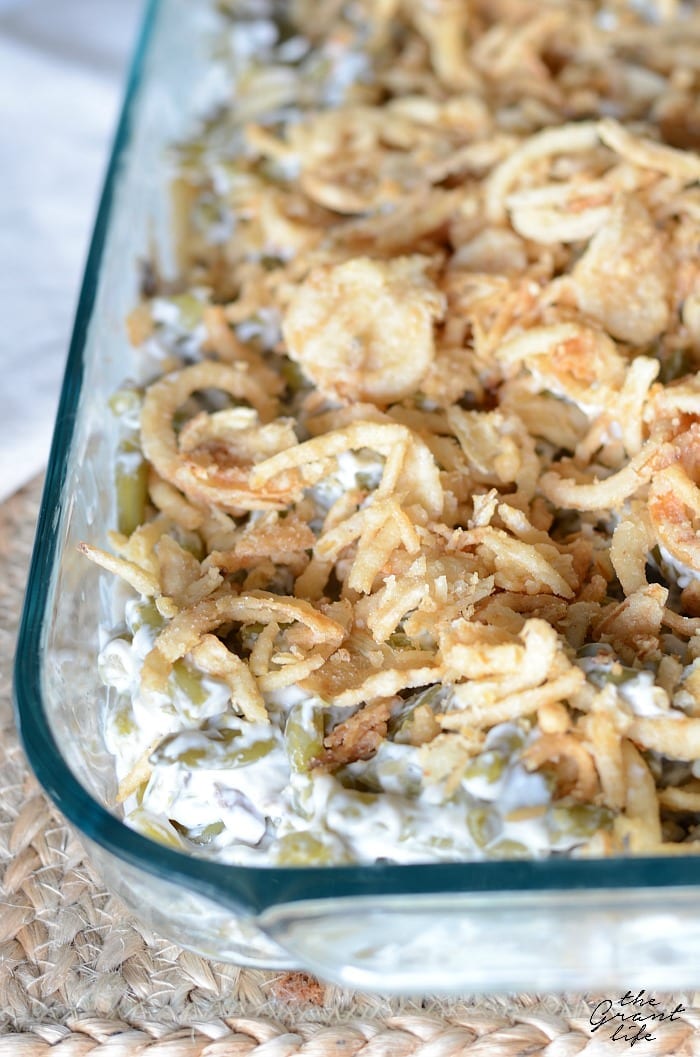 Ok ok.  I know what you're thinking.  You are thinking – 
It's too early to think of Thanksgiving!  
Isn't this only served at Thanksgiving?  
I already know how to make green bean casserole! 
Was I right?  Were you thinking one of those things?  I'm not to lie – I love green bean casserole!  I make it as often as possible.  I remember when I worked at a bank before Avery was born I brought it in for a birthday potluck we were having.  People went bananas!  Apparently I'm not the only one who loves green bean casserole year round.  
Plus, mine is super special.  I add an extra ingredient that makes it a million times better.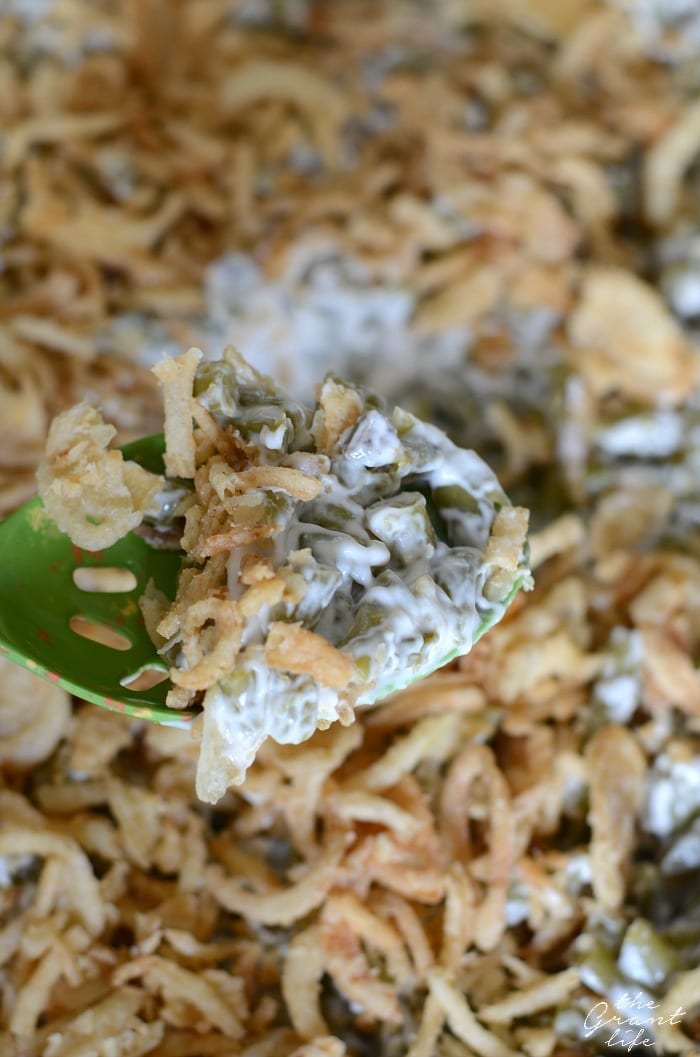 Just kidding.  I just add double the french fried onions.  I add them right into the green beans and then I add them on top.  I don't skimp on the french fried onions.  Go big or go home!  That's my french fried onion motto.  
And people love it!  (Myself included.)  I made green bean casserole for my birthday Thanksgiving dinner and all my friends approved.  There was very little casserole left over.  Which sort of made me sad because I love cold green bean casserole for breakfast the next day.  
Yup.  I am that person.  
Green bean casserole
Ingredients
4 cans of cut green beans
2 cans of cream of mushroom soup
1 cup of milk
salt and pepper to taste
2 containers of french fried onions (2.8 ounce each)
Instructions
Preheat the oven to 350 and spray a 9x13 baking dish with cooking spray.
Drain out the water from the green beans and put them in the baking dish. Add the cream of mushroom soup, milk and salt and pepper to the green beans. Mix unto combined.
Add one container of french fried onions to the mix and fold into the green beans.
Add the second container to the top of the green beans.
Bake for 20-25 minutes or until bubbly.
Remove, let cool and enjoy!
 Like this recipe?  Be sure to check out: