Today is a big day, yall. Like we need dessert to celebrate kind of day. Its national Pi Day! Today is March 14th or 3-14 which is referred to as Pi Day. And if you are like me [and millions of other people] you celebrate Pi Day with pie. Makes sense right? [Pie always makes sense.] And since we are having pie, we might as well have a cup of coffee. Or cut the middle man and have a coffee pie. A frozen tiramisu pie to be exact.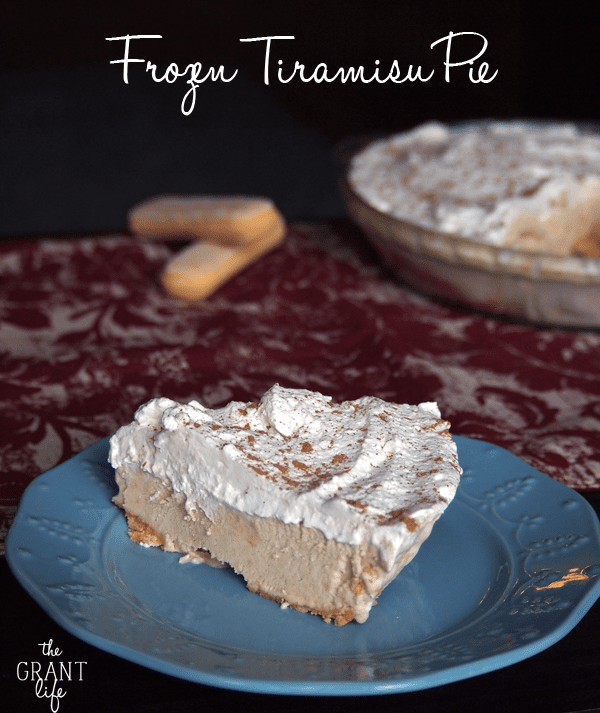 Around Christmas time my mom and I were in the cooking mood so we decided to try our hand at homemade tiramisu. And it was awesome. And actually really easy to make. So when I started thinking of pie recipes for Pi Day, my mind immediately went to tiramisu. [Well, it actually went to 100 different possibilities but settled on this one. My mind wanders when it comes to food.]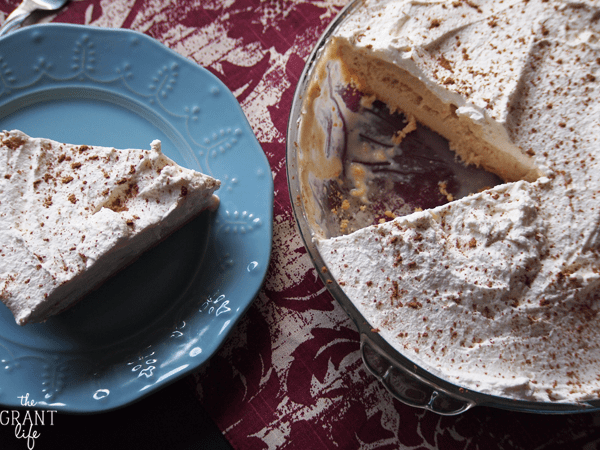 So there are two camps when it comes to tiramisu – the cook your eggs camp and the don't need to cook your eggs camp. I didn't realize there were two camps until after I made and ate this pie. My pie resides in the non cooked eggs camp, but its an easy switch to the other side. I'm fairly certain both ways taste delicious. Plus, its frozen so that just makes everything better. And coffee. Need I say more?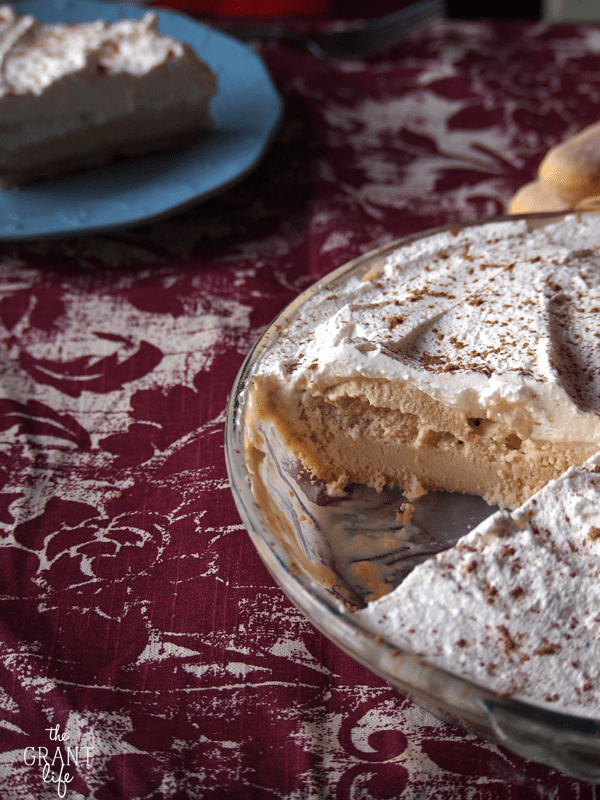 If I had to choose between the frozen and the traditional version, I think I would pick frozen. Its like a frozen coffee covered in whipped cream and sprinkled with cocoa. Its like a frozen piece of love in a lady finger pie crust. Need I say more? [I won't. Promise.]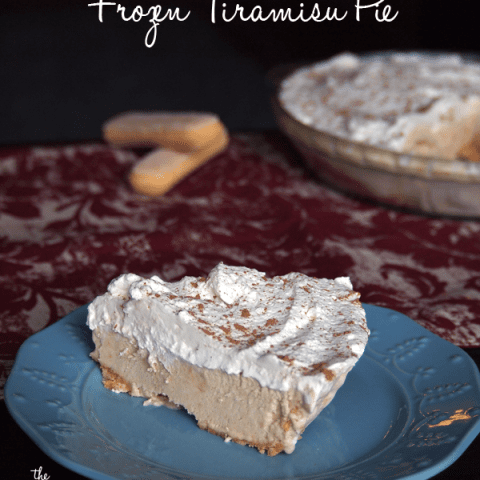 Frozen Tiramisu Pie
Ingredients
Approx. 30 ladyfingers
5 eggs, separated
1 cup sugar plus 2 tablespoons for the crust
1 cup coffee
1 stick of butter, melted
3 8 oz tubs of mascarpone cheese
pinch of salt
cocoa for dusting
Instructions
For the crust -
Blend the ladyfingers in a food processor, adding a few at a time, until finely course.
Put the ladyfingers, sugar and mix with the melted butter.
Press into the bottom of a lightly greased pie pan.
For the pie -
Beat egg yolks and sugar in a large bowl or stand mixer until appear pale and thick.
Add the mascarpone and mix gently until very stiff.
In a separate bowl, beat eggwhites and a pinch of salt until soft peaks form.
Fold gently into the mascarpone mixture.
Pour warm coffee into a shallow dish.
Dip the Ladyfingers quickly into the coffee one at a time and set aside.
Pour the mascaparone mixture into an ice cream maker along with the wet ladyfingers.
Allow to become a soft ice cream consistency.
Scoop the ice cream into the prepared pie crust and put in the freezer.
Add homemade whipped cream and cocoa when ready to serve.
Enjoy!
Notes
In step one, place the egg yolks and sugar over a double boiler and mix while they cook. They should still turn out pale and thick.
Cut with a warmed knife.
Nutrition Information:
Amount Per Serving:
Calories:

4330
Cholesterol:

2245mg
Sodium:

2081mg
Carbohydrates:

426g
Fiber:

4g
Sugar:

215g
Protein:

87g
Want more tasty posts? Check out:
You want a little more pie for your Pi Day? Check out these amazing pie recipes from some of my favorite food bloggers. Happy Pi Day!
You can see all the amazing pie recipes being shared today by clicking the images below.