Have you seen the hot chocolate bomb trend that has been floating around? They are so fun! You melt a chocolate sphere in hot milk to create an instant cup of hot chocolate. I took that concept and added.. coffee, of course! These white chocolate cocoa bombs are the perfect combination sweet and coffee goodness.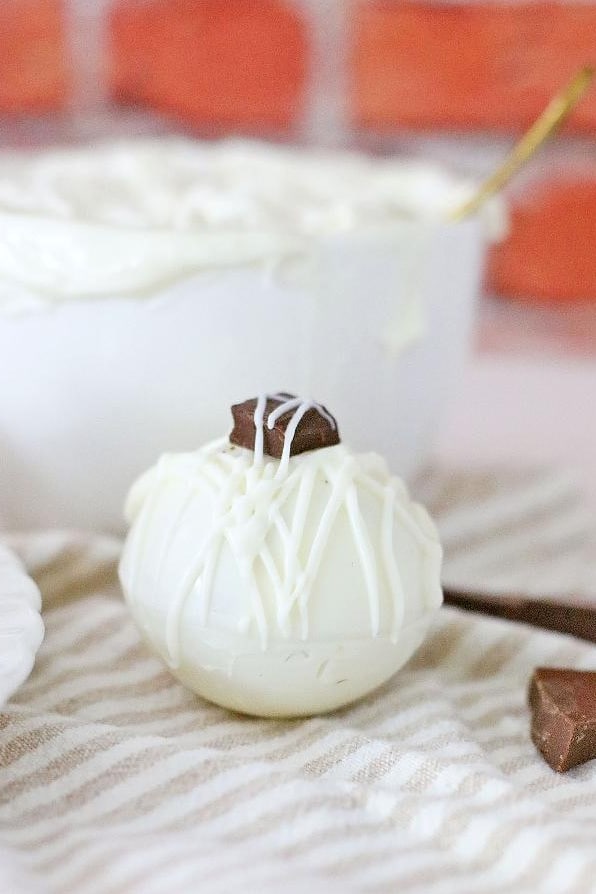 Oh man. I am so excited to share these white chocolate mocha treats with you! They are so fun and the perfect way to spice up your regular cup of coffee. You know how much I love a good white chocolate mocha, right? Well, if you're new here – white chocolate mochas are my jam. I love them hot or iced. These white chocolate cocoa bombs are like a hot version that, just more fun. They are very similar to my coffee bombs and my white chocolate coffee spoons!
What are coffee bombs?
Coffee "bombs" are super popular chocolate treats that "exploded" when hot milk is poured over them. It starts with forming a sphere with chocolate and then filling it with your favorite treats. Traditional hot chocolate bombs are filled with hot chocolate mix and marshmallows so you have an instant cup of hot cocoa. These white mocha ones are filled with instant coffee and chocolate. A coffee lovers dream!
White chocolate mocha coffee bombs ingredients
These coffee bombs may look complicated, but they use regular ingredients that you can find at any grocery store. You will need:
white chocolate
instant espresso
white chocolate syrup
coffee flavored chocolate bar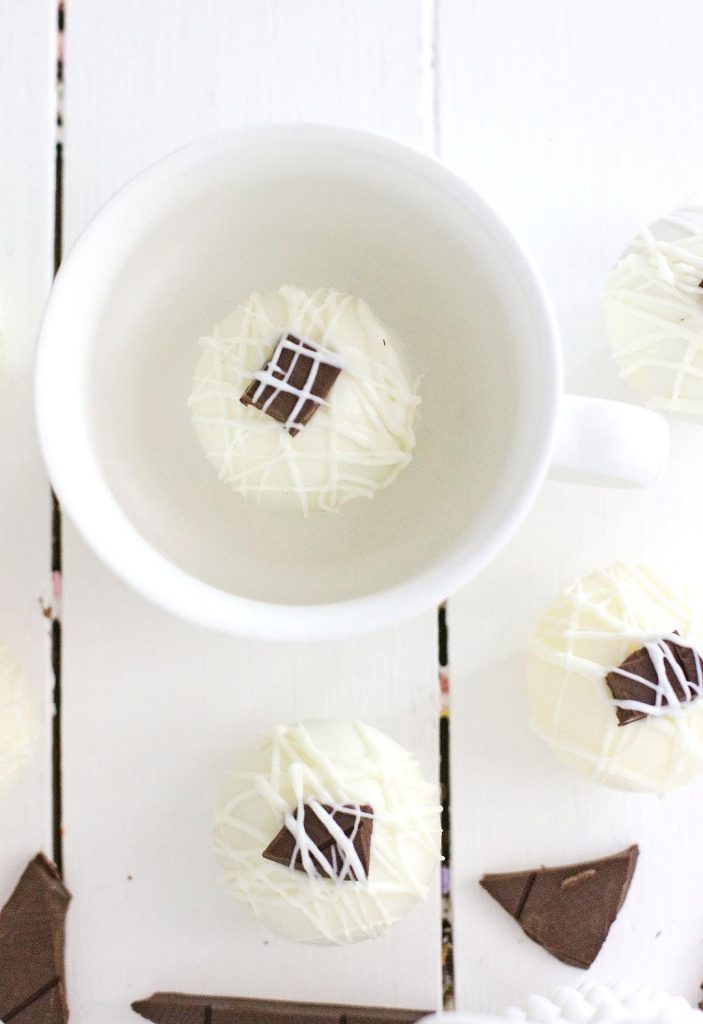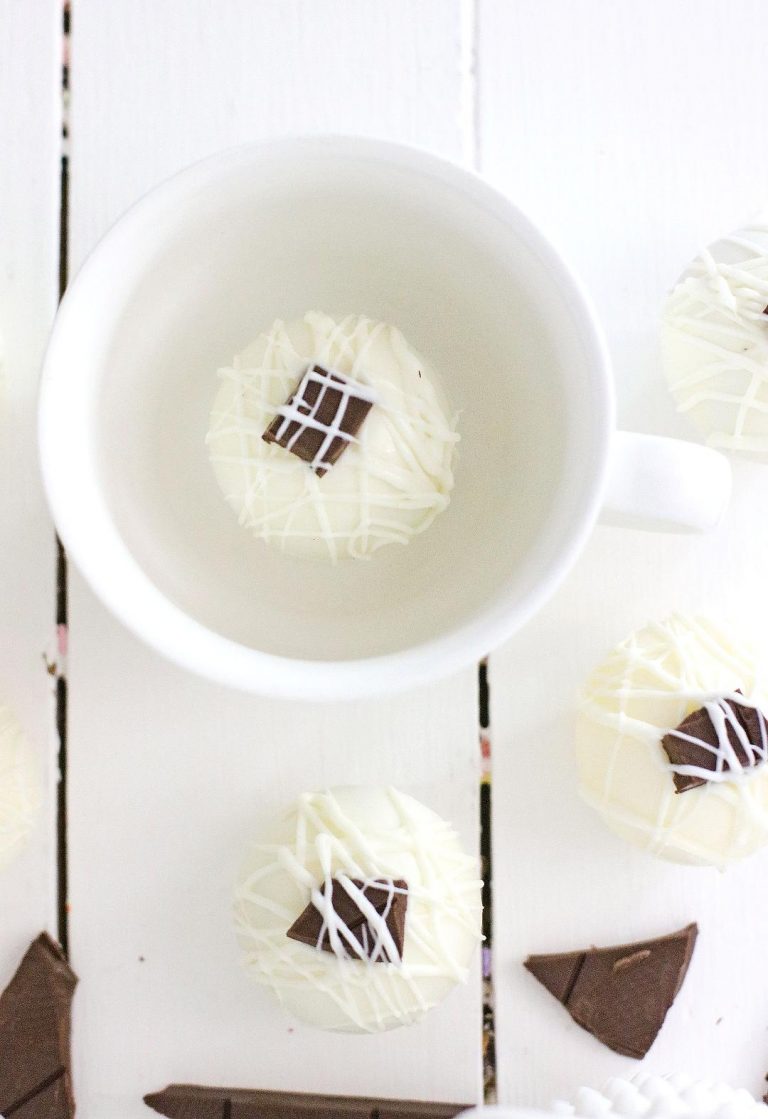 White chocolate – You will need melting chocolate, so white chocolate bark or chips. You can find either in the baking aisle of the grocery store.
Instant espresso – Grab your favorite instant espresso or coffee for these cocoa bombs. Either will work.
White chocolate syrup – I love using my homemade white chocolate sauce for this recipe but you can use store bought or your favorite syrup here.
Coffee flavored chocolate bar – This is an optional topping for the coffee bomb, but makes for a fun addition. You can find coffee bars at most grocery stores in the candy aisle.
How to make coffee bombs
Once you have gathered all your ingredients you will also need to grab:
bowls
spoons
silicone sphere mold
measuring cups and spoons
plate
Step 1 Melt the chocolate Place the white chocolate in a microwave save bowl and melt in 30 seconds intervals. After each interval, stir the chocolate well. You want the residual heat from the chocolate to melt it.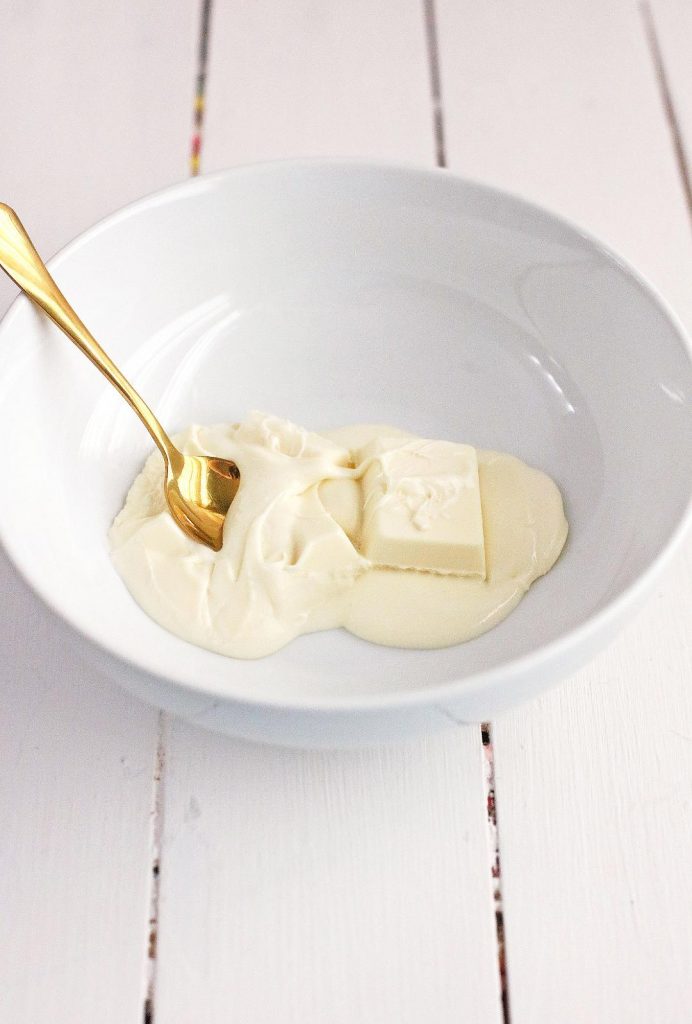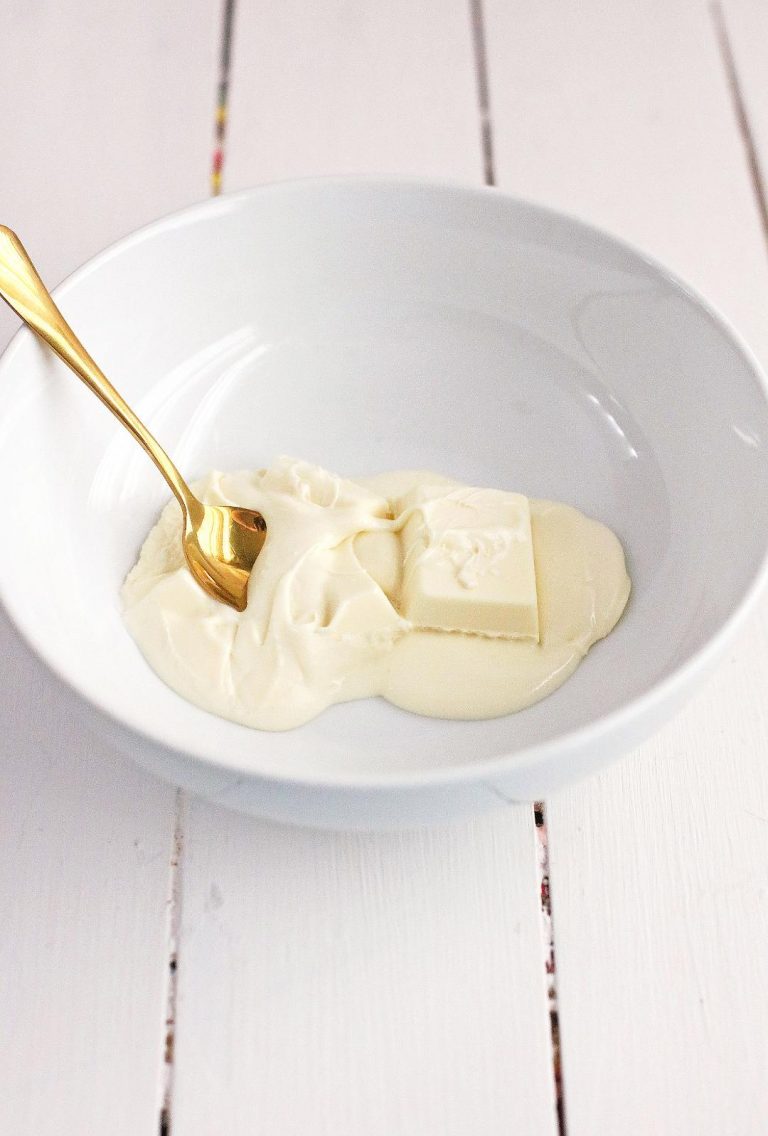 Step 2 Make the spheres Spoon in some of the white chocolate into the silicone molds. Use the back of a spoon to smooth the white chocolate along all of the sides. Pour any excess chocolate back into the bowl. Allow the sphere halves to harden by placing them in the fridge for 15 minutes. Repeat this process so that you have 2 layers of chocolate.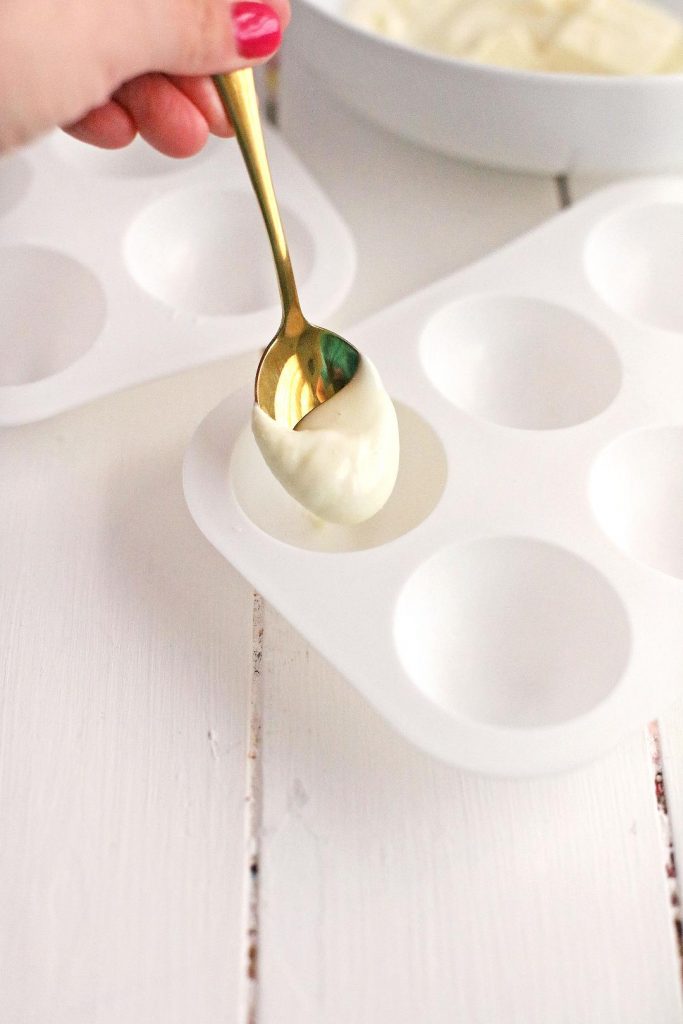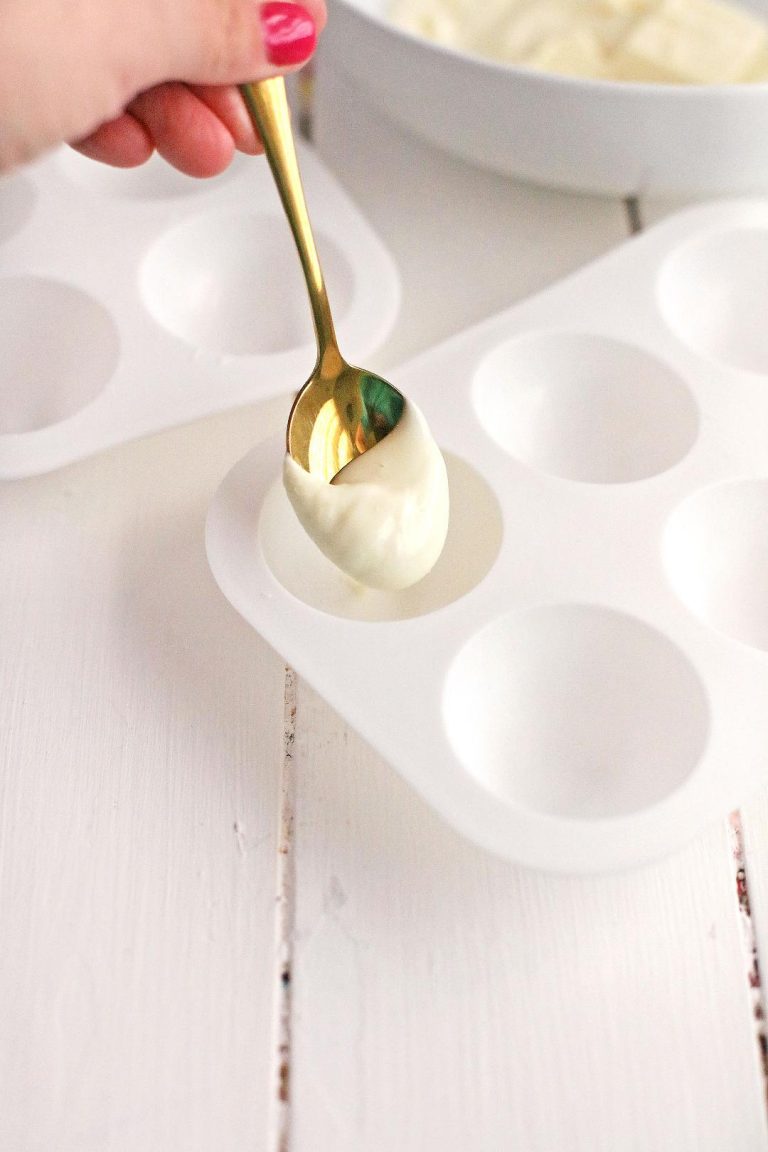 Step 3 Add the surprises inside Add about a teaspoon of the instant espresso and 1 teaspoon of white chocolate to one side of the spheres.
Step 4 Seal the spheres Microwave a plate for 30 seconds and remove carefully. Place a circle half that does not have espresso in on the plate and swirl it around. This will allow the edges to melt slightly. Press the empty half onto the full half and run your finger along the seam. Repeat this process with the other bombs.
Use any of the leftover white chocolate to drizzle over the top. You can also place your coffee flavored candy bar piece on top a swell.
Step 5 Enjoy Place one of your white chocolate cocoa bombs in a coffee mug. Warm up your favorite milk in the microwave or on the stove top. Pour the hot milk over the cocoa bomb until you fill the cup. The bomb will melt and "explode" into the cup. Stir until the espresso and white chocolate sauce have been combine.
Can I use decaf coffee?
Sure! You can use any type of coffee that you like. I enjoy espresso, but you can use regular or decaf instant coffee as well. Just make sure you use instant coffee in these hot cocoa bombs.
Can I make these with milk chocolate?
You can! You can use any type of chocolate that you like. I used milk chocolate in my coffee bomb recipe.
What mold do I need for these?
Any mold will work, but I prefer the circle molds. The one that I used was a 2 1/2 sphere mold. You can find them on Amazon or your local bakery supply store.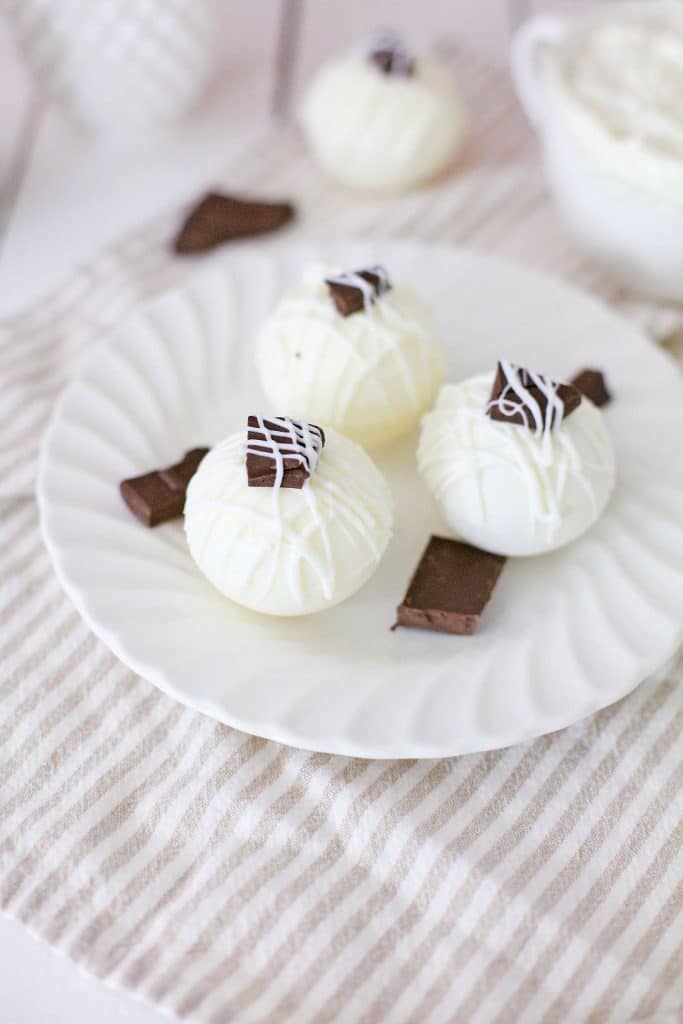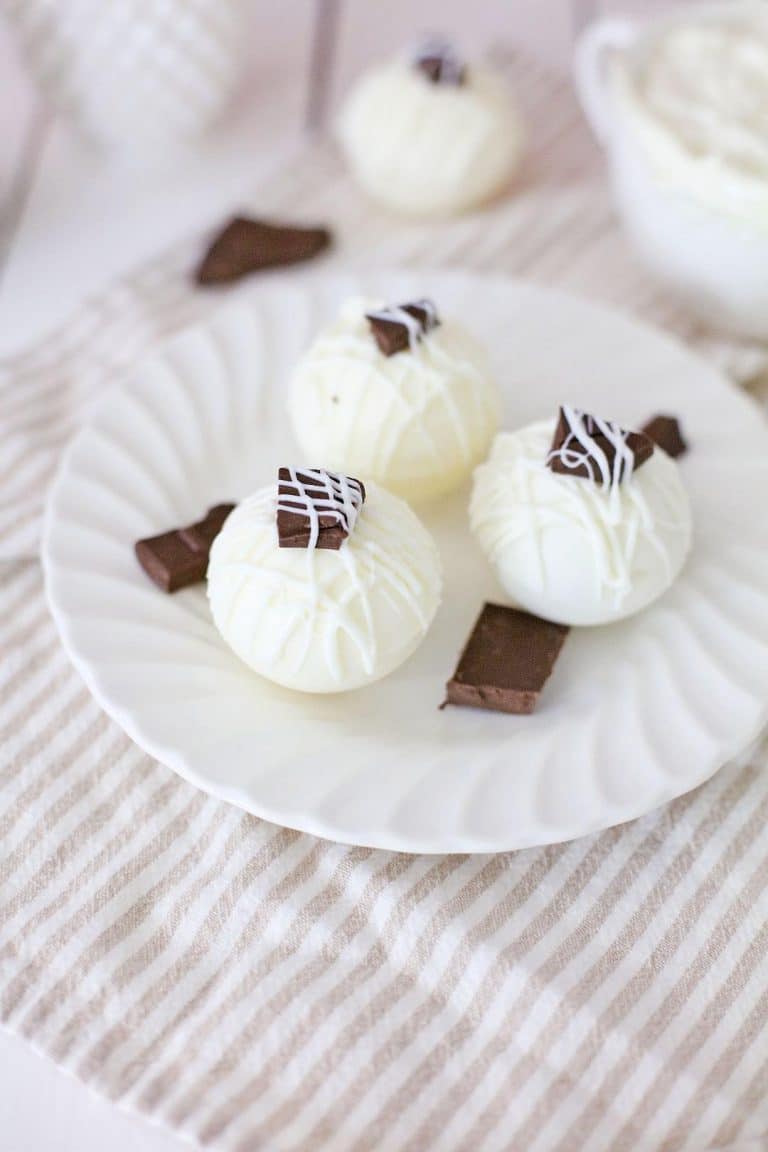 Other coffee recipes to try
Love coffee? Hey, me too! Try some of my favorite DIY coffee recipes:
How to store leftovers
If you have leftover cocoa bombs, place them in an airtight container or Ziplock bag in the fridge. They will stay fresh for a week or two in the fridge. You can not store these on the counter as they will become soft.
Can I freeze them?
You sure can! Place any white chocolate cocoa bombs in a Ziplock bag and remove the air. Place them carefully in the freezer. They will stay fresh for up to 3 months in the freezer. You can take the frozen bombs and place them directly in your cup and add hot milk when you are ready to enjoy again.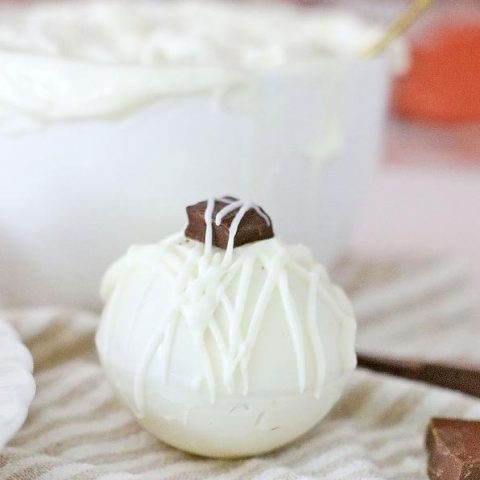 White Chocolate Cocoa Bombs
Make a fun coffee treat with these white chocolate cocoa bombs.
Ingredients
10 ounces white chocolate
6 teaspoons of Instant Espresso
6 teaspoons of White Chocolate Syrup
6 cups of Hot Milk
Additional melted white chocolate to drizzle on top
Coffee flavored chocolate bar, optional
Instructions
Place the Chocolate in a Microwave safe bowl, and melt until smooth and creamy. Do this in 30 second intervals.
Spoon or ladle into the molds, making sure to coat the inside of the molds. Pour excess chocolate back into the bowl.
Place the molds in the refrigerator, and let harden for 15 minutes.
Repeat so that there are 2 layers of chocolate.
Remove molds from refrigerator, and carefully remove chocolate from molds, placing 6 half balls in a row on a cookie sheet. These will be the bottom parts, or half of the Mocha bombs.
Place 1 teaspoon of the Espresso, and 1 teaspoon of white chocolate Syrup in 6 of the balls.
Heat a plate in the microwave and place one of the white chocolate half balls with the open side down in the skillet, melting just the edges for a few seconds, remove, and place the ball on top of the half balls with the Espresso and Syrup, and hold for a few seconds until the top half sticks to the bottom half. Run your finger along the seam to seal.
Repeat, until all 6 Balls are done.
When all the Mocha Bombs have been filled, and melted together, place them in the refrigerator for 30 minutes, until chocolate is completely set.
Drizzle any of the remaining white chocolate over the top of the cocoa bomb and top with a piece of the candy bar.
Place one white chocolate cocoa bombs in the bottom of a large mug, and pour heated milk over the top. Mocha Bomb will melt and bubble. Stir well and enjoy!






Other coffee bomb recipes to try
I love these coffee bombs. They are such a fun way to enjoy your coffee. You can also try these other varieties:
Did you try this recipe? I'd love for you to leave a review above in the recipe card or below in the comments.
Want to try it later? You can pin the image below. I appreciate your support!