If you enjoy rice krispie treats, make your own and add a twist to them with this recipe for White Chocolate Rice Krispies with peppermint. You can enjoy the crunchy taste of the crisp cereal with the sweet taste of white chocolate and crushed peppermint candies all in one. You can create these tasty treats in 15 minutes or less, making them the perfect quick snack to prepare for the family. Let me show you how to make this easy white chocolate recipe today!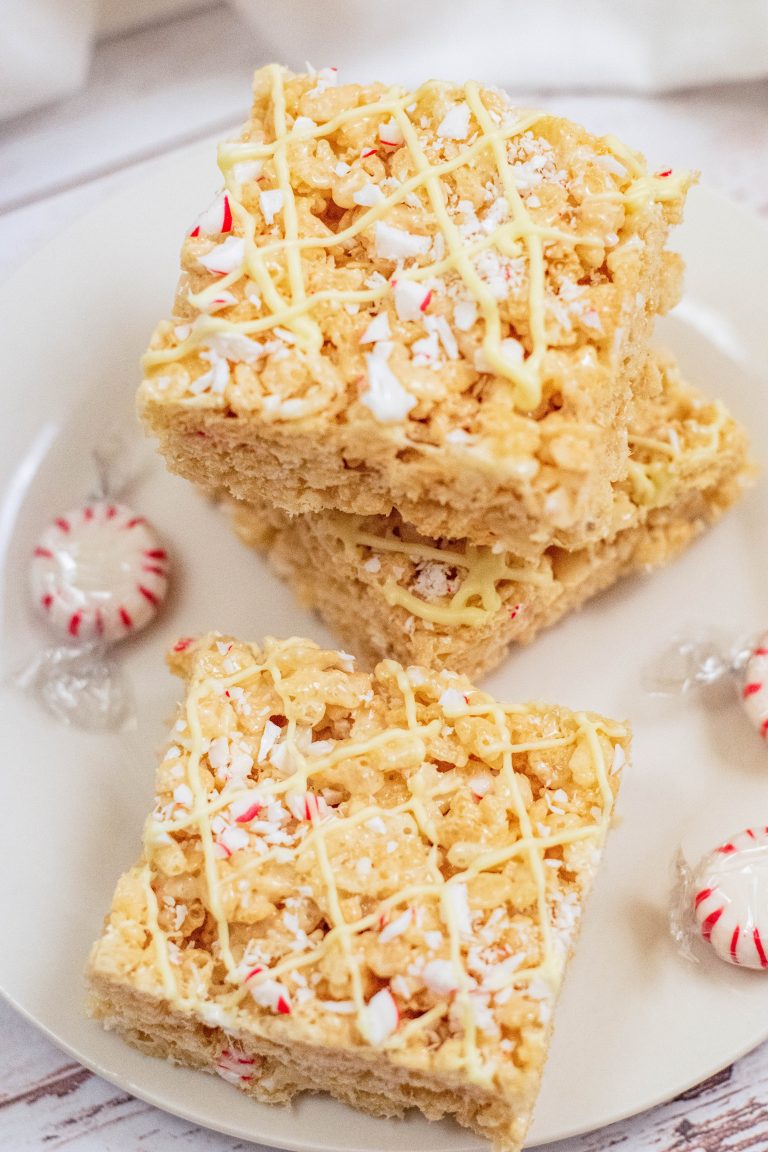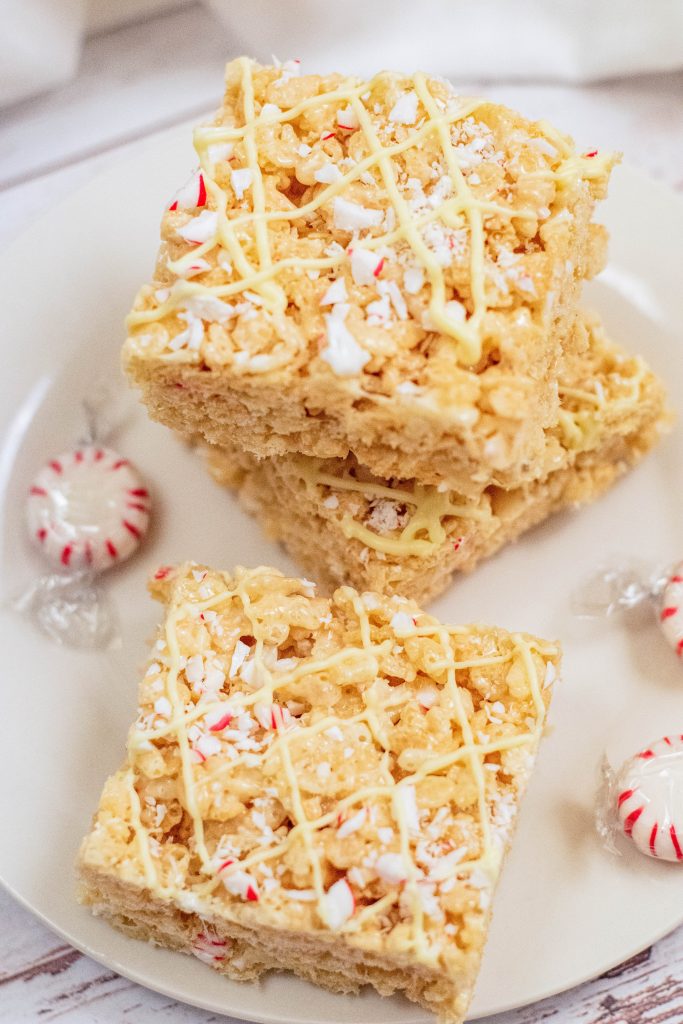 I love rice krispie treats! They are so easy to make and everyone is always happy to have a bar or two. Of course I had to combine my two favorite things – white chocolate and rice krispies! I added a touch of peppermint which makes them before for the winter months.
What Are Rice Krispies?
Rice Krispies are tasty treats that typically consist of cereal, melted marshmallows, and butter to create a flavorful experience. You can combine these ingredients to create the perfect easy rice krispie to have as a snack. The great thing about rice krispie treats is that you don't have to use your oven to make them.
This version uses white chocolate and peppermint to give the classic dessert a unique flavor. I know that peppermint is more of winter time flavor, so feel free to omit it if you want to enjoy these year round!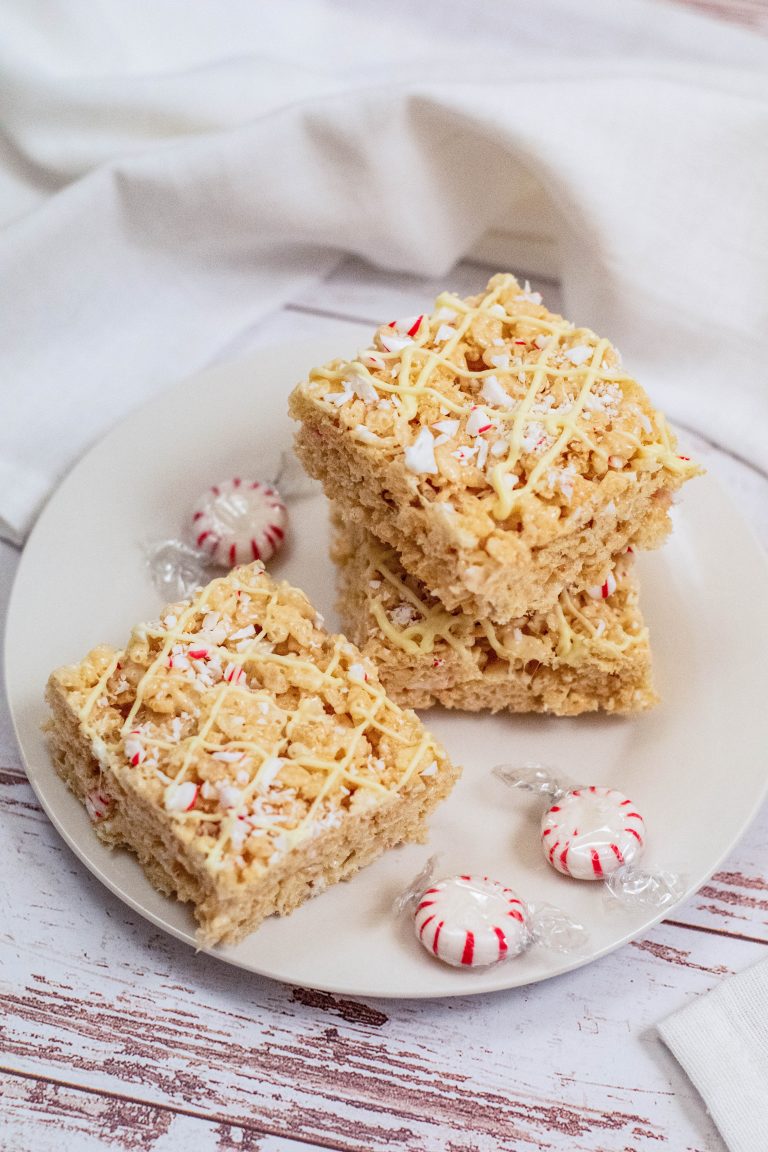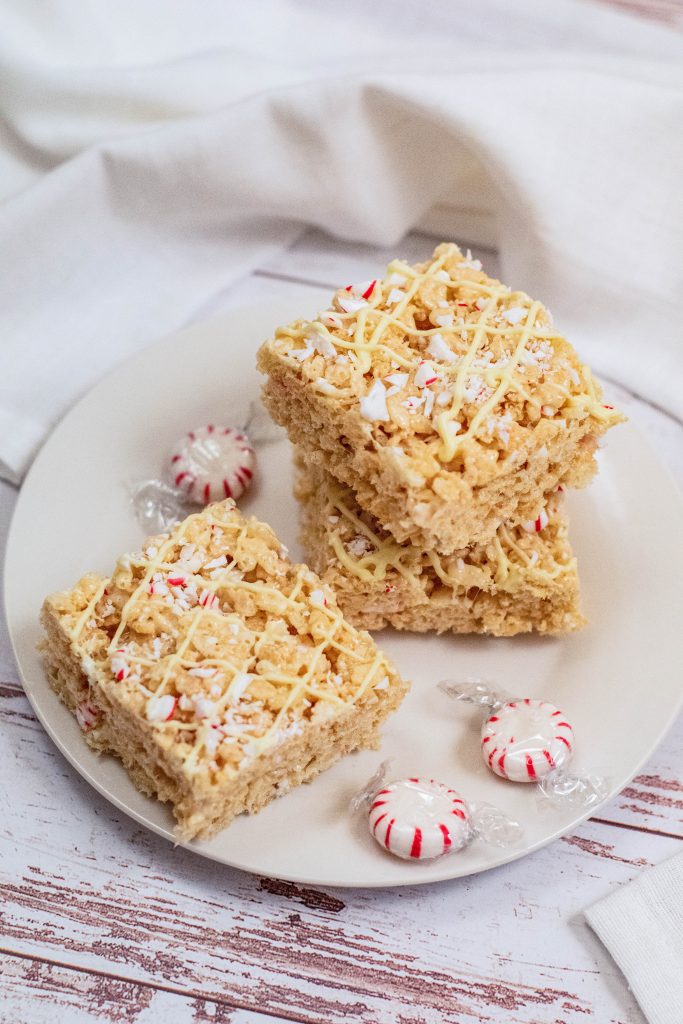 White Chocolate Rice Krispie Ingredients
If you want to make these winter rice krispies, you will need specific ingredients, such as:
Rice Krispies Cereal. Measure out six cups of the cereal before you start to mix it.
Mini Marshmallows. You will melt the marshmallows down to get your cereal to stick together.
Butter. The butter adds flavor to these treats while giving them that shiny appearance.
Peppermint Candies. Crush the peppermint candies down into small pieces before you use them.
White Chocolate Chips. You can use any brand of white chocolate chips or chocolate chunks. I prefer Ghiradelli white chocolate, but any type will work.
With these ingredients, you can prepare the White Chocolate Peppermint Rice Krispies with ease.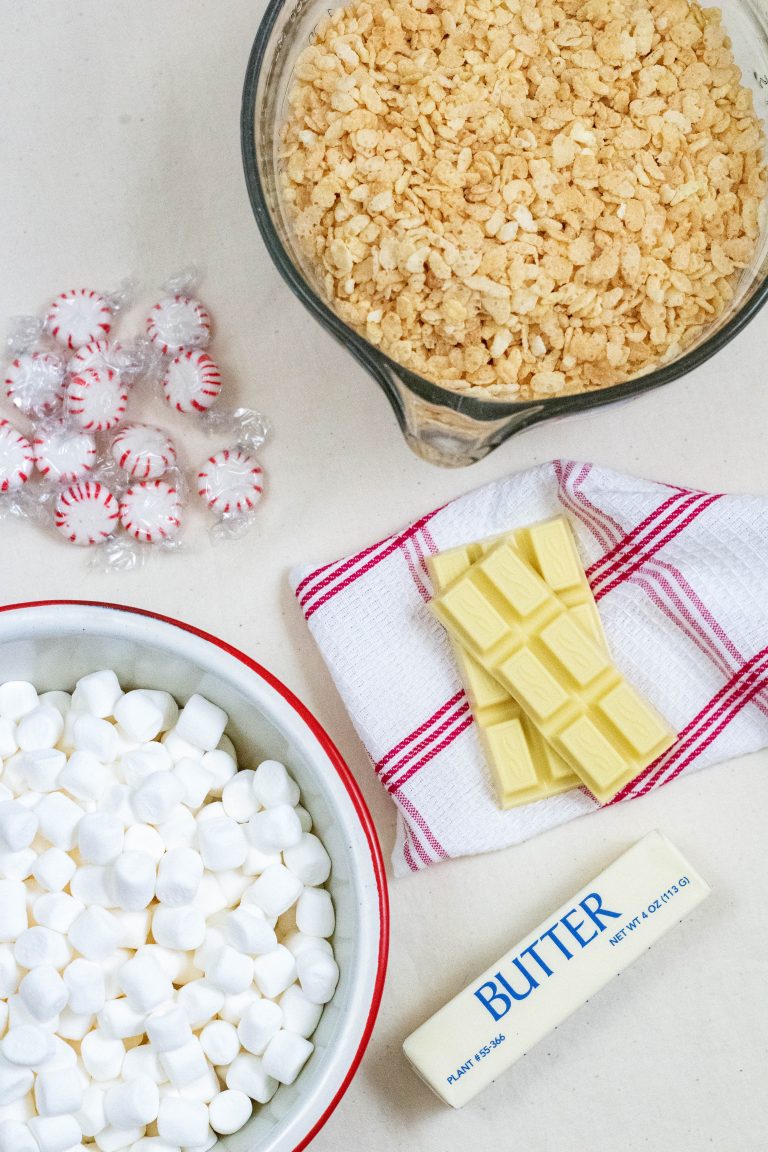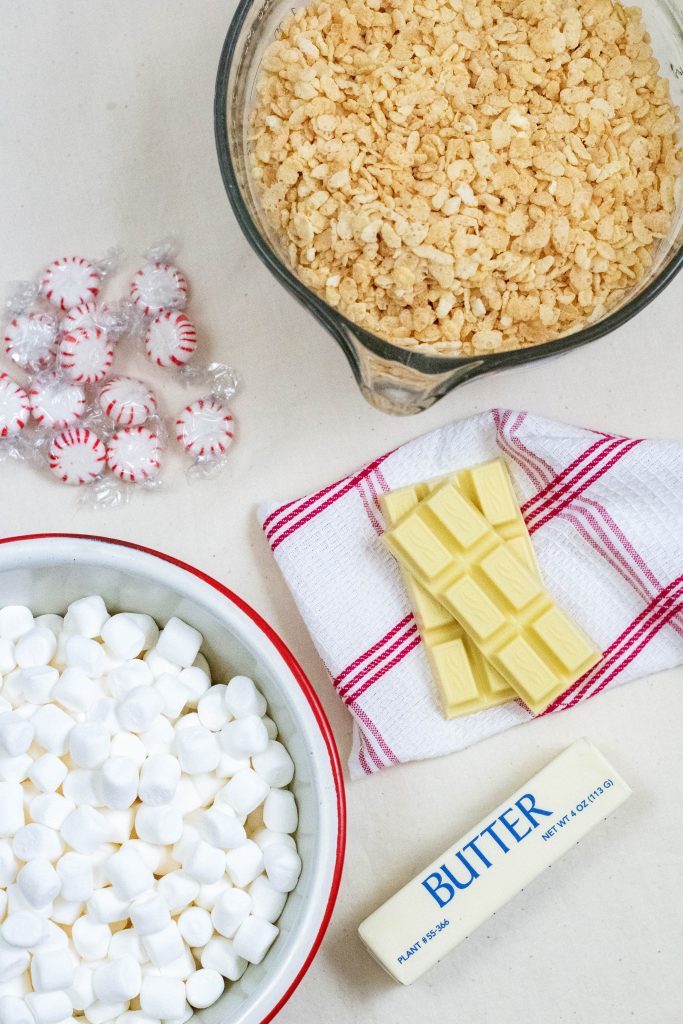 Exact Ingredients
You will want to make sure you get this recipe just right. So, here are the exact ingredients you will need:
4 Tbsp Butter
1 10oz Bag Mini Marshmallows
6 Cups Rice Krispies Cereal
¼ Cup Finely Crushed Peppermint Candies (plus more for decorating if desired)
½ Cup White Chocolate Chips or Chunks (plus more for decorating if desired)
How to Make White Chocolate Rice Krispies
Make your White Chocolate Peppermint Rice Krispies by following a few simple steps.
Step 1: Grease Your Pan
Grab a 13×9 baking pan and coat the bottom and sides of it with butter or grease.
Step 2: Melt Some Ingredients
Grab a pot and place it on the stove. Add your butter into the pot and cook on low heat until it melts. Toss the marshmallows into the pot with the butter and stir continuously until they melt with the butter. You may then add in the white chocolate, mixing well until all three ingredients blend.
Step 3: Mix in the Rice Krispies
Pull the pot off the stove and set it down. Add your rice krispies to the pot and mix well. Stir the crushed peppermints in with the cereal and blend well.
Step 4: Add Your Mix to the Pan
Remove the mixture from the pot and place it in your greased pan. Press it down to get it all in there with ease.
Step 5: Garnish the Top of Your Treats
Sprinkle an even amount of crushed peppermint candies to the top of the rice krispie treats. You may also add a white chocolate drizzle to the treats. Make sure you let them cool for at least an hour before you cut them.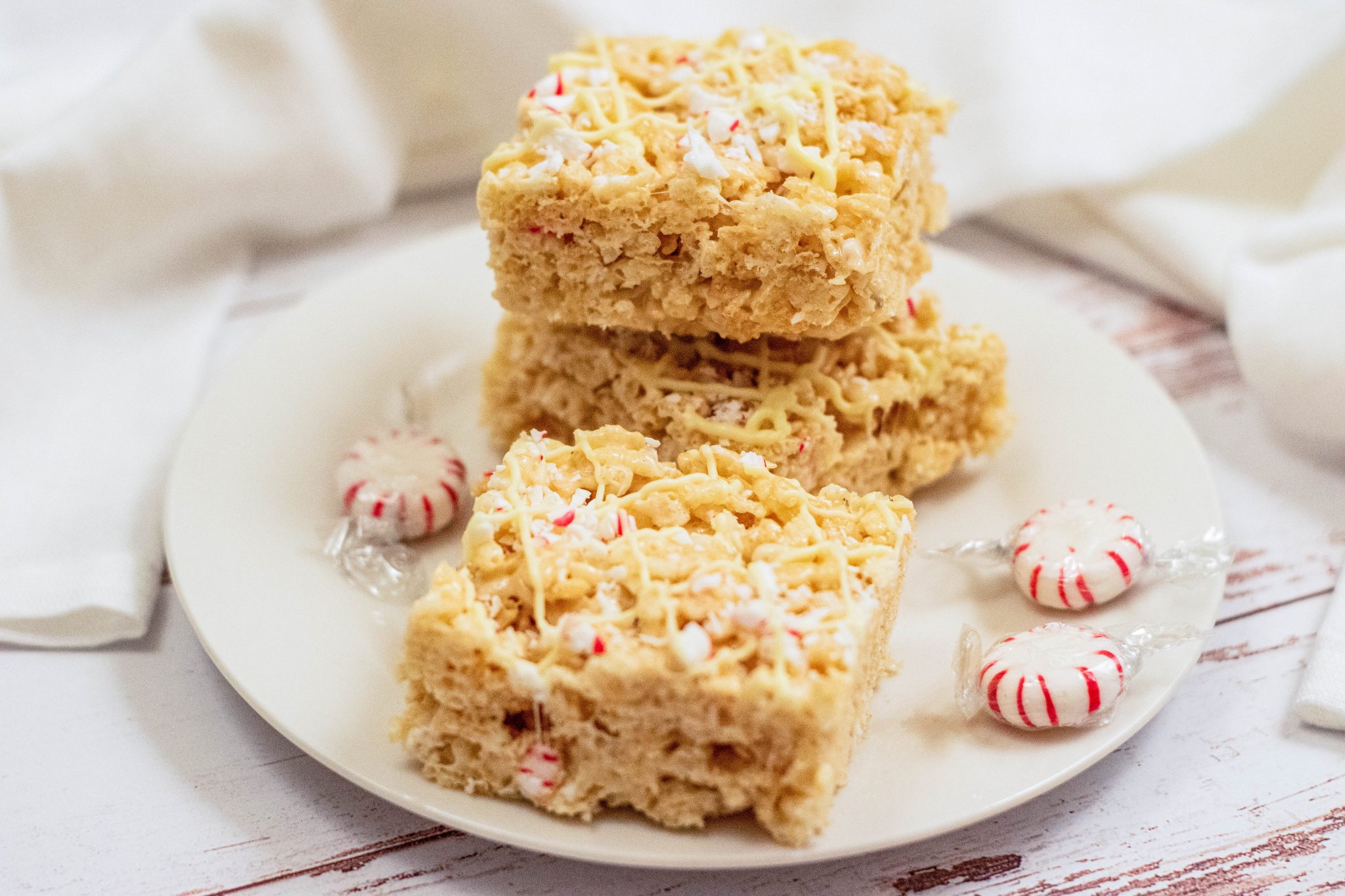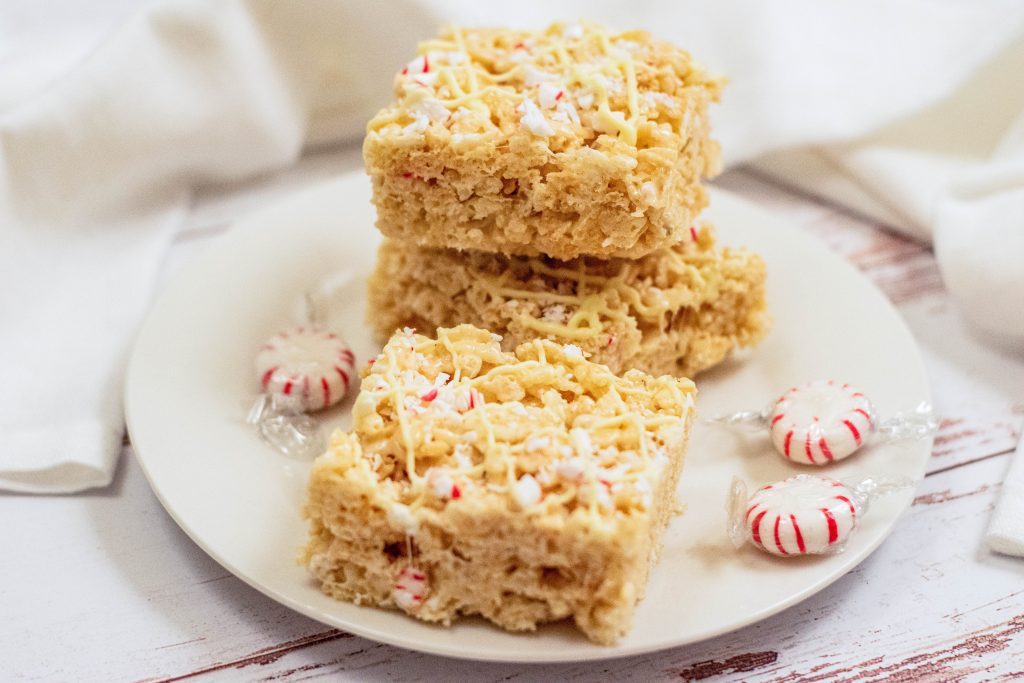 Other White Chocolate Recipes
If you enjoy the White Chocolate Peppermint Rice Krispies, you may want to try more than one white chocolate recipe. If so, check out some of these recipes:
How to Store Leftovers
If you have some of the white chocolate rice krispie treats leftover, wrap them in plastic wrap and store them in a sealed food container to keep them fresh. You do not need to put them in the fridge. You can leave them on the kitchen table or in a cabinet, but make sure that you keep them covered.
Traditional rice krispie treats are delicious, but these white chocolate peppermint treats really up the game! I personally love making them around the holidays. They add the perfect Christmas spirit.
Other rice krispie recipes to try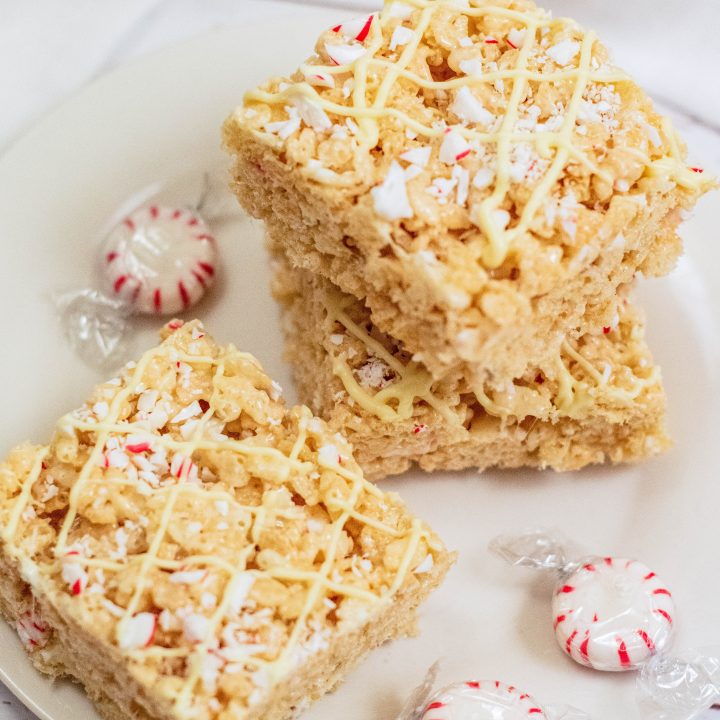 White Chocolate Rice Krispies
Additional Time:
30 minutes
Ingredients
4 Tbsp Butter
1 10oz Bag Mini Marshmallows
6 Cups Rice Krispies Cereal
¼ Cup Finely Crushed Peppermint Candies (plus more for decorating if desired)
½ Cup White Chocolate Chips or Chunks (plus more for decorating if desired)
Instructions
Butter or grease a 13x9 in baking pan.
In a large pot melt the butter over low/med heat.
Add in marshmallows. Continue heating over low/med heat, stirring frequently, until marshmallows are completely melted.
Add in white chocolate and continue heating and stirring until chocolate is melted and well incorporated.
Remove marshmallow mixture from heat and stir in rice krispies and crushed peppermints. Stir well until the cereal is evenly coated with the marshmallow mixture.
Press the mixture into your prepared pan.
If desired sprinkle the top with crushed peppermint. Melt additional white chocolate in a double boiler and drizzle it across the top.
Allow to cool at least half an hour before cutting.
Nutrition Information:
Yield:

12
Serving Size:

1
Amount Per Serving:
Calories:

202
Total Fat:

6g
Saturated Fat:

4g
Trans Fat:

0g
Unsaturated Fat:

2g
Cholesterol:

12mg
Sodium:

129mg
Carbohydrates:

36g
Fiber:

0g
Sugar:

19g
Protein:

2g
If you liked this easy recipe, be sure to pin it to Pinterest for others to enjoy. Sharing helps my blog allowing me to share more delicious recipes you will love!