Love the popular hot chocolate bombs? Meet the grown up version – hot coffee bombs! They are just like the hot chocolate bombs except with they are filled with espresso! They are a fun way to jazz up your morning cup of Joe. Let me show you how to make this easy coffee bomb recipe today!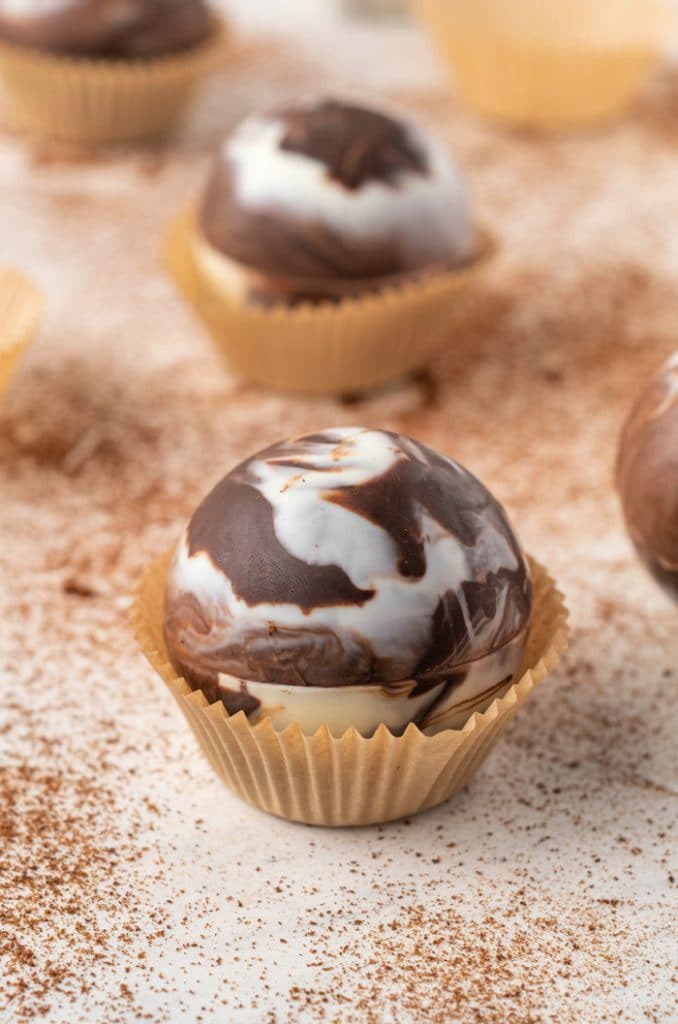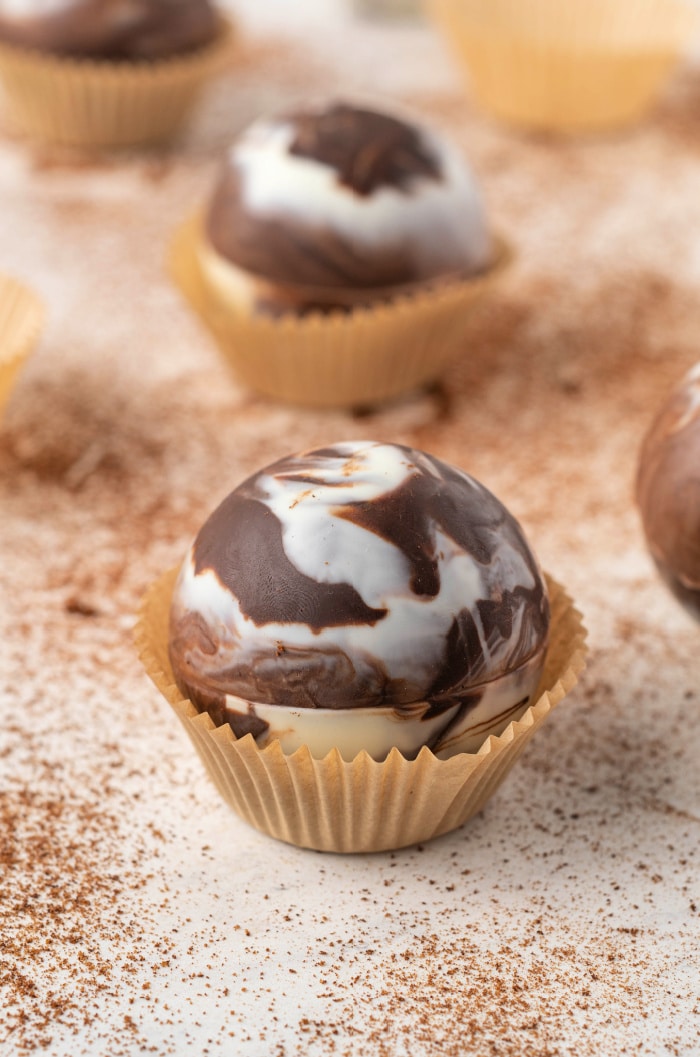 Let me tell you, my kids have fallen hard for the hot chocolate bombs that are so popular lately. You know, the chocolate shell that you pour hot milk on and marshmallows explode out? Yup – those. We have made more hot chocolate bombs than I can count. But I wanted a grown up version. So I made hot coffee bombs!
What are coffee bombs?
These are the adult version of the popular hot chocolate bombs. A coffee bomb is a chocolate sphere that is filled with espresso, cocoa powder and marshmallows. You pour hot milk over the chocolate shell and it opens up and releases the insides of the bomb. You stir to combine everything and end up with one fun cup of coffee!
Coffee bomb ingredients
The best part about these coffee bombs is that you only need a few common ingredients to make them. I bet you even have most of them in your pantry right now!
Semi sweet chocolate – You will need regular and white chocolate chips for this recipe. This creates the chocolate shell that holds the espresso, hot cocoa mix and the marshmallows.
Instant espresso – Grab your favorite instant espresso or coffee. You probably have some leftover from making your whipped coffee!
Hot cocoa mix – This helps sweeten your coffee with a mocha like flavor. Buy a box or jar of hot cocoa mix for this recipe and save some for a hot chocolate cake!
Mini marshmallows – These are optional, but make a great additional to your morning coffee!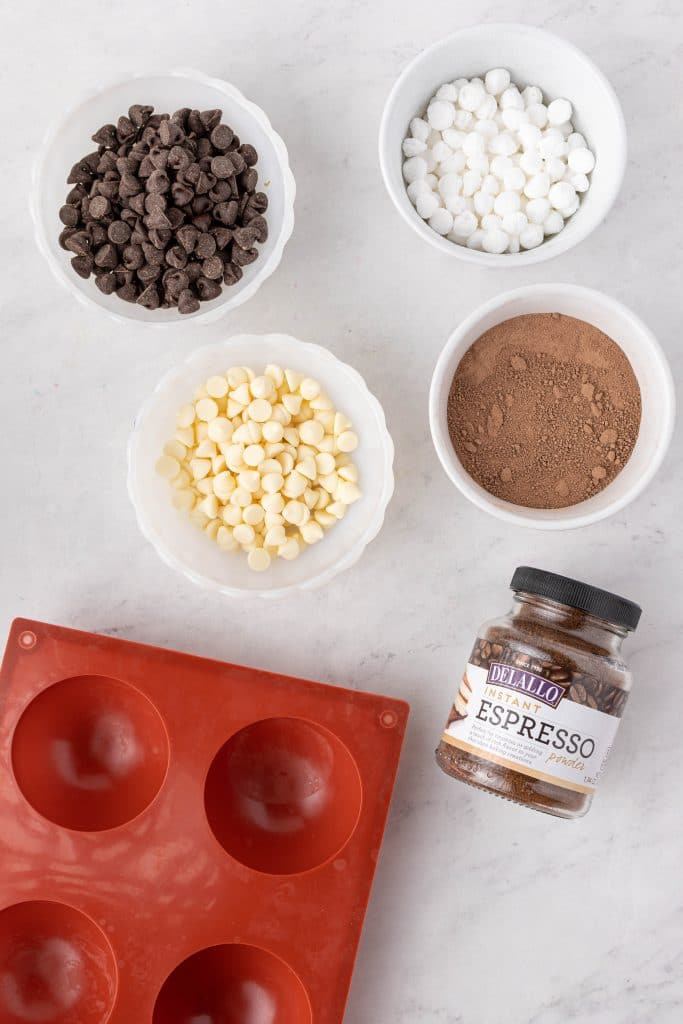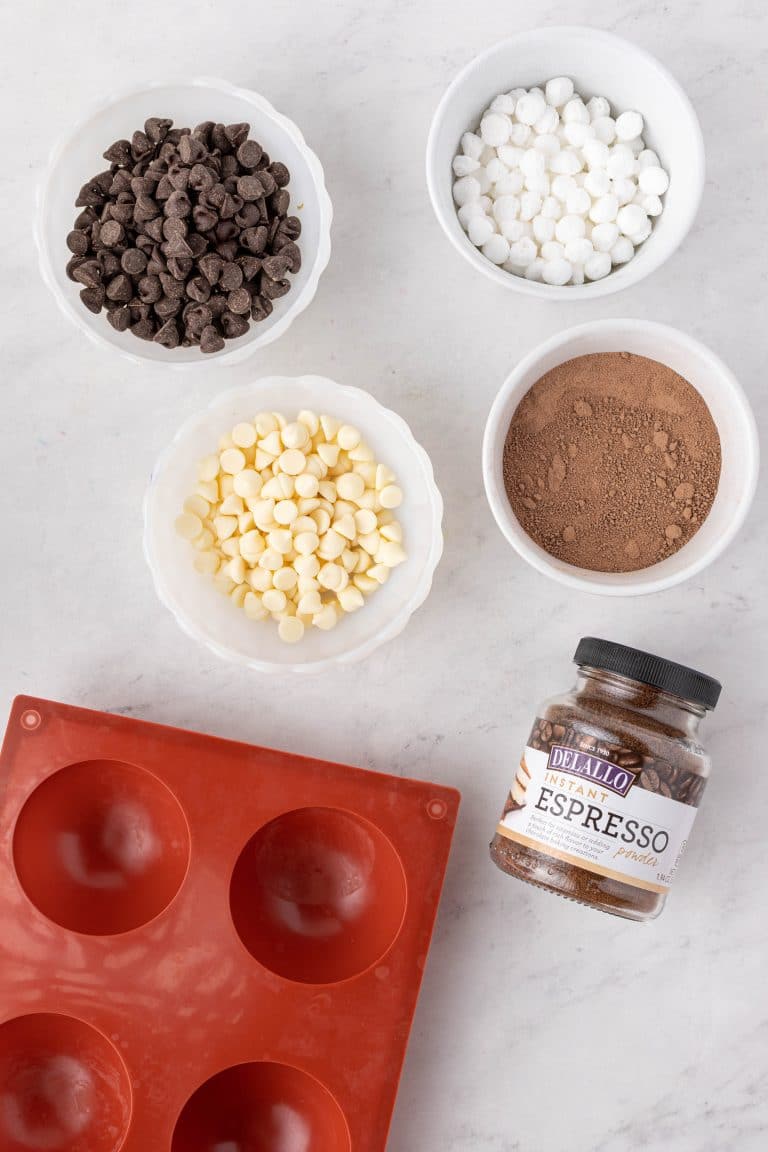 Tools needed
There are a few things that you will need to make these coffee bombs on your own. The biggest thing you need is a silicone mold, specifically a half circle mold. You will also need a few small mixing bowls for melting the chocolate. You will need to grab measuring cups and spoons to help measure out ingredients. Make sure to grab a few spoons to stir the melted chocolate and to help form the chocolate bombs.
You can also wear gloves if you want to make sure your chocolate doesn't melt in your hands. Lastly, you will need a small microwave safe plate to warm the edges of the half circles so that you can seal them together. So to recap, you will need:
Silicone half circle mold
Small mixing bowls
Measuring cups and spoons
Spoons
Gloves
Small microwave safe plate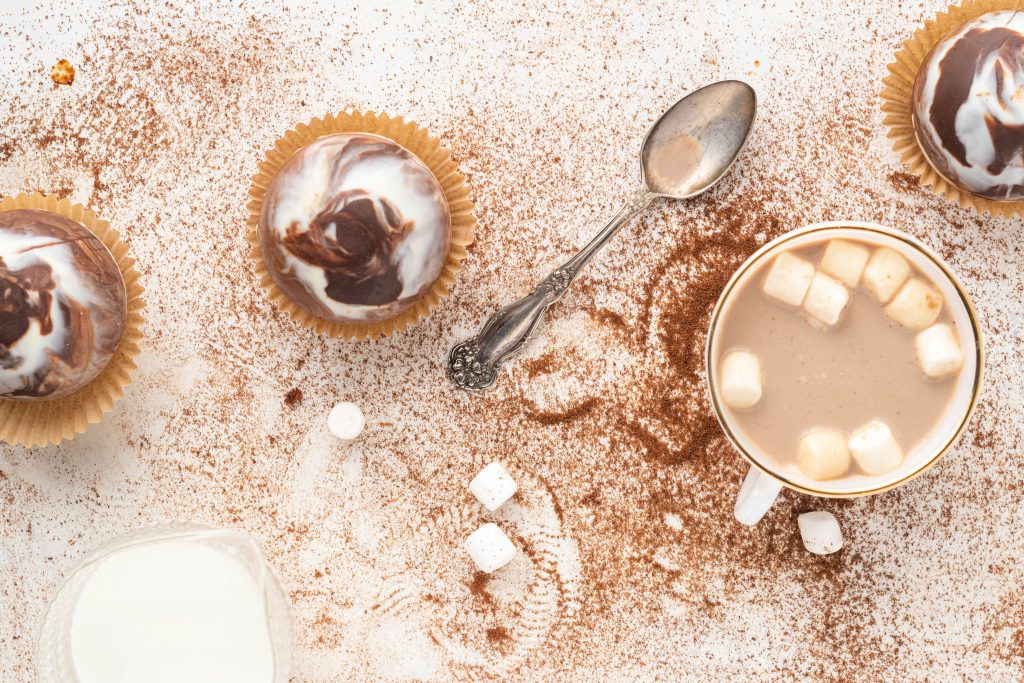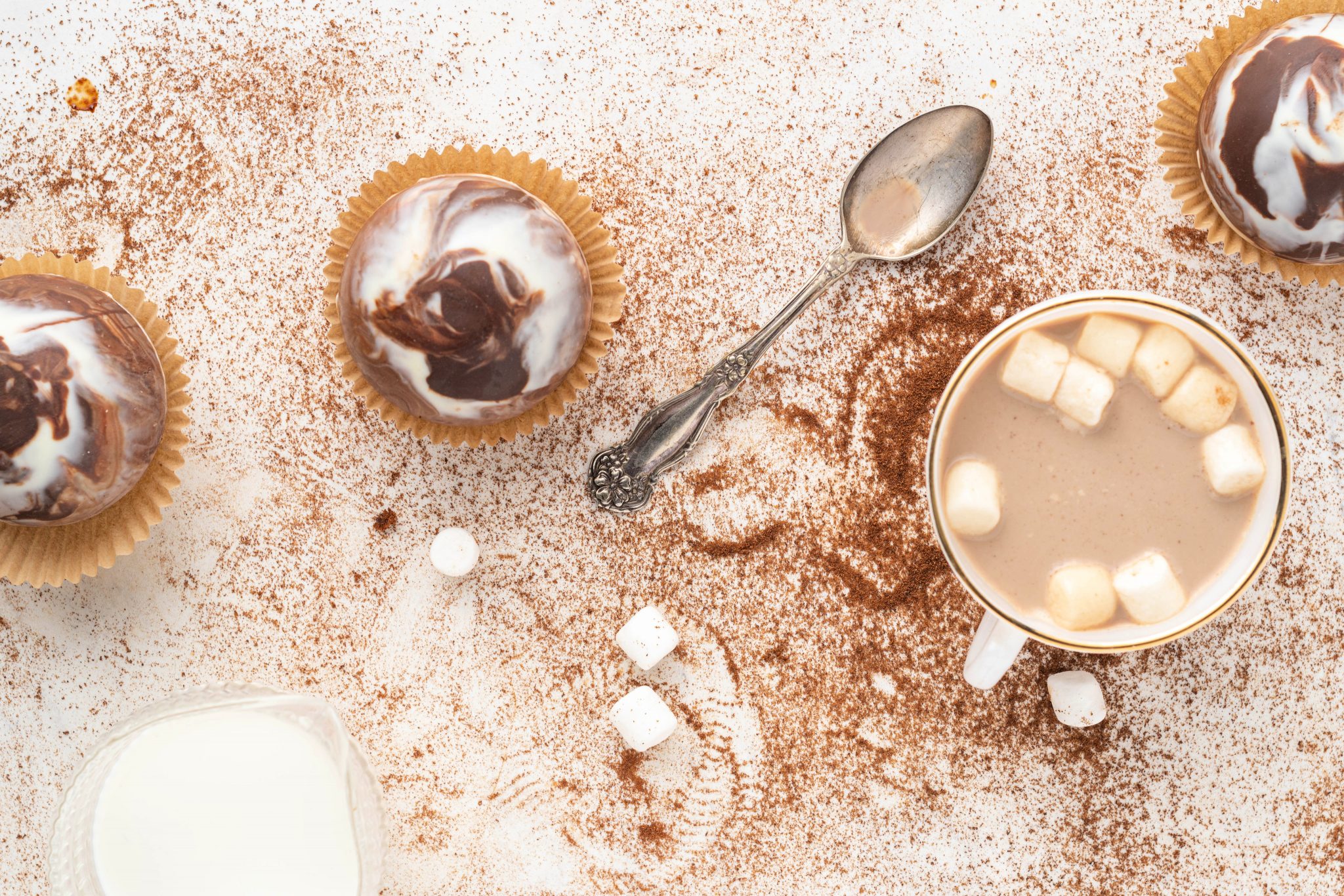 How to make hot coffee bombs
Once you have gathered all your ingredients and tools, you are ready to make your chocolate bombs! Let's get started!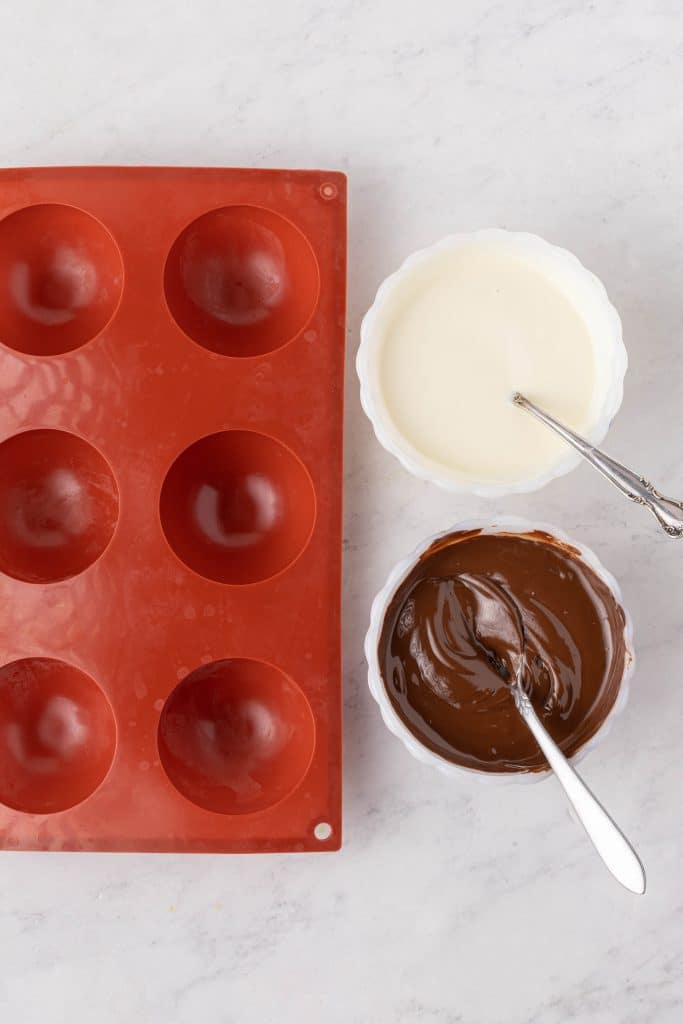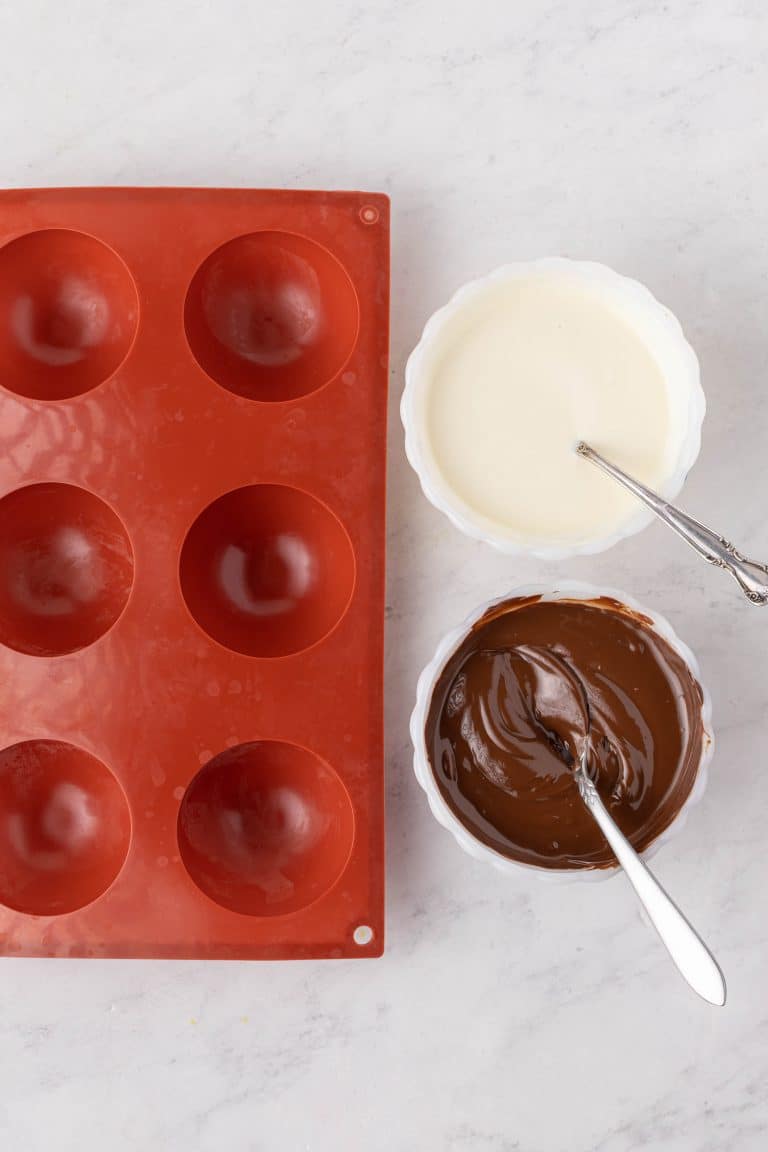 Step 1 Melt the chocolate
In two small microwave safe mixing bowls, melt the chocolate in the microwave in 30 second intervals. It should take about 60-90 seconds to melt the chocolate. After each interval be sure to stir the chocolate really well. The residual heat will help melt the chocolate chips.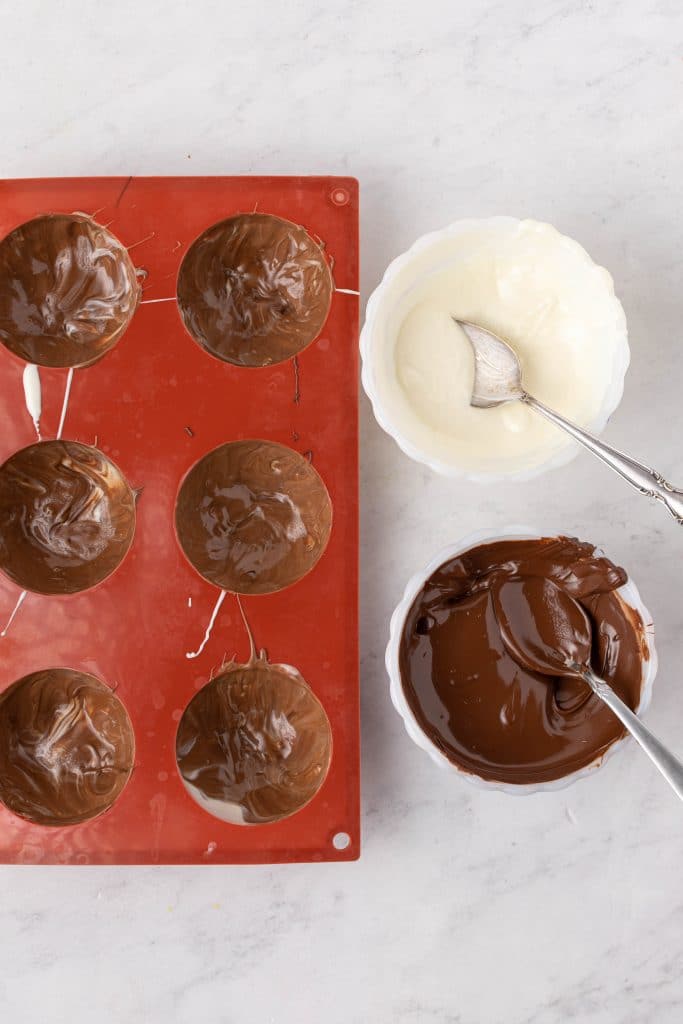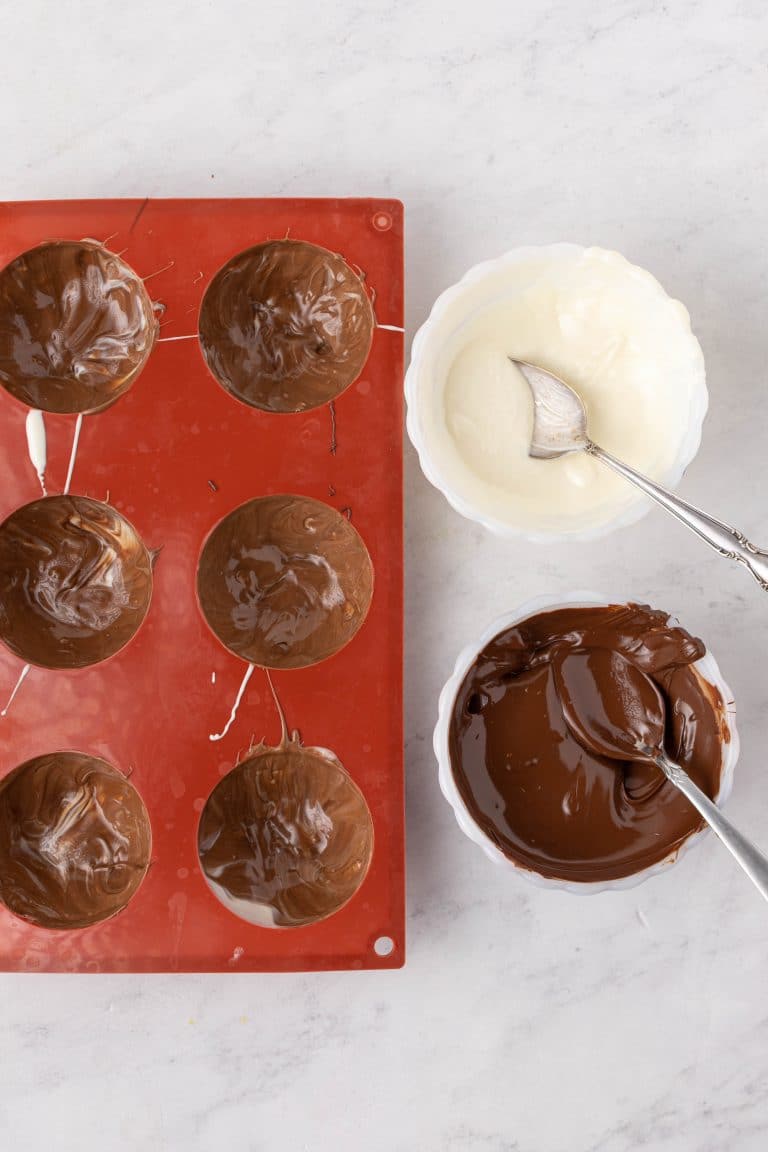 Step 2 Form the bombs
Pour about about a tablespoon of chocolate into the mold and use the back of a spoon to coat the mold with the chocolate. You want to make sure to cover the entire half circle. Start with the white chocolate and then the regular chocolate. Swirl so that you can get the marbled effect.
Place the molds in the freezer for 5 minutes to help them harden.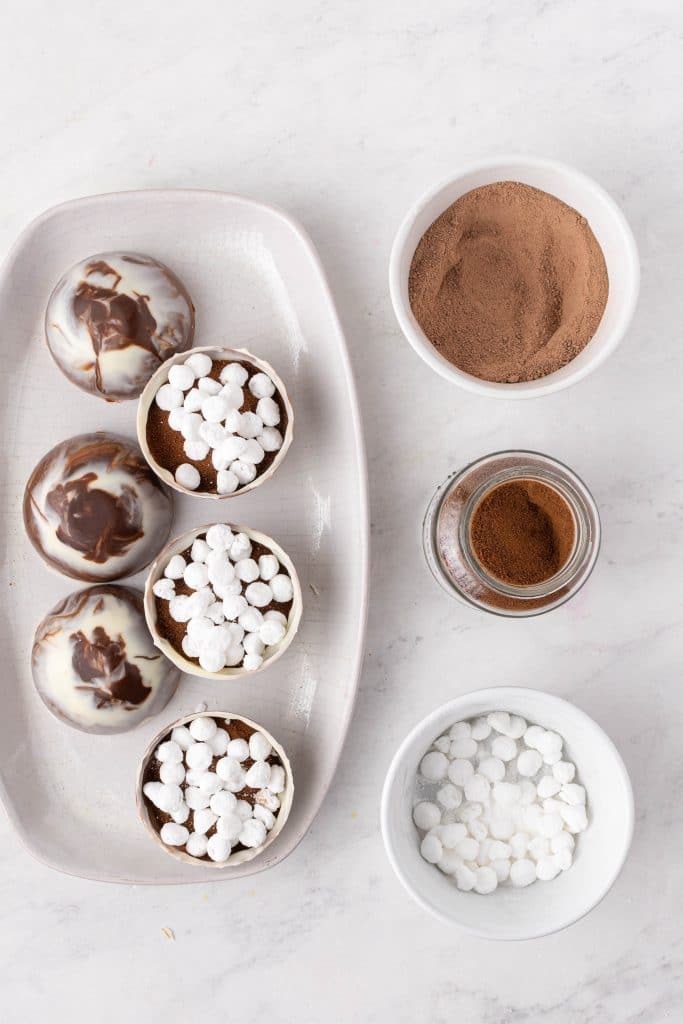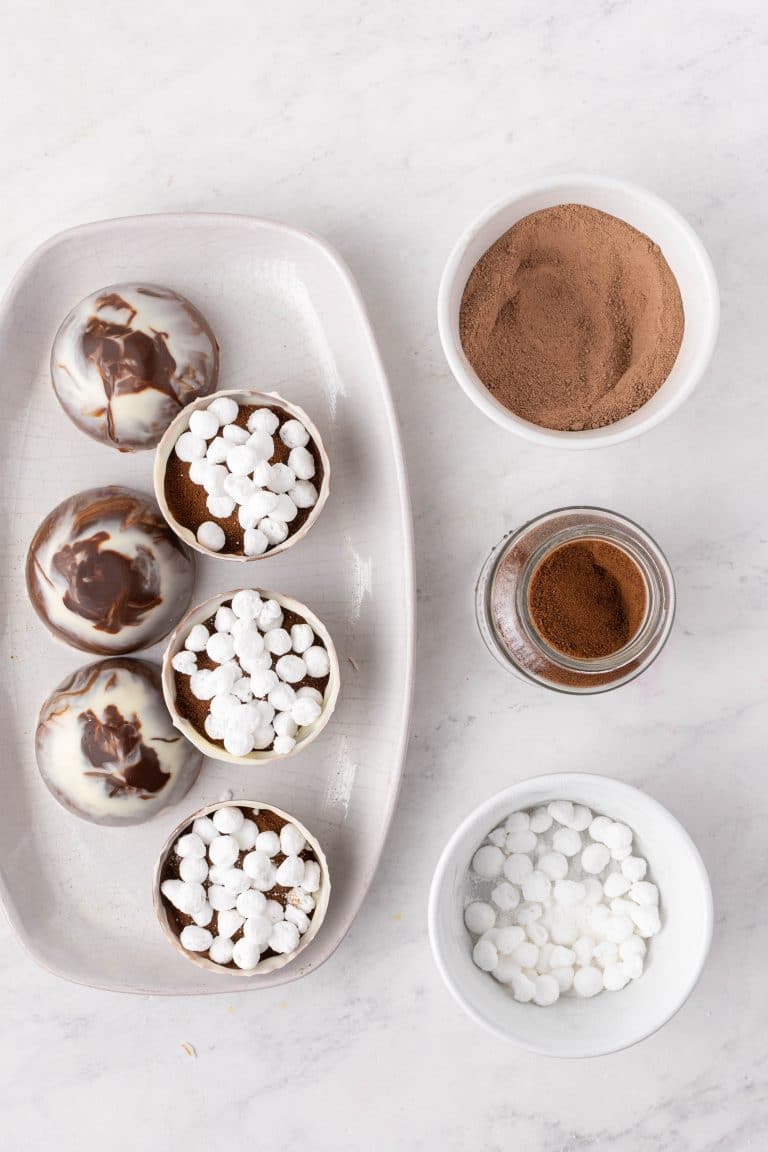 Step 3 Add the inner ingredients
Place a tablespoon of the cocoa powder in 3 of the half circles. Top that with 1 teaspoon of the espresso powder and some mini marshmallows. Fill it up as much as you can as you will cover it with the empty shell.
Step 4 Seal the bombs
You want to get a microwave safe plate to seal the coffee bombs. Warm the plate in the microwave so that it is warm to the touch but not blazing hot. Take the half of the sphere that is empty and press is lightly on the plate to melt the chocolate slightly. Then place the empty one over the full sphere and run your finger along the seam to seal them with the warm chocolate.
Step 5 Enjoy
Place one coffee bomb in your mug. Pour hot milk over the top of the bomb. The milk will cause the coffee bomb to melt and the inside ingredients to leaked out into the milk. Stir until all of the ingredients are combined.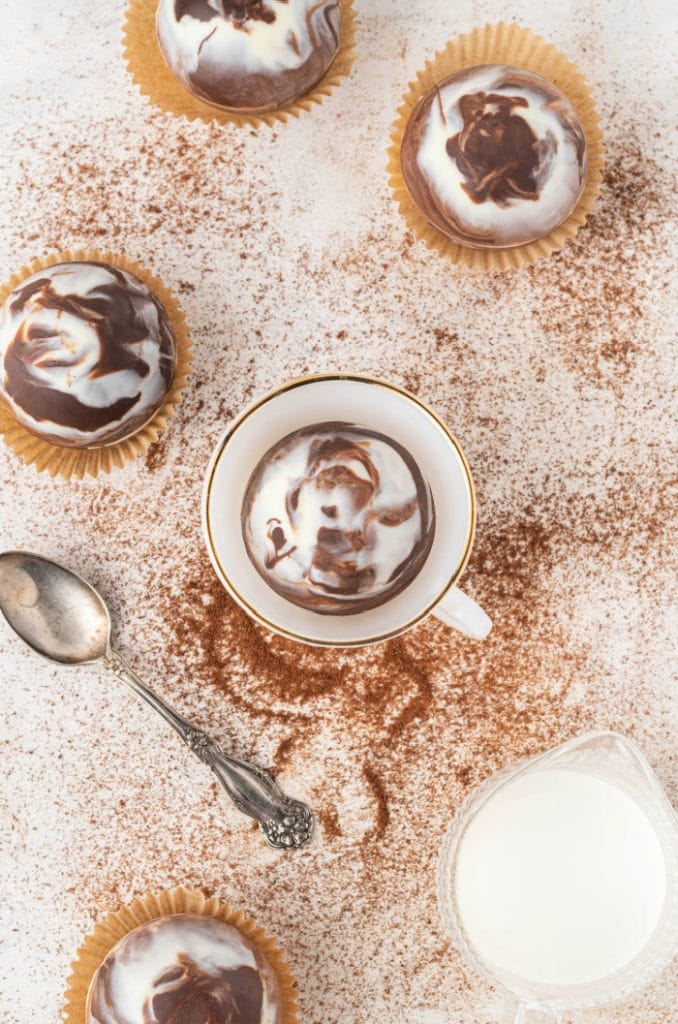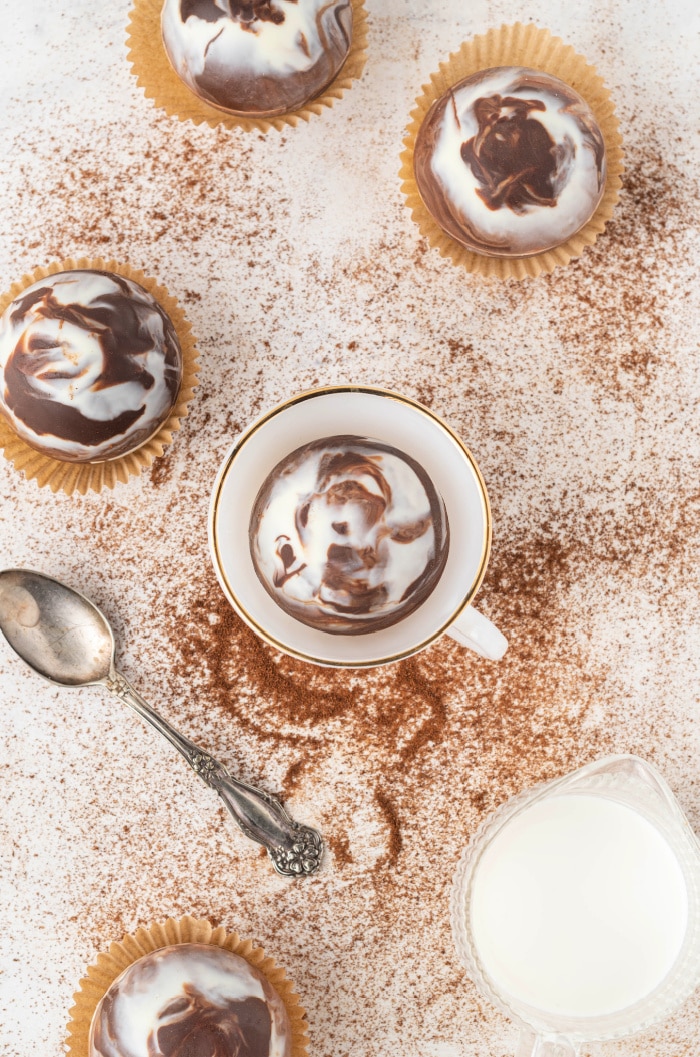 Hot coffee bomb tips
Want to make these bombs even easier? Use only one chocolate. You don't have to use both or marble the two together. If you want make this recipe even simpler, use only one chocolate.
Use the back of your spoon to coat the molds. This will help make sure that you cover the entire mold with chocolate.
You can use gloves when you are sealing the bombs so your hands don't get full of chocolate and you don't leave fingerprints on the bombs. It also helps because your hands are warm and will melt the chocolate as well.
Feel free to use your favorite instant coffee or espresso in these bombs.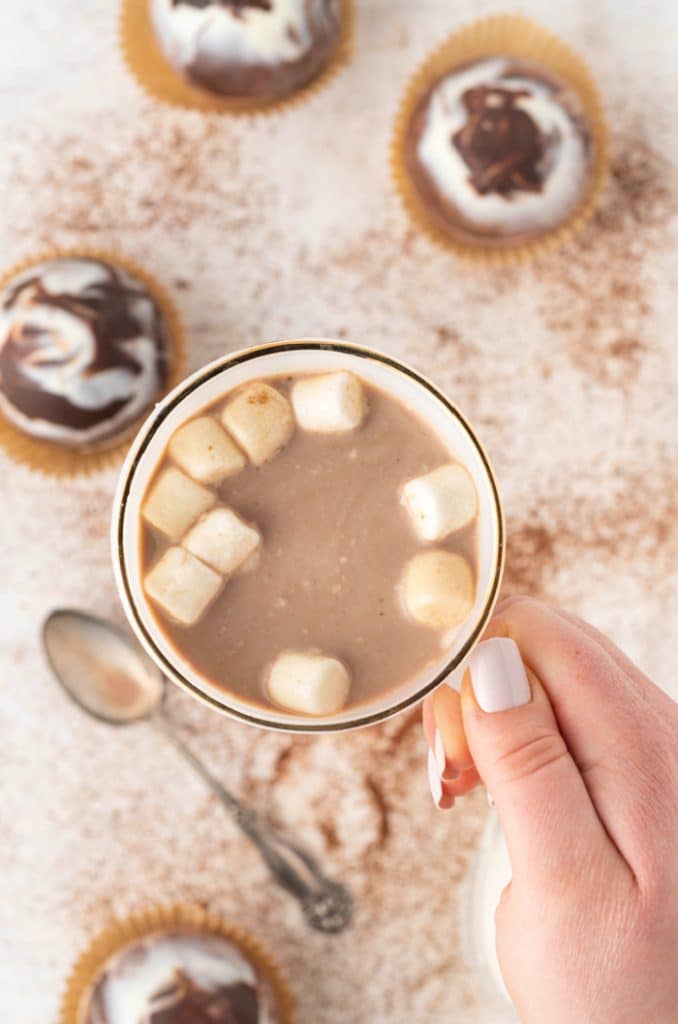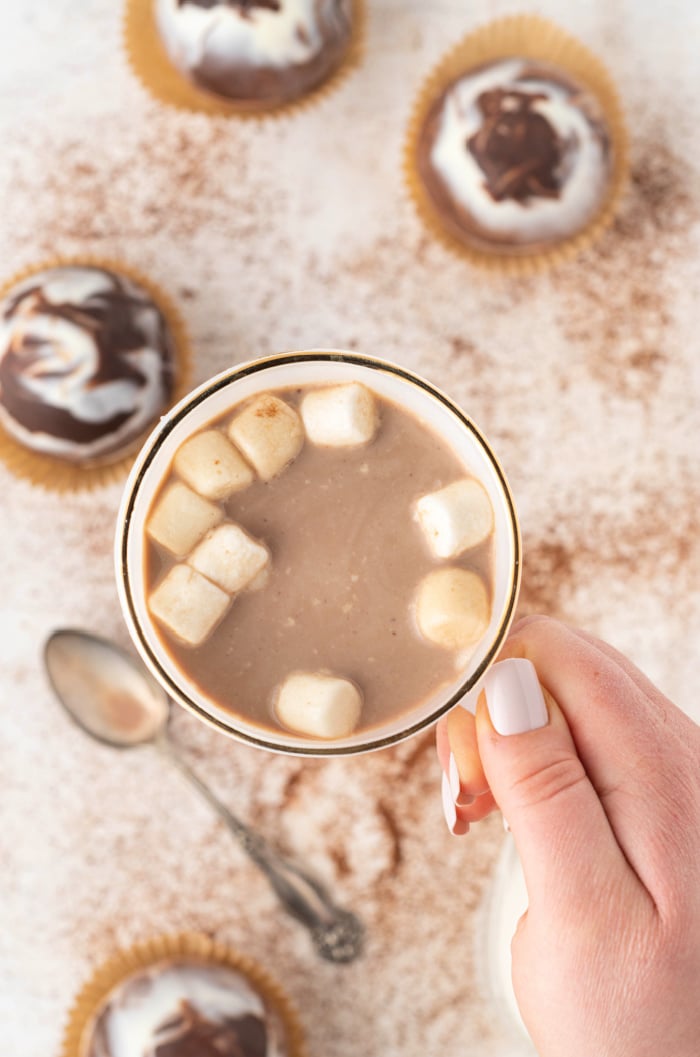 How to store leftovers
You can place any unused coffee bombs in either a plastic bag or an airtight container such as a Tupperware. I do suggest putting the coffee bombs in cupcake liners before you store them so they don't roll.
Can I freeze them?
You sure can! Make the recipes following the instructions below. Place the cooled coffee bombs in an airtight container. (I suggest using the cupcake liner again.) Place the container in the freezer. Coffee bombs will stay fresh in the freezer for 2 months, if stored properly.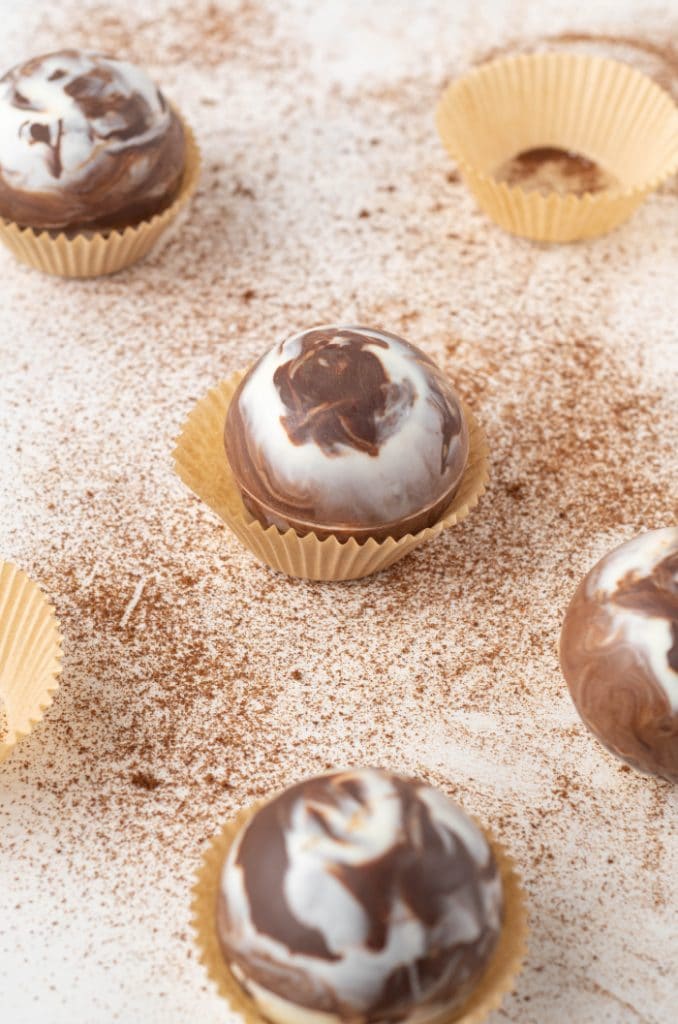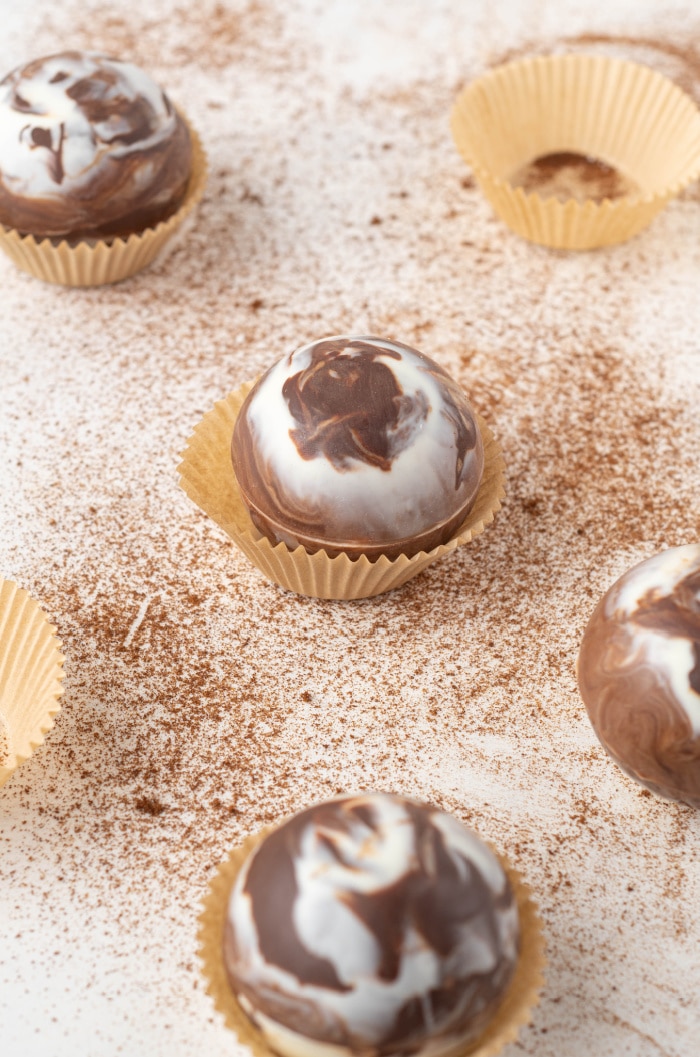 Other coffee recipes to try
Love a good coffee recipe? Me too! Some of my favorites are: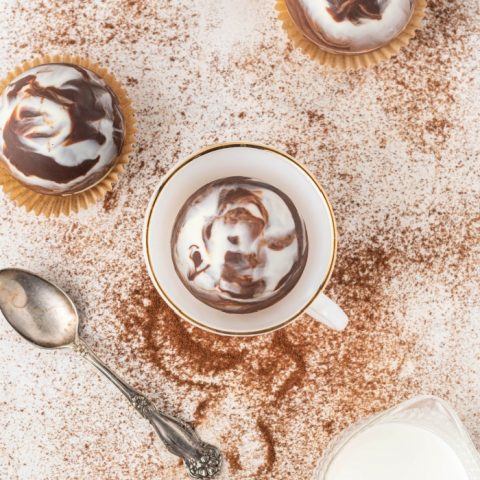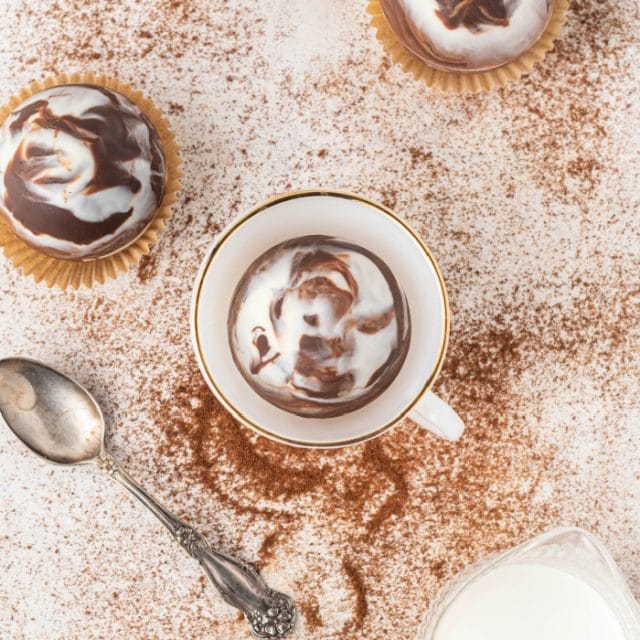 Coffee Bombs
Additional Time:
20 minutes
The grown up version of the famous hot chocolate bombs.
Ingredients
½ c semi sweet chocolate chips
½ c white chocolate chips, I love Ghirardelli's
6 Tbs hot cocoa powder
6 tsp instant espresso powder
Mini marshmallows
Half sphere silicone mold
Instructions
In two small, microwave safe bowls, melt semi sweet and white chocolate chips in 30 second increments stirring in between. It should take about 60-90 seconds.
Spoon about 1 tablespoon of each into each half sphere mold. Using the back of a spoon or a pastry brush, gently swirl the chocolate together for a marbled effect and spread to coat the sides. Don't swirl more than 4 times in each mold as the colors will mix and be indistinguishable.
Let set in the fridge or the freezer for 10-12 minutes or until hardened. Reinforce the edges with a little of the remaining chocolate. Let set until hardened.
Carefully remove each half sphere from the molds. Be sure to handle each half sphere very little as the chocolate will melt from the warmth of your hands and fingerprints will be visible.
In 6 of the half spheres, spoon 1 Tbs of the hot cocoa powder.
Top with 1 tsp of the espresso powder and a couple mini marshmallows.
Warm a small plate in the microwave for 45 seconds.
Place an empty half sphere on the plate for a few seconds until the edge begins to melt. Place empty half onto the corresponding filled half sphere ensuring that the edges are aligned.
Run a clean finger around the edge to clean up any excess melted chocolate. Let set for a minute.
Repeat with remaining 5 spheres until all of the cocoa bombs are assembled.
To make hot cocoa, place a cocoa bomb into a mug and top with 6 oz of warm milk or water. Once the shell has melted, stir to emulsify. Serve immediately and enjoy!
Nutrition Information:
Yield:

6
Serving Size:

1 bomb
Amount Per Serving:
Calories:

183
Total Fat:

10g
Saturated Fat:

6g
Trans Fat:

0g
Unsaturated Fat:

3g
Cholesterol:

3mg
Sodium:

16mg
Carbohydrates:

23g
Fiber:

2g
Sugar:

18g
Protein:

3g
Love this recipe? Be sure to pin it for later!