You are going to love how easy it is to make this slow cooker whole chicken. You can use either a frozen or thawed bird for this quick and easy recipe!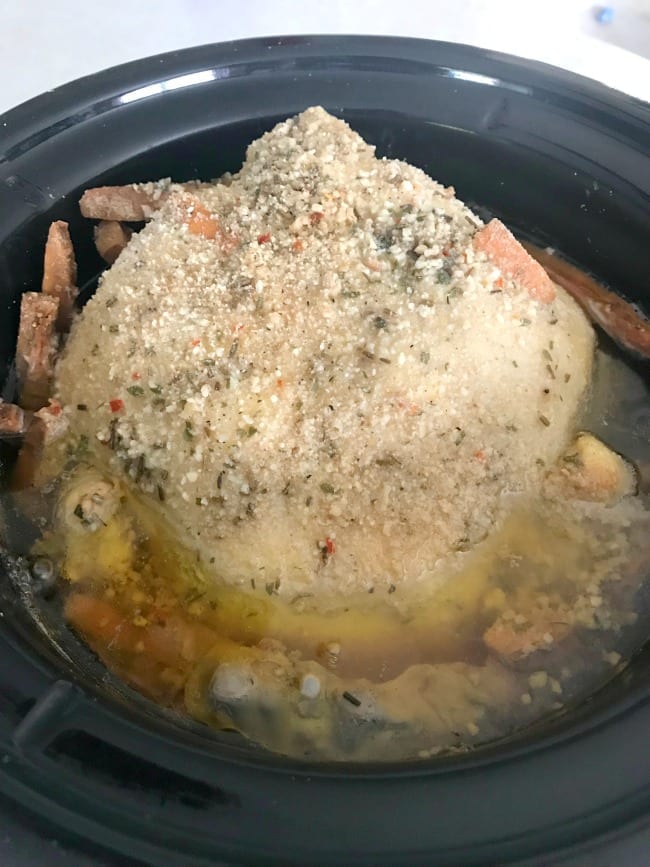 It's here, it's here! It's finally here! Of course I'm talking about fall. I know this because the calendar told me it was officially fall. AND because it has started to cool down just a bit here. It's cooled down enough that the evenings aren't horrible and the mornings are what you would call "crisp".
Plus we have started to get into the swing of things such as school and extra curricular activities. Ryley has started dance again and Avery is in baseball for the first time. That boy LOVES him some baseball. He is so enthusiastic and wants to practice all the time. He carries his glove and baseball with him wherever he goes, ya know, just in case someone wants to play catch.
Needless to say, we are pretty busy here. That's why I love crock pot recipes for the fall. You are able to toss everything together in the morning and have an easy dinner ready at night. This slow cooker whole chicken recipe is by far my favorite.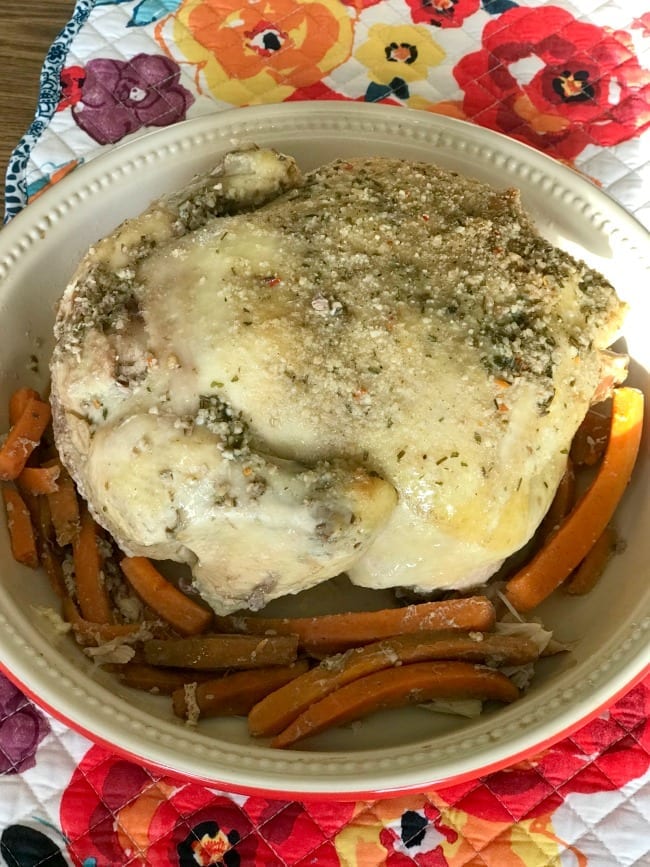 Why I love this crock pot whole chicken dinner
I'm a huge fan of crock pot meals because you do half the work to get dinner made. I normally cook breakfast then prep everything to put in the crock pot right after. And then it never fails, half way through the day I start to worry about what Im going to cook for dinner. Then the smell from the crock pot waifs in and everything is right in the world again.
One of my all time favorite quick and easy dinners is the slow cooker whole chicken. Its easy to prep, comes out super moist and we end up with leftovers for the rest of the week. And probably the best part – its a one pot meal! The less dishes you have to do after dinner, the better the meal tastes. It's science.
Maybe.
But it is one of the main reasons I love this easy dinner recipe. Here are a few more reasons to make this crock pot whole chicken recipe NOW:
little prep time
set it and forget it type recipe
can use a frozen or thawed chicken
super flavorful
makes great leftovers
can use leftovers for broth
We save the bones from the chicken to make broth. It's great to be able to use the whole bird and have little to no food waste.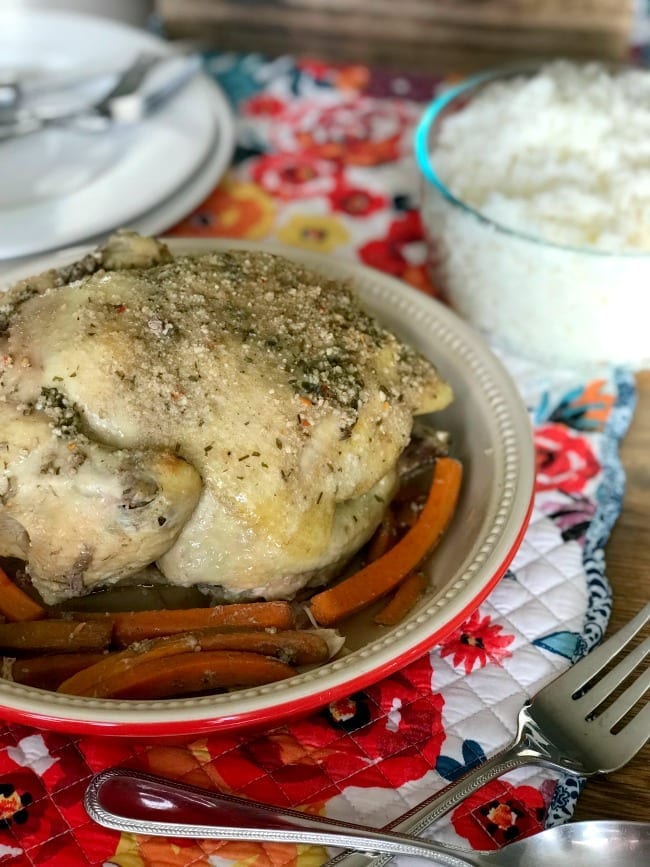 What is in slow cooker whole chicken and vegetables
The second reason that I just love love love this slow cooker whole chicken and vegetables recipe is that it is made with common everyday ingredients. These ingredients come together to make one amazing dinner y'all!
The chicken and vegetables are also:
gluten free
Whole30 compliant
keto friendly
You would need to omit things such as rice and potatoes for the last two but everything else would be compliant.
Ok let's get down to the ingredient list. To make this recipe in your crock pot or slow cooker you will need:
a whole chicken, frozen or thawed, 3-5 pounds
vegetables of choice
chicken broth or water
spices
Yes. Really. That's all you need to make this amazing dinner. AND you can use a frozen chicken! I know some people don't like to cook frozen meat in their crock pots, but I have been doing it for years and have never had a problem. Either way, do what you feel comfortable with. Frozen of thawed, the only thing that changes is the cook time.
You also get to choose what vegetables to make with your chicken. I typically use onions, carrots, celery and potatoes. If I don't use potatoes than I will make up some rice, like I did here. Feel free to use whatever vegetables you and your family enjoy. Also, if you are doing Whole30 or Keto, make sure to leave out the starchy vegetables and use compliant ones.
Another thing you get to choose when making this recipe is to use either chicken broth/stock or water. The chicken broth gives it a little extra flavor, but water works just as well.
Lastly, your spices. I generally go with onion and garlic powder plus my favorite Natures seasoning blend. I have also used homemade Italian seasoning on my bird and it tasted wonderful. The spices are use are fairly basic so feel free to customize them to your taste preference.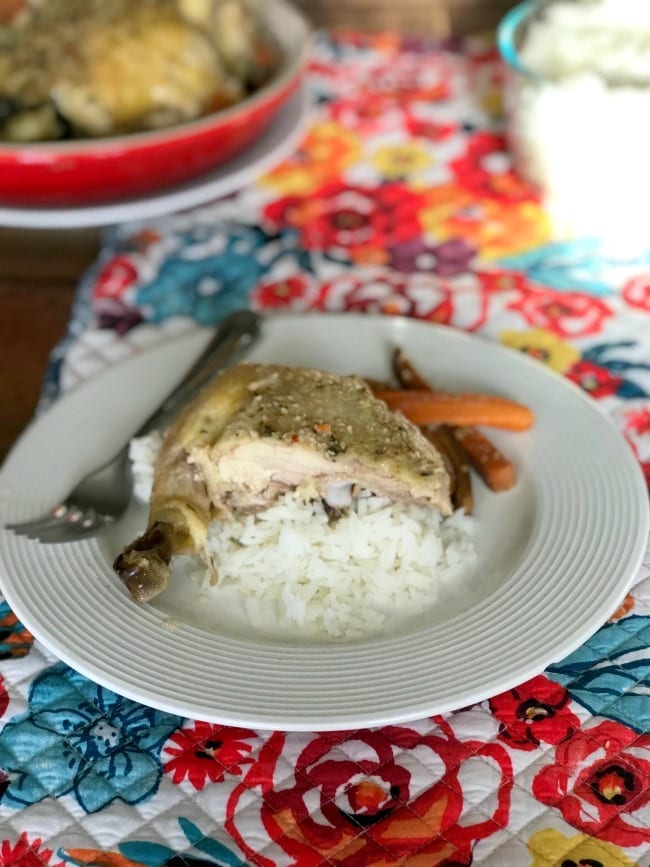 How to cook a whole chicken in the crock pot
Short explanation – toss everything in a crock pot.
The long version is that cooking time depends on whether you use a thawed or frozen chicken. Like I mentioned, I have never had any issues with a frozen chicken in the crock pot but go with what you prefer. The only different is the cook time and how you add your spices.
With a frozen chicken – Place your sliced vegetables on the bottom of your crock pot or slow cooker with the bird on top. Add half your spices saving the other half for when the chicken in thawed a bit by the heat. Pour in your liquid, cover and cook on high for 6-9 hours.
With a thawed chicken – Place your vegetables on the bottom. Add all of your spices and pour in your liquid. Cover and cook for 4-6 hours on low.
One observation – sometimes depending on the size of the frozen chicken, my lid will not fit on top of my crock pot until it has thawed out a bit. It is not a problem, just something I thought I would point out as common in case you run into this as well.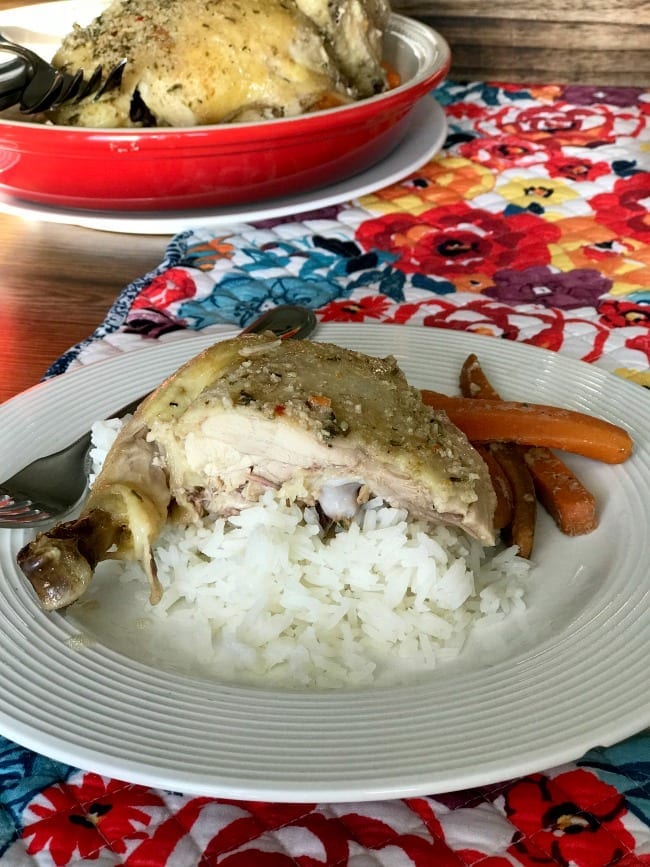 Leftover crock pot chicken recipes
The only downfall of this recipe is that the chicken is so moist that is literally falls off the bone. If you want to call moist, delicious, fall off the bone chicken a downfall. We love making a whole chicken in the crock pot at the beginning of the week and then using the rest for leftovers. Here are some great crock pot chicken leftover recipes: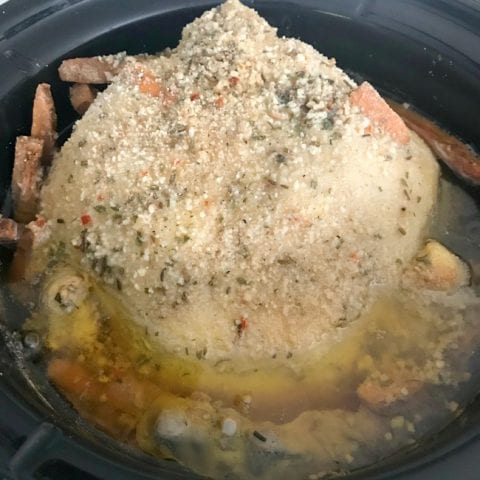 Slow Cooker Whole Chicken Recipe
Find out how to cook a whole chicken in the crock pot!
Ingredients
4-6 pound chicken, frozen or thawed
1 cup of carrots
2-3 cups of potatoes
1 onion, sliced
2 celery stalks, diced
1/2 tablespoon onion powder
1/2 tablespoon garlic powder
1 teaspoon Nature's seasoning blend or salt + pepper
1 cup of chicken broth or water
Instructions
Place the vegetables on the bottom of the crock pot. Add in your chicken. Sprinkle on your spices. Pour in your liquid. Cover and cook.
For a frozen chicken - cook for 6-8 hours on high.
For a thawed chicken - cook for 4-6 hours on low.
When done, remove the chicken and place on a serving dish. Your chicken meat may literally fall of the bone. Scoop out the vegetables and add to the dish. Allow to cool slightly and enjoy!
Nutrition Information:
Amount Per Serving:
Calories:

383
Cholesterol:

175mg
Sodium:

207mg
Carbohydrates:

9.4g
Fiber:

1.7g
Sugar:

2g
Protein:

6.8g
You may also like: