Sheet pan chicken fajitas are an easy weeknight meal that everyone will love!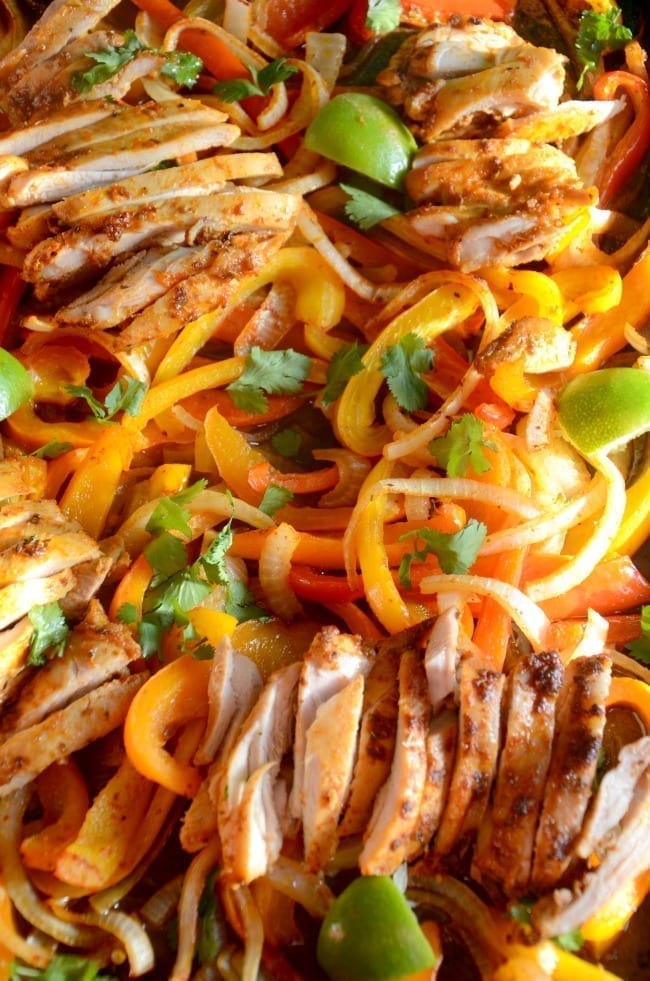 Oh yall. I'm just going to come out and say it – sheet pan chicken fajitas are my favorite. My favorite dinner, my favorite way to make fajitas, my favorite weeknight recipe. All of it. They are so good and so easy that they have claimed the title of my favorite.
And I should tell you that I know good fajitas. Having grown up in South Texas, I have had my fair share of fajita dinners. At restaurants, at home, at friends houses. I've eaten all the fajitas.
That is not a complaint at all. Just a statement of fact to help justify saying that these fajitas are my favorite.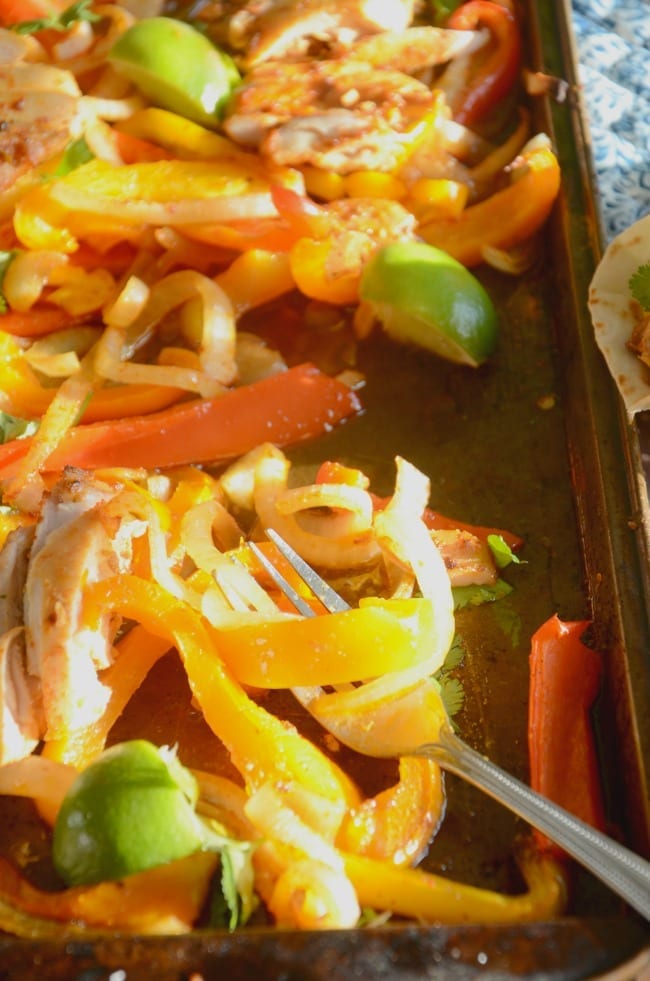 On top of tasting amazing here is why these fajitas are my new favorite:
easy to make
only a few ingredients
less dishes
can be prepared ahead of time
These fajitas are super quick to whip up and can even be prepared ahead of time. I made mine on a busy weeknight and had dinner on the table in under an hour. I used a homemade fajita seasoning and while that was marinating in the fridge I chopped up all my veggies.
To make them ahead of time all you have to do is chop your veggies and toss them in a gallon baggie with the chicken and fajita seasoning. Place in the freezer and save until you need some sheet pan fajitas in your life. Then pull them out, allow to thaw and put them on your sheet pan. You are now ready for easy weeknight fajita goodness!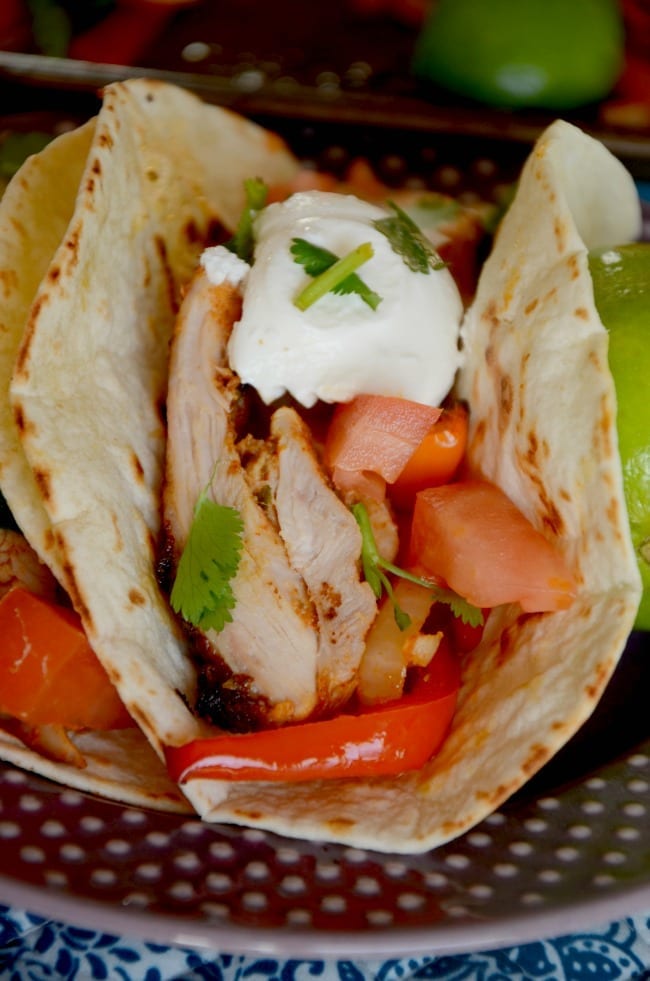 And don't forget about the fact that there is only one pan to clean up after! You don't need a ton of dishes to make these fajitas which makes this busy momma happy.
Sheet pan fajitas – I think I love youuuu.
A few tips on making these chicken fajitas:
The longer you can marinade them, the better. One hour is best but if you are in a time crunch then 10 minutes will work fine. The longer they sit in the marinade the more flavorful they become.
You can use any color bell pepper you prefer. I like red and orange peppers best so that is what we used for our fajitas.
Try not to overcrowd your sheet pan. It's best if you can have your peppers, onions and chicken all in one layer on the pan. If you have to layer it up, no worries. Just add a few more minutes to the cook time.
You can use chicken breasts or thighs for this recipe. We used thighs this time but chicken breasts work just as well.
Add your favorite toppings to your fajitas. We used cilantro, sour cream and some lime but feel free to add whatever you like to your tortilla!
If you want to make these ahead of time and freeze them – prep your veggies, add to a bag with the chicken and marinade and freeze. Thaw the day you want to use them and follow the cooking instructions below.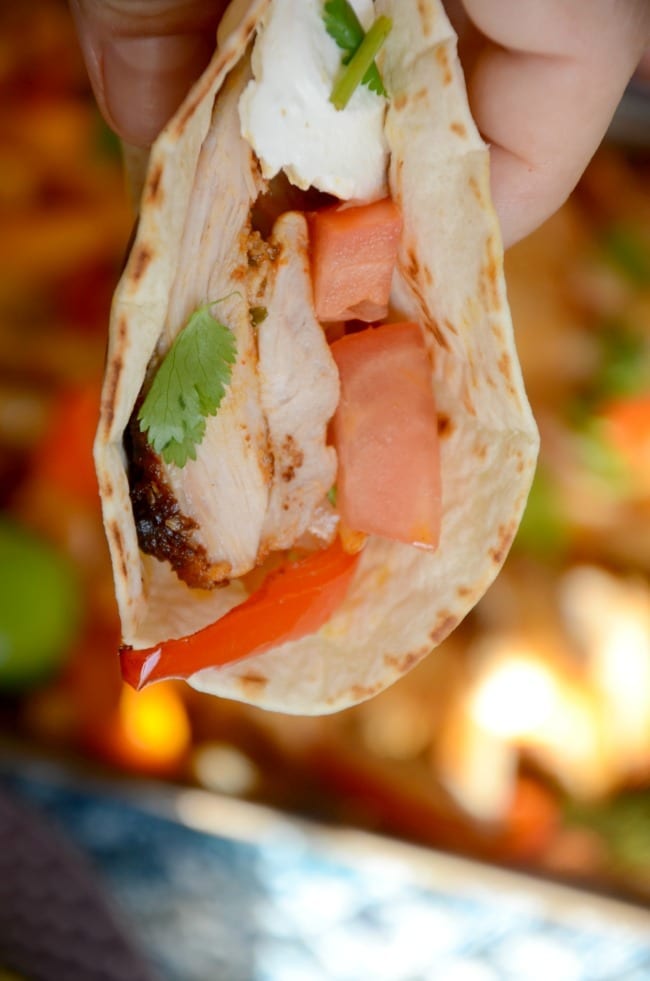 Oh! One more thing. These fajitas are a great healthy dinner. Yup, you read that right. They are good for you! If you are doing keto or Whole30 – these are compliant! When I was doing Whole30 last year they were one of my favorite whole30 dinners. I ate these and my Whole30 tacos probably once a week!
Just swap the tortilla for lettuce if you are doing Whole30 and omit the sour cream. Easy peasy!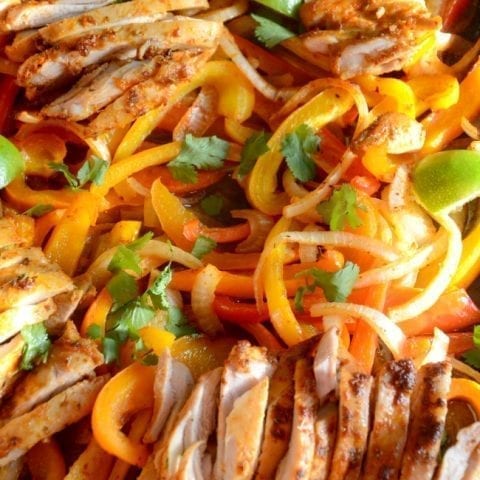 Sheet pan chicken fajitas
Ingredients
3 bell peppers, sliced
1 large onion, sliced
4 chicken breasts or thighs
1/3 cup olive oil
1 tablespoon lime juice
tortillas
cilantro, lime, sour cream, guacamole as toppings
Instructions
Toss the bell peppers, onion and chicken in a large ziplock baggy.
Mix together the fajita seasoning, olive oil and lime juice. Pour into the ziplock baggy and coat well.
Place the mixture in the fridge for 10 minutes up to one hour to marinate.
Preheat oven to 400.
Remove from fridge and spread out onto a sheet pan.
Bake, uncovered, for 30-40 minutes or until your veggies are soft and your chicken is cooked through.
Remove from oven, cut your chicken and return to your sheet pan.
Top with cilantro and fresh lime.
Enjoy!
Sides for chicken fajitas –