Make this homemade Italian seasoning mix with spices you probably already have on hand.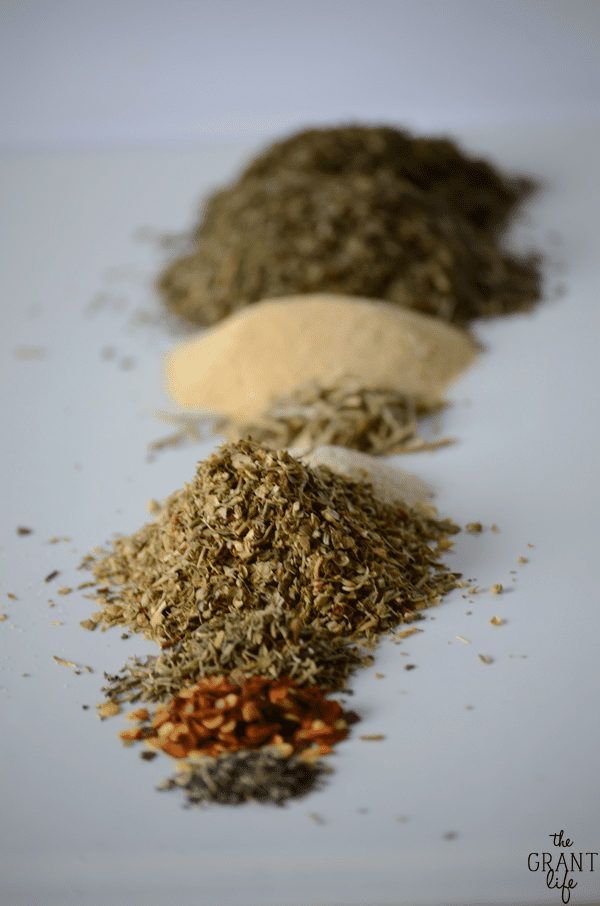 I am not a morning person. Not at all not even a little bit. Which really irks my husband, since he is up at 5 most mornings and considers 7 "sleeping in". I just thank the good Lord that he wakes up early because he always has coffee ready for me when I slump out of bed.
I figure since he takes care of the morning routine that I can take care of the evening duties. Ya know, dinner and baths and bedtime routines.
Which really works out in my favor because I love to cook and I enjoy the downtime after dinner. It's my favorite.
I recently started making my own homemade spices. I have a pretty decent array of herbs and spices in my cabinet so I figured why not try my hand at homemade spices. And guess what? I love making different mixes! This homemade Italian seasoning may be one of my favorites so far.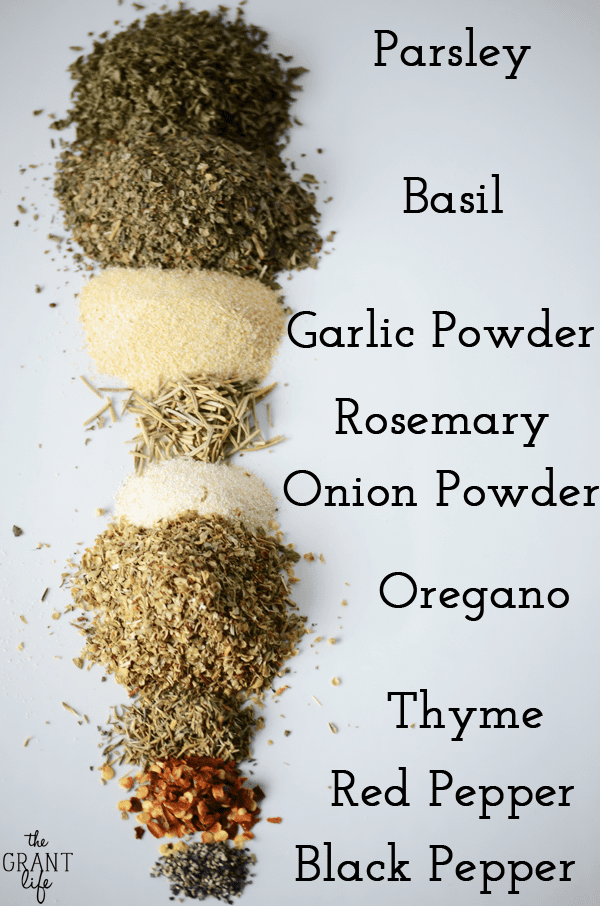 What's Italian seasoning made of?
The reason I love homemade sauces and spices so much is that you can customize them completely to your liking. Take the recipe below for homemade Italian seasoning and tweak it to have it fit your palette.
The spices used in this homemade Italian seasoning are:
Parsley
Basil
Garlic powder
Rosemary
Onion powder
Oregano
Thyme
Red pepper
Black pepper
I love that most of these spices are fairly common. I think I had most of them in my cabinet already, if not all of them. Together these herbs and spices produce such a great Italian flavor for your meat or vegetables. We love using it on steaks!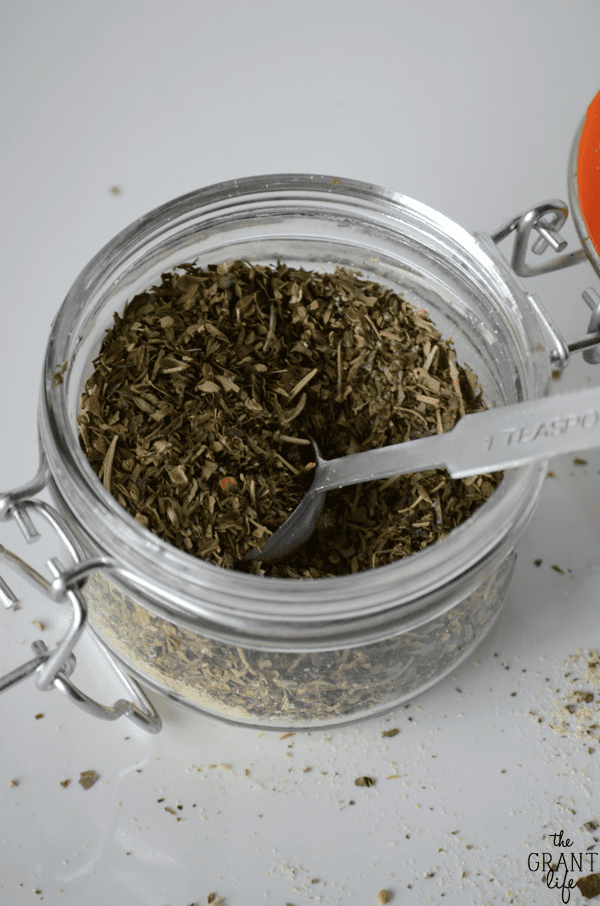 How to make homemade Italian seasoning:
This "recipe" is really simple – just toss all the spices together and mix. Store in an airtight container. You may have to shake it before you use it each time as the smaller spices may settle on the bottom.
Recipes to use your homemade Italian seasoning in: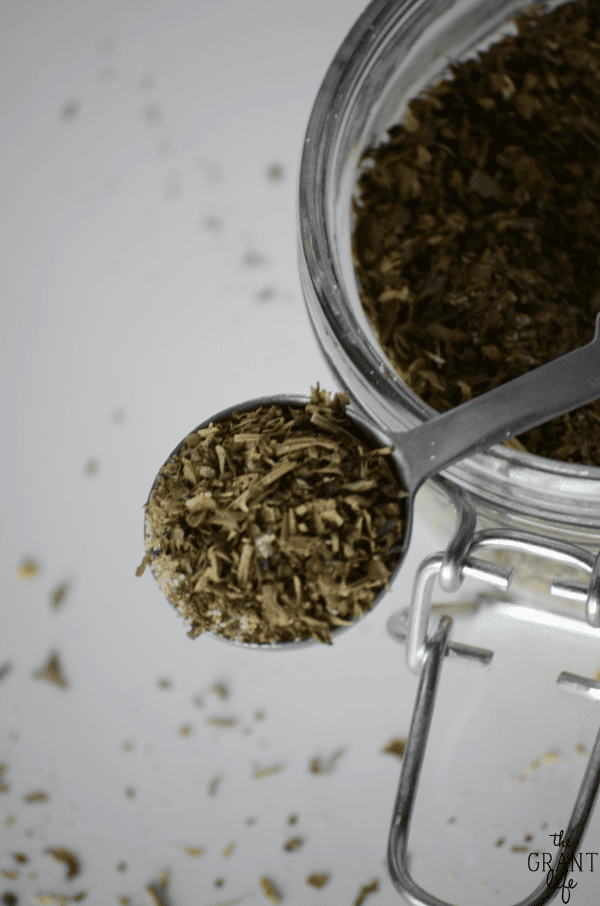 Like I mentioned before, one of the reasons I really love homemade spices is that you can totally customize them to your liking. If you want your Italian spice mix to be a little spicier – add more red pepper flakes. If you want a super garlic-y Italian mix – add a bunch more garlic powder. And high five for wanting my garlic in your life! I love garlic too!
Use the recipe below as your base and then add or take out in the next batch you make. Or if you love it as is feel free to double or triple the recipe below. It's up to you!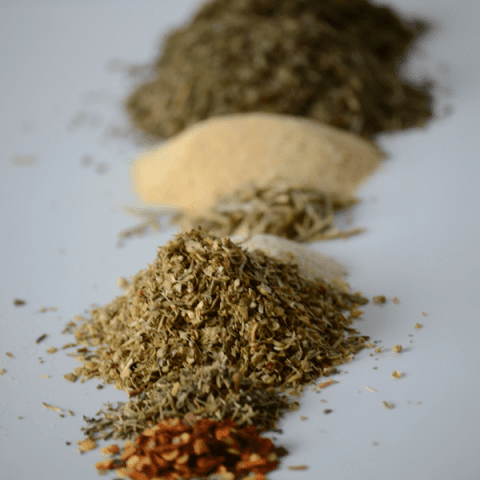 Homemade Italian Seasoning
Ingredients
3 Tablespoons dried parsley
3 Tablespoons dried basil
2 1/2 Tablespoons dried oregano
1 Tablespoon garlic powder
1 teaspoon dried thyme
1 teaspoon onion powder
1 teaspoon dried rosemary
1/2 teaspoon red pepper flakes
1/4 teaspoon black pepper
Instructions
Mix everything together and store in an air tight container.
Nutrition Information:
Amount Per Serving:
Calories:

7
Sodium:

1mg
Carbohydrates:

1.6g
Fiber:

.6g
Sugar:

.3g
Protein:

.3g
Like this recipe? Be sure to check out: