Spring is in the air and the weather is starting to warm up. I'm sharing some easy weeknight dinners to help get through this busy time of year. A menu plan is a great way to save time, money and create wholesome meals your family will love. If you need help getting started menu planning, check out THIS POST.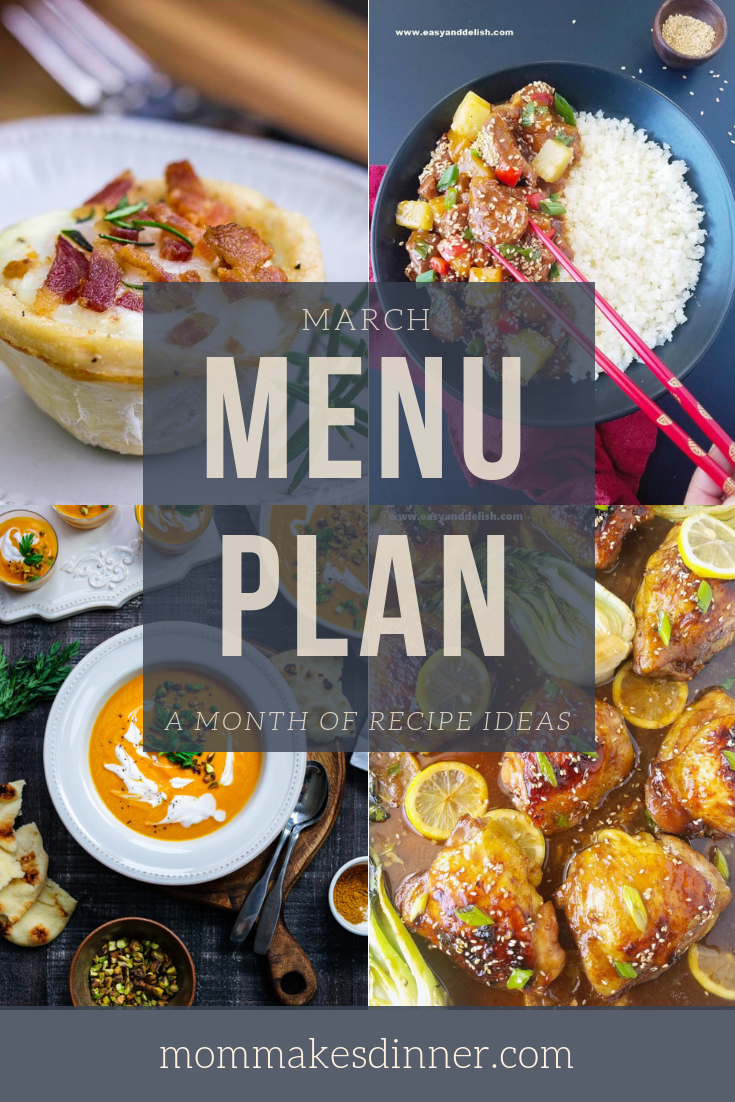 Hey there! Welcome to our March menu plan. This menu is fulllllll of ideas to help you fill out your menu plan. Whether you do a weekly or monthly plan, you are sure to find some new recipes here.
A few things to note –
There are 4 weeks of menus below. Each week has 6 main dishes, 2 sides and 1 dessert. Feel free to take recipes from any week and create your own menu plan. These recipes are for here to inspire your own menu plan.
I check all the ingredients and recipes that are gluten free, Keto, Paleo, or Whole30 are marked. I have also marked recipes that use a crock pot or Instant pot or are made using only one pot/pan.
You can also grab a free grocery list and menu planner printable below. Let's get eating!


Week 1:
Main dish – Air fryer Mongolian beef – Gluten free/Air fryer recipe
Main dish – Pressure cooker sweet and sour pork – Gluten free/Instant pot
Main dish – Bosnian burek
Main dish – Creamy vegan carrot soup – Vegan/Gluten free
Main dish – Baked crack chicken cups – Keto/Gluten free
Main dish – Italian chicken meatball subs
Side dish – Avocado wedge salad
Side dish – Blistered grape tomatoes
Dessert – Moist carrot cake

Week 2:
Main dish – Skillet shepherds pie – Gluten free
Main dish – Honey soy chicken – Gluten free/Keto/Sheet pan
Main dish – Sticky Chinese 5 spice wings
Main dish – Instant pot lasagna soup – Instant pot
Main dish – Best turkey chili – Gluten free
Main dish – Italian wedding soup – Instant pot
Side dish – Eggless Brazilian cheese bread
Side dish – Air fried asparagus spears
Dessert – Salted caramel brownies

Week 3:
Main dish – Jamaican jerk fish tacos
Main dish – Cheesy chicken broccoli and rice casserole
Main dish – Taco shrimp fajitas – Gluten free/Sheet pan
Main dish – Mushroom soup
Main dish – Chicken thighs with cabbage
Main dish – Baked chicken tacos – Gluten free/Keto/Whole30
Side dish – Baked sweet potato fries
Side dish – Mushroom stuffed portobellos
Dessert – Cinnamon swirl quick bread

Week 4:
Main dish – No peek chicken
Main dish – Healthy beef stroganoff – Crock pot/Gluten free/Keto
Main dish – Sweet and sour chicken stir fry – Gluten free
Main dish – Spiced pork tenderloin – Gluten free/low carb
Main dish – Baked chicken fajitas – Gluten free
Main dish – Turkey lasagna
Side dish – Buffalo cauliflower
Side dish – Tomato basil soup
Dessert – Butterfinger pie