Comfort food made simple with this easy skillet shepherd's pie recipe.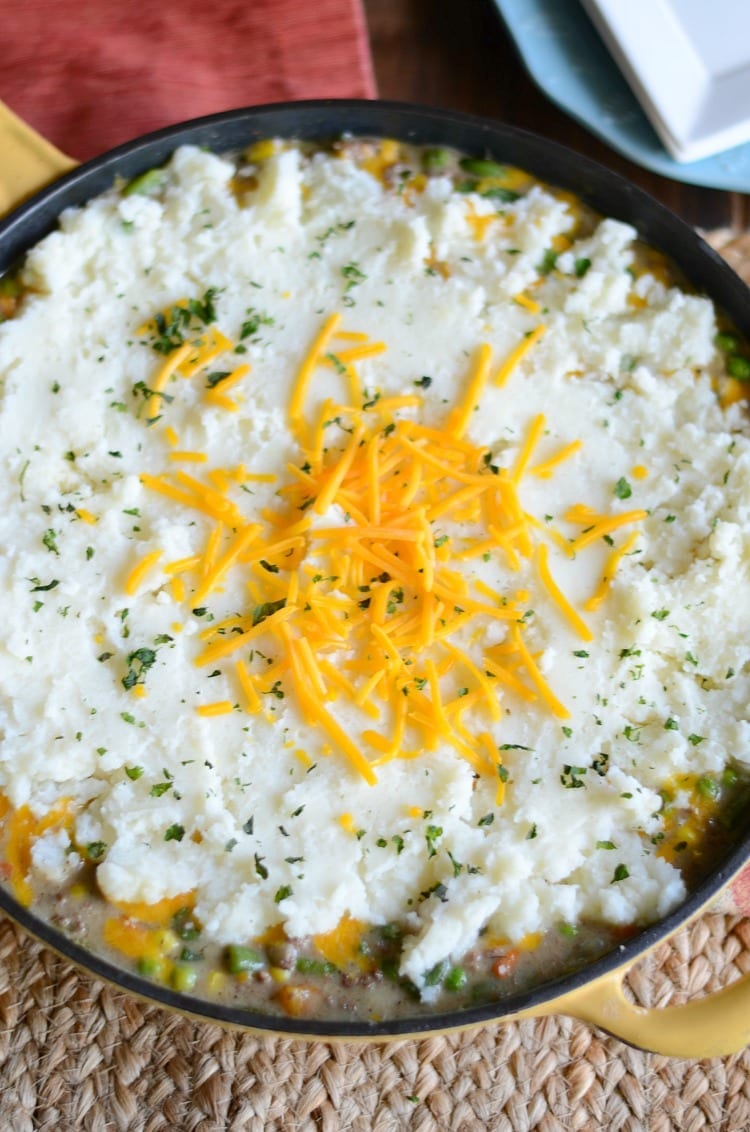 Hey friend! I've talked before how I am SO not a morning person. (I mention that a lot around here actually.) With the kids in school now, it's been rough! Like we may have gotten 3 tardies in the first 2 weeks kind of rough. (But to be fair to mom, some of those were because Avery can't find his shoes. You know, the ones we leave at the foot of his bed so he can find them in the morning? Yea, he can't find them.)
The third week of school I told myself that if the kids were on time every day that week I would treat myself to Starbucks on Friday. Nothing like setting goals, right?!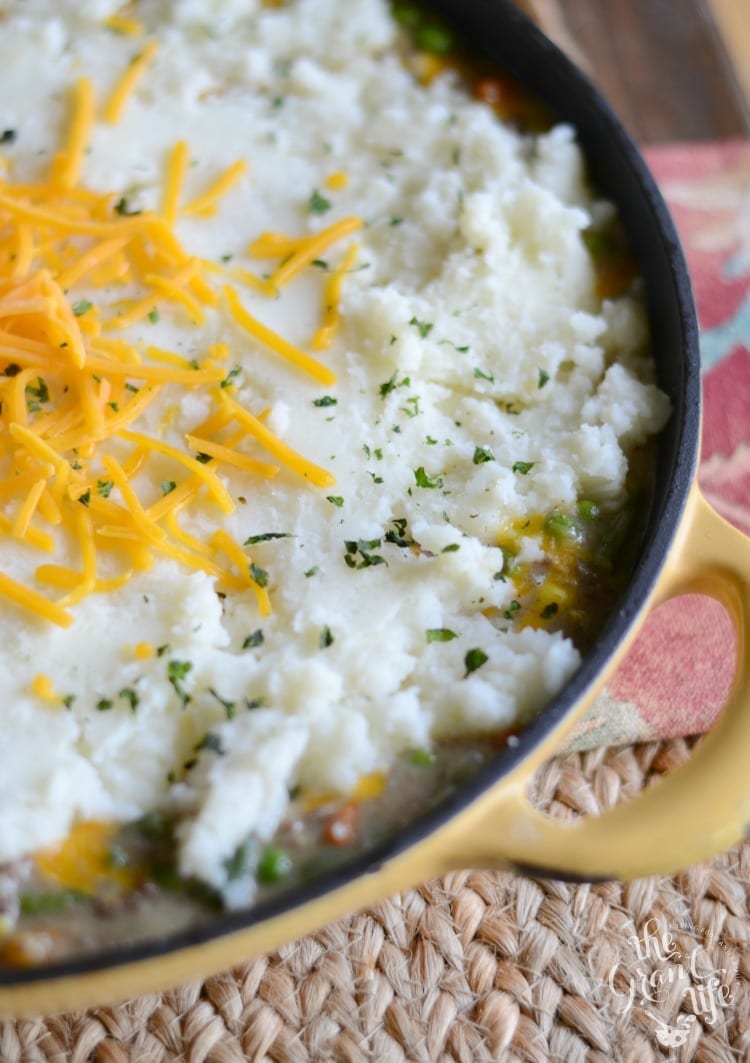 Problem with my goal setting is that I wanted Starbucks every single day last week. I thought "They have been on time 2 days this week. I'll just get a Starbucks real quick." And then I said "No self. You said it had to be a week." So I bypassed the 'bucks and headed home instead.
I should have listened to my first self because my mom came into town on Thursday evening. She went with me to drop the kids and I totally forgot to grab a coffee after! We got to chatting and before I knew it I had driven all the way home.
I really love chatting with my momma but I shouldn't have been surprised that I missed my coffee run. I am been so absent minded with the kids in school and a newborn at home. I'm thinking it is lack of sleep and having to wake up extra early to be on time.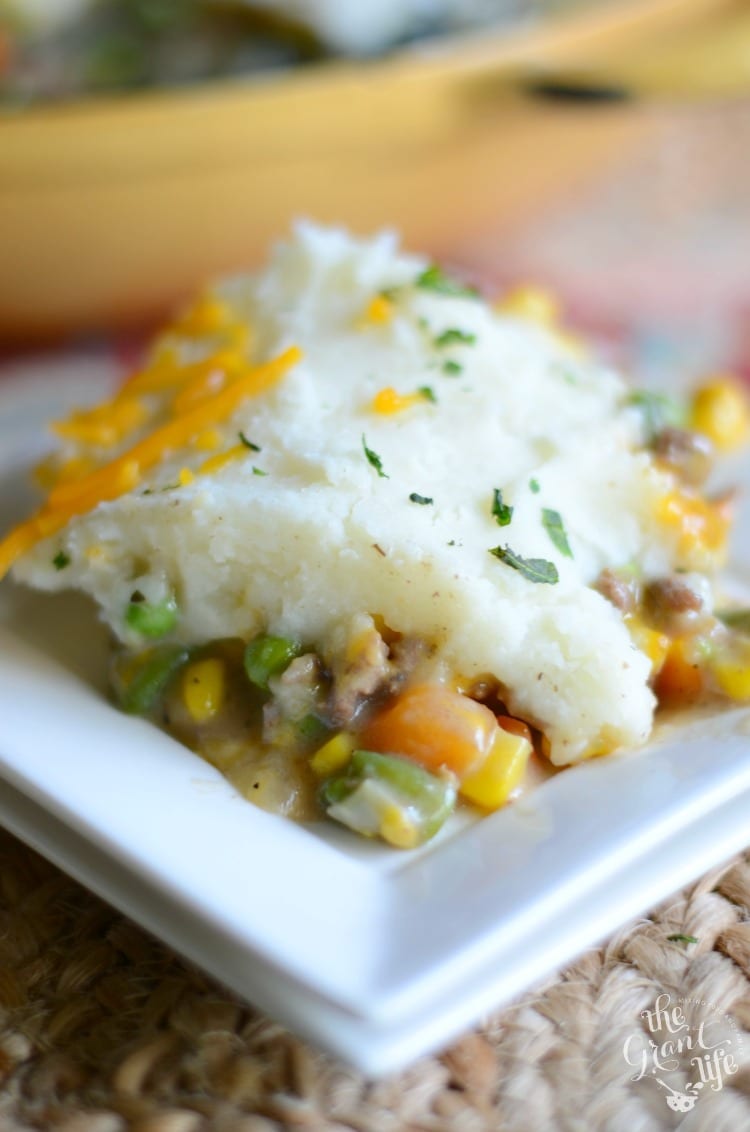 The one thing I make sure to do every week is write up a meal plan on our chalkboard wall. I make a list of 4 or 5 meals we are going to have during the week for two reasons. One so I don't forget and two it makes it faster to whip up dinner when I know what I'm cooking.
This week I had Ryon's favorite on the menu – shepherd's pie. It's one of my faves too because it's so easy to make and is delicious. I used the new Idahoan Signature Russet instant mashed potatoes to make it even easier too! It was our first time trying them and I think they will be a staple at the Grant house. They came together quick and tasted amazing! The perfect addition to a family favorite.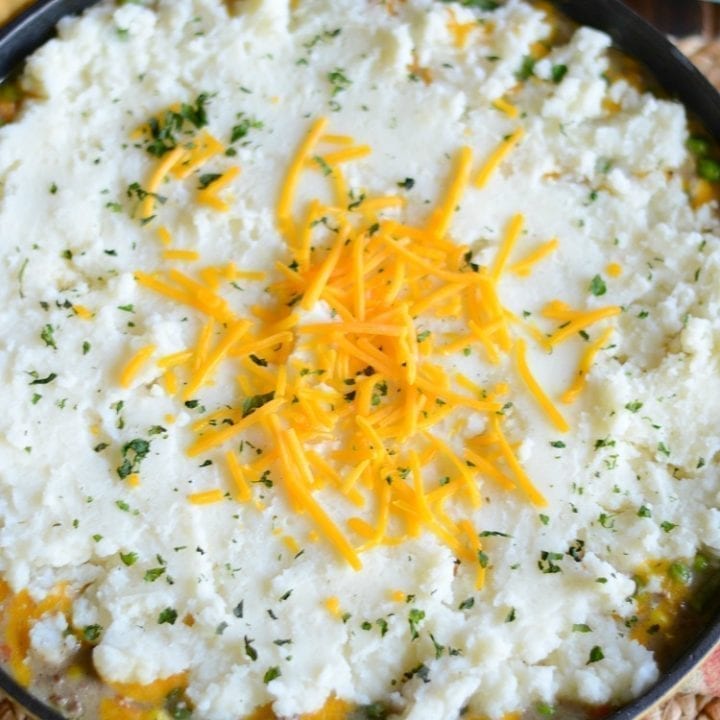 Skillet shepherd's pie
Ingredients
1 tablespoon butter
1 onion, diced
3 gloves of garlic, minced
1 pound hamburger
2 1/2 cups of beef broth
4 cups of mixed frozen vegetables
1/4 cup heavy cream or half and half
3 tablespoons cornstarch or arrowroot powder to make it gluten free
2 packages of instant mashed potatoes (plus water or milk to make them), already prepared according to package
1 cup shredded cheddar cheese
Instructions
In a large skillet melt the butter and add the onion and garlic. Stir occasionally and cook until onion is translucent and soft. About 4 minutes.
Add in the hamburger meat and sprinkle the Italian seasoning on top. Cook until no longer pink the center.
Pour in the beef broth and the frozen vegetables. Cover and bring to a boil. Boil for 3-4 minutes or until the veggies are cooked through.
In a small cup mix together the heavy cream and cornstarch. Pour it into the skillet, mix everything together and bring to a boil. Let boil for 2-3 minutes or until the mixture has thickened and coats the back of a spoon. Remove from heat and sprinkle 1/2 cup of cheddar cheese on top.
Spread the mashed potatoes on top and top with additional 1/2 of cheese.
Let cook and enjoy!
Like this post? Be sure to check out: