Need recipe ideas to start off the new year? I've got four weeks of dinner, sides and dessert ideas just for you in our January menu plan!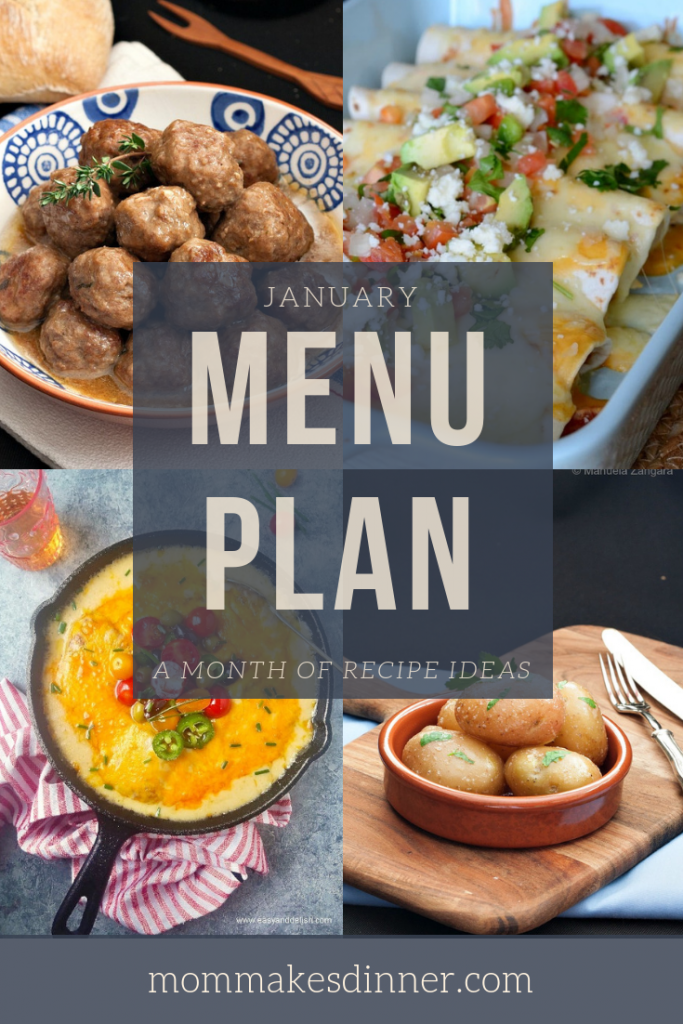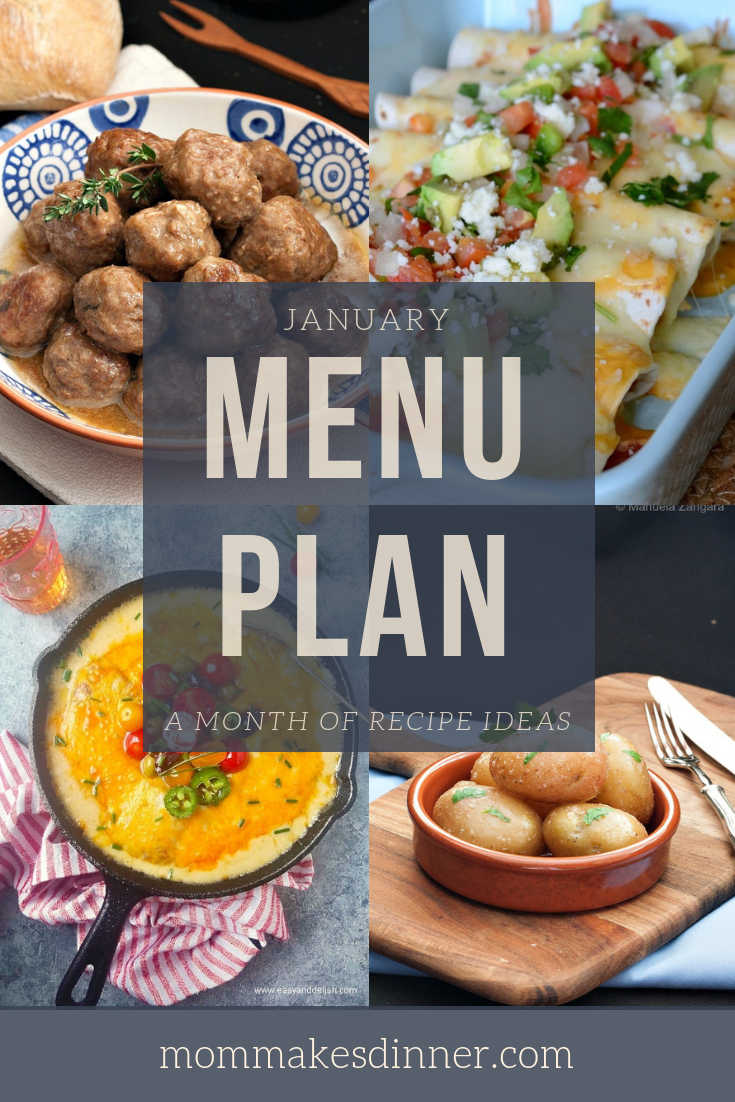 And just like that – it's the new year! Are you excited to start a new year of adventures?
I am huge believer in menu planning and I love being able to share my tips and tricks with y'all. If you need help getting started menu planning, check out THIS POST. I break it down and make it easy to get started. No need to fear the menu plan!
A few things to note –
There are 4 weeks of menus below. Each week has 6 main dishes, 2 sides and 1 dessert. Feel free to take recipes from any week and create your own menu plan. These recipes are for here to inspire your own menu plan.
I check all the ingredients and recipes that are gluten free, Keto, Paleo, or Whole30 are marked. I have also marked recipes that use a crock pot or Instant pot or are made using only one pot/pan.
You can also grab a free grocery list and menu planner printable below. Let's get eating!


Week 1
Main dish – Stove top beef stew – GF option
Main dish – Red beans and rice – Instant pot/GF
Main dish – Shrimp pasta – GF
Main dish – Grilled chicken breasts – Keto/GF/Whole30/Paleo
Main dish – Shrimp coconut fried rice
Main dish – Meatball Marsala
Side dish – Basmati rice – Instant pot
Side dish – Roasted sweet potatoes – GF
Dessert – Chili's toffee fudge brownie skillet

Week 2
Main dish – Loaded potato and cauliflower soup – Whole30/GF
Main dish – Cheesy chicken enchiladas
Main dish – Mexican chili verde – Keto/GF/Whole30/Paleo
Main dish – Bruschetta turkey sliders
Main dish – Baked cod in cheese sauce
Main dish – Meat pie recipe
Side dish – Buttered potatoes
Side dish – Lemon basil roasted vegetables
Dessert – Chocolate pot de creme – Vegan/Paleo

Week 3
Main dish – Goulash – Paleo/GF
Main dish – Vegetable fajitas – GF
Main dish – Steak taco salad – Keto/GF/Whole30/Paleo
Main dish – French onion burgers and gravy – Instant pot recipe
Main dish – Vegetarian Mediterranean wrap
Main dish – Crock pot Italian Swiss steak – crock pot/GF/Whole30
Side dish – Cheesy garlic bread
Side dish – Spicy cucumber salad
Dessert – Coconut oil brownies

Week 4
Main dish – Pork ribs – Instant pot
Main dish – Easy steak chili – GF/Paleo
Main dish – Chicken orzo spinach skillet
Main dish – Loaded Zuppa Toscana – crock pot/GF
Main dish – BBQ meatballs – Instant pot
Main dish – Chicken taco rice casserole – GF
Side dish – Buffalo cauliflower
Side dish – Parmesan roasted cabbage
Dessert – Tiramisu pound cake