Looking for an easy comfort food that the whole family will love? These cheesy chicken enchiladas will surely be a hit!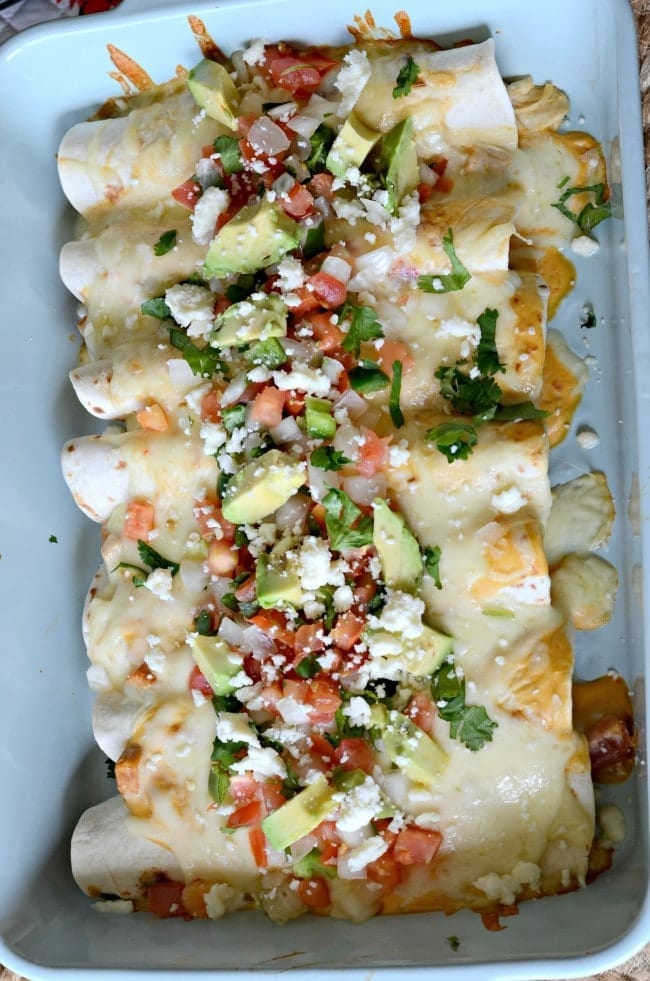 This is sponsored by General Mills, all opinions are my own.
There are two things I love about this time of year – comfort food and online grocery pickup. We get so busy with school and sports and dance and just enjoying the cooler weather that sometimes it's hard to do all the things. One of the things that always takes more time then it should is grocery shopping.
Especially when I take the kids with me. Amiright, mommas?
Thankfully with services like Wal-Mart's online grocery pickup I am able to do my grocery shopping from home and then grab them at a time that's convenient for us. I'm also able to grab all the ingredients for a quick and easy dinner recipe like these cheesy chicken enchiladas made with Progresso soup!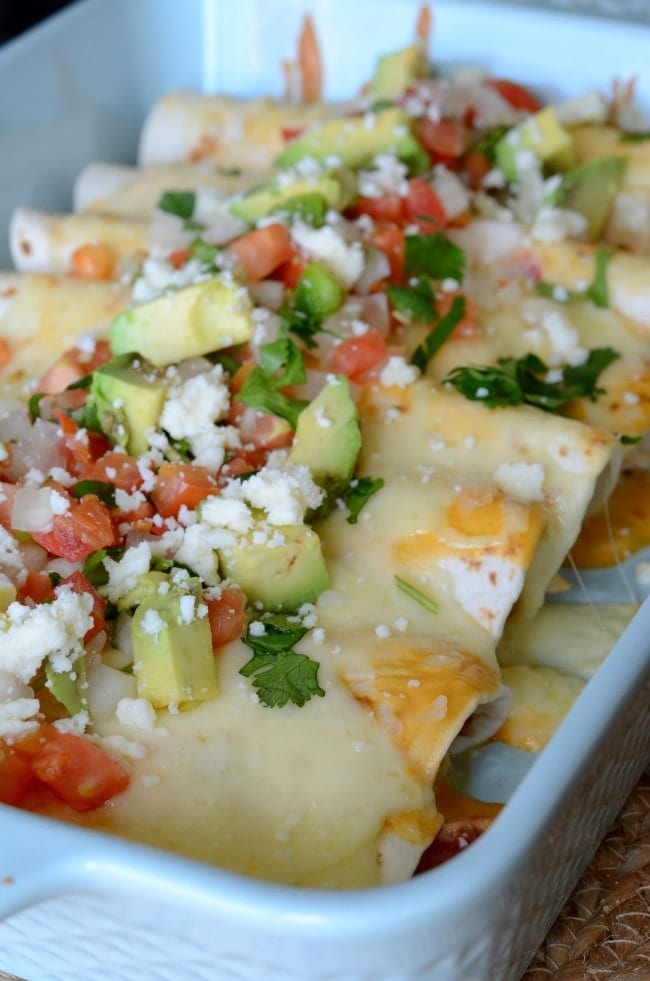 Cheesy chicken enchiladas
These enchiladas are a combo of two comfort foods – enchiladas and soup! Yup, you heard me right. Soup! I used Progresso's chicken enchilada flavored soup to make these cheesy enchiladas. It gave them such a great flavor and made them extra creamy.
Not only that, but I use cheese inside and on top of the enchiladas to make them extra cheesy as well. Easy enchiladas that are extra creamy and cheesy? Sign me up!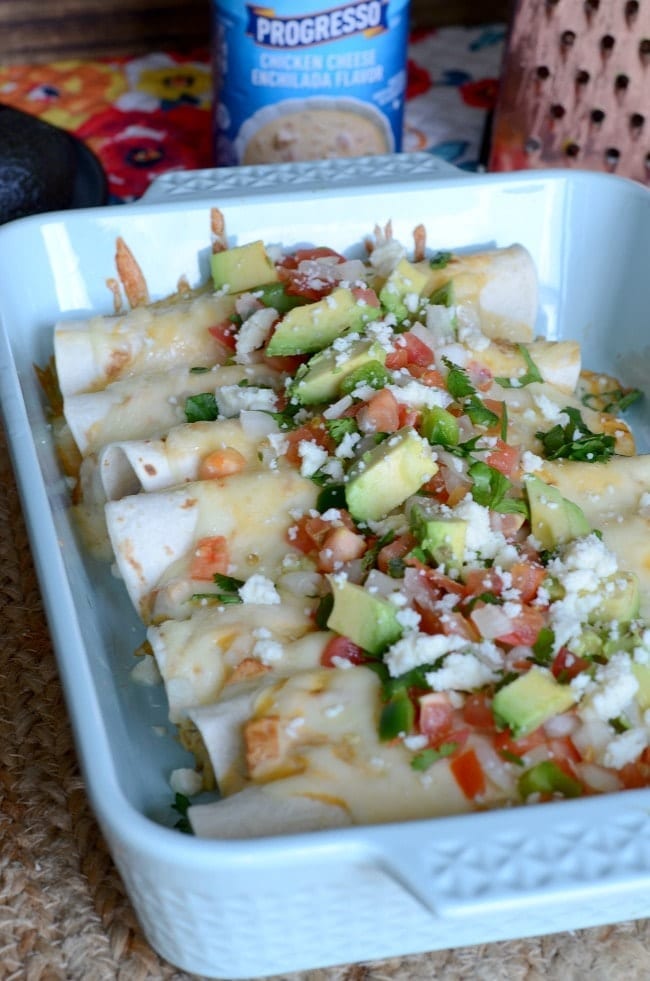 What are the ingredients for chicken enchiladas?
There are plenty of ways to make cheesy chicken enchiladas but this recipe uses chicken enchilada flavored soup. To make this recipe you will need:
chicken
chicken enchilada soup
cheese
tortillas
spices
toppings such as pico de gallo, cilantro, cheese and avocado
This is such a versatile recipe. You can use any kind of chicken that you like here. I used chicken tenders but have used chicken breasts before as well. Chicken thighs would also work. Just make sure to use a boneless chicken. You can even use leftover chicken here as well.
To make these enchiladas extra creamy I used Progresso chicken cheese enchilada flavored soup inside and on top of the enchiladas. You only need 1/2 cup of the soup total.
Feel free to use whatever cheese you like for your cheesy chicken enchiladas. I used a white cheddar cheese but Monterrey Jack or even mozzarella would be a good choice.
I used flour tortillas here but you can totally use corn and make these enchiladas gluten free. Even the soup is gluten free!
I kept my spices pretty basic since the soup has such a great flavor. I used garlic powder plus some salt and pepper. If you want your enchiladas to be spicier, feel free to add red pepper flakes or chili powder.
The fun part is that you can get creative with your enchilada toppings. I like pico de gallo, extra cilantro, crumbly cheese and avocado on mine. You can also add guacamole, sour cream or even bacon!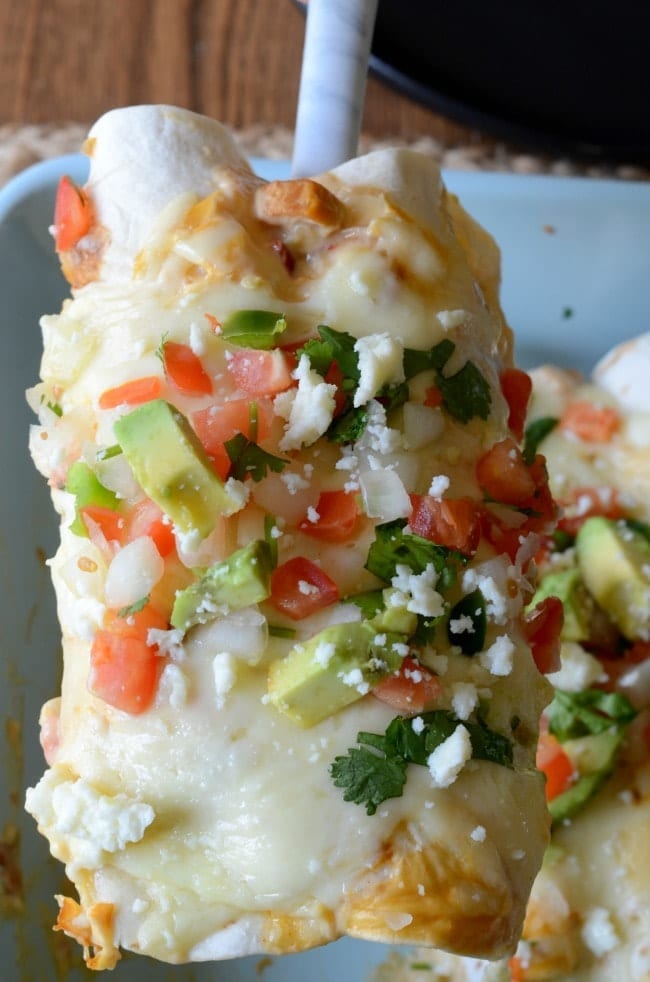 How do you make cheesy enchiladas?
Once you have all your ingredients you are going to start by boiling and shredding your chicken. Or you can make shredded chicken in your crock pot during the day and the enchiladas in the evening. To your shredded chicken you are going to add 1/4 cup of chicken cheese enchilada flavored soup and shredded cheese. Mix to combine.
Then you add a few tablespoons of chicken to your tortillas and roll them up. Place them seem side down in a 9×13 casserole dish. Add another 1/4 cup of the soup on top of the tortillas and then more cheese.
Bake uncovered for 15 minutes. Your cheese should be melted and the tortillas should be starting to turn golden brown at the edges. Remove from the oven and allow to cool slightly. Add your favorite toppings and enjoy!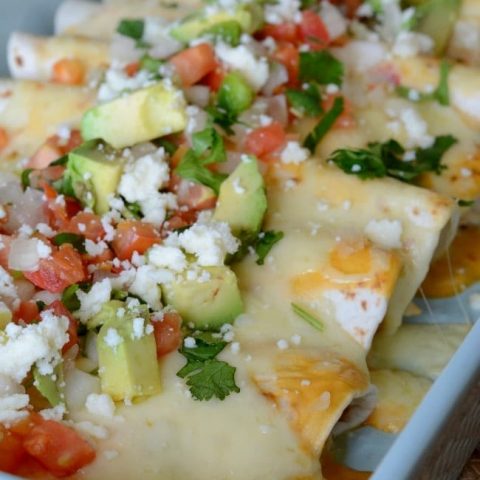 Cheesy chicken enchiladas
Ingredients
1 pound chicken
1 teaspoon garlic powder
1/2 teaspoon salt
1/2 teaspoon pepper
1/2 cup chicken enchilada flavored soup, or similar
1/2 cup of shredded cheese
8-10 tortillas
toppings such as pico de gallo, avocado, cilantro, queso fresco
Instructions
Preheat oven to 350.
In a large pot, add the chicken and spices. Cover with water and boil for 10 minutes. Remove from heat and discard the water. Shred the chicken using two forks. Allow to cool before adding to your enchiladas.
Add 1/4 cup soup and 1/4 cup shredded cheese to the shredded chicken and stir to combine.
Lay a tortilla flat and add a tablespoon or two of the filling. Roll up and lay seam side down in a baking dish.
Repeat process until all your tortillas are filled. Feel free to add more tortillas if you have more meat. Squeeze them in the dish.
Cover the tortillas with the remaining soup and cheese.
Bake uncovered for 10-15 minutes or until the cheese has melted and is bubbly.
Remove, allow to cool slightly and add your toppings.
Serve warm and enjoy!
Nutrition Information:
Yield:

4
Amount Per Serving:
Calories:

346
Total Fat:

9.9g
Saturated Fat:

4.3g
Cholesterol:

104mg
Sodium:

525mg
Carbohydrates:

23.3g
Fiber:

3.3g
Sugar:

.8g
Protein:

40g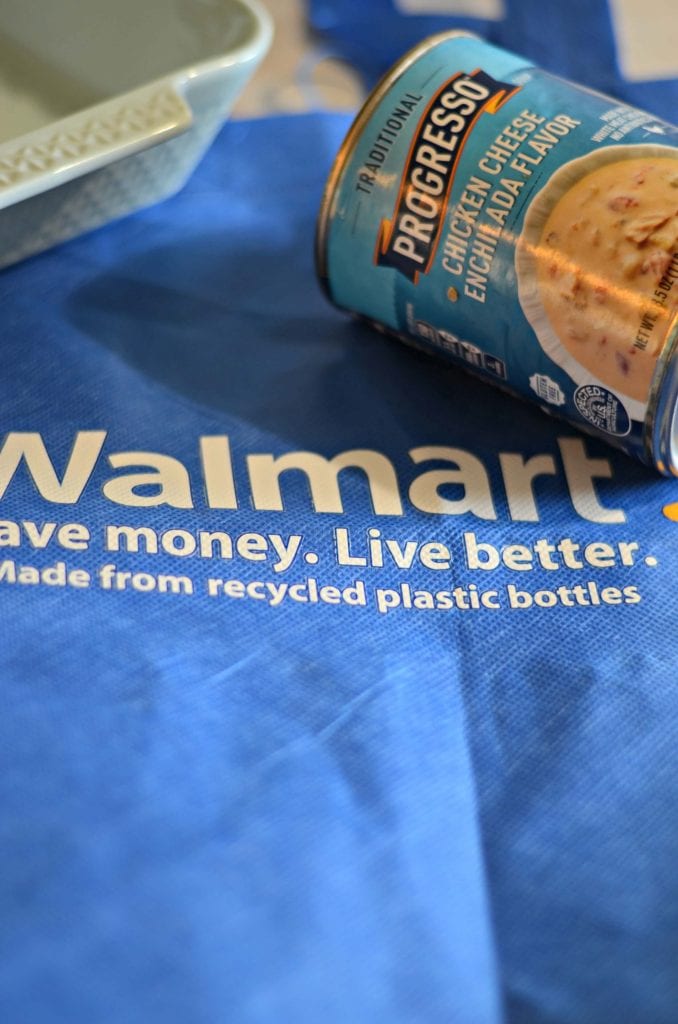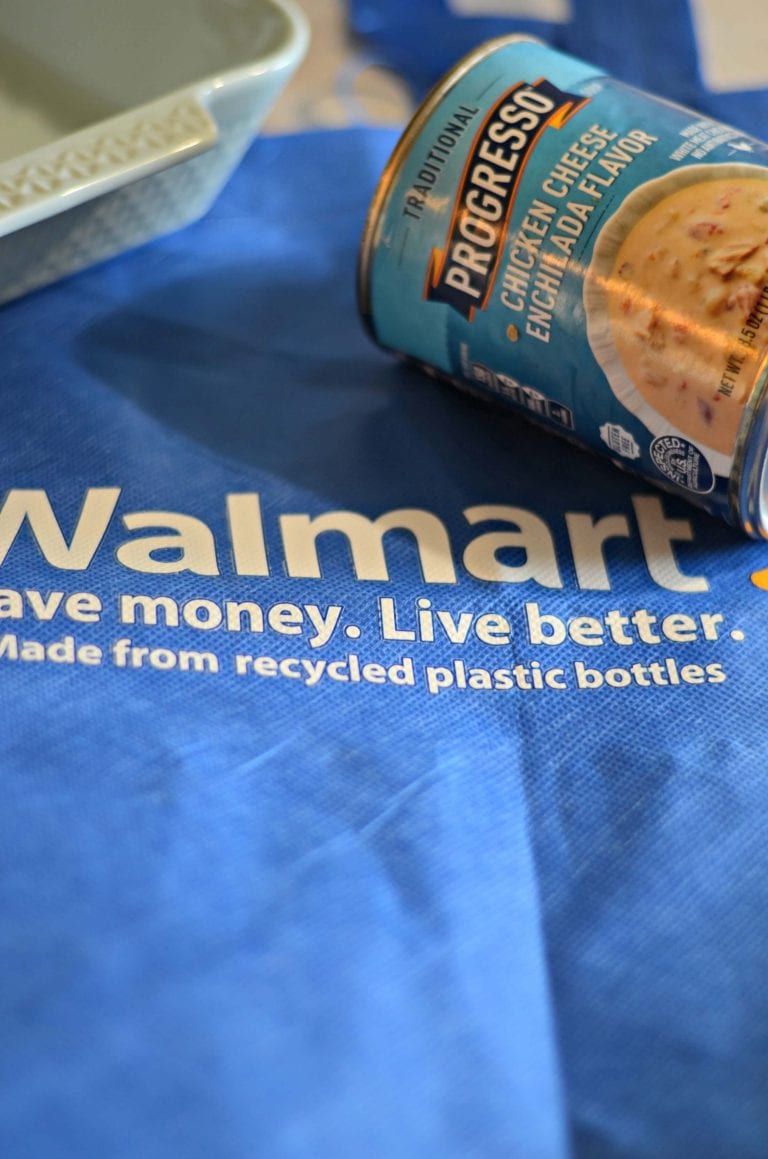 You may also enjoy these other quick and easy dinner recipes: