You'll love how easy it is to make shredded chicken in your crock pot.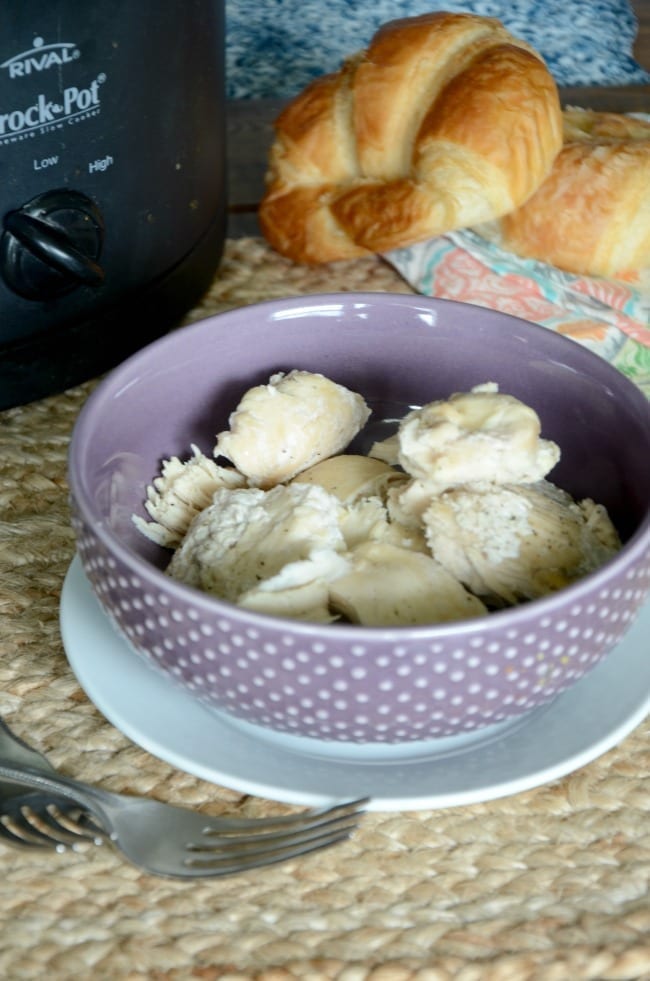 I feel like I need to let yall in on a little dinner secret. It's nothing fancy and it's super easy. It's actually been a meal saver at the Grant house many a time. It is super versatile and can be used in a variety of different meals. Bonus points – it's a kid approved meal too!
My secret? Shredded chicken in the crock pot.
Yup. Nothing fancy, just a basic shredded chicken recipe to get you through the week.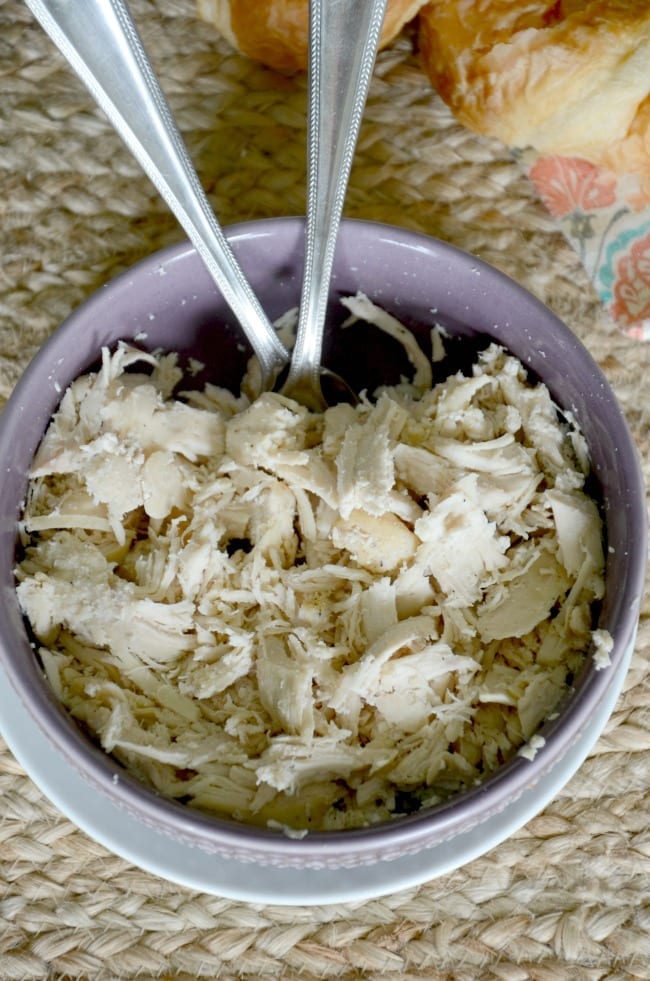 Crock pot shredded chicken recipe
There are so many nights that our menu plan just goes out the window. I forget to take out the right ingredients, the meat never thawed, we aren't home around dinner time, the kids are already complaining about dinner. And sometimes, I just don't feel like cooking. Even after all the prep work and a dinner everyone will love – I don't want to stand over the stove and cook.
Do you have nights like that too? Say I'm not alone here, mommas!
Those nights, the ones that don't go as planned, I turn to this easy crock pot shredded chicken recipe.
The best part? I can use fresh or frozen chicken. No need to freak out that the chicken isn't thawed and everyone will go hungry. Frozen chicken works to make shredded chicken in your slow cooker.
And if I'm being totally honest, this isn't much of a "recipe". It's so easy and you only need 2 ingredients plus spices. Do dinners that start with 2 ingredients count as recipes? Well, we are going to pretend they do today!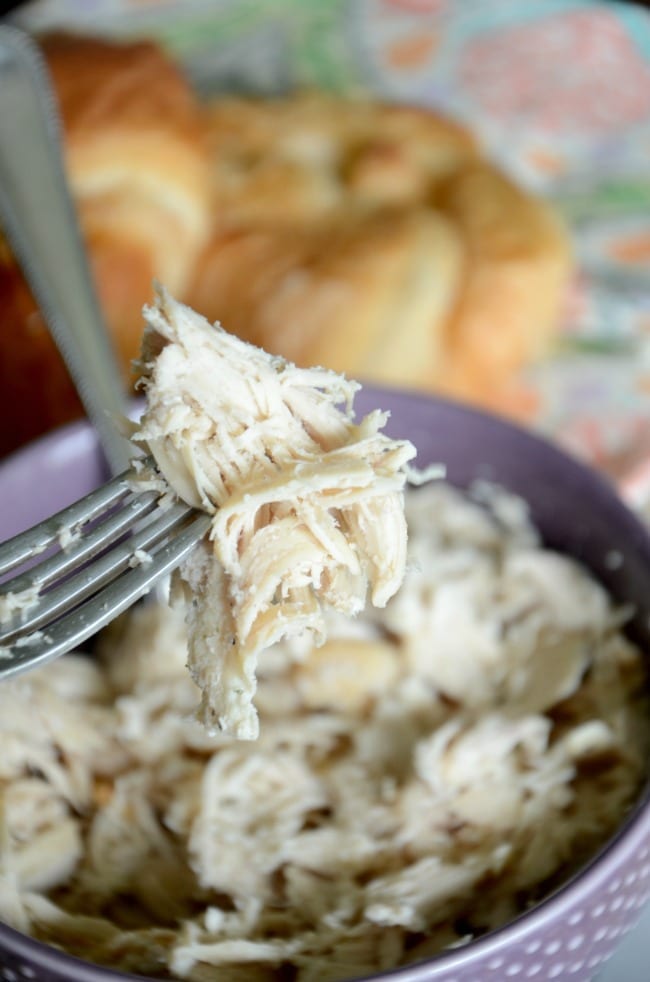 How to make shredded chicken in the crock pot
The process to make shredded chicken in your slow cooker is quite simple – add chicken, broth, spices and slow cook away. The only thing that makes a difference in this recipe is if you use frozen or thawed chicken.
If you use frozen you need to cook it longer to make sure the internal temperature reaches 165 degrees. You can use a meat thermometer to make sure or just check that there is no pink left in chicken.
Easy peasy, shredded chicken squeezey.
Now the spices you use will depend on what you want to do with the shredded chicken. If you want to make shredded chicken tacos, add some taco seasoning to your slow cooker. Looking to make chicken salad? You may want to add some salt, pepper and basil to your slow cooker shredded chicken. If you are going to use the shredded chicken for meal prepping you can keep it basic with salt and pepper.
What to make with shredded crock pot chicken
Now that you have your shredded chicken you can either eat it up or use it as a base for lunch or dinner. Some of my favorite recipes with shredded crock pot chicken are: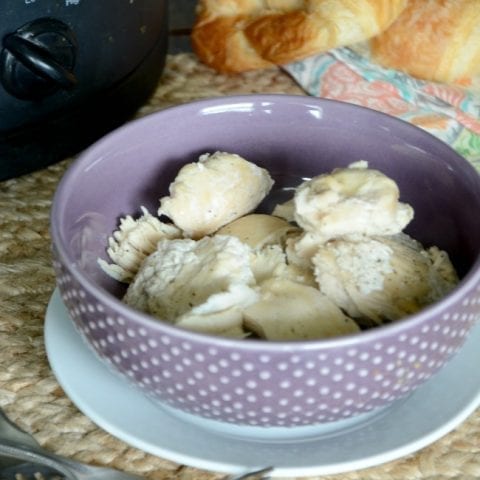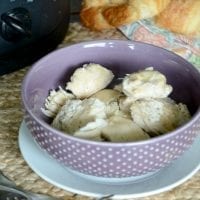 How to make shredded chicken in the crock pot
This versatile chicken recipe is perfect for a busy weeknight or meal prepping.
Ingredients
3-4 chicken breasts or thighs, frozen or thawed
1 cup of chicken broth
spices of choice
Instructions
Place chicken in the bottom of a slow cooker.
Add spices and broth.
Cook on high for 4-5 hours if frozen. Cook on high for 2-3 hours if thawed.
Allow to cool, shred chicken with two forks.


You may also want to check out: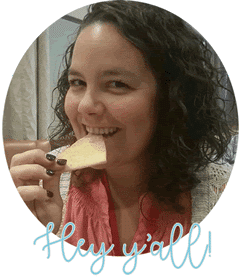 Hey y'all!I'm Kelley. I'm a recipe making, picture taking, coffee drinking momma to 3 crazy kiddos. Join me as I share our family favorite dinners and my copycat coffee drinks too!