Do you ever go out to eat somewhere and after eating think "I can make that"? Most of the time its when you have a really good meal that you want to recreate at home. Sometimes you try something that you know you can make better at home to begin with. That was the case of with this four berry skillet cobbler. We went out to dinner, the cobbler was meh, but I knew I could make it amazing at home. So I did. And I ate it straight from the skillet. [No judgies.]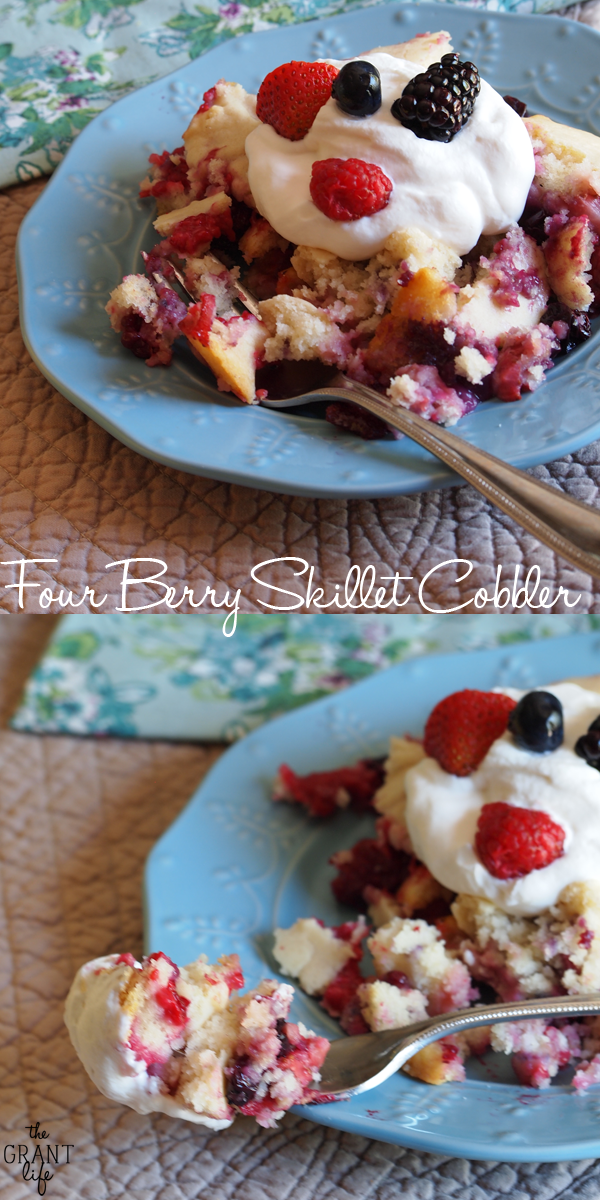 Ryley had a dance recital two weeks ago and we let her pick the restaurant after it was over. [Here is her super cute dance costume!] Her first choice was McDonalds [or old mcdonalds as she calls it], but that was quickly vetoed. We ended up going somewhere else because it has a nice outdoor patio with a play place for the kids. Which we all thought was a great idea. Well, everyone except Ryley.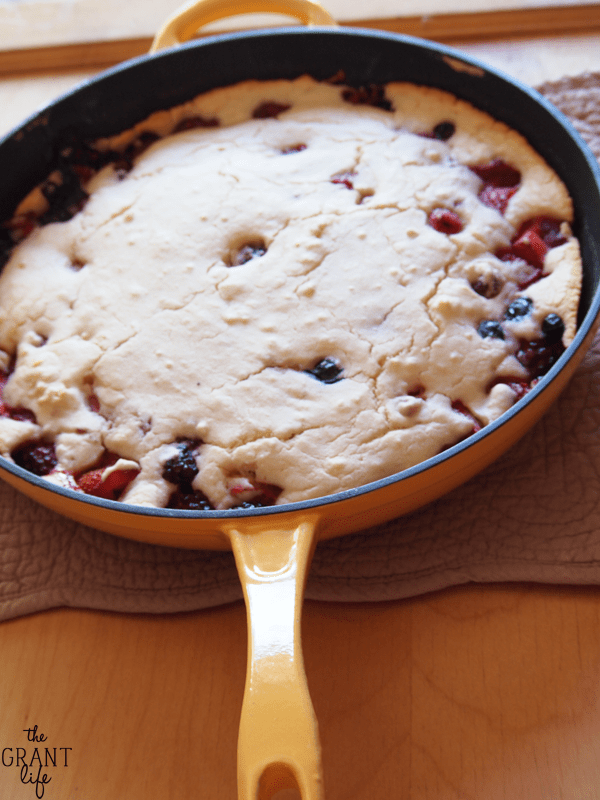 She had already had a meltdown in the car on the ride over to restaurant because I brought the wrong shoes. She didn't want to wear her pink mary janes, she wanted to wear her flip flops. And man did she throw an epic fit to let us know it. Crying, sobbing, yelling at us that they were the wrong shoes and she didn't like them.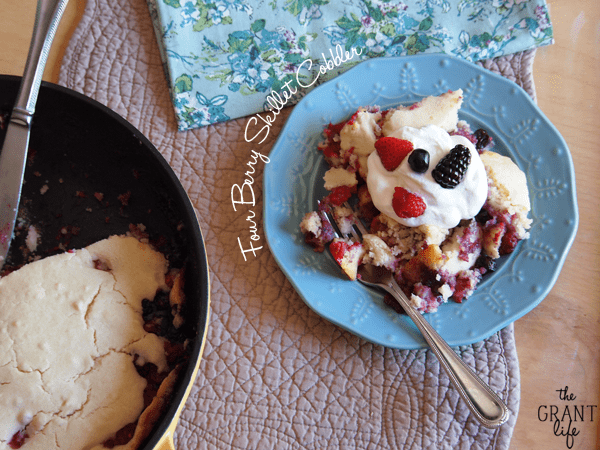 Once we got out of the car she suddenly forgot about her shoes. When we finally get to the patio and tell her go play, she refuses. I don't know if she was still pouting because of the shoes or if she just didn't want to go play. Either way, she sat at the table with us while Avery ran around and played.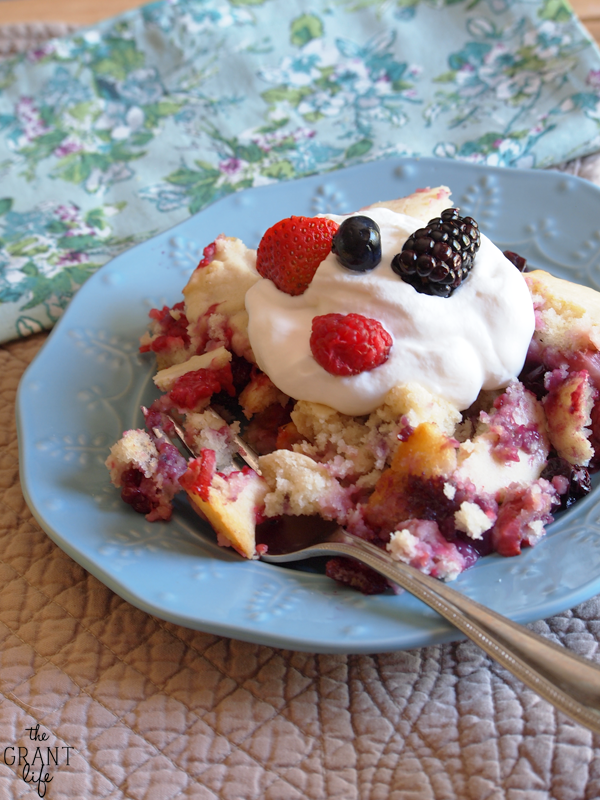 Finally she decides to go play with the other kids and starts acting like her normal self. By this point we have had lunch and were waiting on dessert. [Hey, we were celebrating her dance performance!] Although the kids had fun and we were in good company, the dessert was meh. Which is always disappointing. So I came home, whipped out my skillet and copy catted the recipe. Only better. Because its good. And I didn't have to sit in a car with a crying four year old arguing over shoes. [That might be the sweetest part!]
Ps.. to make this cobbler you need a batch of homemade Bisquick mix. Once you have that the rest is easy peasy no crying toddlers squeezy.
Pps.. make sure to whip up some homemade whipped cream to smoother the cobbler in.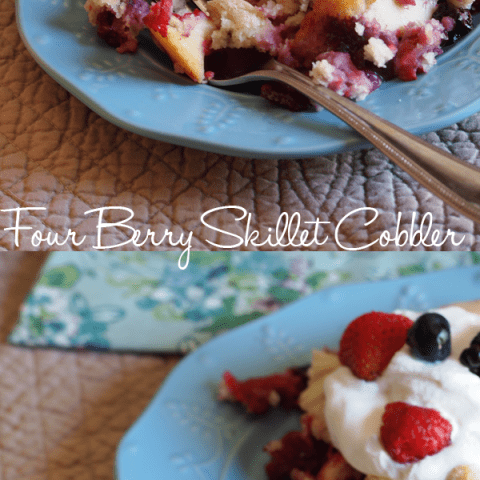 Four Berry Skillet Cobbler
Ingredients
3 cups of homemade Bisquick
1 1/2 cup of milk
1 cup of each - strawberries, blueberries, blackberries and raspberries
1 cup sugar
1/2 water
1 tablespoon butter
Instructions
Preheat oven to 350 and place your skillet inside.
Wash and pour all the berries in a bowl.
Cover with the sugar and then pour the water over.
Let sit for about 30 minutes.
Mix the milk and the homemade Bisquick together until smooth.
Remove your skillet and cover the bottom and the sides with the butter.
Pour half of the Bisquick batter in the skillet.
Drain the berries and add them on top of the Bisquick mixture.
Add the remaining Bisquick on top.
Bake for about 30 minutes or until a toothpick comes out clean in the center.
Let cool and enjoy!
Nutrition Information:
Amount Per Serving:
Calories:

2863
Cholesterol:

67mg
Sodium:

4780mg
Carbohydrates:

508g
Fiber:

30g
Sugar:

295g
Protein:

47g
Love this recipe? You may also like: