Homemade Bisquick is a great pantry basic that can be used for a variety of things. From pancakes to biscuits to dumplings, having homemade Bisquick in your kitchen makes a huge difference. Let me show you how to make and store your own baking mix.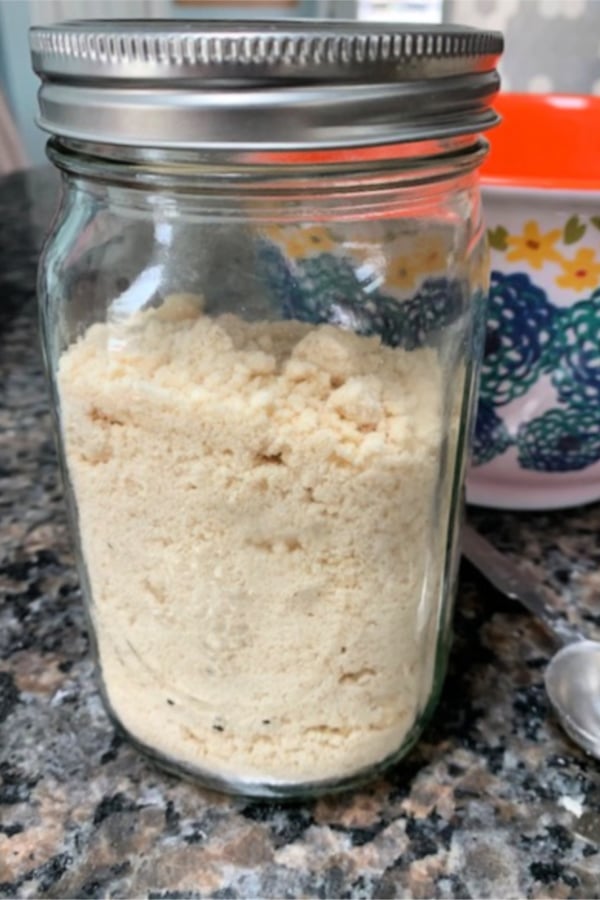 As much as I love breakfast foods, I'm just not a morning person.  Most mornings, while the coffee is brewing, Ryon starts breakfast.  He normally cooks bacon and eggs or makes a hash, but some days he whips up pancakes.  The kids (and this mama!) get really excited on pancake days.     
Since me and mornings don't get along to well, I decided to help in another way.  I whipped up a batch of homemade Bisquick mix to help make pancake days even better, for everyone! 
What is Homemade Bisquick?
Bisquick is a baking mix that can be used to make a variety of different recipes. Traditional Bisquick from the store is loaded with ingredients that I can't even begin to pronounce. I like making my own because I know exactly what's in it and it's cheaper. Homemade Bisquick is a mix of flour, baking soda, sugar salt and butter.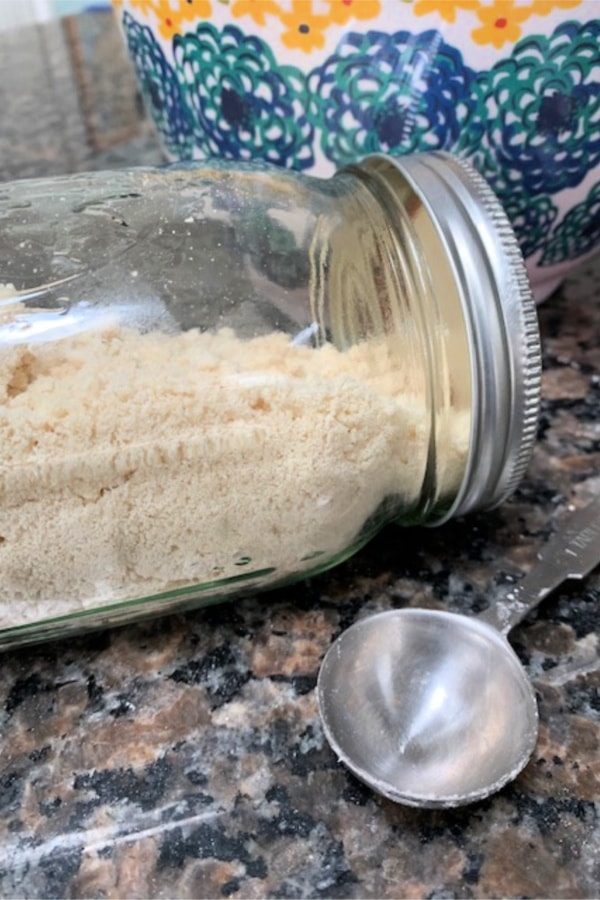 Homemade Bisquick Ingredients
Like I mentioned, store bought Bisquick is loaded with a bunch of stuff that isn't easy to pronounce. My homemade version uses:
flour
sugar
salt
baking powder
butter
Flour – You need plain baking flour for this mix. Do not buy self rising or cake flour as those will not work the same. Plain white flour will do.
Sugar – To add a bit of sweetness, you need a little bit of sugar in your Bisquick mix. Plain white sugar works perfectly but coconut sugar or even a sugar substitute like Stevia are other options.
Baking powder – Baking powder is what helps the mix rise and produces fluffy biscuits and pancakes. If you don't have any baking powder, you can make some or use baking soda as a substitute. You would use 2/3 tablespoon baking soda instead of baking powder in this recipe.
Butter – The butter is what brings everything together in this recipe. You want to use unsalted butter here or you can remove the salt and use salted butter. You can also sub out the butter for vegetable shortening.
Does homemade Bisquick have to go in the fridge because it has butter in it?
No, it can be left on the counter if you'd like. Butter is ok to be on the counter if it's in an airtight container. It can also go in the fridge if you prefer.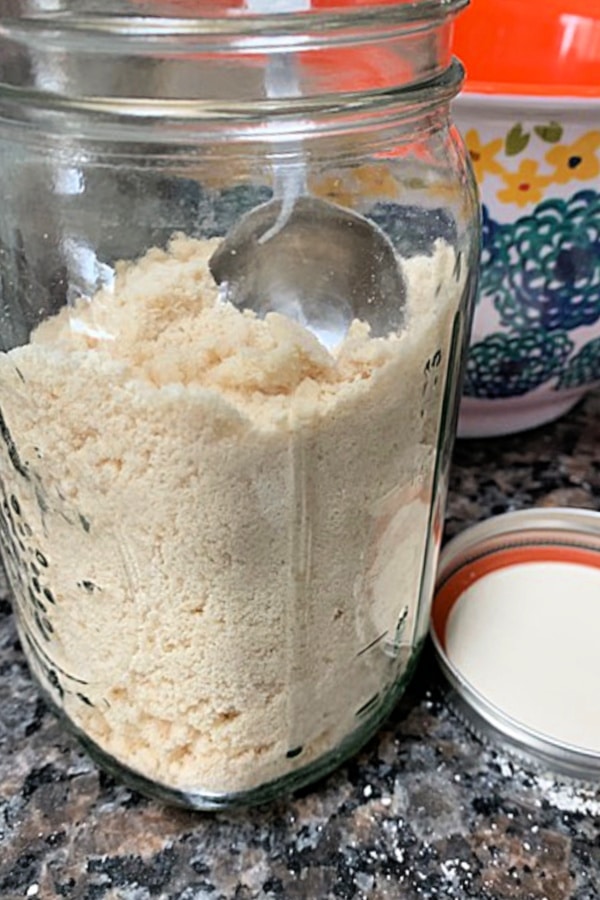 How to make Homemade Bisquick
Once you have gathered all your ingredients you will also need to grab:
a mixing bowl or food processor
pastry cutter
measuring cups and spoons
airtight container or jar
Step 1: Mix the dry ingredients – In your bowl or food processor, mix together the flour, sugar, salt and baking powder.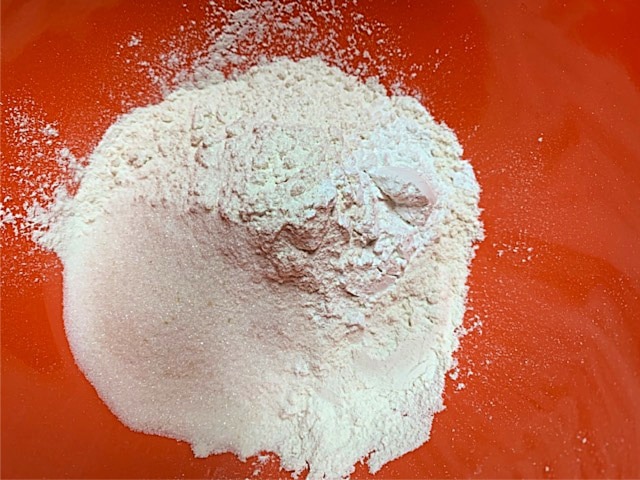 Step 2: Cut in the butter – Take your cold butter and cut it into squares. If using a food processor – add it to the dry ingredients and pulse until the mixture resembles sand.
If not using a food processor – add the butter to the dry ingredients in the bowl. Either using your hands or a pastry cutter, combine the butter with the flour mixture. If you are using your hands roll the butter between your thumb and pointer finger to create smaller pieces of butter. Do this under the mixture resembles sand.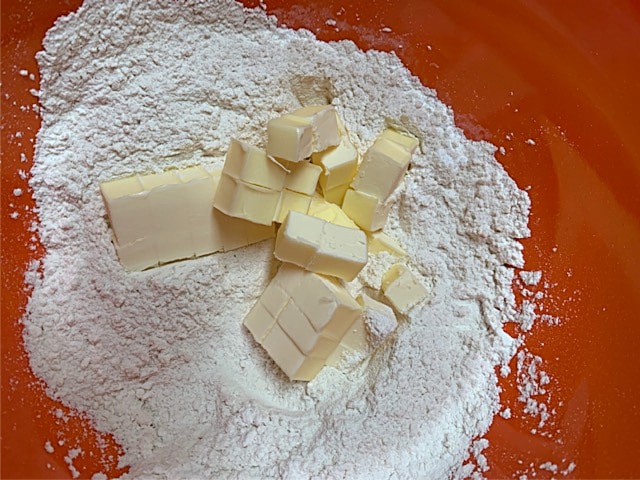 Step 3: Store – Place the homemade Bisquick mix in an airtight container.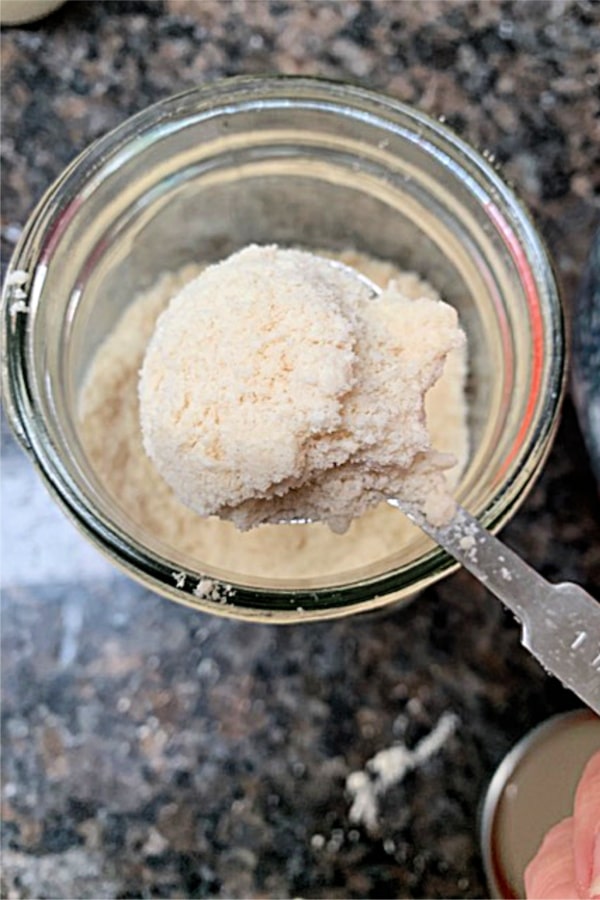 How to use homemade Bisquick
Now that you have your homemade Bisquick mix, you can make biscuits, pancakes or even dumplings! It's a pretty versatile recipe and you can use it whenever a recipe calls for Bisquick.
To make pancakes –
Combine 2 cups homemade Bisquick with 1 cup of milk and 2 eggs. Place 1/4 cup batter into a greased skillet. Cook 3-4 minutes on each side, or until golden brown. Slather in homemade butter.
To make biscuits –
Combine 2 cups of homemade Bisquick mix with 1 cup of milk. Stir dough to combine. Pour out onto a floured surface and knead until the dough comes together. Roll out the dough using a rolling pin and cut out using a biscuit butter. Bake at 450 degrees for 8-10 minutes or until golden brown.
To make dumplings –
Combine 1 1/2 cup of homemade Bisquick with 3/4 cup milk until a dough forms. Drop balls of dough onto hot meat or vegetables in boiling soup or stew. Cook for 10 minutes uncovered and then 10 minutes covered.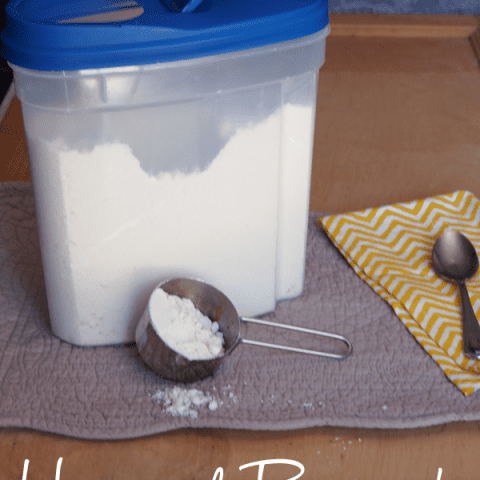 Homemade Bisquick Mix
Ingredients
5 cups flour
1 cups butter [2 sticks, softened], chopped
1/6 cups baking powder
1/4 cups sugar
2 tsp. salt
Instructions
Combine all the dry ingredients and mix.
Place them in a food processor along with the chopped butter.
Blend for about 2 minutes.
Remove from processor and place in an air tight container.
Enjoy as needed!
Notes
For pancakes -
2 cups mix
1 cup milk
2 eggs
For biscuits -
2 cups mix
1 cup milk
Nutrition Information:
Amount Per Serving:
Calories:

4135
Cholesterol:

488mg
Sodium:

4790mg
Carbohydrates:

546g
Fiber:

18g
Sugar:

52g
Protein:

67g
You may also want to check out these other great pantry basic recipes:
Be sure to PIN this recipe!