Try this homemade Bisquick and ditch the boxed version!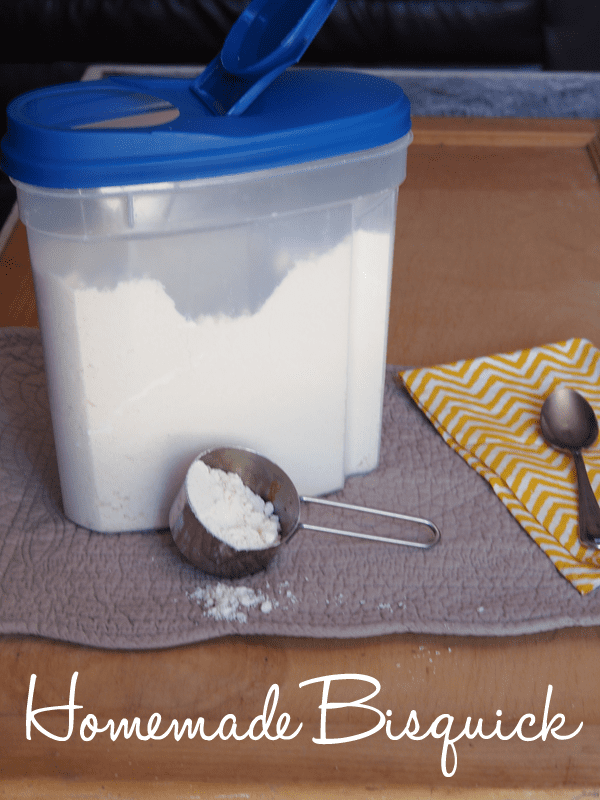 As much as I love breakfast foods, I'm just not a morning person. Most mornings, while the coffee is brewing, Ryon starts breakfast. He normally cooks bacon and eggs or makes a hash, but some days he whips up pancakes. The kids get really excited on pancake day. [So does mama.] Since me and mornings don't get along to well, I decided to help in another way. I whipped up a batch of homemade Bisquick mix to help make pancake days even better, for everyone!
Ryon makes his pancakes from scratch and they are amazing! So light and fluffy and toasted with butter on the outside. Seriously, I think he's a pancake master. [Pancake master maker? Master pancake maker? Eh, they all work.] But when hes done with pancake making, he tends to leave a mound of dishes behind. Its like he uses a different dish for every ingredient. I can't really complain though. He makes me coffee. And pancakes. Ok, I can complain a little.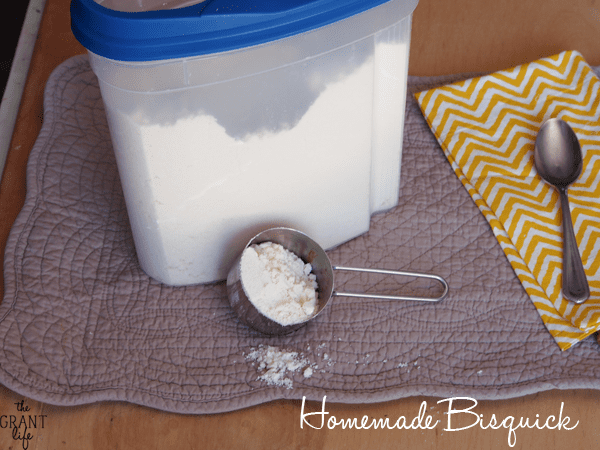 I'm hoping that this homemade Bisquick mix solves the pancake master's pile-o-dishes since you only need one bowl to mix the ingredients together. And on days when I wake up early [ha!], then I know what to grab to make a quick breakfast for everyone. So it helps with less dishes and with quick breakfasts in the mornings. This mix is more then tasty, its a family problem solver! [It must be a magical mix.] Now if only it could make us coffee..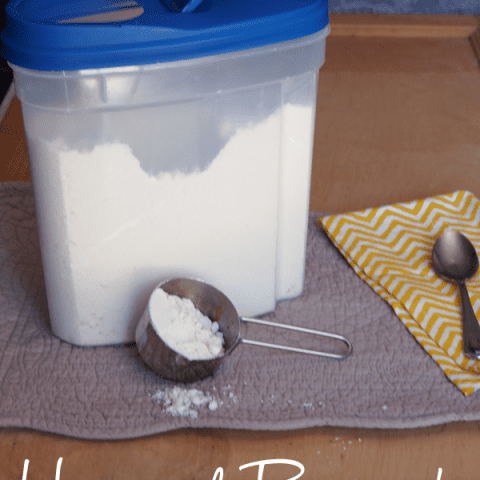 Homemade Bisquick Mix
Ingredients
5 cups flour
1 cups butter [2 sticks, softened], chopped
1/6 cups baking powder
1/4 cups sugar
2 tsp. salt
Instructions
Combine all the dry ingredients and mix.
Place them in a food processor along with the chopped butter.
Blend for about 2 minutes.
Remove from processor and place in an air tight container.
Enjoy as needed!
Notes
For pancakes -
2 cups mix
1 cup milk
2 eggs
For biscuits -
2 cups mix
1 cup milk
Nutrition Information:

Amount Per Serving: Calories: 4135 Cholesterol: 488mg Sodium: 4790mg Carbohydrates: 546g Fiber: 18g Sugar: 52g Protein: 67g


If you enjoyed this recipe, be sure to check out: