If you are looking for an easy dinner recipe to serve the family, I got you covered. This easy mozzarella chicken is one that the whole family will love and it's gluten free and Keto friendly! Let me walk you through how to make this recipe.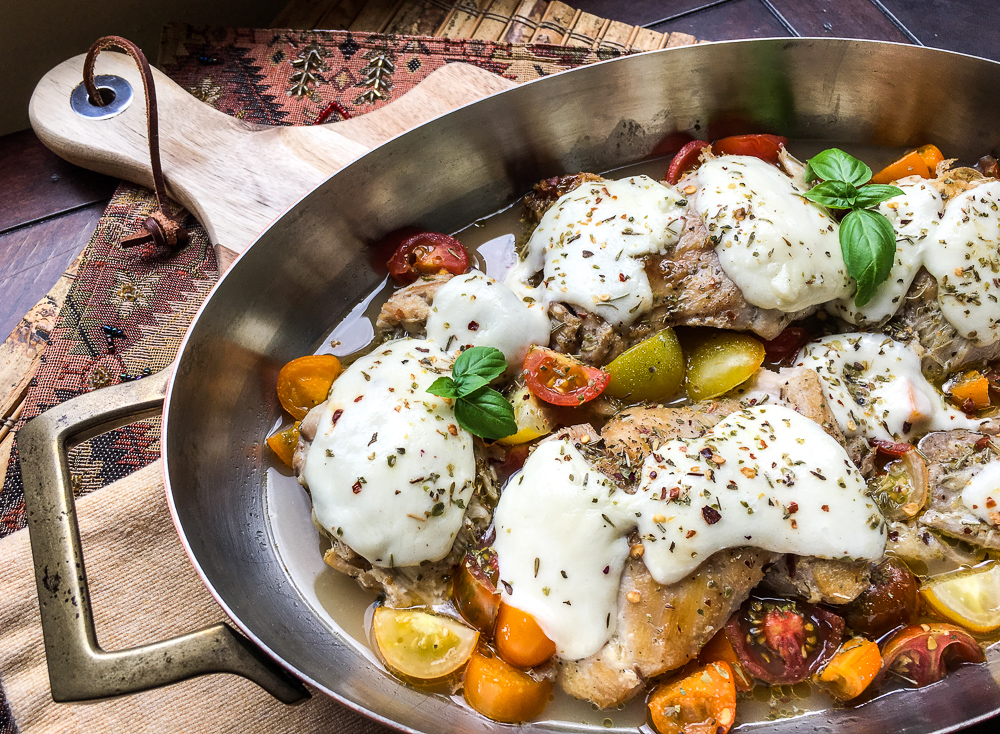 Let me tell you friend – I totally get it. I get how hard it is to find a dinner recipe that the WHOLE family will love. If one kid likes it, the other complains and asks if this is really what we are having. The poke their fork at it and try to make it look like they have eaten something. The other is happily clearing there plate.
I get it.
That is our dinner situation more nights than I can count. But this, this easy mozzarella chicken, is one that the whole family will love. AND it's easy to make (hello one pot meal!) and it's Keto and gluten free!
Yes, that might have been angels you heard singing from above.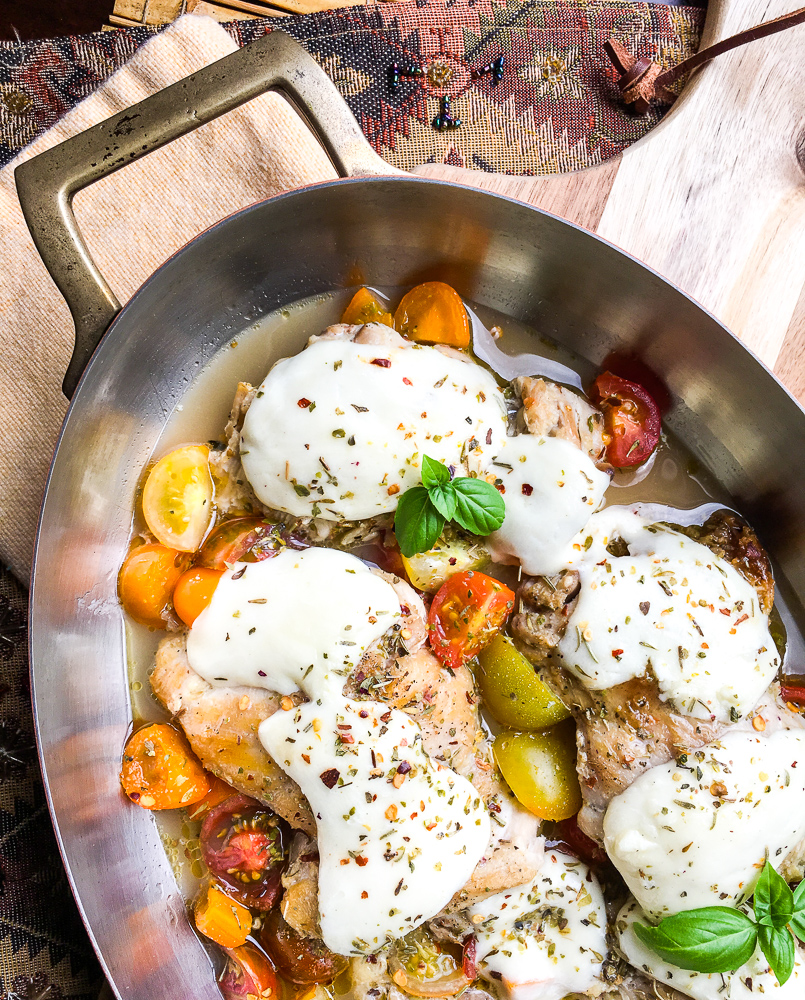 What is chicken mozzarella?
This quick and easy dinner recipe is a combination of a couple of things. First, it's easy and made all in one pan. The chicken is seared in a skillet and then transferred to the oven to finish cooking. The result is a juicy chicken dinner covered in mozzarella cheese that is full of flavor.
Mozzarella chicken is also low carb, Keto friendly and gluten free. But if you don't tell anyone that, they will never guess that this tasty recipe is good for you.
Mozzarella chicken tips
Make sure that you have a skillet that you can transfer from the stove top to the stove. You can do this with most cast iron skillets and some metal ones as well. It should tell you on the bottom if it is oven safe.
The skillet will be very hot, so be sure to use oven mitts or pot holders when you grab it. I'm sure you know this, but I'm a mom. I always yell "be careful" when my kids aren't doing anything remotely dangerous. Sorry. (Not sorry.)
Easy mozzarella chicken ingredients
The ingredient list for this chicken recipe are pretty straight forward and common. You should be able to find most of them at your local grocery store. To make this quick and easy dinner you will need:
chicken
Italian seasoning + other spices
butter and olive oil
chicken broth
cherry tomatoes
mozzarella
You can use any type of chicken in this recipe. Breasts, thighs, tenders, bone-in. Whatever type of chicken you like can be used in this gluten free recipe.
You need a few different spices for this recipe. Start with Italian seasoning for the chicken. (If you want, try this homemade Italian seasoning blend! It's my favorite!) You will also need salt, pepper and red pepper flakes as well.
To keep the chicken from sticking from the skillet and to keep it moist while baking, you will need butter and olive oil. Any brand you prefer works here. I would suggest using real butter and not a margarine or butter substitute.
Before you add the skillet to the oven you need a 1/4 cup of chicken broth. I try to use organic broth whenever possible, but whatever you have on hand is good. You can even use homemade chicken broth or bouillon.
The are rainbow cherry tomatoes in my dish, but any type of cherry tomatoes work here. Heck, you can even dice up a large tomato and use it in this recipe.
Last but not least, the mozzarella! The cheese! You want fresh mozzarella here, not shredded. My grocery store keeps the fresh mozzarella near the deli and not with the other shredded cheese. Yours may do the same as well. Provolone slices would also work here too.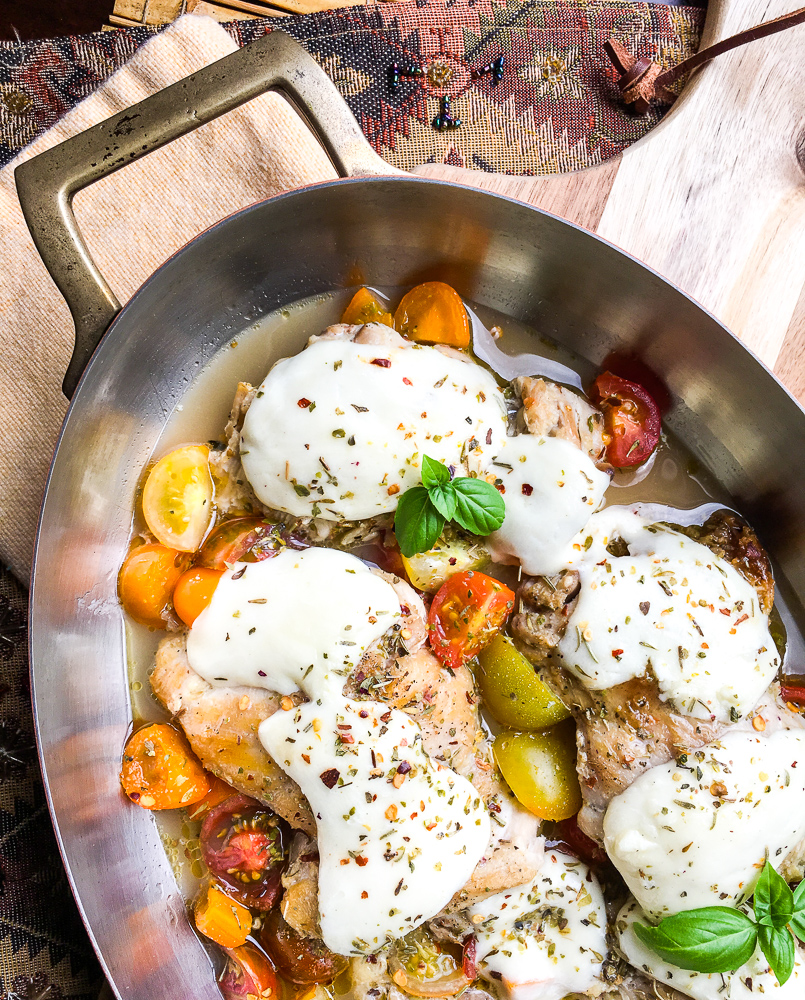 How to make chicken mozzarella
Start by preheating your oven to 425 degrees.
Add 1 tablespoon of your olive oil to your oven safe skillet and use the other 2 tablespoons to coat your chicken. Sprinkle your Italian seasoning, salt and pepper on your chicken and add to your skillet to brown. You are going to add your butter, tomatoes, and chicken broth to the skillet as well. Cover each piece of chicken with a slice of fresh mozzarella and sprinkle with red pepper flakes.
Roast in the over for 15-20 minutes or until the chicken is cooked through and the mozzarella has melted over the chicken. Remove from the oven, allow to rest for a few minutes and add any additional fresh herbs. I like basil, parsley or thyme. Serve with a low carb side and enjoy!
Side ideas to go with easy mozzarella chicken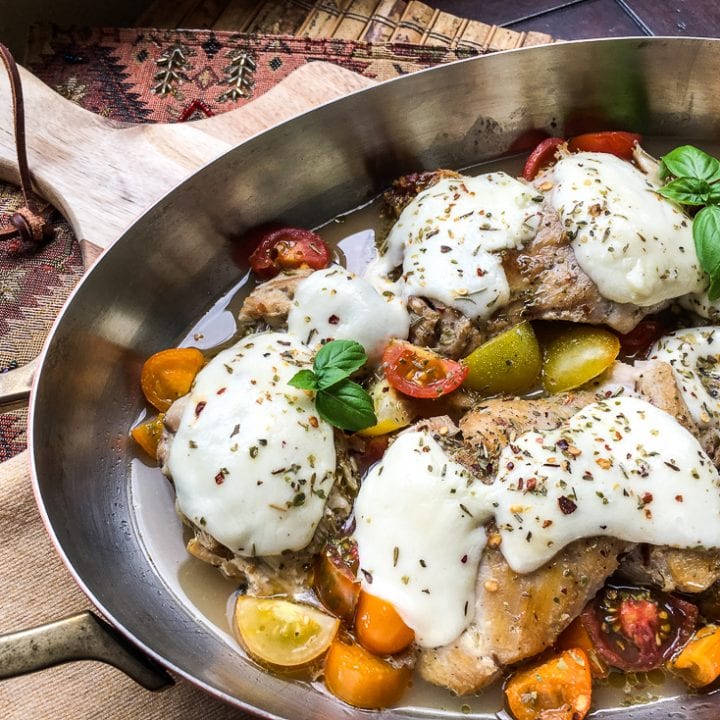 Easy mozzarella chicken - gluten free, Keto
Ingredients
Ingredients:
3 T. extra virgin olive oil, divided
2 lbs. boneless, skinless chicken thighs
1½ T. Italian seasoning, divided
Sea salt and black pepper, to taste
3 T. unsalted butter
¼ c. chicken broth, preferably organic
½ c. multi-colored cherry tomatoes, quartered*
8 oz. fresh Mozzarella cheese, sliced
½ t. red pepper flakes
Optional garnish:
Sprigs fresh basil
*Multi-color tomatoes suggested for visual appeal. Can substitute fresh tomatoes of choice.
Instructions
Preheat oven to 425°F.
Heat 1 tablespoon olive oil in a large, oven-safe skillet over medium heat.
Rub the chicken thighs with the remaining olive oil and sprinkle both sides with one tablespoon Italian seasoning. Season with salt and black pepper, to taste, and transfer to the hot skillet.
Cook for 4-5 minutes per side, or until the chicken develops a golden crust. Remove from heat and add butter, chicken broth, and cherry tomatoes. Top each chicken thigh with a slice of fresh Mozzarella cheese and sprinkle with crushed red pepper flakes and remaining Italian seasoning. Season with additional salt and black pepper, if desired.
Transfer skillet into pre-heated oven and roast for 15-20 minutes, or until chicken is cooked through and the Mozzarella is melted. Remove from oven and allow chicken to rest for 5 minutes.
Top with fresh herbs and enjoy!
Nutrition Information:
Yield:

6
Serving Size:

1
Amount Per Serving:
Calories:

487
Total Fat:

33g
Saturated Fat:

13g
Trans Fat:

0g
Unsaturated Fat:

18g
Cholesterol:

230mg
Sodium:

597mg
Carbohydrates:

4g
Fiber:

1g
Sugar:

2g
Protein:

46g
Be sure to check out these other
easy chicken dinner recipes
: