Are you looking for a super simple Easter dessert? These Easter Magic Cookie Bars are ready and waiting. Make certain to let the kids "hop" in and help whip up this fun treat!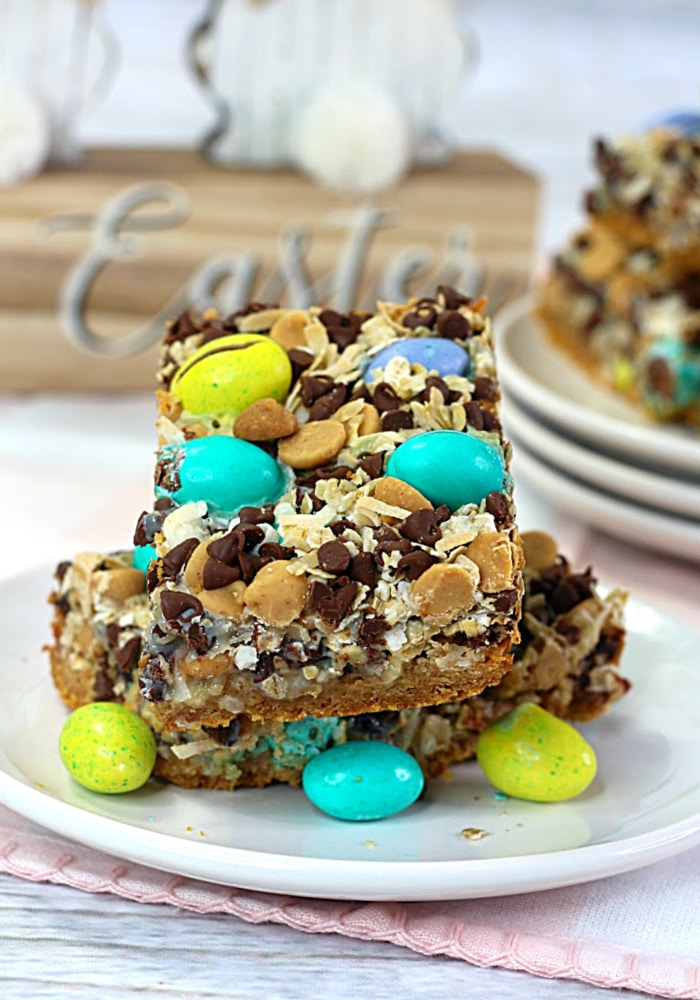 Now that Easter is right around the corner, it's time to start thinking about all the fun baking recipes to try and make. While I'm all about experimenting and trying out new recipes, I just keep coming back to this easy Easter dessert time and time again. Not only does it look fun but the taste is so good as well.
And when you have a recipe that you know is a winner, why even try to make a change? Here is one of our favorite Easter desserts to have on hand to snack on throughout the day. I think you're going to love it as much as we do!
What are Easter Magic Cookie Bars?
As the name suggests…they're magic. Basically, they're 7 layer bars that are made with love. And each layer has it's own flavor and taste. We like to create a fun story about what each of the 7 layers means but that's totally optional to do.
You can create a story about Easter or a fun tale and let each child make up their own "7 layer story". It's a silly way to have some fun baking with added creativity!
Magic Cookie Bar Ingredients
Even though there are multiple layers to this Easter dessert, the list of ingredients is actually quite short!
Unsalted Butter
Graham Cracker Crumbs
Sweetened Condensed Milk
Mini Chocolate Chips
Peanut Butter Chips
Quick Cook Oats
Sweetened Coconut Flakes
Easter M&Ms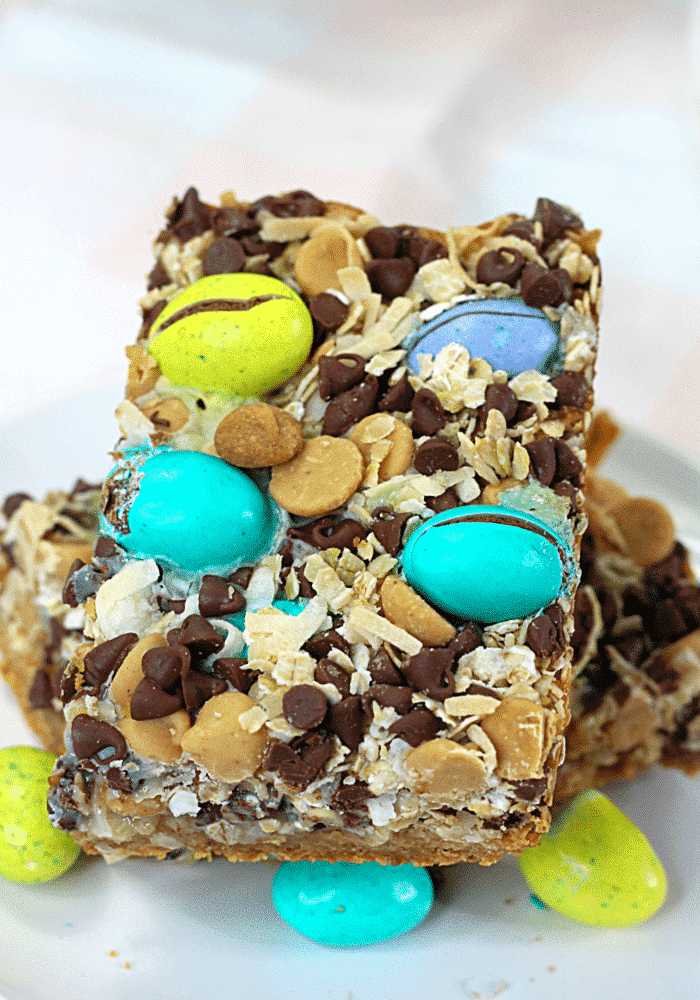 Unsalted Butter – Unsalted is the key here because you don't want to have too much additional salt in this recipe.
Graham Cracker Crumbs – While we buy this already premade, you can always mash them up yourself as well. (or let the kids do it – they'll love breaking them up!)
Sweetened Condensed Milk – You should be able to find this at the store on the shelf in the baking aisle. This is basically replacing the addition of sugar and giving the recipe a nice sweet flavor.
Mini Chocolate Chips – Buy them small so they're manageable and not overpowering in the dish.
Peanut Butter Chips – Check your local grocery baking aisle for these. If they don't have them, you could always substitute for butterscotch or even white chocolate as well.
Quick Cook Oats – Make certain to get the quick cook ones are the recipe won't turn out right!
Sweetened Coconut Flakes – Sweetened is the key here as they bring in a lot of sweet flavors as well. This should be in the baking aisle of your store as well.
Easter M&Ms – Find pretty pastel colors and try to get ones without peanuts.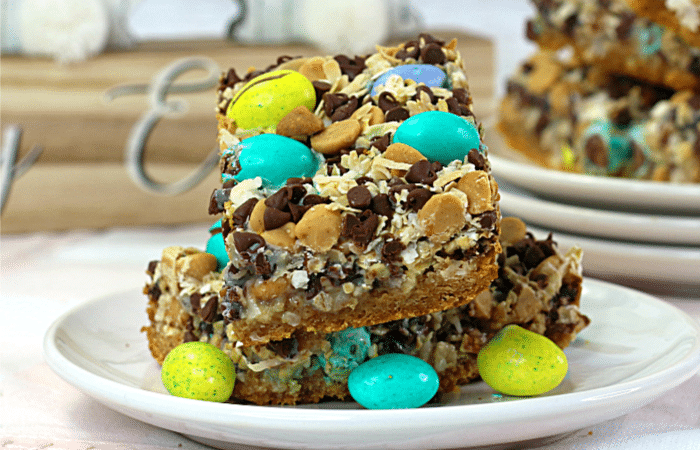 How to make Easter Magic Cookie Bars
Start by preparing your 9 X 13 baking dish and lining it with parchment paper.
Next, place your butter in a microwave-safe bowl and heat it in 30-second intervals in the microwave until melted.
Grab a different small bowl and pour the melted butter and graham cracker crumbs together. Stir them with a fork until they're mixed well.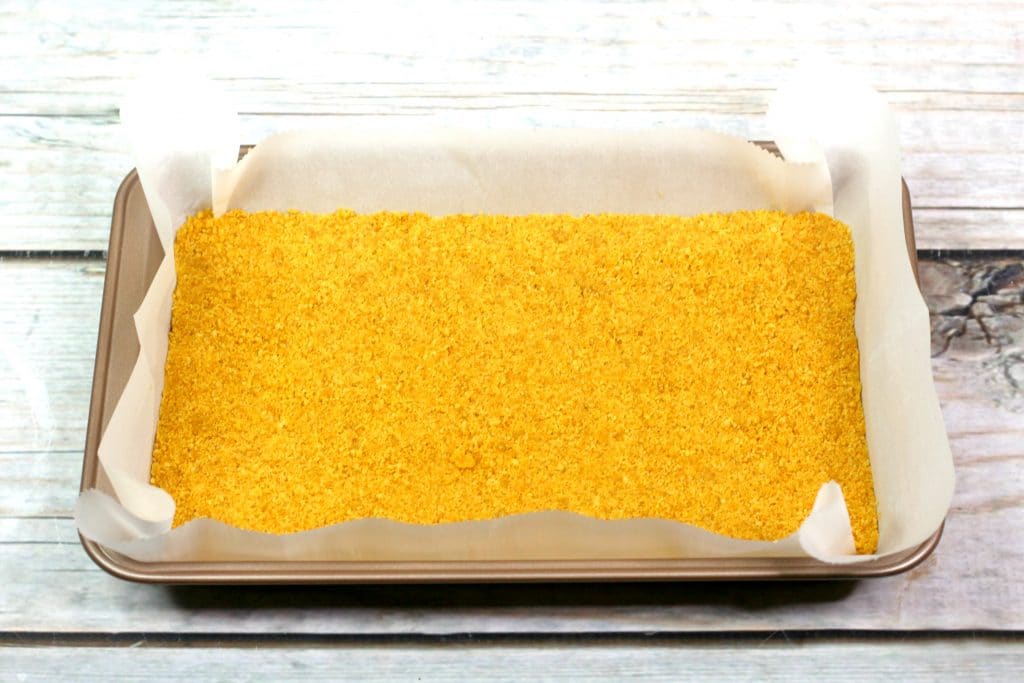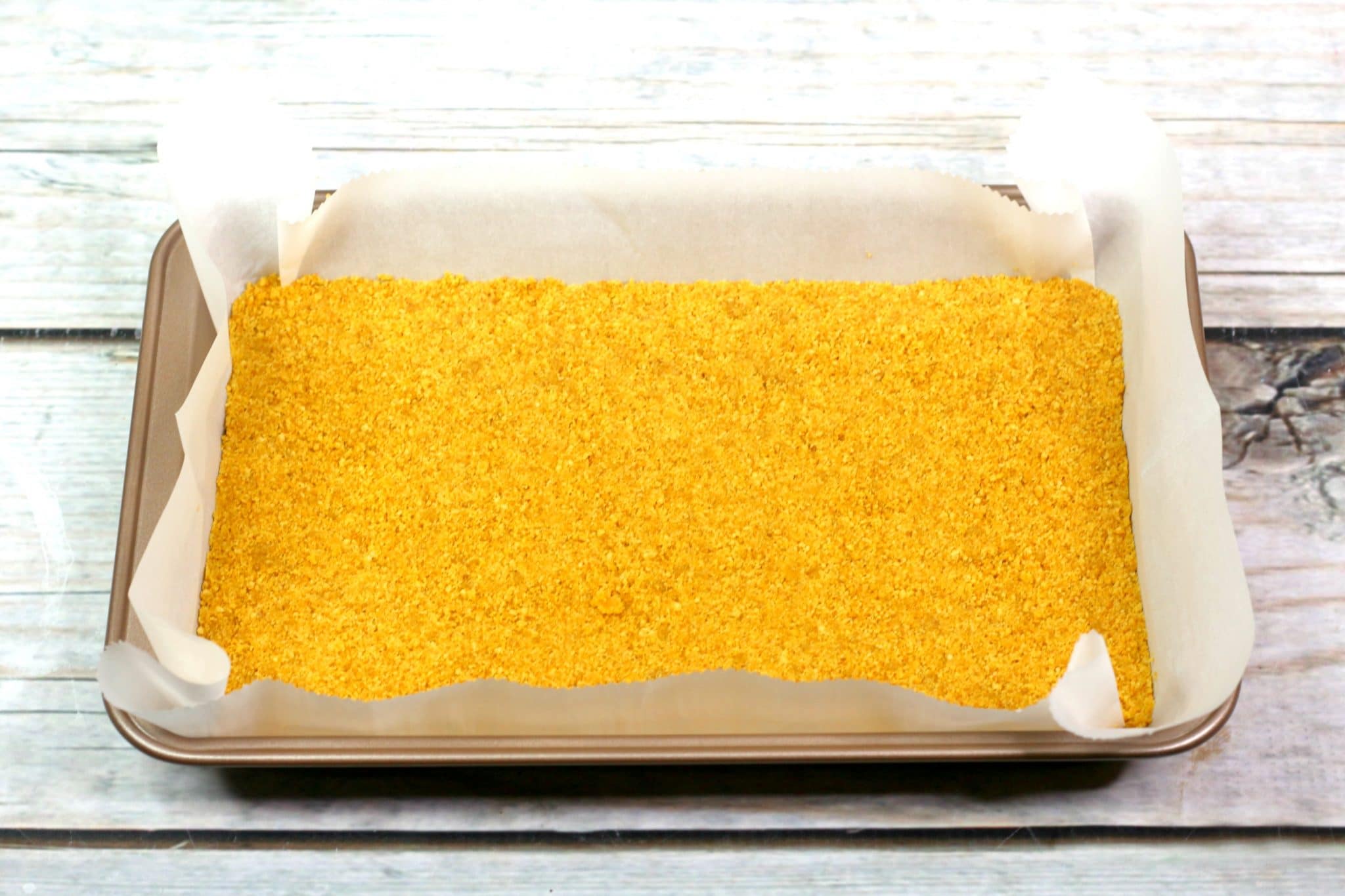 Take the cracker crumb mixture and press into the bottom of your parchment-lined baking pan.  
Next, grab the condensed milk and over it over the graham cracker crust.  Then, take and sprinkle on the quick oats, coconut, peanut butter chips, chocolate chips, and Easter M&Ms.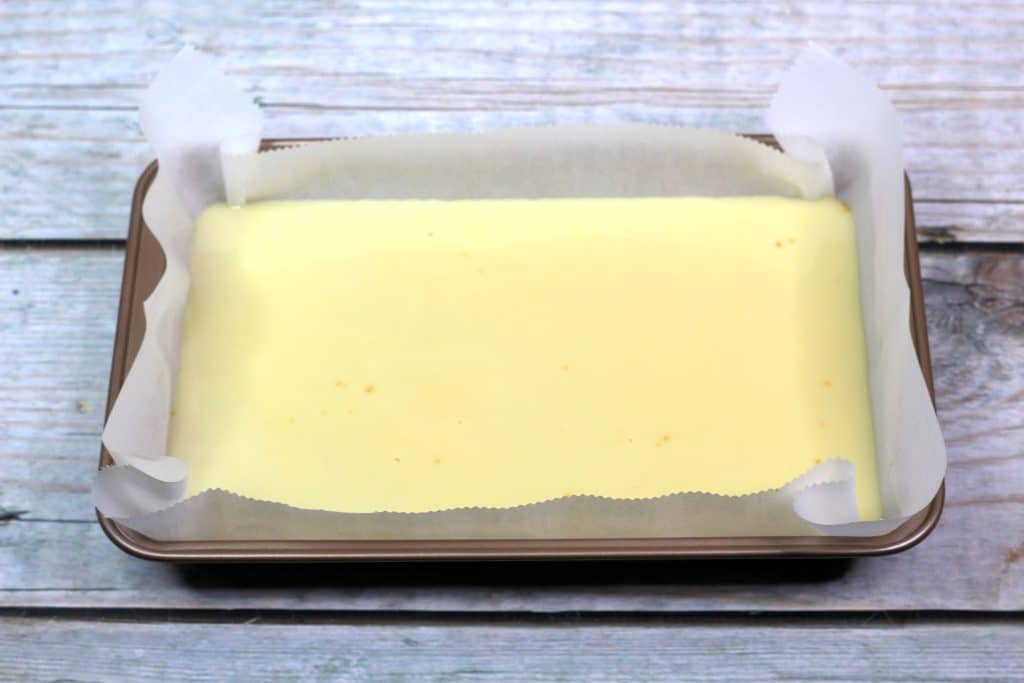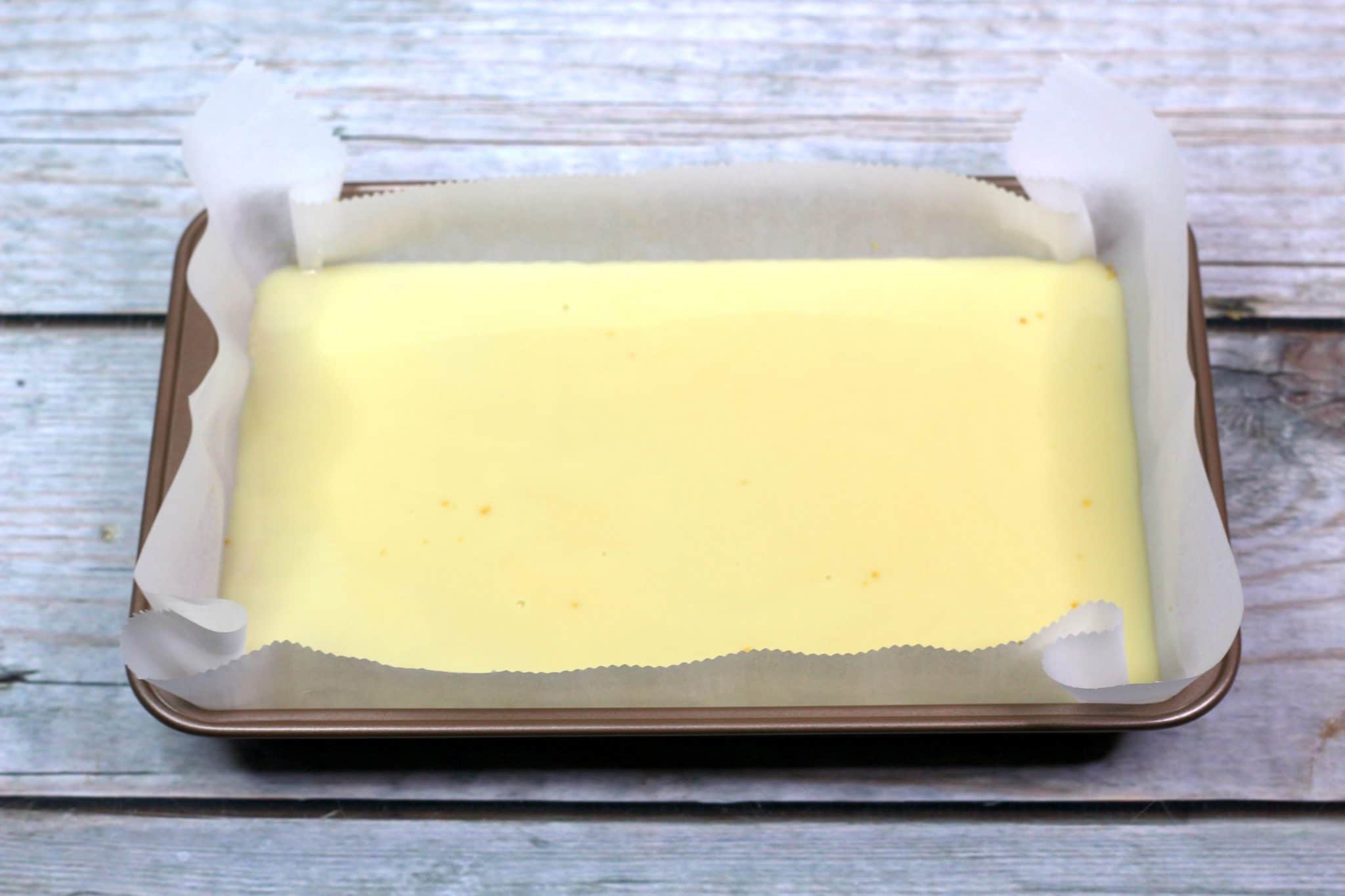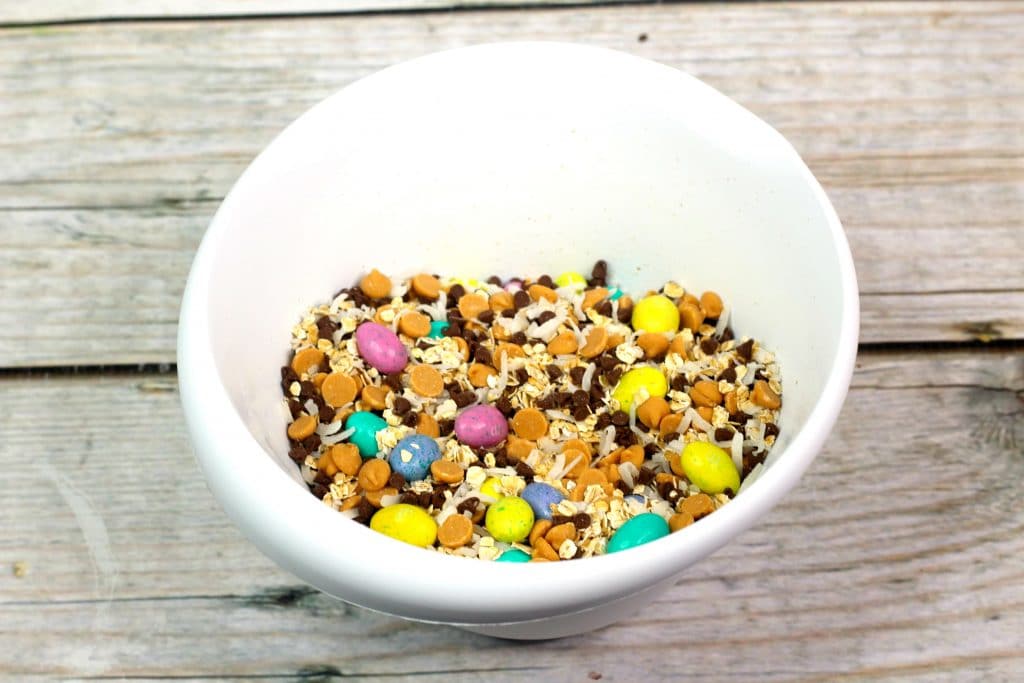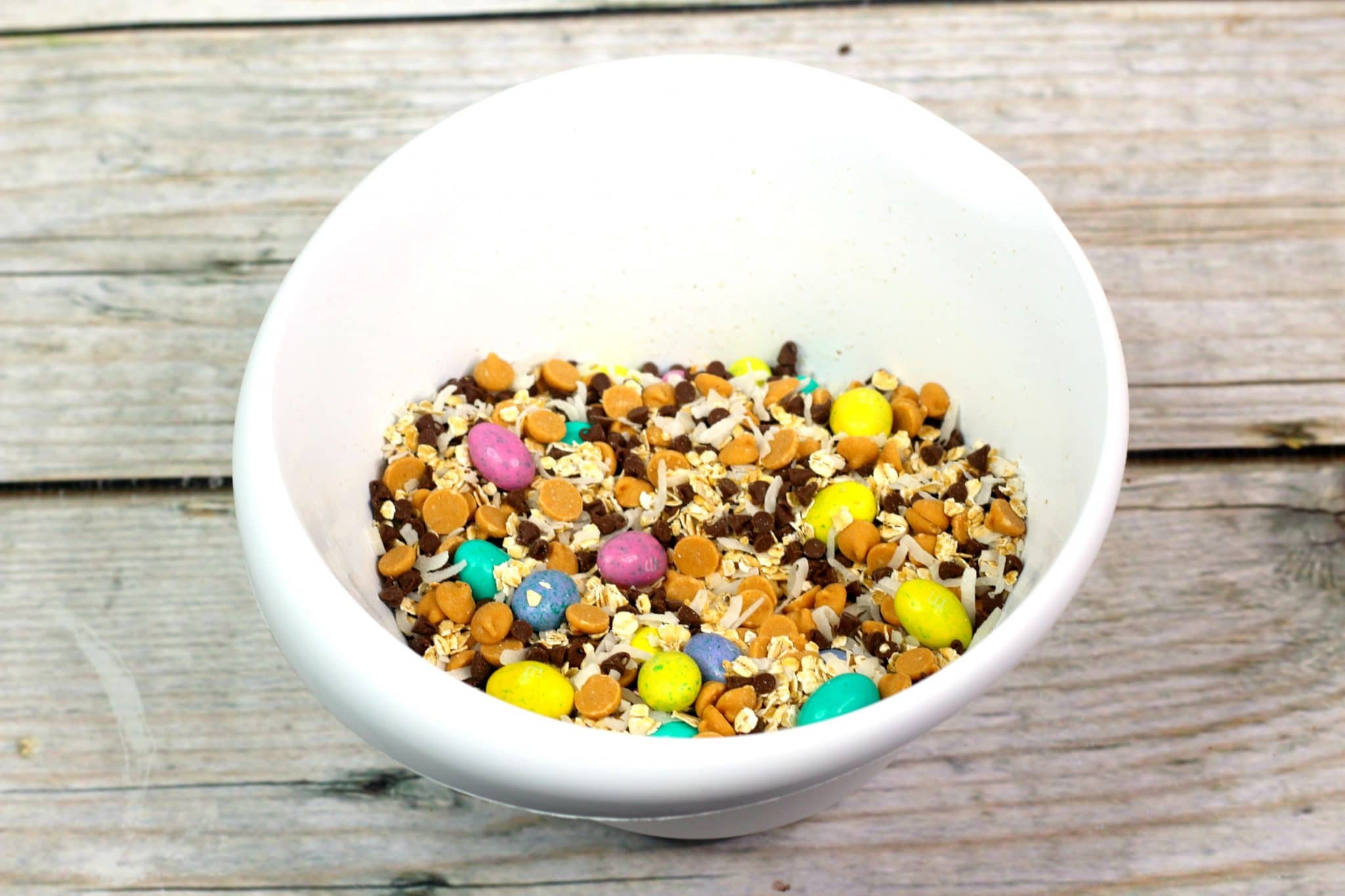 Pop it in the oven at 350 degrees and bake for 25-30 minutes.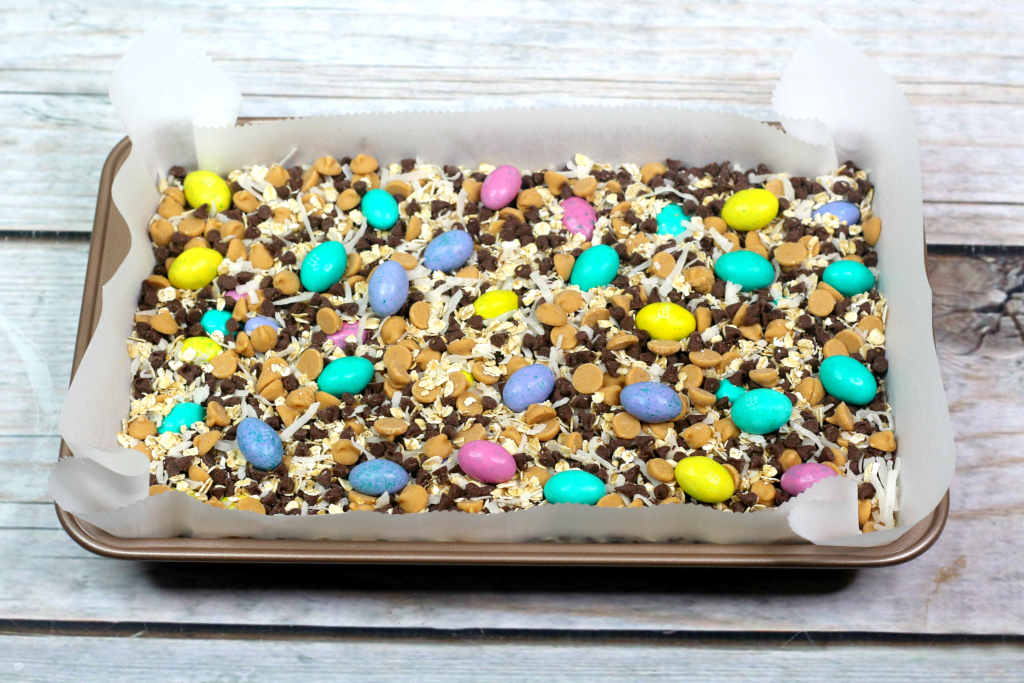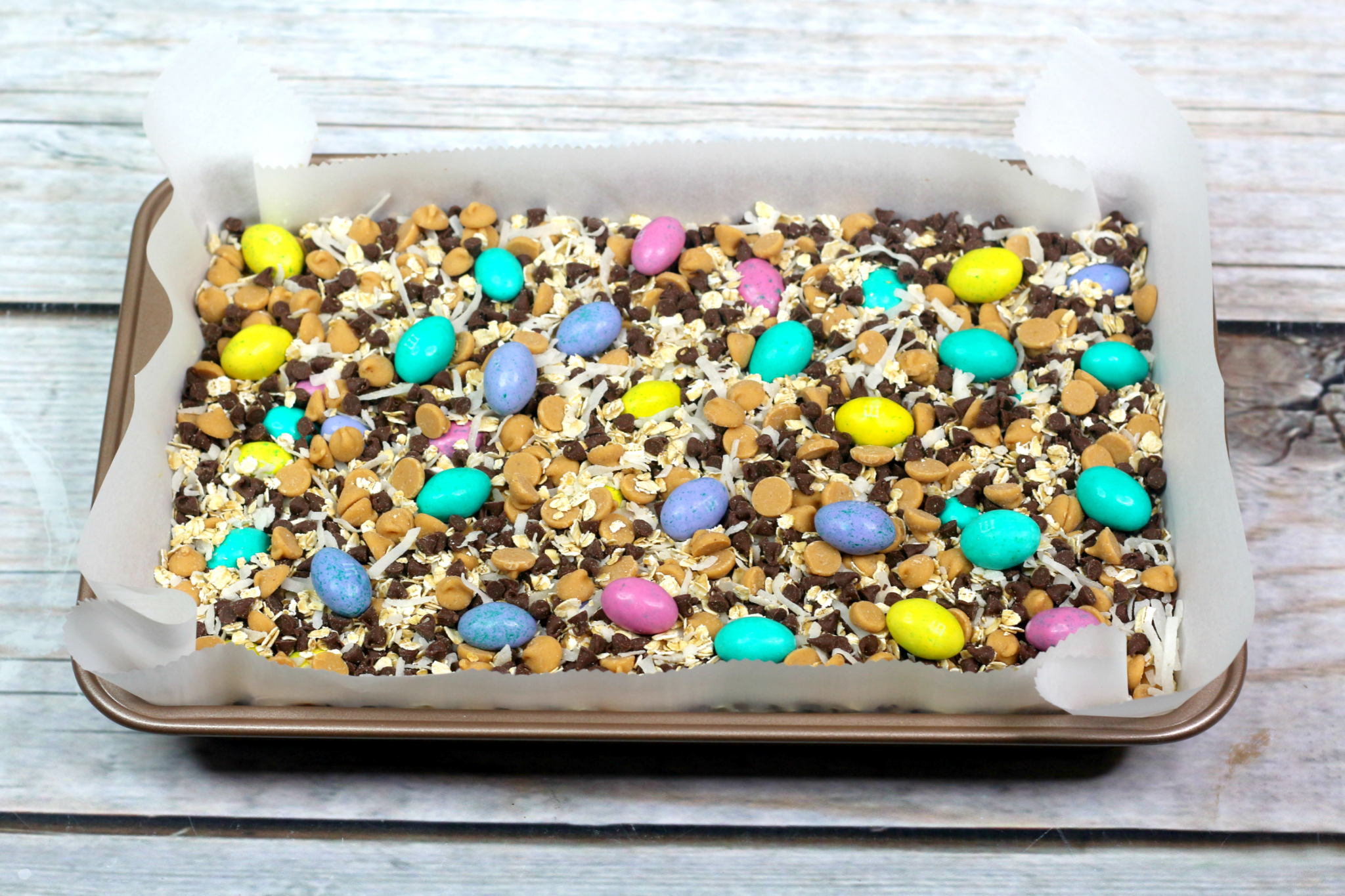 Once done, take out of the oven and let cool.  Make certain that they cool down completely before cutting into and serving.  
Storage Instructions for these Easter Magic Cookie Bars
Once they're completely cooled down, put them into a storage container with a lid and store them in the fridge. This is a simple way to keep them as fresh as possible for as long as possible.
Some people might say it's okay to leave them out on the counter but I've found that they last a bit longer in the fridge. If you're not crazy about the way that they taste when cooled, simply pop them in the microwave for a few seconds to get them a little zap.  
Other Easy Easter Desserts:
Looking for other Easter desserts? Try: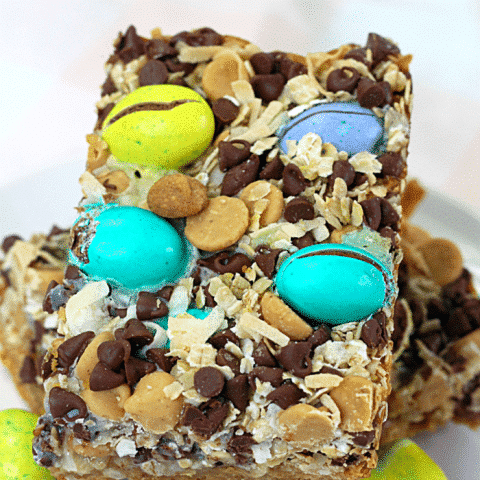 Easter magic cookie bars
Ingredients
1/2 cup Unsalted butter, softened
2 Cups Graham cracker crumbs
1 14 oz can Sweetened condensed milk
1 Cup of Mini chocolate chips
1 Cup Peanut butter chips
1/2 Cup Quick cook oats
1/2 Cup Sweetened coconut flakes
1 Cup Easter M&Ms
Instructions
Prepare your 9x13 baking dish by lining it with a parchment paper.
Place your butter in a microwave safe bowl. Heat for 30 seconds until melted.
In a small bowl add the melted butter, and the graham cracker crumbs. Stir with a fork until well mixed.
Press the Graham cracker crumbs mixture into the bottom of your baking pan.
Pour the condensed milk over the graham cracker crust.
Evenly sprinkle with oats, chocolate chips, coconut, peanut butterchips, and the Easter M&Ms.
Bake for 25-30 at 350 Degrees.
Remove from the oven and set to the side to cool.
Allow to cool completely before cutting.
Nutrition Information:
Yield:

16
Serving Size:

1
Amount Per Serving:
Calories:

397
Total Fat:

20g
Saturated Fat:

11g
Trans Fat:

0g
Unsaturated Fat:

7g
Cholesterol:

29mg
Sodium:

135mg
Carbohydrates:

51g
Fiber:

2g
Sugar:

40g
Protein:

7g