All the goodness of strawberry shortcake in a parfait in a mason jar!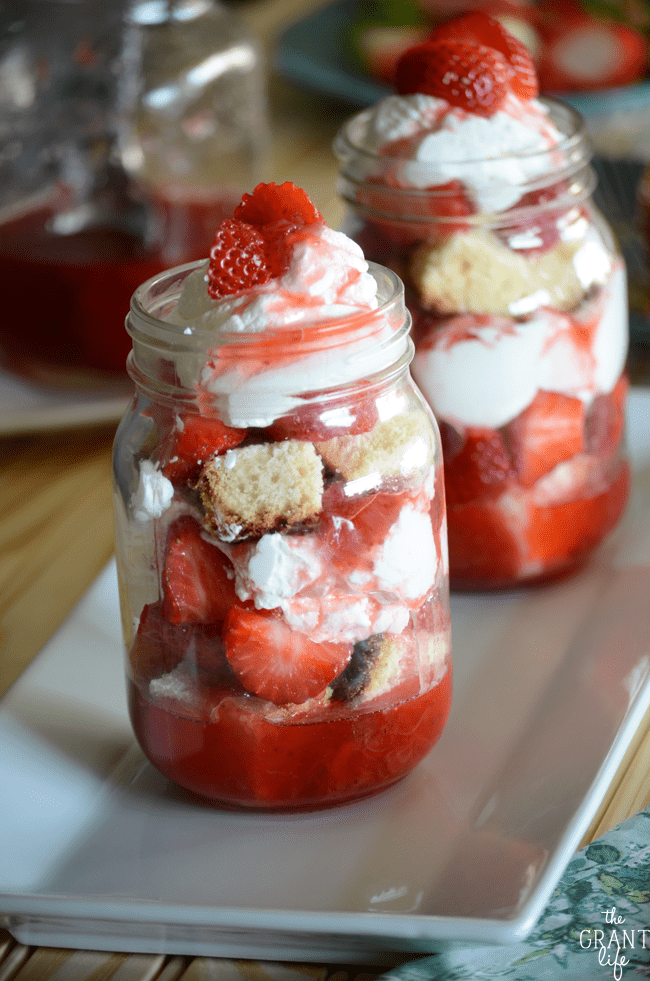 I'm really excited for Easter this year. I'm really excited about Eater every year, but this year I think I'm double-ly excited. We got the kids new baseball gloves for their Easter baskets! [Yes, I'm really that excited about gloves.] We went to Target this past weekend and I had the kids try them on. Ryley liked a brown leather one with pink trim and stitching. She made me through the ball to her to make sure she could catch it. Avery tried an orange and white one and almost exploded with happiness because is his absolute favorite color.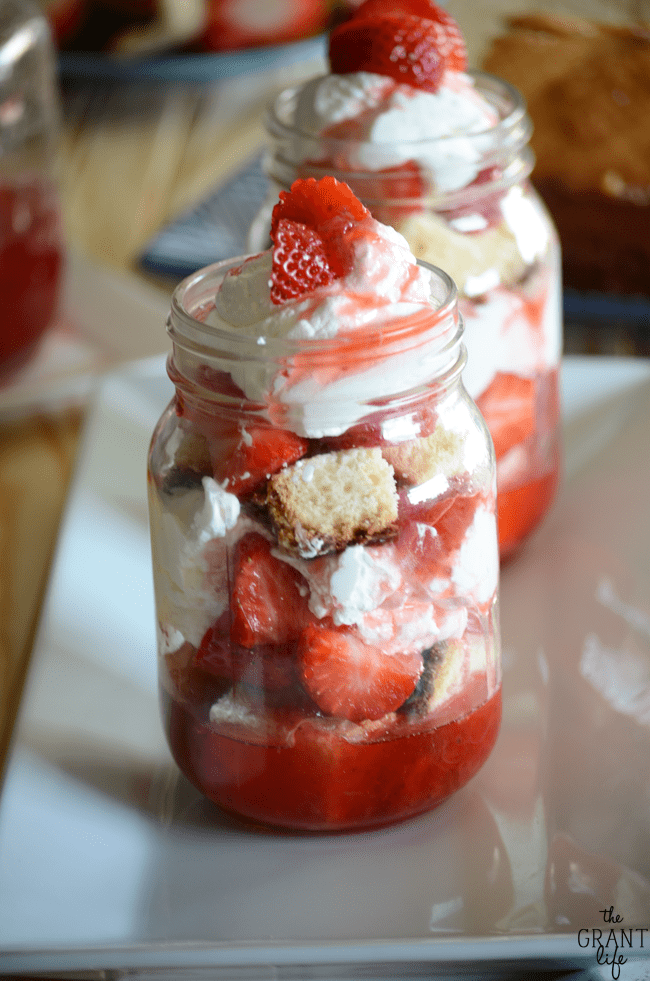 I then had to hide both of the gloves from the kids while we continued to shop. I could have just come back for them since I love me some Target, but I decided to just buy them then. Thankful my mom was with me so I could kind of hide them in her cart under some other things. We also found some Transformers party supplies 70 percent off. Oh my gah, I wanted to jump up and dance and tell strangers about my good deal.
But I kept it cool and did an internal happy dance.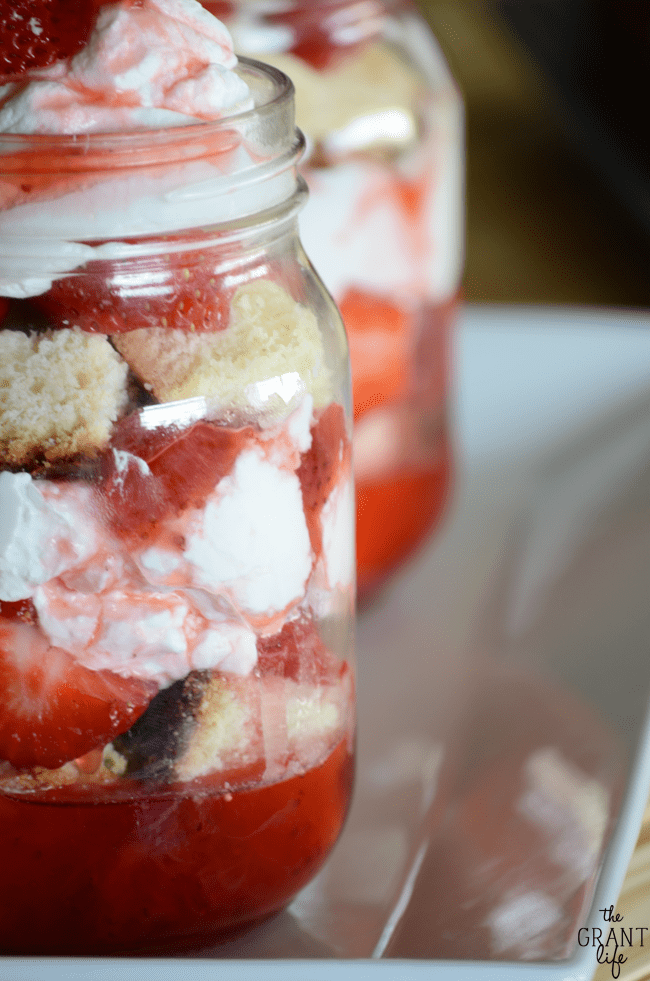 The weekend after Easter we are having Avery's birthday party so finding the decorations for like a buck a piece was just awesome. Ryon's brother and family are driving down from Michigan after Easter to spend almost two weeks with us so we are having Avery's party early so they can be there. I love my husbands family and wish we all lived closer so it's exciting that we get to see each other around birthday time.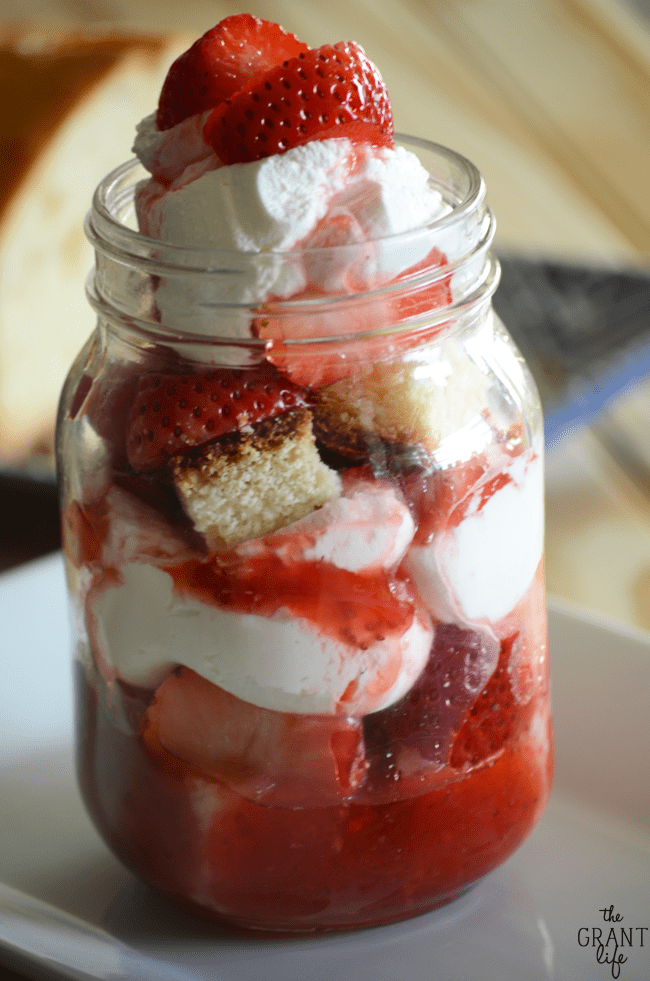 So we are having Avery's birthday party two weeks early. Which is fine because he's still little and doesn't know when his exact birthday is yet. He knows its sometime shortly after sissy's. Its exactly two months after Ryley's birthday. My babies are 14 months apart. Well, they aren't babies anymore. My preschoolers? I should say my mini teenagers because holy attitude batman. But I digress.
Easter! I'm excited. Strawberry shortcake parfaits! I'm excited! I mean homemade pound cake covered in homemade strawberry sauce topped with homemade whipped cream?! It does NOT get any better then that!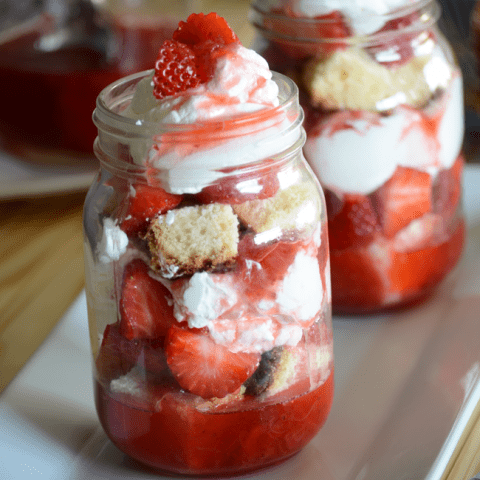 Strawberry Shortcake Parfaits
Ingredients
You can either use homemade pound cake, strawberry sauce and whipped cream, or buy them pre-made. Use the recipes above for homemade recipes of each. Then just layer!
2 sliced of pound cake
1/2 cup of strawberry sauce
1/2 cup of cut strawberries
whipped cream for topping
(Makes one parfait)
Instructions
Put some strawberry sauce on the bottom of your jar.
Add some chunks of pound cake. A little more sauce and some fresh strawberries.
Top with whipped cream
Repeat and enjoy!