Make a unique and delicious treat for breakfast with this simple Dutch Baby Pancake recipe. You can serve it with some of your favorite toppings, such as powdered sugar and fresh fruit.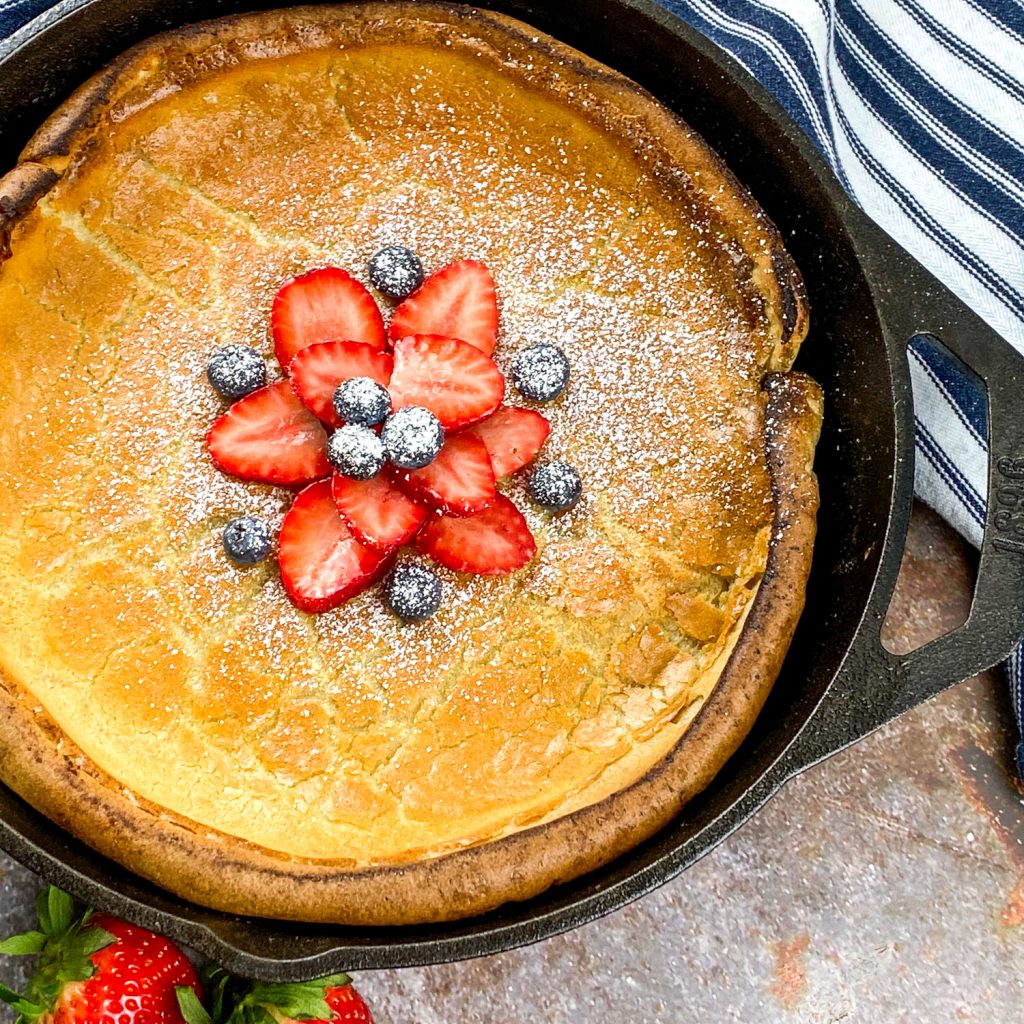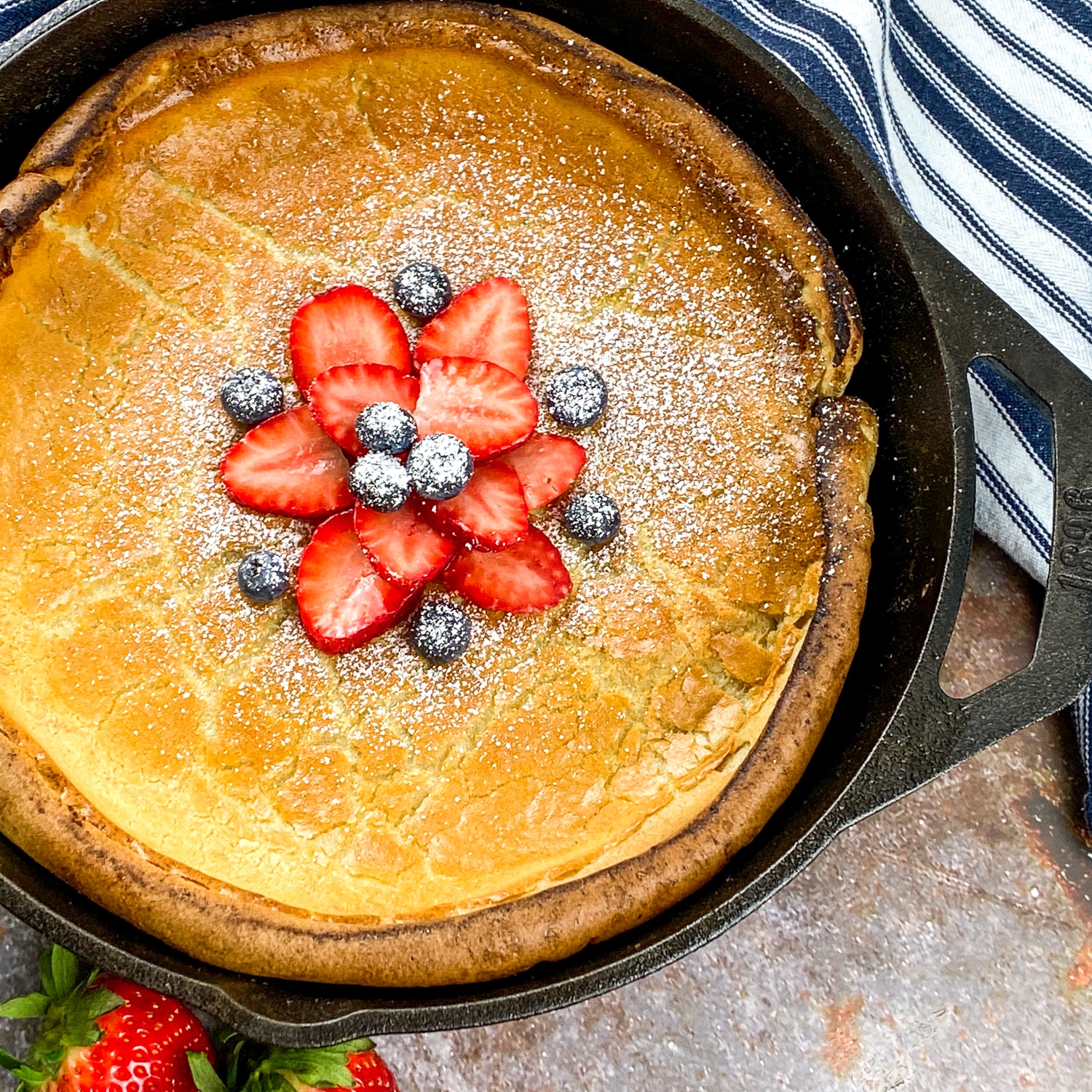 If you feel like you're always making the same types of breakfast all the time, why not try this Dutch Baby Pancake recipe? It's a sweet and easy recipe that you and your family can enjoy. These pancakes are thinner than the average pancake, but that makes them taste even better.
You'll love adding all your favorite toppings to the pancakes. You might want to make one of these large pancakes for each person in the home, allowing them to choose what they'd like to add on top, such as a whipped topping, syrup, or fruit.
What is a Dutch Baby?
A Dutch Baby is a larger and thinner version of a traditional American pancake. It contains a few basic ingredients, including flour and vanilla. While commonly referred to as a Dutch Baby, the breakfast treat has other unique names, such as the Dutch Puff, Bismarck, and Hootenanny. My husband grew up calling it a German pancake. The names are endless for this easy breakfast recipe!
Dutch Baby Ingredients
If you'd like to make the Dutch Baby Pancake, you'll need:
all-purpose flour
eggs
milk
cinnamon
vanilla
sugar
salt
unsalted butter
Butter – You can use salted or unsalted butter. If you use salted, omit the salt in the recipe. You'll need to cut the unsalted butter into chunks before you use it.
Toppings – You're also going to need ingredients to use as toppings for the Dutch Baby, such as powdered sugar, maple syrup, sliced strawberries, or other tasty toppings.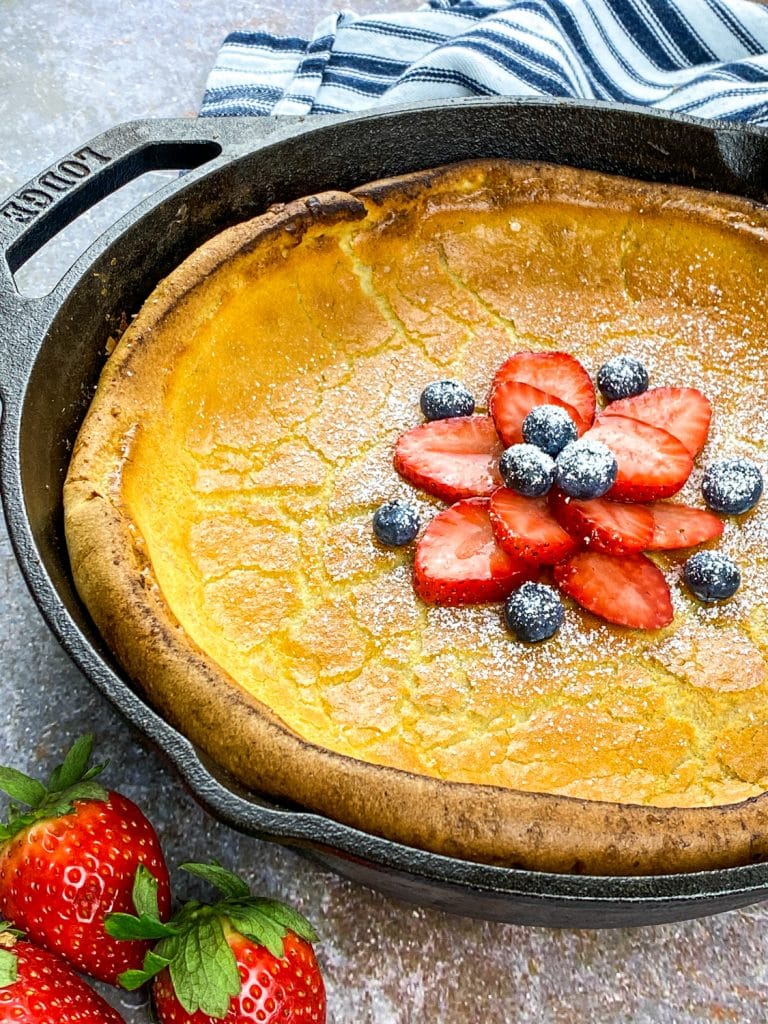 How to Make a Dutch Baby
1. Set your oven to 425 degrees and place your first top oven rack in the center.
2. Add your flour, eggs, cinnamon, sugar, vanilla, and milk into a bowl and mix these ingredients together for a minute.
3. Pour the ingredients into your blender and then blend for about a minute until the mixture is clump-free and completely smooth.
4. Add butter to the skillet, greasing every inch of it before putting it in the oven.
5. Take it back out of the oven, swirl the butter around, and then pour your batter into the skillet.
6. Place the skillet back in the oven and cook for roughly 20 minutes.
7. Turn the oven off, let the skillet sit for five minutes, and then remove it.
8. Let it cool down for a few minutes before you slice into it and serve it with your favorite toppings.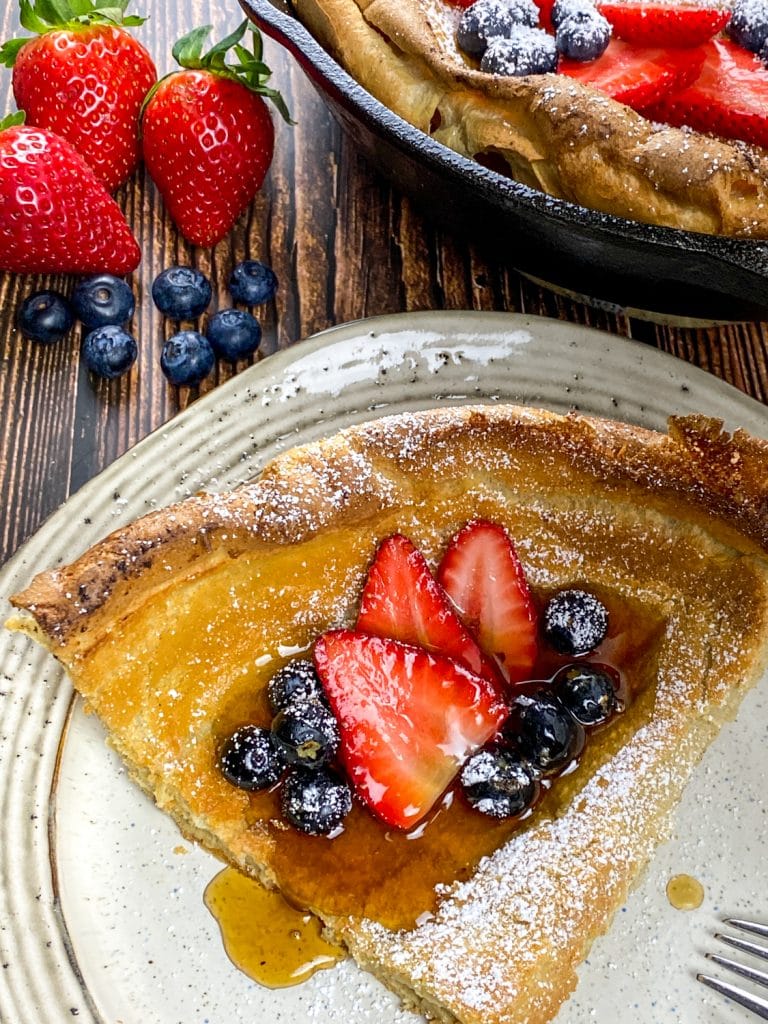 What type of skillet do I need?
You're going to need a well-seasoned cast-iron skillet to prepare the Dutch Baby Pancake. Having the right skillet is a must for making sure this recipe comes out correctly. A 10 or 12 inch skillet work best for this recipe.
What toppings can I add?
Add any toppings that you like to eat on these pancakes. Some people use powdered sugar, some like it with maple syrup, and others choose to add different syrups to their Dutch Baby Pancake, such as chocolate, strawberry, or blueberry syrup. Blueberries, blackberries, raspberries, and strawberries also taste great on top. The topping choices are endless!
Coffees that pair well with your Dutch Baby
You can pair your Dutch Baby with any coffee that you prefer! Some of my favorite coffees to have with my Dutch baby are: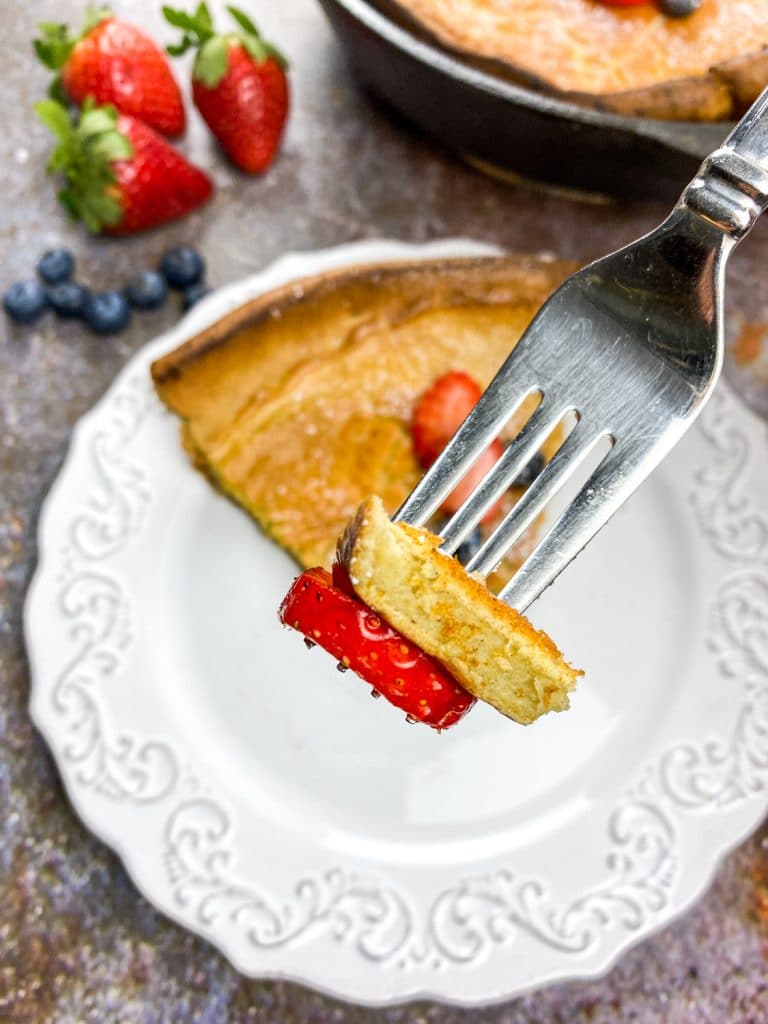 Want even more pancake recipes? Try my Instant Pot giant pancake or my fluffy pancake mix!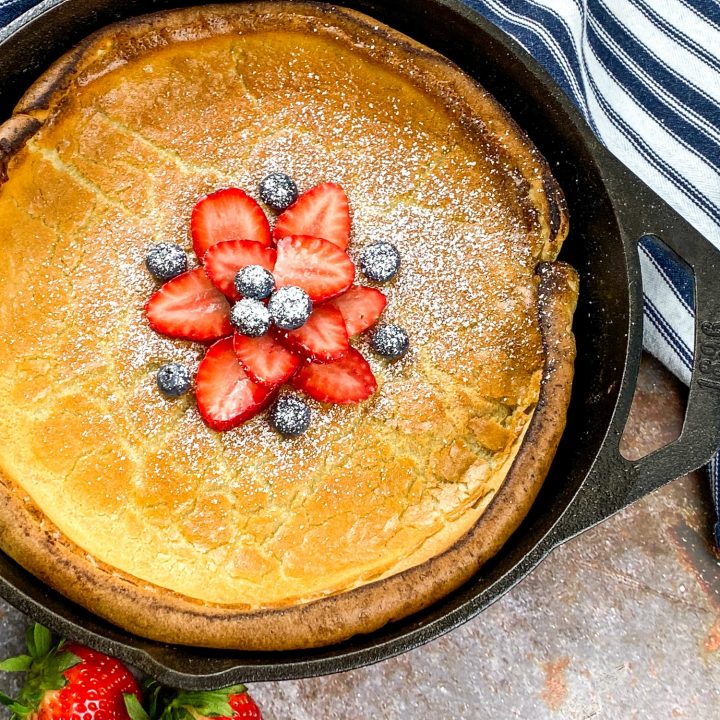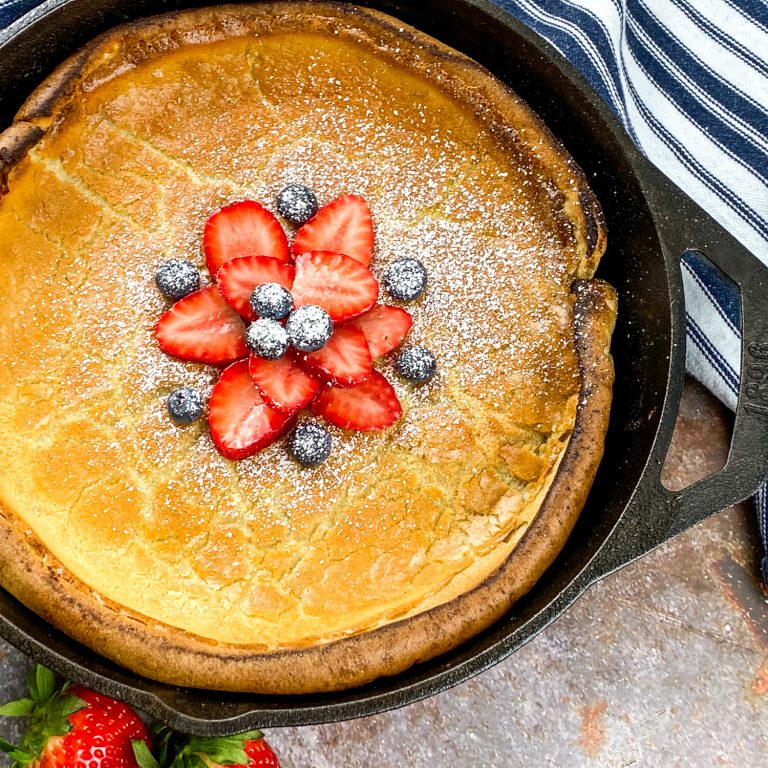 Dutch Baby Recipe
How to make a fluffy Dutch baby in a skillet.
Ingredients
½ c. all-purpose flour
3 large eggs, room temperature
½ c. whole milk, room temperature
½ t. ground cinnamon
½ T. vanilla
1 T. sugar
½ t. salt
3 T. unsalted butter, cut into chunks
Instructions
1. Place top oven rack just above the center position and pre-heat oven to 425°F.
2. Combine the flour, eggs, milk, cinnamon, vanilla, sugar, and salt in a medium bowl and stir until just combined. Pour the batter into a blender and blend until aerated and no clumps remain, approximately 1 minute.
3. Use the butter to thoroughly grease the exposed surface of the skillet, as shown, and then place in the hot oven just until melted. Remove from oven and carefully swirl to ensure the butter is evenly distributed across the bottom of the skillet.
4. Pour the blended batter into the center of the hot skillet and place in the hot oven. Cook until the edges are puffed up and golden brown, approximately 20 minutes. Turn off oven and allow the skillet to remain in the oven for 5 additional minutes.
5. Remove from oven and cool for a couple of minutes before slicing. Serve immediately topped with fresh fruit, powdered sugar, and/or maple syrup, if desired. Enjoy!
Nutrition Information:
Yield:

4
Serving Size:

1
Amount Per Serving:
Calories:

223
Total Fat:

13g
Saturated Fat:

7g
Trans Fat:

0g
Unsaturated Fat:

5g
Cholesterol:

165mg
Sodium:

359mg
Carbohydrates:

17g
Fiber:

1g
Sugar:

5g
Protein:

7g
Other Breakfast Recipes to Try