Get ready to fall in love with the flavor of this simple side dish. These Italian Roasted Potatoes literally go perfect with everything and are so simple to make. This side dish just might become the star of the show!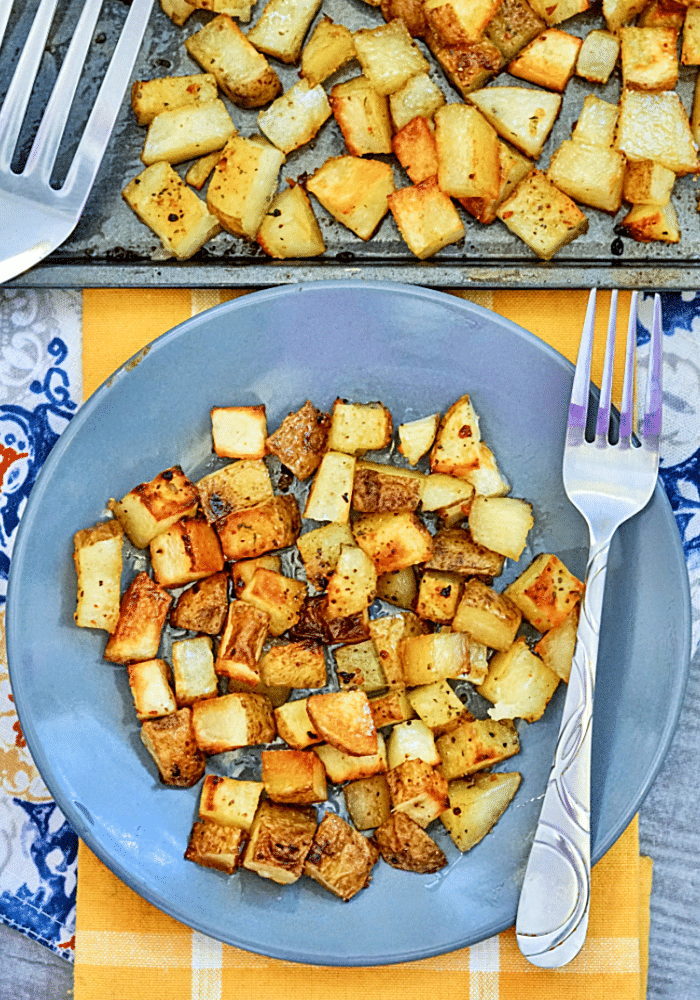 There's no denying the taste of oven roasted potatoes. The taste and texture are such a great compliment to a wide variety of meat dishes or casseroles. We love to make these easy roasted potatoes for a big family meal or just as a fun side dish to snack on throughout the week.
The best part about making potatoes is that they are really great warmed up and eaten as leftovers, too. Making a big batch of these roasted potatoes is a great idea to meal prep for the week ahead.
What are Italian oven roasted potatoes?
This dish is literally so simple. You only need three ingredients to make roasted potatoes and you'll be chowing down in no time at all. The Italian flavoring gives them such a great taste and allows you to savor every single bite.
Depending on how you roast them, you might even get them to have a little bit of caramelized flavor and taste as well.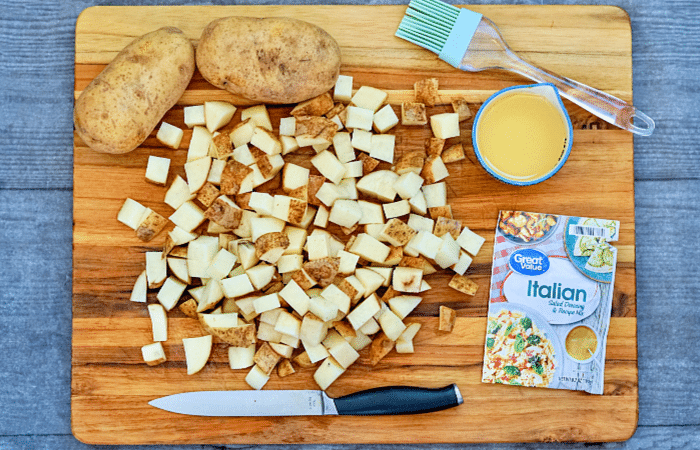 Oven Roasted Potato Ingredients
Like I mentioned earlier, this easy roasted potato recipe is literally just three simple ingredients:
Potatoes
Italian Dressing Seasoning
Olive Oil
Potatoes – You can use a variety of types of potatoes for this recipe. Some people like red potatoes while others like white. And if you happen to have your very own garden, you can use those as well. Just make certain to wash them really well so that you're getting off all the dirt and the grime.
Italian Dressing Seasoning– You can use homemade Italian seasoning or a packet like I did. Either work and provide this side dish with a great flavor.
You can also switch the seasoning to something else. Ranch potatoes using a ranch seasoning packet instead would be a great option!
Olive Oil – While this recipe does call for olive oil, you can use any type of oil that you have in your house. Coconut oil is also a fun choice because it adds such a sweet flavor. Just know that it will change the taste a bit on this recipe since it's a sweeter oil than olive oil.
How to make Italian potatoes
Step 1: Start by preheating your oven to 400 degrees.
Step 2: While the oven is warming up, take and slice up the potatoes and place them on a sheet pan or baking pan.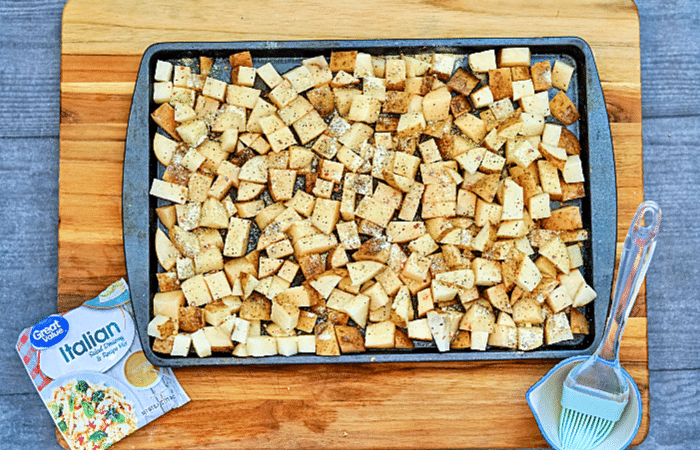 Step 3: Drizzle and coat the potatoes with olive oil and then sprinkle on the Italian dressing seasoning. Mix to coat the potatoes.
Step 4: Once they're coated, put them in the oven and bake them for 40-45 minutes.
Step 5: After the potatoes are done, remove from oven, serve, and enjoy!
Main Dishes to Try
Since this recipe makes for an awesome side dish, try some of these great main dishes right along with it. Here are some simple main dish recipes that would go perfectly with these oven roasted potatoes:
How to store leftovers
Storing leftovers of these oven roasted potatoes is quite simple. Make certain that they've cooled down all the way and add them to. a storage container with a lid. Then, place them in the fridge until you're ready to heat them up and enjoy them again.
That's literally it. When you're ready to reheat them you can use your microwave to warm them up or put them back into the oven on a very low heat for a short amount of time as well.
Can I freeze oven roasted potatoes?
Yes! You can! Follow the recipe below and allow the potatoes to cool completely. Keep the potatoes on the cookie sheet and flash freeze them in the freezer. Once hard, transfer the potatoes to a ziplock baggy. Remove all the air and place back in the freezer.
To heat up – allow to thaw in the fridge and warm up in a hot skillet with butter.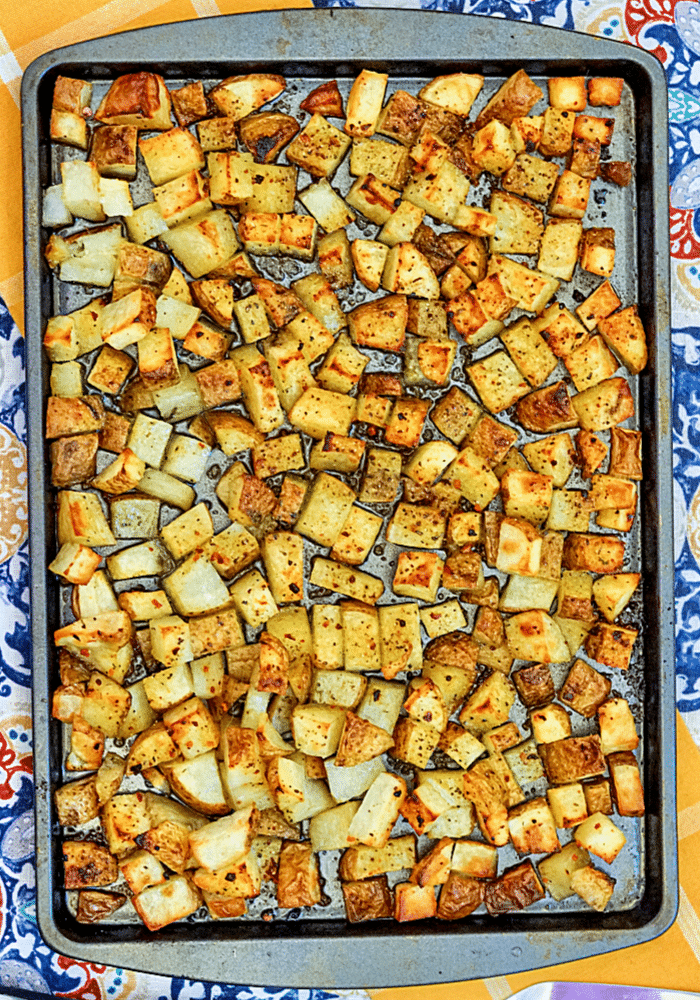 Other Potato Recipes:
Looking for other delicious potato recipes to try? I suggest: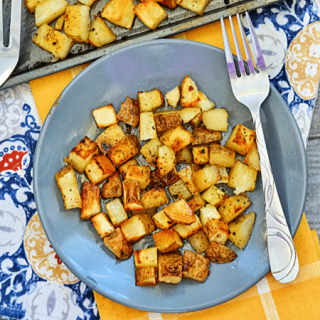 Italian roasted potatoes
A delicious side dish that comes together quick.
Ingredients
5 large potatoes, washed
.7oz Italian Dressing Season Packet
1/4 Cup Olive Oil
Instructions
Pre-heat oven time 400 degrees.
Dice the potatoes into cubes & place them on a sheet pan.
Coat with olive oil and sprinkle with Italian dressing seasoning.
Toss to combine.
Bake for 40-44 minutes.
Serve & enjoy!
Nutrition Information:
Yield:

8
Serving Size:

1
Amount Per Serving:
Calories:

239
Total Fat:

8g
Saturated Fat:

1g
Trans Fat:

0g
Unsaturated Fat:

6g
Cholesterol:

0mg
Sodium:

43mg
Carbohydrates:

40g
Fiber:

4g
Sugar:

2g
Protein:

5g