In search of a hearty soup full of flavor? This easy crock pot version is just what you are looking for!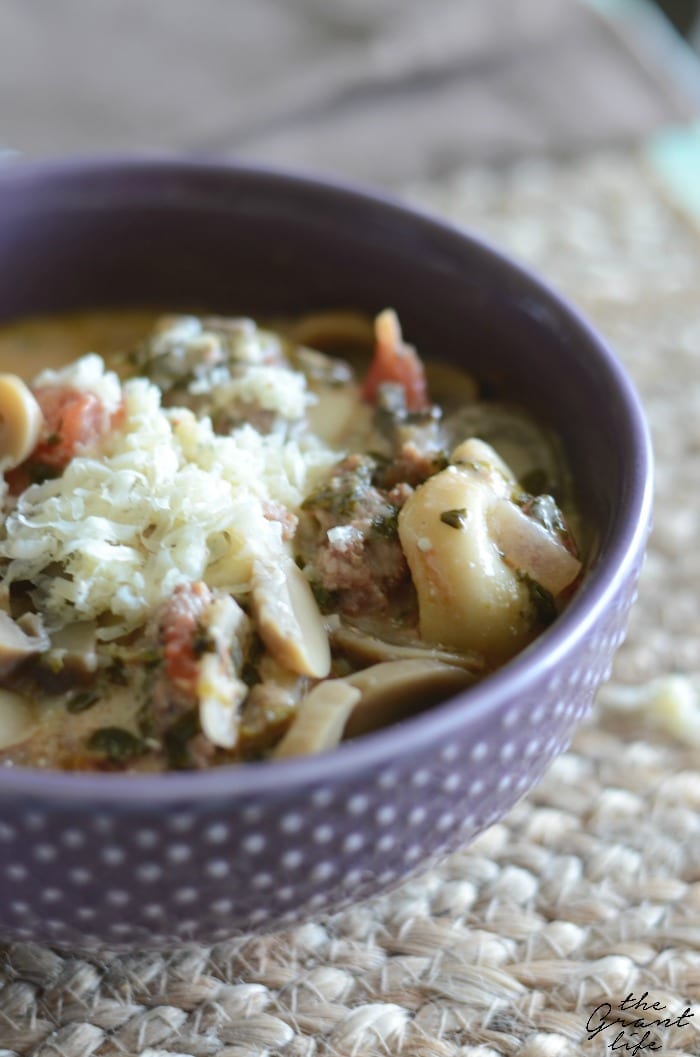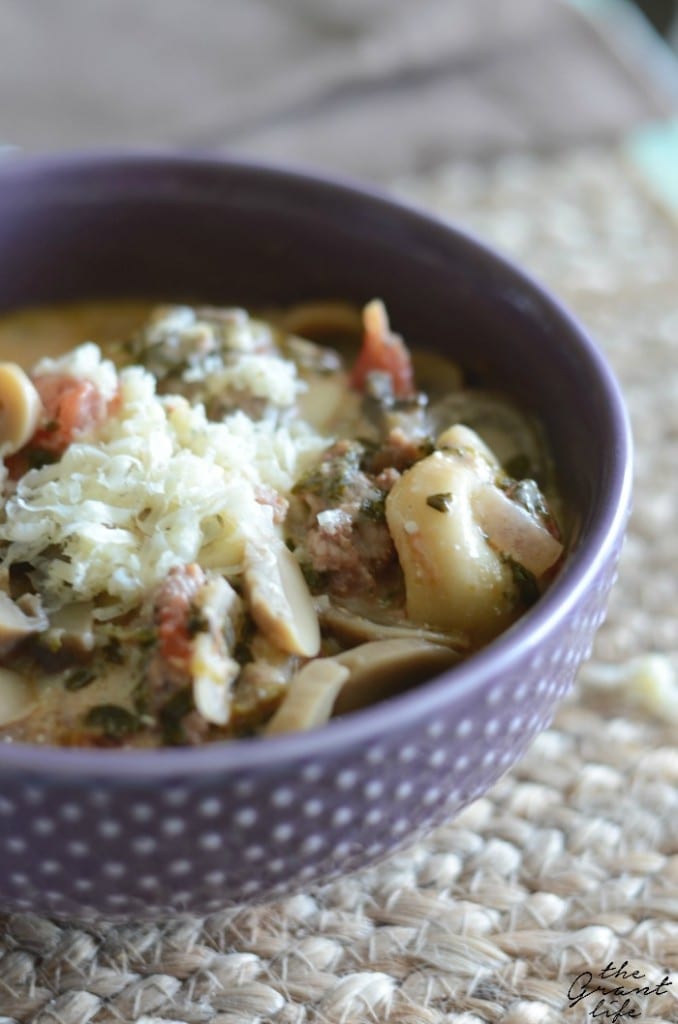 Last week I took the kids to see Hotel Transylvania 2 at the big theater. It was our second time going to the movies together. Their first movie was Inside Out a few months ago. Which probably helped inspire their Halloween costumer choices this year. Both times the kids were great. Which shocked the heck out of me! They can barely sit still for a 30 minute Wild Kratz episode at home so I just assumed they would be like chickens at the movies. Ya know, pecking at the popcorn and making all kinds of weird noises while flailing around.
Yea I thought that's how they would behave.
The first time we bought a large popcorn and I let everyone pick out their own candy. HUGE mistake. We spent more on the popcorn, drink and 3 candies then the tickets. Not.even.kidding. And then the candy is like micro mini sized bags so it was gone before the previews had even ended. No one was happy about that. Thank goodness the popcorn was big enough to get us through the movie.
The second time around we had a snack before the movie and bypassed the snack bar all together. Momma isn't made of snack bar money kids. Sorry.
But they didn't seem to mind because they were so into the movie. They both sat in their own chairs and were quiet the whole time. WHO ARE THESE KIDS?! Was what I kept thinking the whole time. We may go to another movie soon as a reward for good behavior at school or just because momma needs a break from all the bickering. Either one is a valid reason.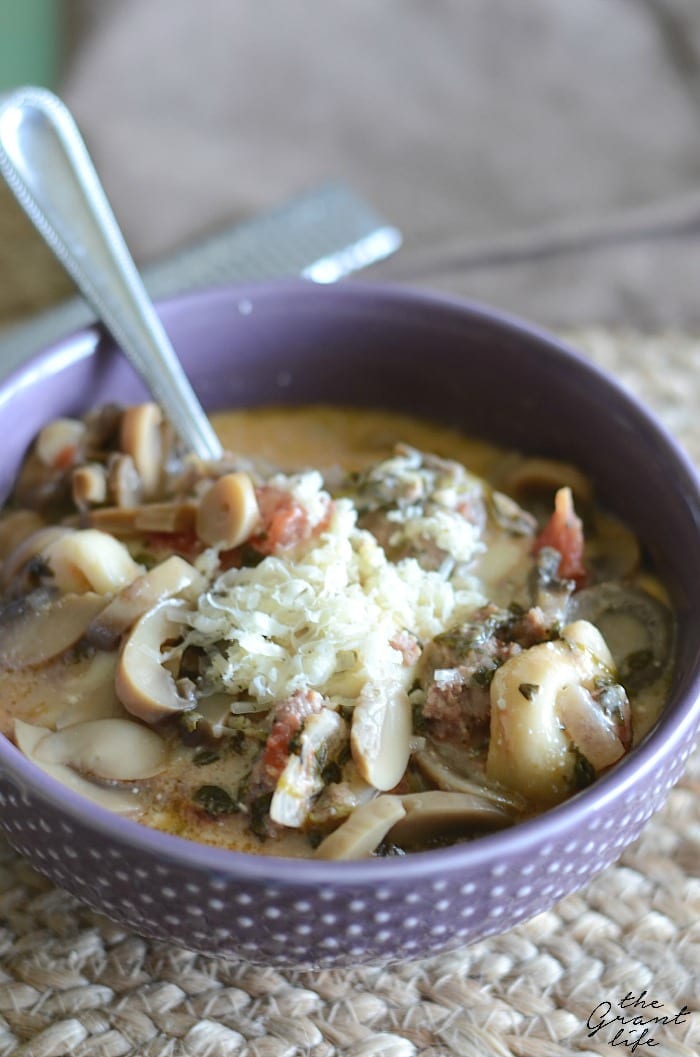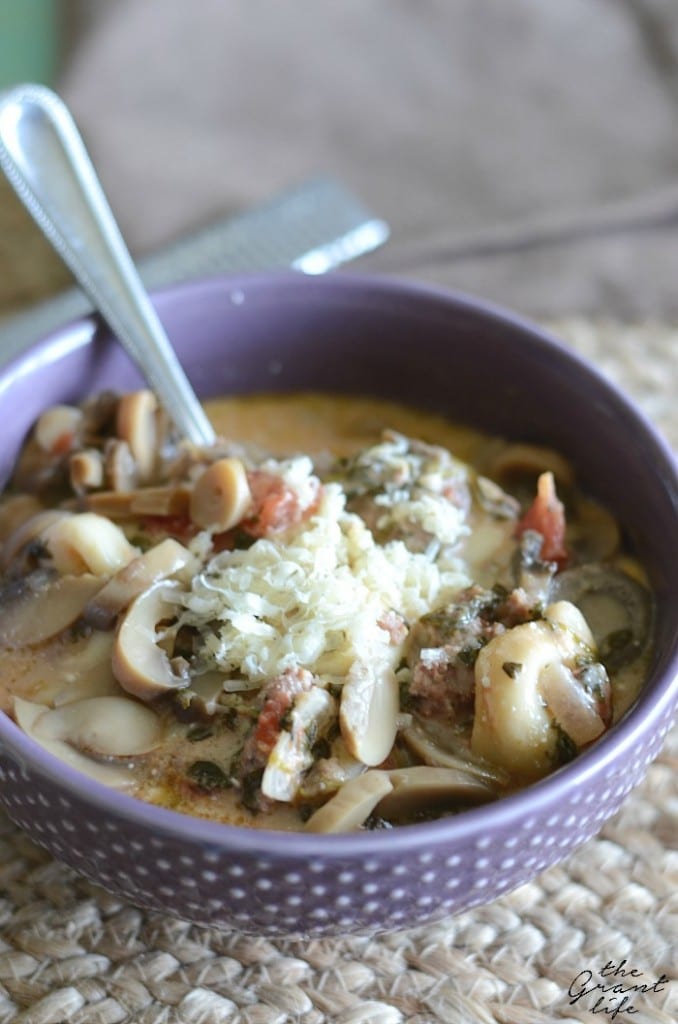 I bring up our movie trips because I am helping promote the new Bradley Cooper movie Burnt featuring Castello cheese! I haven't seen its about a man (Cooper) who loses his restaurant and is on a mission to reclaim it. It features Sienna Miller and some pretty delicious looking dishes! My foodie heart is bursting with joy. And cheese! I used the Castello Harveti in my recipe and yall. Buy this cheese! First enter the Burnt + Castello sweepstakes then go buy the cheese. Please.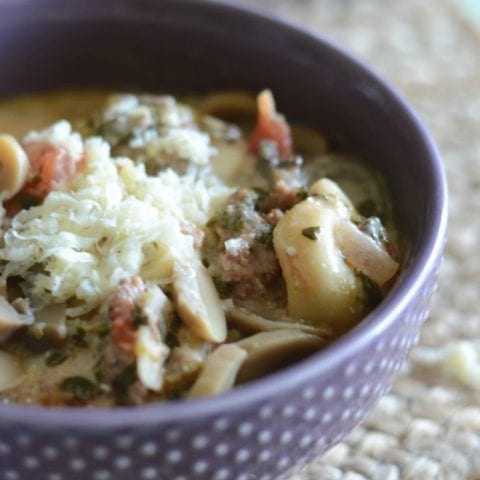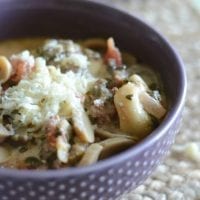 Spinach and mushroom tortellini soup
Ingredients
1 large onion, diced
4-5 cloves of garlic, minced
1 tablespoon of butter
1 package of breakfast sausage
3 cups of chicken broth
2 cans of diced tomatoes
1 brick of cream cheese, softened
16 ounces of frozen tortellini
1 small package of frozen spinach
1 can of mushrooms
2 tablespoons of cheese, for topping
salt and pepper to taste
Instructions
In a skillet saute the onion and garlic in the butter until soft and fragrant.
Add the breakfast sausage through so no pink remains.
Toss the onion, garlic and sausage mix into your crock pot.
Add the chicken broth and diced tomatoes. Cook on high for 1 hour before adding the cream cheese. Stir the cream cheese until mixed in and most of the lumps are gone.
Add in the spinach, mushroom and tortellini to the crock pot.
Cook on high for another 30 minutes - or until the tortellini is heated all the way through.
Pour into a soup bowl and top with cheese.
Enjoy!
Notes
The longer you allow the soup to set the creamier it will become.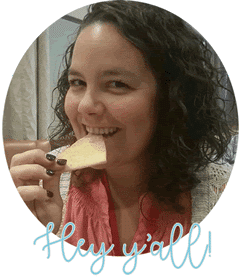 Hey y'all!I'm Kelley. I'm a recipe making, picture taking, coffee drinking momma to 3 crazy kiddos. Join me as I share our family favorite dinners and my copycat coffee drinks too!