Quick honey roasted carrots is the perfect side dish for so many easy dinner recipes. These roasted carrots require little prep and come out of the oven full of honey and rosemary flavor. Get ready to have your whole house smell amazing when you make these quick honey roasted carrots.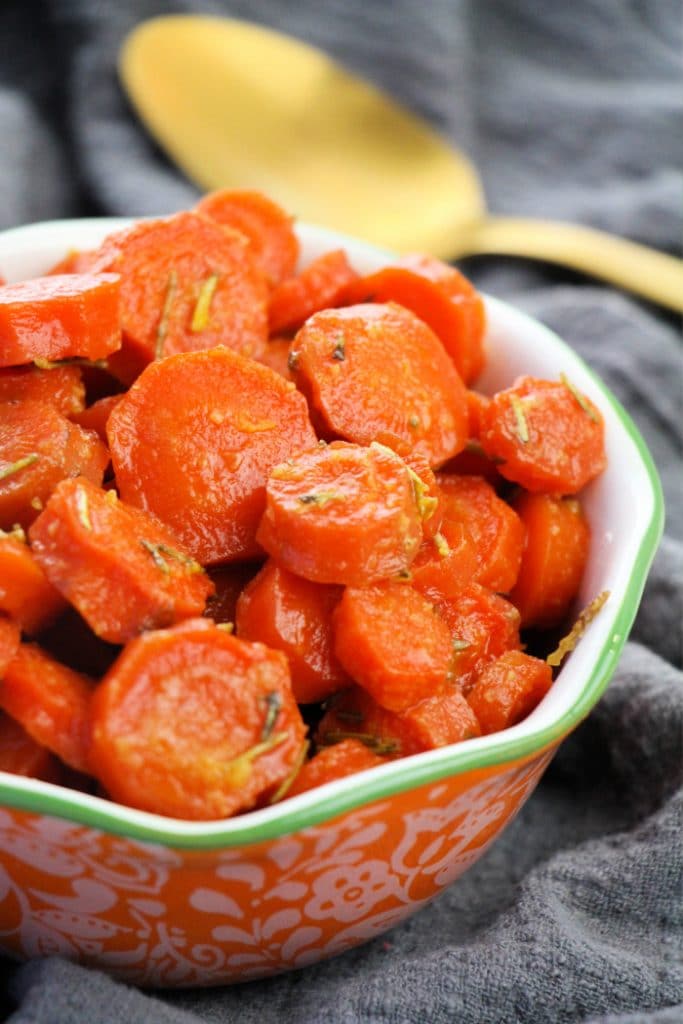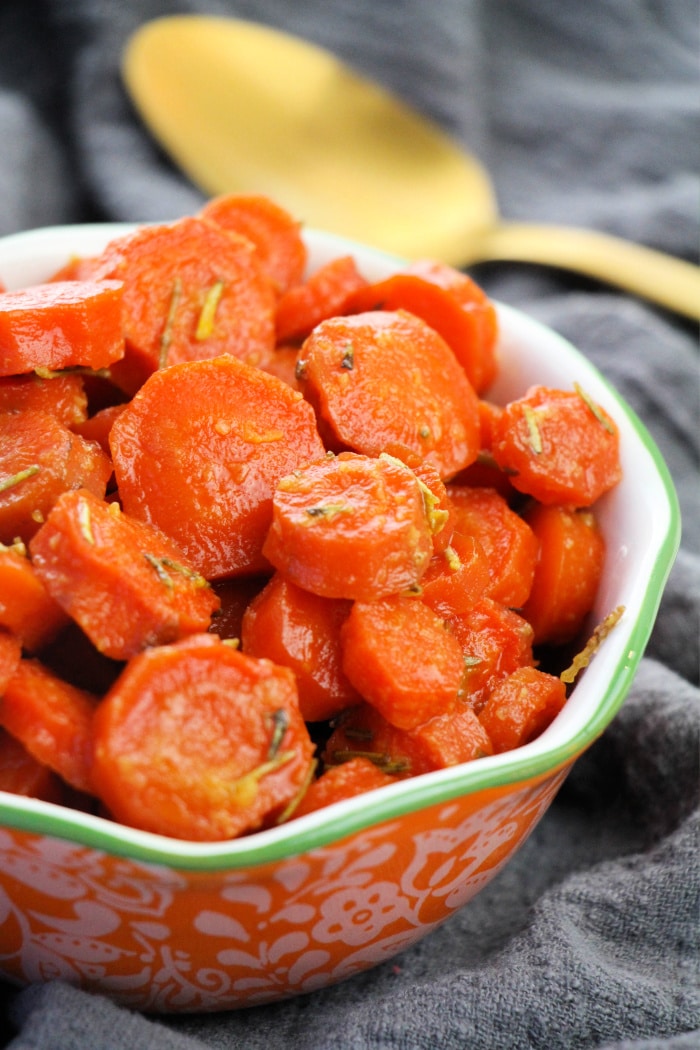 Are you looking for a way to get more veggies on the table in a way that the kids are actually going to enjoy? These easy Honey Roasted Carrots need to be on your weeknight dinner radar. Not only are they ready in a matter of moments but they also taste perfectly sweet, too. One bite of these carrots and you just might turn your kids into veggie fans after all!
If you're at your wit's end of trying to think of creative ways to cook up carrots, I think you'll find your solution here. This is one recipe that gives a great balance of sweetness and taste and literally goes well with almost any type of main entree that you want to pair it up with.
I'm a firm believer that kids can be fans of veggies…You just have to find a recipe that shows them how good they really are. And these oven-roasted carrots just might be the recipe that you've been looking for.
What are honey roasted carrots?
They're really just like they sound. Simple fresh carrots, combined with honey and a few other ingredients and baked right in the oven. This roasted carrots recipe takes literally no time at all and are perfect for even a busy weeknight meal.
Honey Roasted Carrots Ingredients
With only five ingredients needed, this simple carrot recipe couldn't be any more awesome! I love knowing that I already have everything on hand when it's time to start prepping this dish.
Carrots
Honey
Rosemary
Butter
Salt
Carrots – The type of carrot that you use really doesn't matter. You can use baby carrots, long carrots, carrots from your garden, or a fun combination of purple and white carrots from the store. They all work just fine!
Honey – This is where the sweetness comes from. And once you roast them in the oven, they're going to get a little bit sweeter too.
Rosemary – I love how the addition of the rosemary just gives it a subtle other flavor. Fresh rosemary is best but you can use dried as well.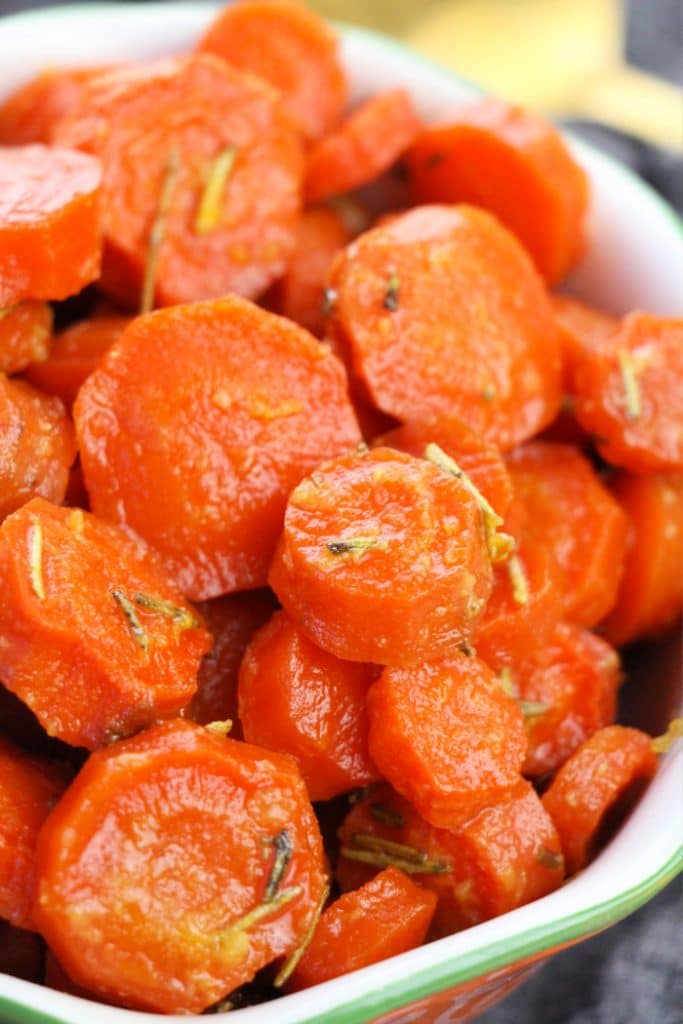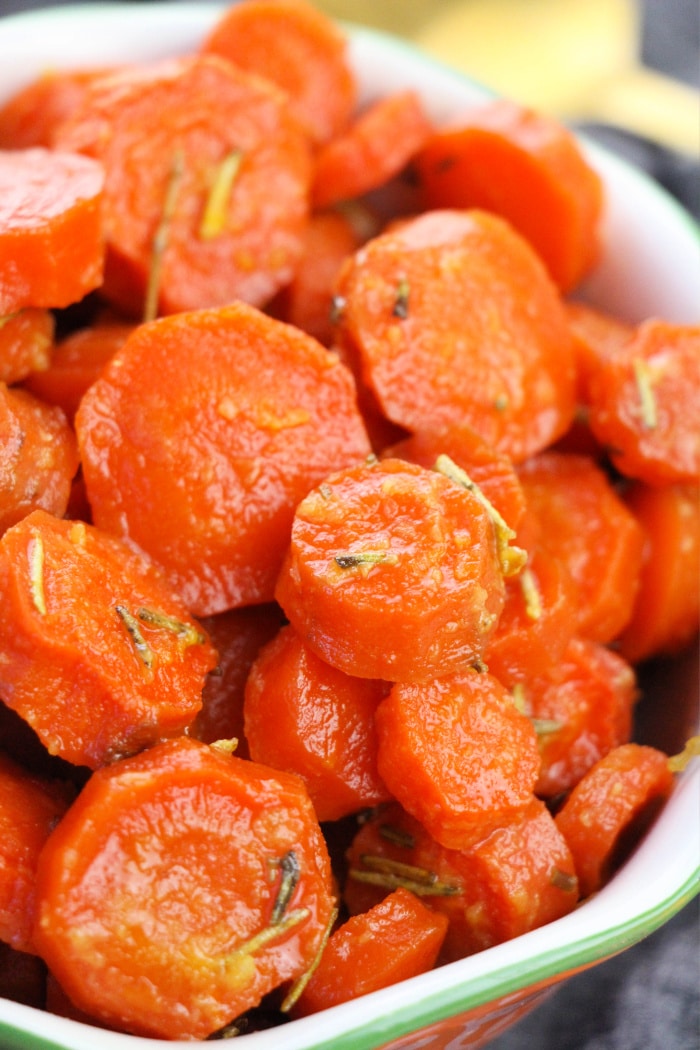 How to make Quick Honey Roasted Carrots
Start by preheating your oven to 450 degrees. Once that is preheating, you'll want to chop up your carrots and place them on your roasting pan or baking dish.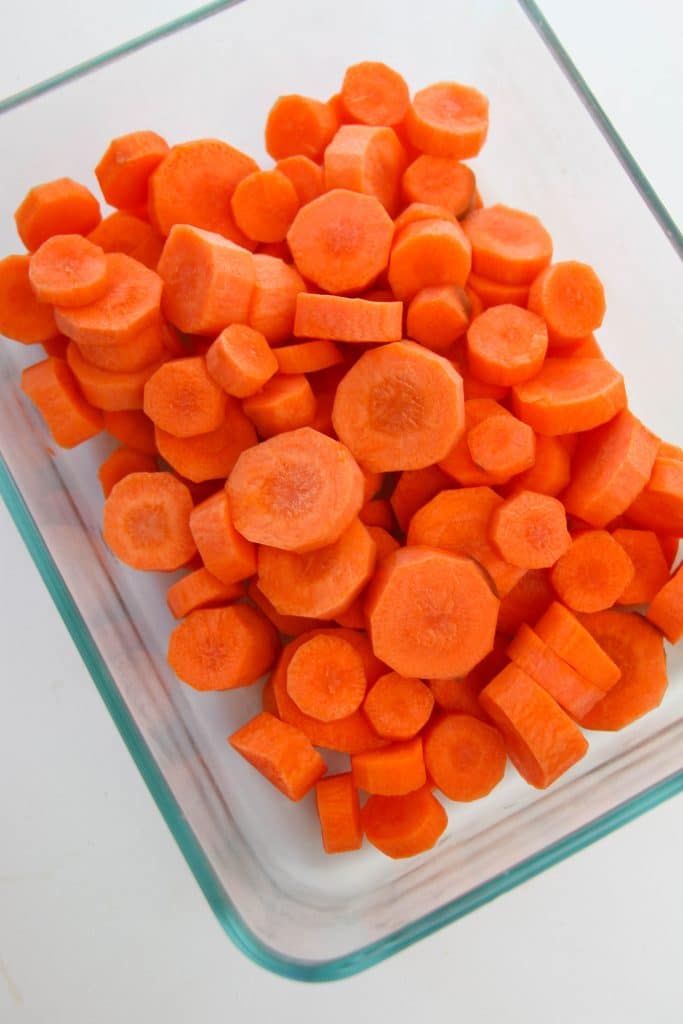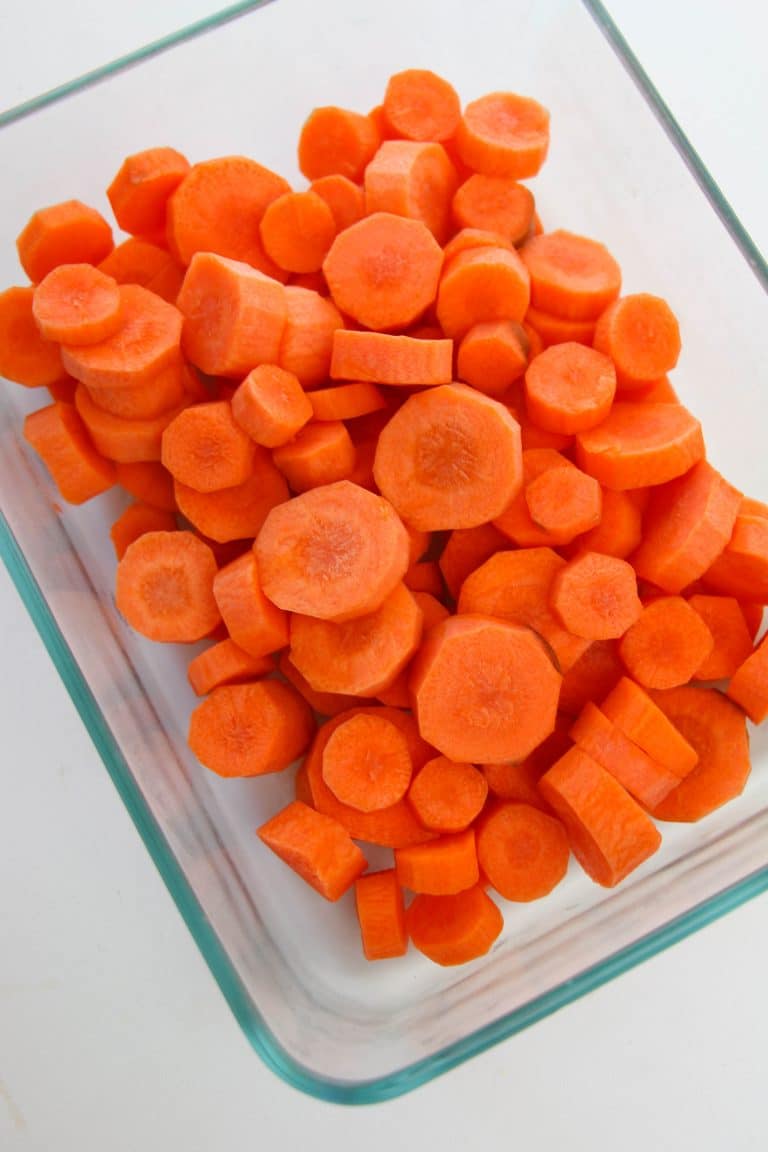 Grab the honey and drizzle it over the top of the carrots until they're covered.
Once that is done, sprinkle on the rosemary over the top.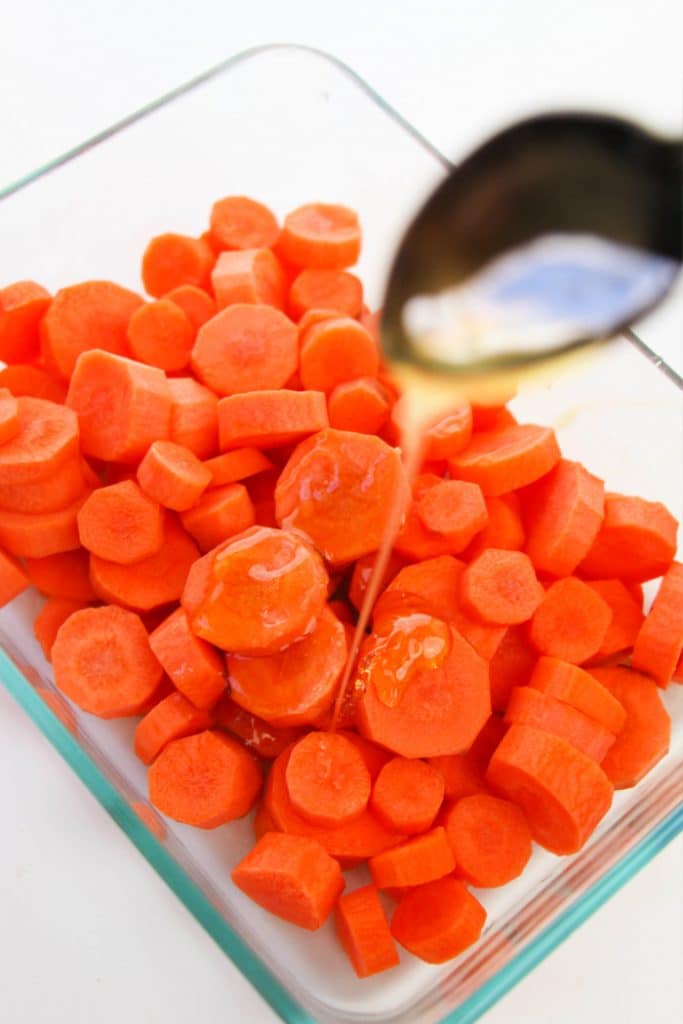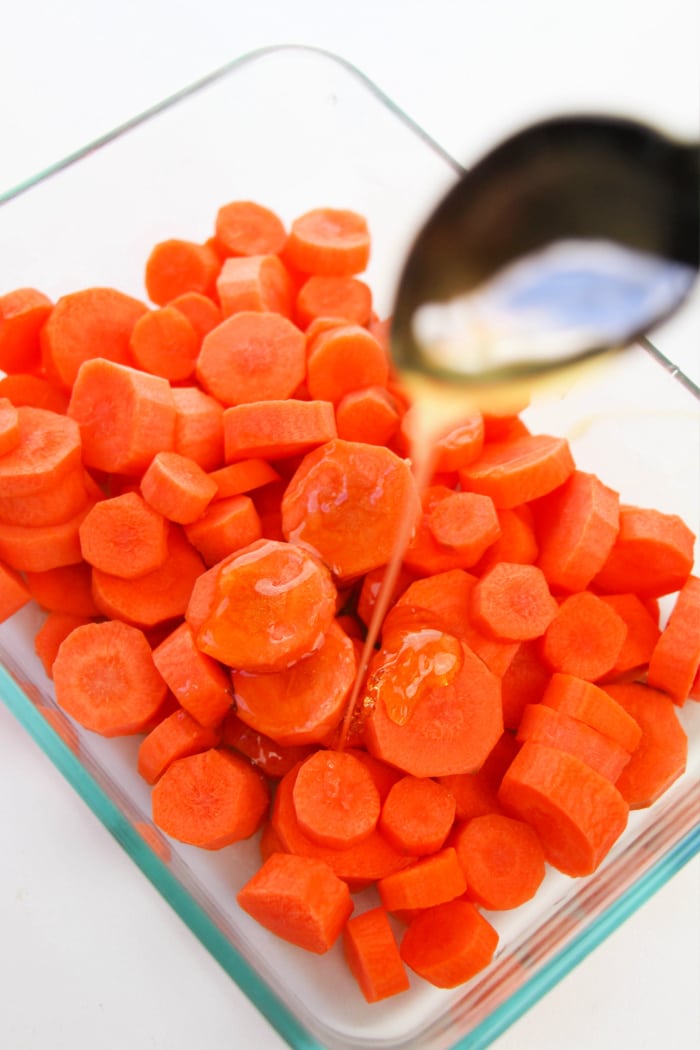 Melt your butter and then drizzle it over the top of the cut-up carrots.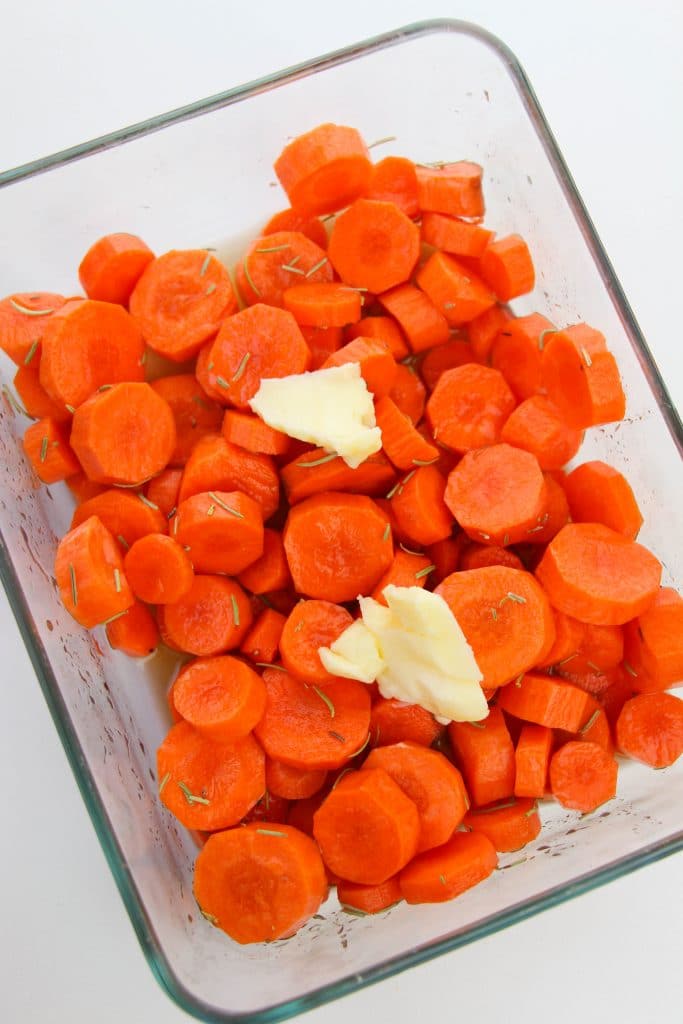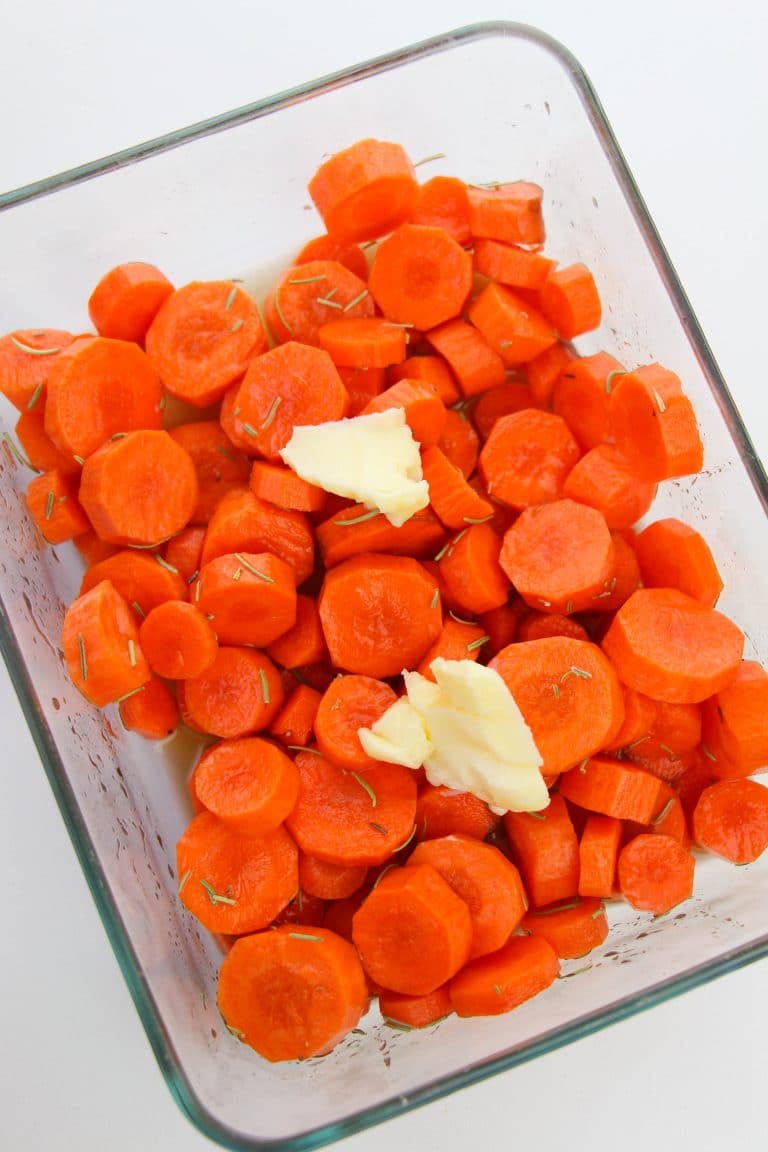 Put into the oven and bake for about 25-35 minutes or until you reach the doneness that you want your carrots to have.
Season with salt lightly before serving.
Main dish ideas
Since this recipe is a great side dish, it only makes sense to find some great main dishes to pair it with!
You can also use BBQ sauce on any chicken recipe, pork recipe, or a side dish dipping recipe for vegetables, too.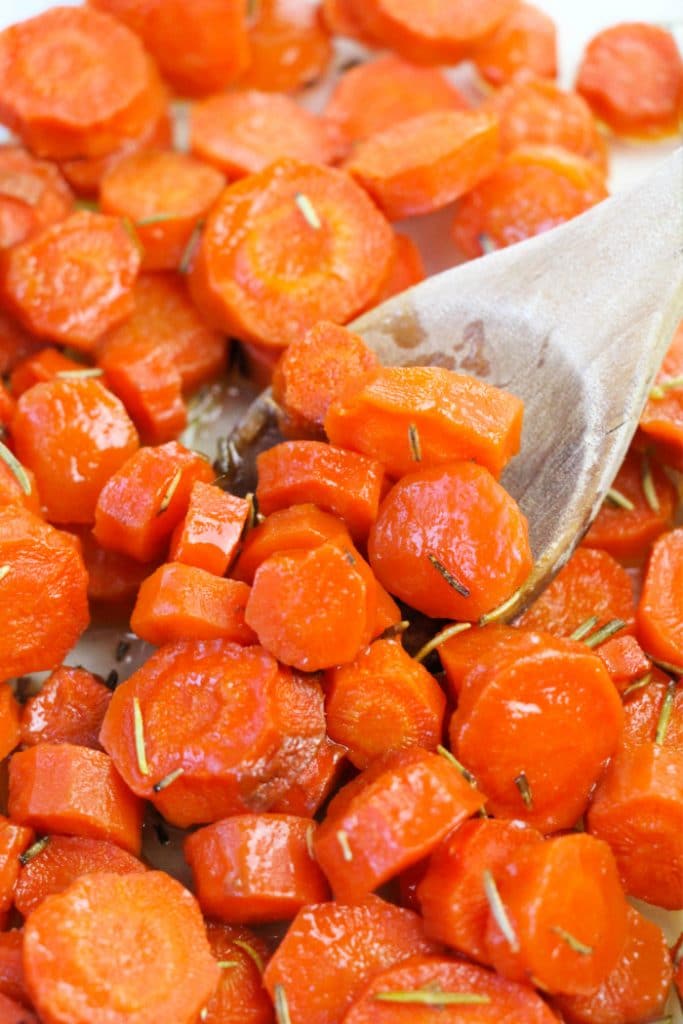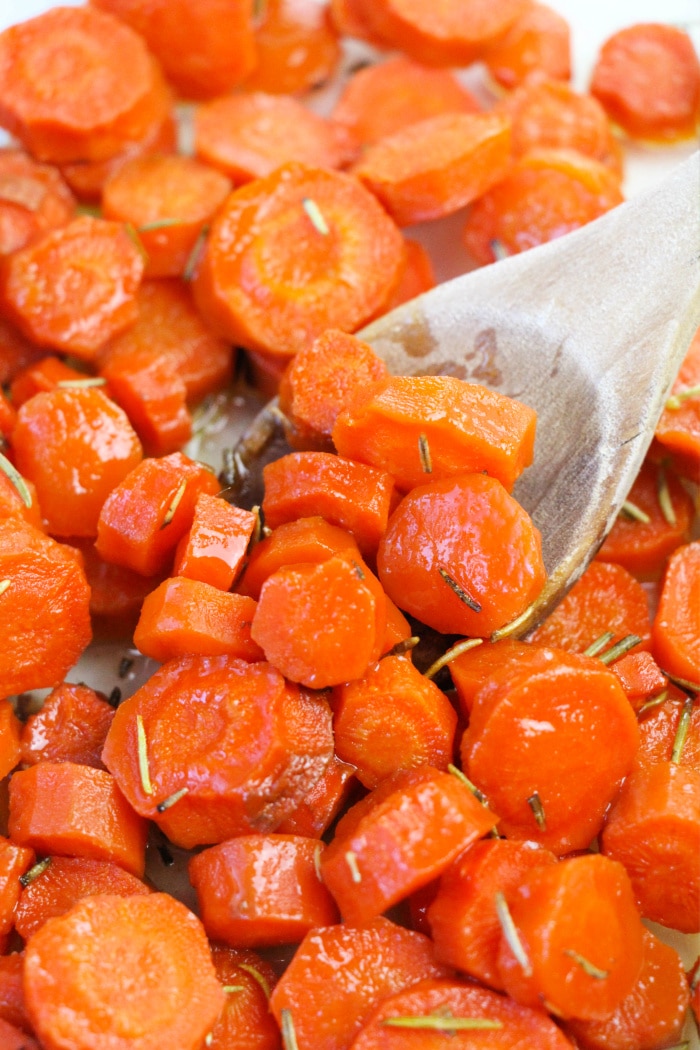 How to store leftovers
The easiest way to store these roasted carrots is to just put them in a container with a lid and place them in the fridge. Then, when you're ready to have them for leftovers, you can just reheat and enjoy.
I like to use the microwave for a quick reheat but if you place them in your oven on low heat, you can easily reheat them that way as well. (or you can totally eat them cold because they're delicious that way, too!)
Can you freeze Honey Roasted Carrots?
For sure! Just make certain that you have a freezer-safe bag to store them in and then put them in the freezer for later. When it's time to unthaw, move them to the fridge and let them thaw out. You can then reheat them in the oven at a low temperature or pop them in the microwave, too.
You might need to add on more honey and rosemary at this point, just in case putting them in the freezer altered the sweet taste a little bit. You'll know more by taking a little taste when they're done unthawing.
Other Side dishes to try: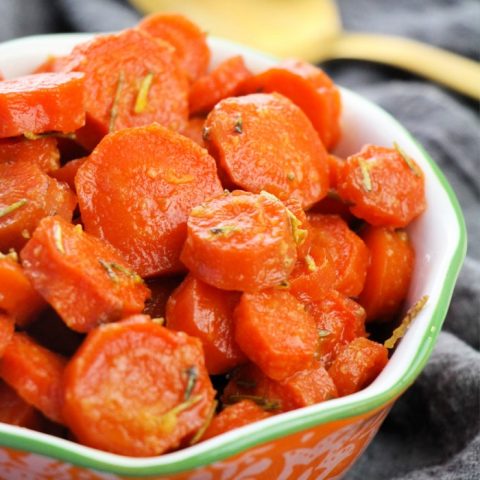 Honey roasted carrots
How to make quick honey roasted carrots for dinner.
Ingredients
3 cups carrots
1/3 cup honey
1 Tablespoon rosemary
1-2 Tablespoons butter
Salt, to taste (optional)
Instructions
Preheat oven to 350ºF

Place chopped carrots in roasting pan.
Drizzle the carrots with honey and toss to coat.
Sprinkle on the rosemary, stir to distribute evenly.
Add the butter over top of the carrots.
Bake for 25-35 minutes, until desired level of roasting is achieved.
Season to taste with salt before serving.
Nutrition Information:
Yield:

6
Serving Size:

1
Amount Per Serving:
Calories:

120
Total Fat:

4g
Saturated Fat:

2g
Trans Fat:

0g
Unsaturated Fat:

1g
Cholesterol:

10mg
Sodium:

174mg
Carbohydrates:

22g
Fiber:

3g
Sugar:

18g
Protein:

1g
Be sure to PIN THIS recipe to save it for later!