Tired of basic pasta? This creamy tomato and spinach version will help!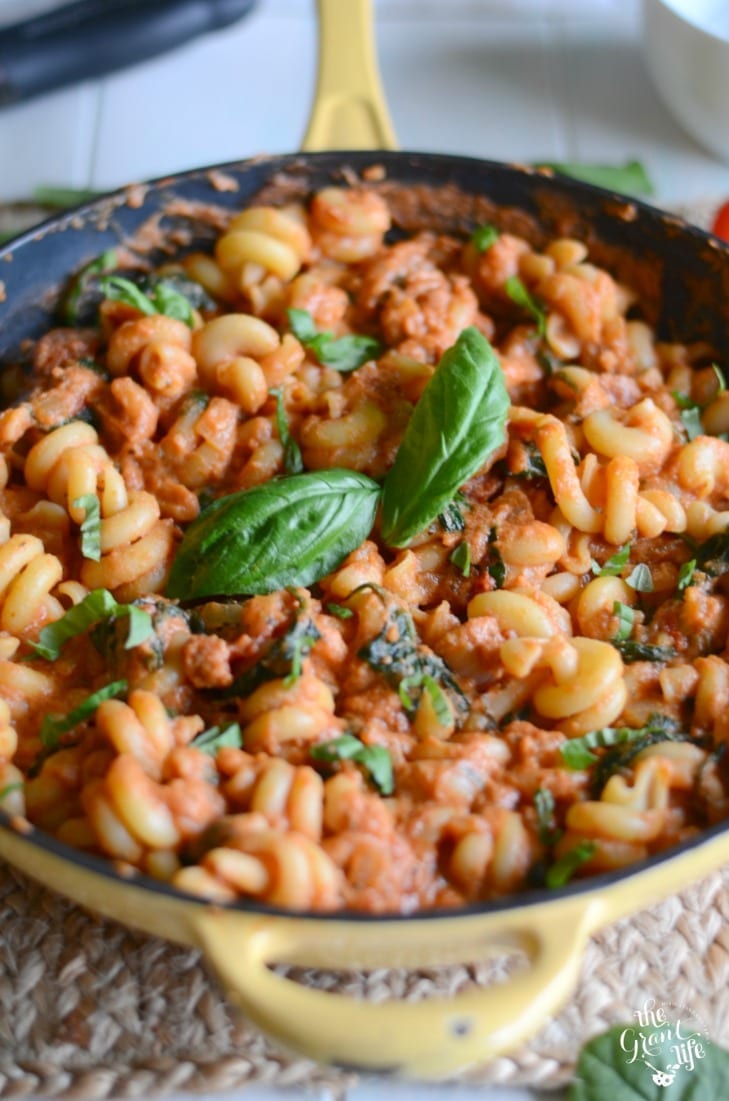 Hey yall! Quick question – what do you do for dinner when you are pressed for time? Even though I work from home there are still days that I just can't figure out what to make. I'll look in my fridge a million times and think "I wish dinner would appear.. right HERE." But it doesn't and the search continues.
Anyone else have that dilemma?
Now with being pregnant, having a love/hate relationship with some foods AND being beyond tired, it has only gotten worse. I feel like every night is a rush to get dinner on the table.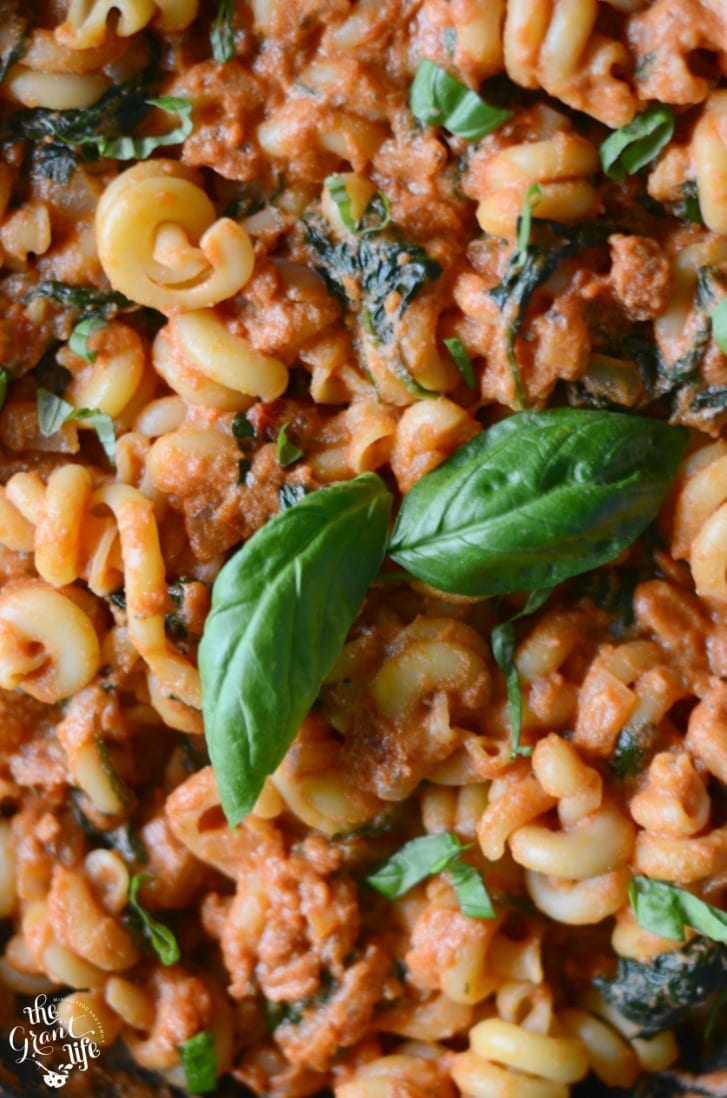 That's pretty much why I have been sharing a bunch of pasta recipes lately. (See taco pasta salad, one pan broccoli Alfredo pasta, French onion dip pasta for a few recent examples.) Pasta is my go to "need to get dinner on the table ASAP" meal. I can whip up a whole meal (sometimes in one pan!) in under 30 minutes. Yesss! Mama needs more of that in her life.
On top of that – I'm a total pasta-a-holic. I love getting the super fun shaped pastas that you don't see everyday. I used a trottole shaped pasta for this recipe that I found at Target!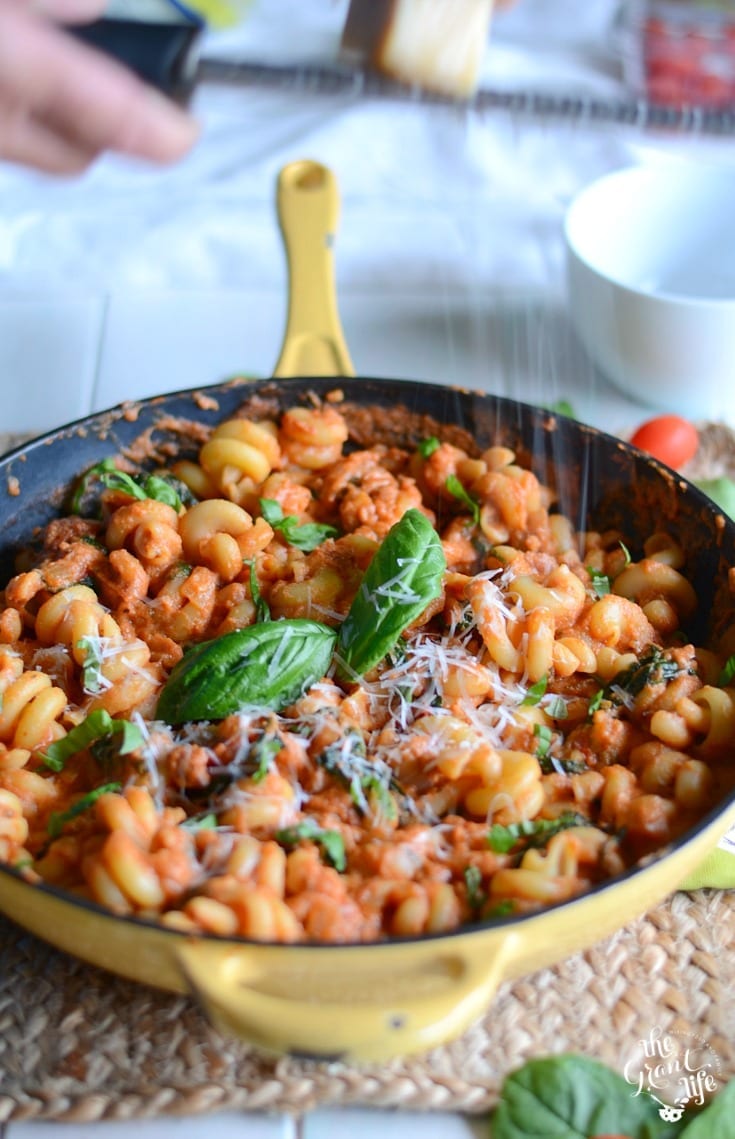 One onion, a tub of ricotta and a bag of spinach later and I was ready to whip up this creamy pasta at home. (I bought a few other things but they weren't necessities for the recipe. Because side note, who can leave Target without more then they expected to buy?! NO ONE. That's who.)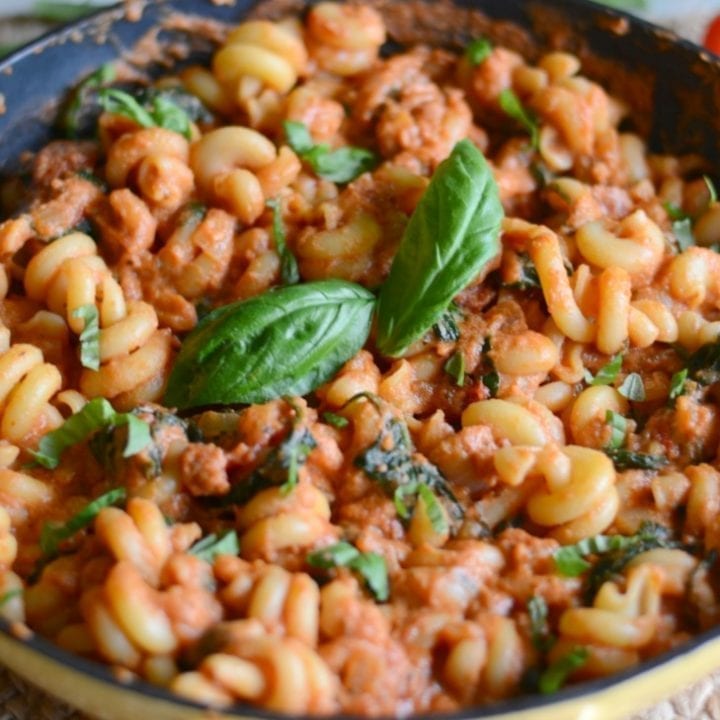 Creamy tomato and spinach pasta
Ingredients
2 tablespoons butter
1 large onion, diced
2 cloves of garlic, minced
2 cups of fresh spinach, rinsed and dried
1 can of tomato sauce
1 cup ricotta cheese
1/2 cup Parmesan cheese, shredded
16 oz of pasta of choice
fresh basil for topping
Instructions
In a skillet, heat the butter and add the onion and garlic. Saute for 5 minutes or until the onion is translucent and the garlic very fragrant.
In a separate pot, bring 4 quarts of water to boil. Add the pasta and cook for 12-15 minutes or until the pasta is al dente. Drain and set aside.
Add in the spinach to the skillet with the onion and garlic and cook until just wilted down.
Pour in the can of pasta sauce and allow to simmer. Add in the ricotta, whisk to combine and bring back to a soft simmer.
Remove from heat, add the shredded Parmesan and stir. Pour the sauce over the pasta and combine. Top with fresh basil, additional Parmesan and enjoy!
Like this recipe? Be sure to check out:
Like it? PIN IT!