Add a sweet kick to your breakfast routine with this chai latte oatmeal made with almond milk, oats, tea and a special blend of spices.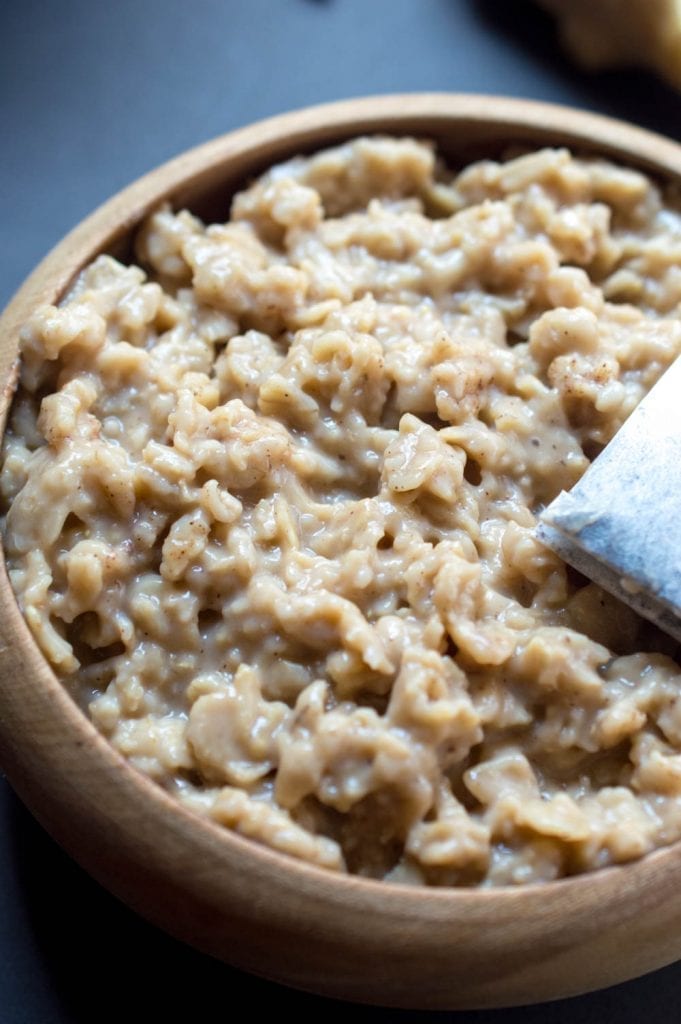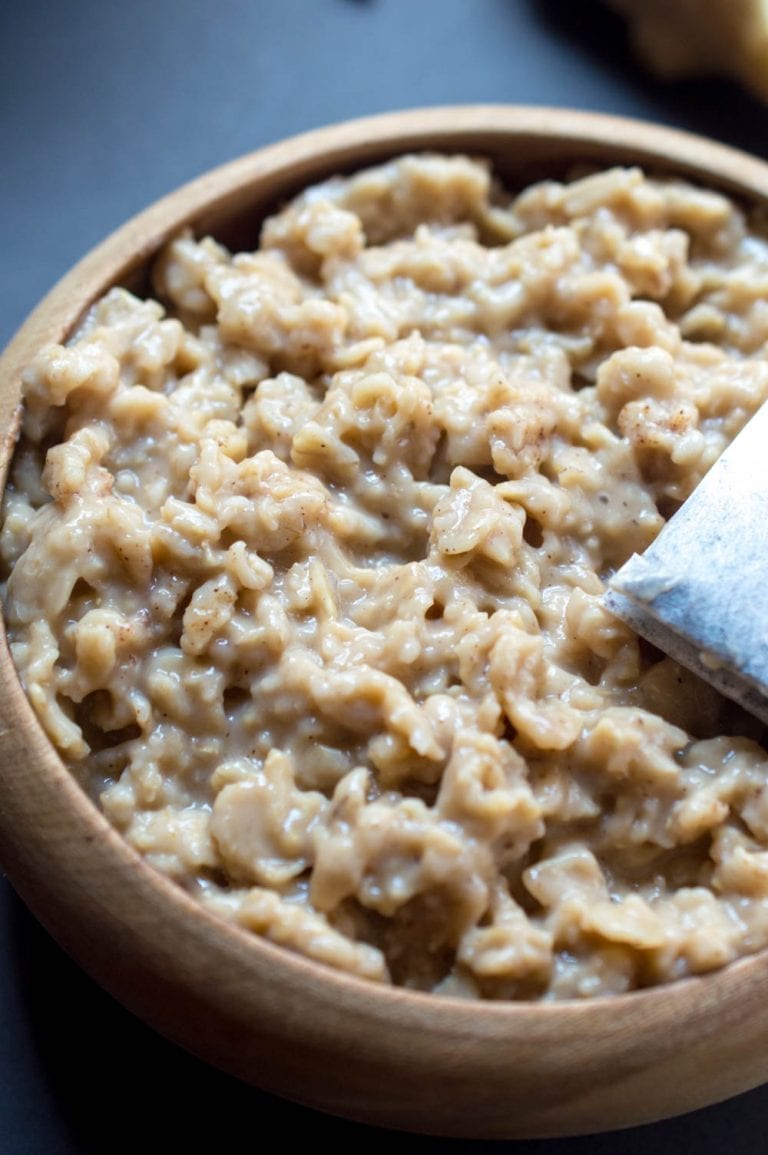 For most of the country, cooler weather is starting to set in. Here in Texas, it's still hot! It's hard to think about pumpkin everything while the thermometer is hitting close to triple digits. Whether you're in a warm climate pretending it's fall or live in an area where it actually is fall, this chai latte oatmeal recipe is the perfect way to start a fall or winter day.
Chai Latte Oatmeal Recipe
This oatmeal calls for an amazing combination of spices. You most likely already have nutmeg, cinnamon, and ginger peppercorns on hand. But you will also need cardamom pods. Cardamom is an amazing spice and it really makes the chai flavor of this oatmeal. Buy enough cardamom pods to make a batch of Chai Spice Mix, too.
Start by prepping the spices. First, crack the peppercorns a bit in a mortar and pestle. If you don't have a mortar and pestle, just use a bowl with the back of a spoon. Add the cardamom pods to the bowl and crack them as well. Dump the cracked peppercorns and cardamom in to the center of a coffee filter. Add the nutmeg, cinnamon and ginger.
If you use the homemade chai spice mix then all you have to do is add it to the coffee filter. I love having chai mix on hand for homemade iced chai lattes, apple chai lattes and now this chai latte oatmeal!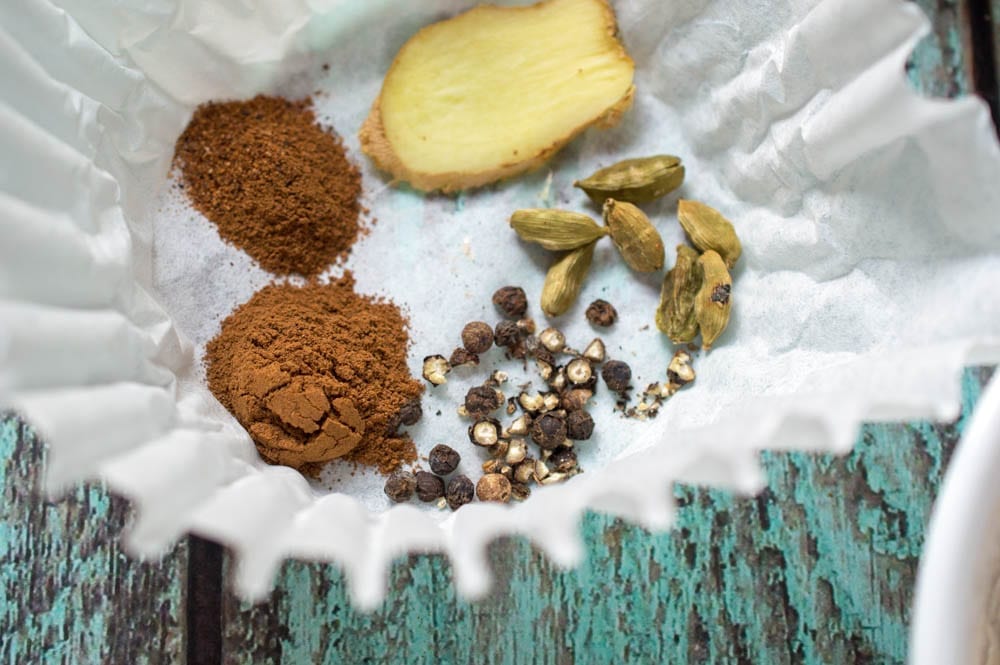 How to add your chai spices
Draw the sides of the coffee filter up to create a pouch. Tie with a string to seal the spices inside. You can make this little spice packet at night and set is aside for the morning when you make the oatmeal. Or make several spice packets and keep in an air tight container so they are ready to go whenever you need them.
You can also use a cotton spice bag or a tea infuser for your spices. I like using the tea infuser for my oatmeal but when I make drinks I like to use the cotton spice bag. Weird, I know!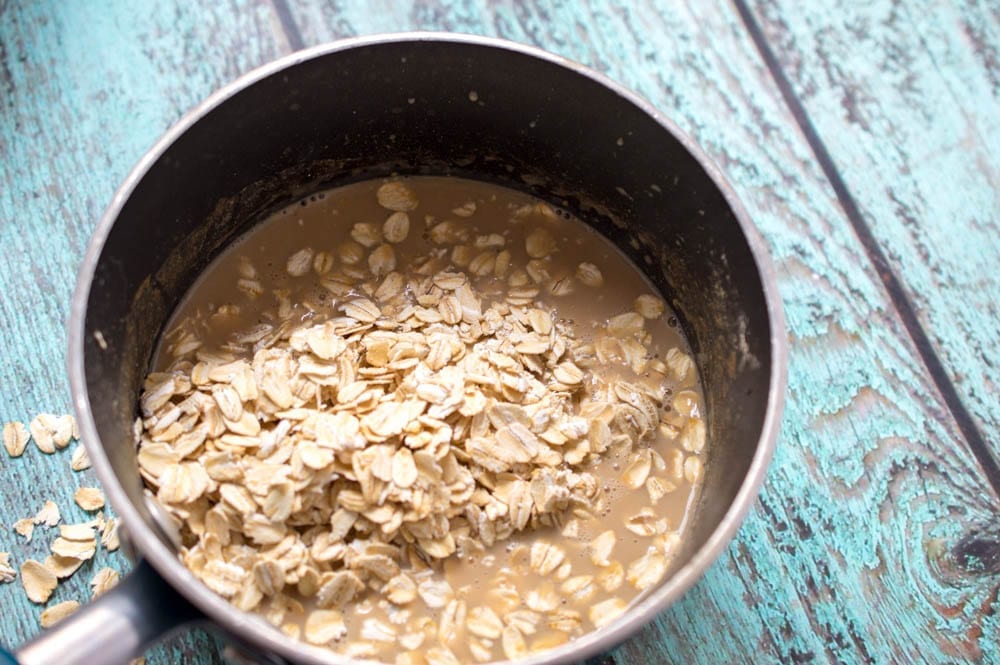 Next, put the almond milk (or your choice of milk) and water in a medium pot. Add the tea bags and spice packets to the milk and water. Turn the stove on low and steep the tea and spices for 8-10 minutes. Then remove the tea bags and coffee filter packet and discard them. Don't try to reuse the spices. They won't be as strong or have much flavor left.
Like I mentioned before, if you make a batch of the chai spice mix you can make all kinds of chai tea latte recipes. I enjoy making chai from scratch but having the the mix on hand saves so much time!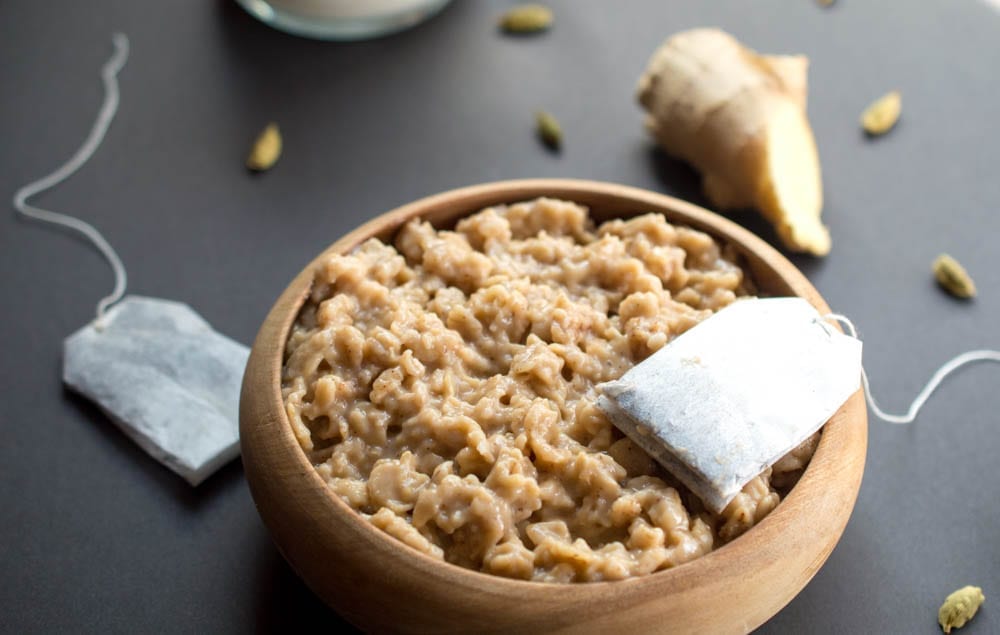 Making your chai latte oatmeal
Once the tea and spices have been removed, add the oats to the pot, Stir to combine and turn the heat up a little bit to low-medium. Cook the oats for 5 minutes, stirring frequently. If the oatmeal begins to boil, turn the heat down. You don't want it to come to a boil but stay just simmering.
After 5 minutes, the oatmeal should be cooked. If not, continue to cook and stir until it is cooked through. Add in your sweetener of choice. I love honey in my oatmeal so that is what I use and recommend. Removed from the heat and serve. You can add a splash of almond milk on top of the oatmeal just prior to serving, it you like.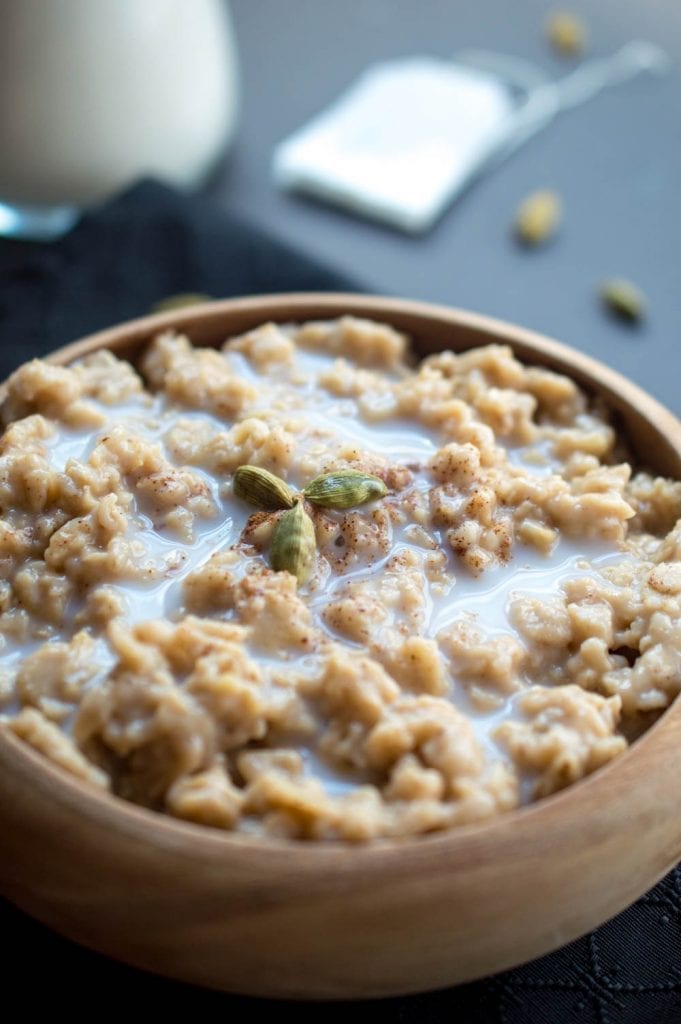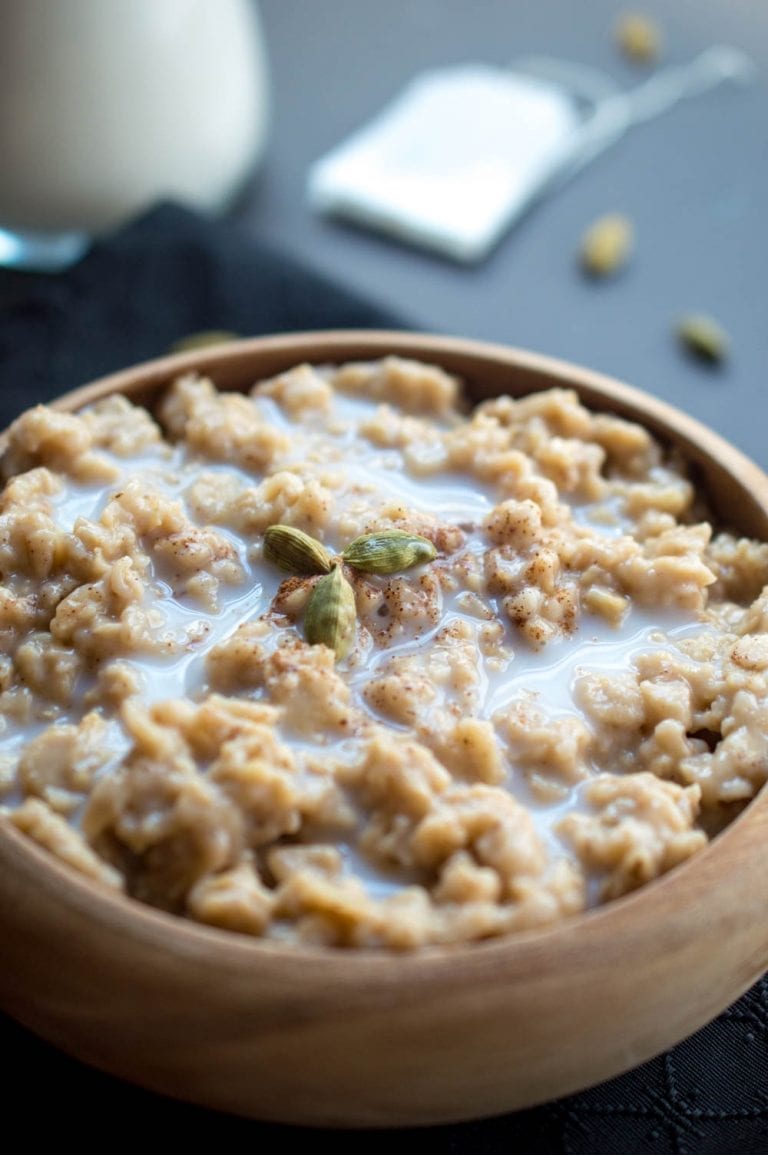 I love oatmeal in the morning, it's a good filling breakfast and gets me ready for the day. When I am in a hurry I use my chai spice mix to speed up the process. Feel free to do it either way. I also wanted to say that this recipe is gluten free depending on the brand of oats you use. Some oats are processed on shared equipment as wheat so make sure the kind you use is not. Otherwise, oats are naturally gluten free.
Products I would recommend for this recipe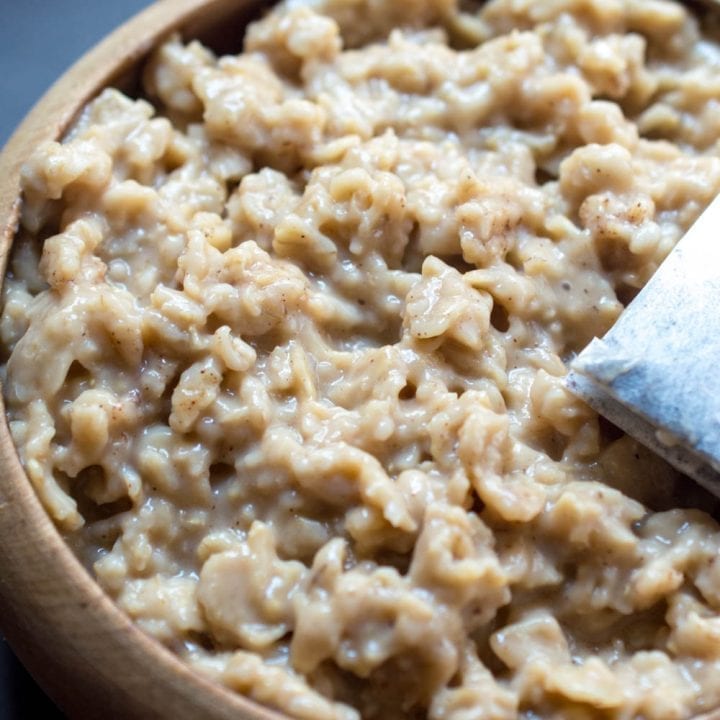 Chai Latte Oatmeal Recipe
Ingredients
½ cup rolled oats
½ cup almond milk (or milk of choice)
¼ cup water
2 tea bags
Coffee filter and string
¼ tsp nutmeg
½ tsp cinnamon
1 piece of ginger
7 cardamom pods
¼ tsp black peppercorns
2-3 tablespoons of honey (or sweetener of choice)
Instructions
Crack the peppercorns a bit in a mortar and pestle (or a bowl with the back of a spoon).
Do the same with the cardamom.
Add the peppercorns and cardamom to a coffee filter with the nutmeg, cinnamon and ginger.
Tie with string.
In a medium pot, add almond milk, water, tea bags and coffee filter with spices.
Steep over low heat for 8-10 minutes.
Remove the tea bags and coffee filter packet. Discard.
Add oats and turn heat up to low-medium.
Cook for 5 minutes, stirring frequently. Lower the heat if it starts to boil.
Remove from heat, add in honey and stir to combine.
Enjoy!
Optional: top with a splash of almond milk.
Notes
If you want to use homemade chai spice mix - omit steps 1-3 and add the mix to your bag.
Nutrition Information:
Amount Per Serving:
Calories:

559
Cholesterol:

0mg
Sodium:

22mg
Carbohydrates:

69g
Fiber:

6.9g
Sugar:

38.9g
Protein:

8.3g