I should have mentioned earlier that the strawberry cake bars came with an amazing ice cream recipe. [Because what's cake without ice cream, right?] I was lucky to find dried apricots on sale by the pound and bought up a ton. I made apricot sweet rolls and this apricot and cream ice cream. It's like peaches and cream but well, with apricots. Its super easy to make and full of apricot-y goodness.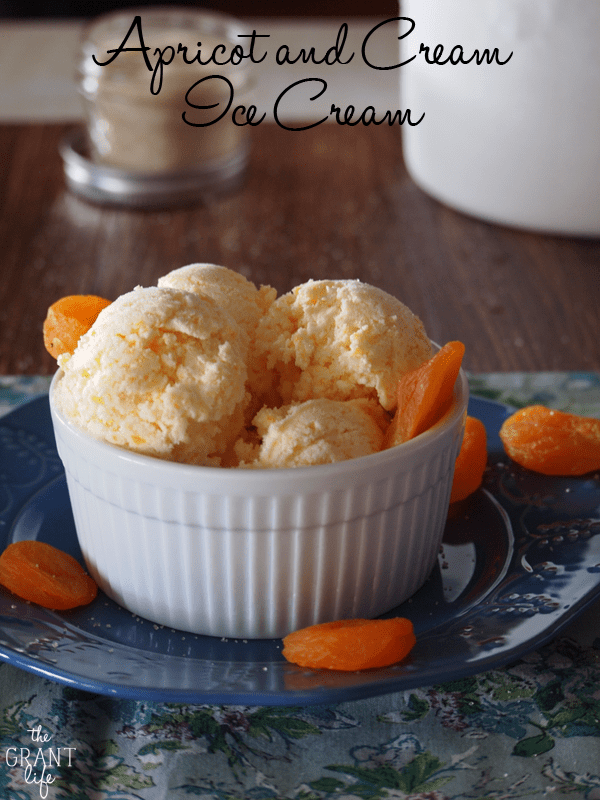 We are big apricot fans in the Grant house. I say "we" but I didn't realize that Ryon liked them so much until this past week. I bought a few pounds of them from the grocery store when they were on sale and was excited to eat them all. [Well, not all of them, but mostly, yea ok.. all of them.] I put them in a container on the counter in the kitchen for safe keeping/easy snacking.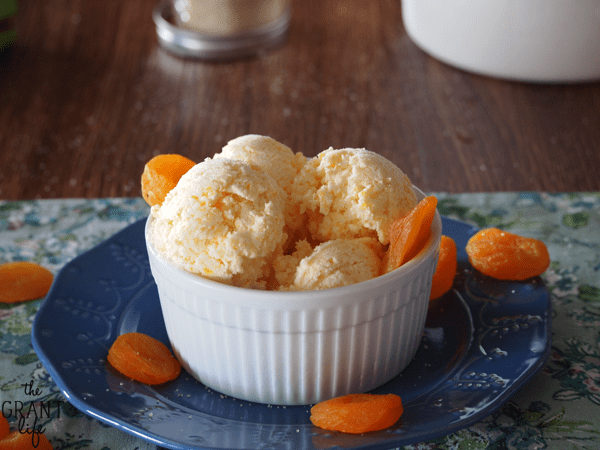 I went to grab a few apricots from the dish and almost 1/4 of them were gone. I seriously looked around like someone had entered my house and eaten my apricots. But nope, wasn't an apricot burglar. I caught Ryon taking a handful a few hours later. What the what? First, that's a lot of apricots in your hand and second, I didn't even think you liked them! Turns out he does like – very very much. We went through the bag I had bought within 2 days. [I may have helped a little.]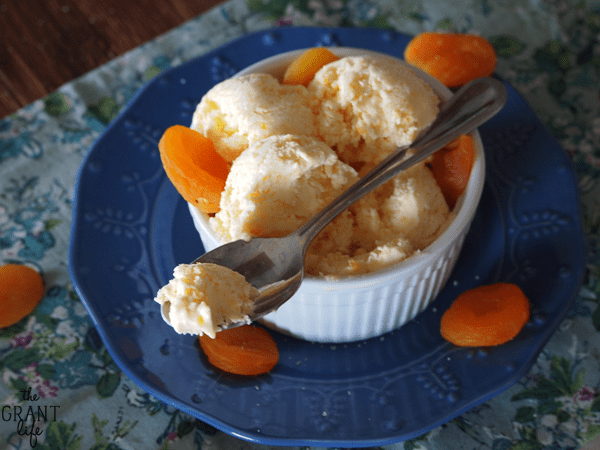 Moral of the story? You learn something new everyday and you can never have too many apricots! They are permanently on our grocery list now and I'm sure there will be more apricot recipes. Especially since everyone in the Grant house seems to like them sooo much!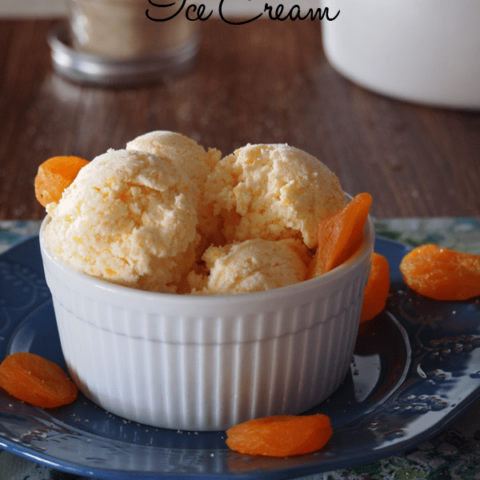 Apricot and Cream Ice Cream
Ingredients
1 cup dried apricots
1/2 cup sugar
2 cups heavy whipping cream
1/2 cup whole milk
2 tablespoons vanilla
Instructions
Combine the apricots with 1/4 cup of sugar and let sit for 1 hour.
Chopped apricot/sugar mixture in a food processor until coarse.
Add the rest of the sugar, cream, milk and vanilla and mix for a few seconds, until combined.
Start ice cream maker and pour mixture in.
Churn for 20-40 minutes or until thick.
Enjoy!
Love this ice cream recipe? Be sure to check out: