One thing that I have learned since starting our natural living journey is that everyday household items are used a lot. Every time I get in the shower I see things that use to be only in my kitchen on my shelves. One of my go to beauty products that does double duty is coconut oil. I use it more often in my bathroom then I do in my kitchen. That may sound odd but let me share 5 of my favorite uses for coconut oil [other then cooking] and maybe you'll add a jar to your bathroom as well!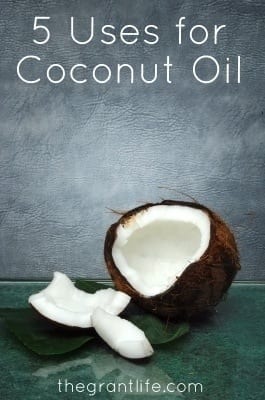 First, there are two types of coconut oil – refined and unrefined. Unrefined coconut oil smells like coconut! Oh happy day! Refined does not as it has been processed. I use coconut oil probably once or twice a week because a little goes a long way. Here are the 5 ways that I use coconut oil during the week.
1. Hair mask – Amanda from a Royal Daughter told me that she used coconut oil on her [beautiful] curly hair and I was intrigued. Im always willing to try anything that will help tame my hair beast. As I started to use it once or twice a week, I noticed that it also helped my psoriasis on my scalp. After a few months I was even able to stop using my medicine for my scalp because it removed mostly all of it! Plus, it moisturizes my hair and leaves it super soft after. When I use it I start with the coconut oil and then use shampoo to wash it out. [And it still leaves my hair soft after.] The coconut oil can be well, oily, so I want to make sure my hair doesn't look greasy after. The coconut oil then shampoo method works best for that.
To use as a hair mask – scoop out some coconut oil and apply it to your roots and scalp while in the shower. Twist it into a bun and let it sit for about 5 minutes. Rinse out then apply your shampoo.
A few words of caution: coconut oil will leave your tub slippery after so be sure the person after you knows that. I step out of the shower and turn the water really hot so that it will help get rid of the oil on the tub floor.
2. Shaving cream – I ditched regular shaving cream years ago mainly because it was expensive and I seemed to go through it quickly. [Two things I don't really like.] Instead I use my handy dandy [earth friendly] coconut oil. Its super easy and it leaves my legs feeling so soft! Just apply it to your legs and shave as you would normally.
Again the coconut oil is oily so I apply it, shave and then use a sugar scrub after to finish the job. It leaves my legs silky smooth and it lasts at least 2 days! [Win!]
3. Cuticle cream – This one is something that is a great effort of using it regularly in the shower. It moisturizers my whole hands but my cuticles get the main benefit since I use my finger tips to apply it to my scalp and legs.
4. Lip balm – Apply it to your lips while you are in the shower for an amazing all day lip balm. You can add a little sugar to some coconut oil and make a lip scrub.
Check out this recipe for a DIY whipped lip scrub! Its fabulous!
5. Moisturizer – Im sure its clear that coconut oil is a great moisturizer. I use it on my elbows, my knees and any other dry part of my body while in the shower. I let it sit on the dry spot for a few minutes and rinse it off.
Here is a super easy homemade whipped body butter. All you need is two ingredients!
One last tip about using coconut oil – buy the cheapest one possible. Coconut oil by nature is an organic product, so when you see an extra ultra super organic version, it probably comes with a extra ultra super organic price tag. I buy the LuAnna brand and it works great.
We are heading home from Michigan today so I will be adding videos to my natural living series once we are settled back home. Also, if you want to see what the other moms are up to, follow the #30daymom hashtag. Ill be back tomorrow with another natural living idea from our family to yours!
Check out these other natural living posts:
Be sure to grab your free natural products e-book as well. In it I share 7 "recipes" for natural products that use coconut oil. It's great to have on your phone or tablet.