For the past month and a half I haven't been washing my hair.. with regular shampoo and conditioner. I have ditched my old shampoo and conditioner and I have gone "no poo". What's no poo shampoo? Well, I use baking soda and apple cider vinegar to wash and condition my hair now. [Yes, really.] Let me tell you more about my no poo journey.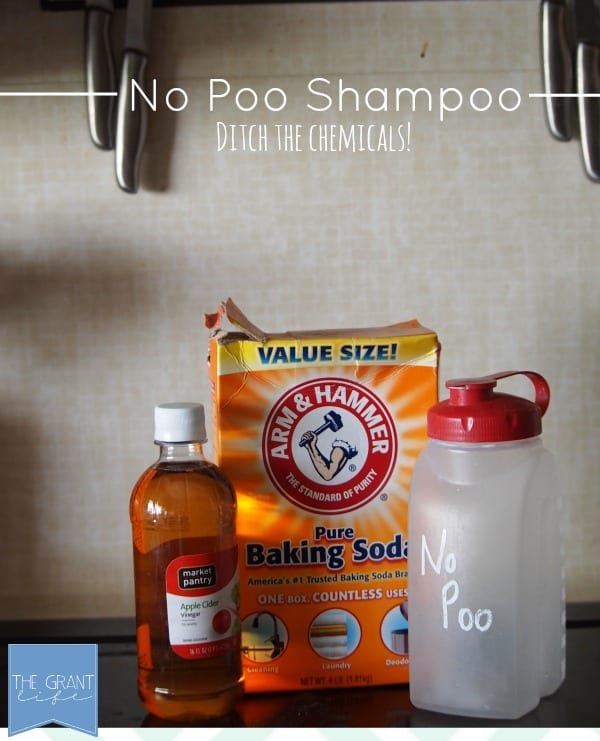 So that sounds weird, doesn't it? To just leave your favorite products and wash your hair with common household items. And to be honest, I wasn't sold at first. I did a lot of research and checked out tons of sites that talked about the chemicals in normal shampoo and conditioners. Here is a laundry list of what is in my favorite Dove conditioner:
Water (Aqua), Cetearyl Alcohol, Dimethiconol, Stearamidopropyl Dimethylamine, Fragrance (Parfum), Behentrimonium Chloride, Dipropylene Glycol, Potassium Chloride, Lactic Acid, Disodium EDTA, DMDM Hydantoin, TEA-Dodecylbenzenesulfonate, PEG-150 Distearate, Gluconolactone, Adipic Acid, Sodium Sulfate, Trehalose, Methylchloroisothiazolinone, Methylisothiazolinone, Yellow 5 (CI 19140), Blue 1 (CI 42090)
Water I can handle, but the others are just crazy. Here are a few examples of what's really in my favorite shampoo.
DMDM Hydantoin – formaldehyde releaser preservative. Although it has been deemed that a small amount of this is not toxic, I don't want to be continually exposed to this toxin. See more here.
Adipic Acid – I couldn't find much information on this one but this is Merriam Websters definition: "a white crystalline dicarboxylic acid C6H10O4 formed by oxidation of various fats and also made synthetically for use especially in the manufacture of nylon". Um, no thanks.
Trehalose – not a harmful chemical but is considered a sugar substitute. Its made from insects and fungi. Fun.
Methylchloroisothiazolinone – Can be a skin irritant and people with sensitive skin should watch out for this ingredient. [Source.]
Methylisothiazolinone [or MIT] – "Another study found that exposure to MIT caused dermatitis, while a recent 2012 study found that brief exposure to MIT is toxic in low concentrations during neural development, increasing the risk of seizures and visual abnormalities." Its ok in low doses but has been limited in some countries due to its toxic nature. [Source.]
Yellow 5 – a synthetic food coloring that is added to food and beauty products. It can cause a severe rash, as well as trigger asthmatic reactions. Scary. [Source.]
Blue 1 – Im not sure what food coloring is doing in conditioner, but when I looked up this ingredient this title "9 Food Additives That May Affect ADHD" from Health.com came up. Really? I know its for food but come on!
Basically I was done. Done with taking the risk with these and so many other chemicals in my bathroom. So I went no poo.

How do I wash my hair now? Its actually really simple. I use that little plastic container and add 1/4 cup of baking soda and then fill it with hot shower water. I pour it over my head [avoid contact with your eyes and CLOSE your mouth.. just a tip] and rub it in like I would shampoo. All that it is doing is getting rid of the dirt. Rinse. I then add 1/8 cup of apple cider vinegar to to the container and fill it with water again. I work that in my hair the same way, focusing on my scalp and ends. I let it sit while I finish in the shower and rinse it off. Easy peasy.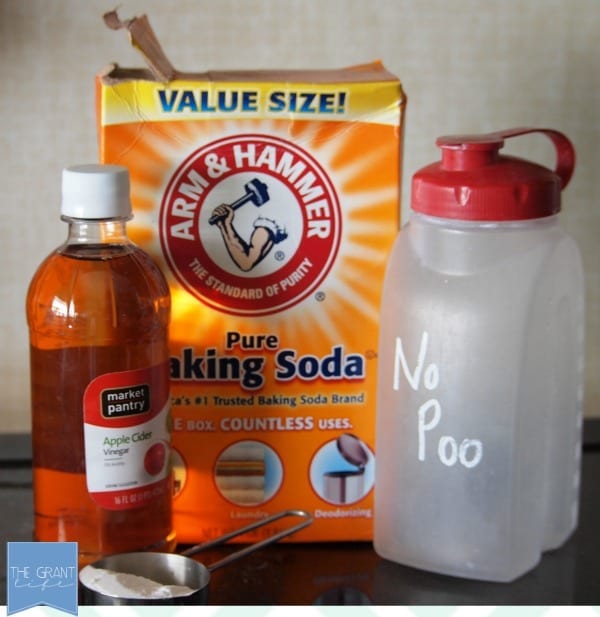 Its actually a lot cheaper then regular shampoos as well. And I dont have to worry about any of those harmful chemicals. Plus, my hair feels just fine. I talked about a transition period in the video and you do need to give it time if you are first starting a no poo routine. Your hair is overproducing oils because they are being stripped by commercial products. Give it at least 2 weeks before you decide if its for you. And if you don't want to go full out no poo then check out your ingredient list before buying. There are also shampoos out there that have less harmful chemicals, like Deva Low Poo.
What do you think? Have you thought about or have you tried no poo shampoo? I'd love to hear your thoughts!
Want more posts like this? Sign up for our emails!