Over the past few months we have slowly started cutting out processed foods from our diets. One because I know its not good for my family and two because its bad for me. This past month I found out that I have Crohn's disease and step one to control it was to lose the processed junk. [Which we were doing anyways, so that part kinda worked out.] Another thing that worked out in my favor is that we traded the margarine for real butter. That's right – real sweet cream butter is my new bestie. And if real butter is my bestie then this strawberry pineapple butter is totally my boyfriend. [Don't tell Ryon.]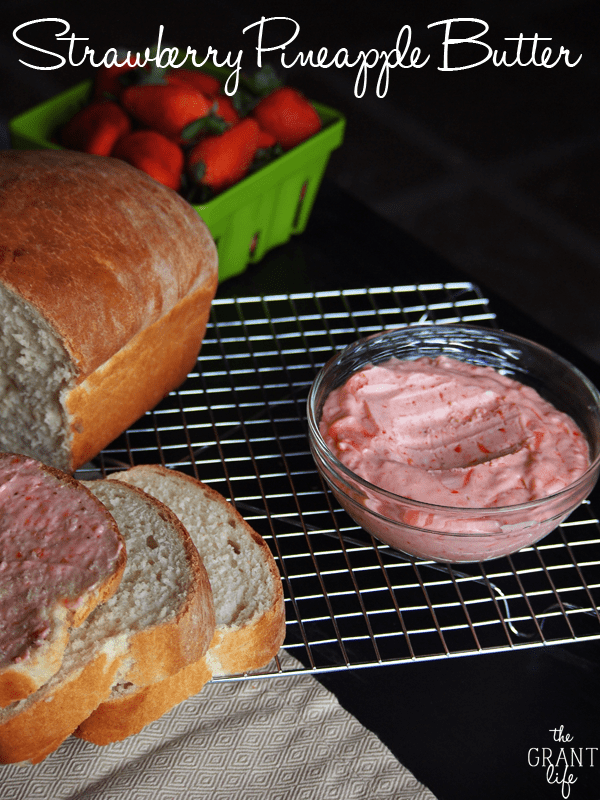 A little back story – I'm going to say for 6ish months I had been feeling like crud. My psoriasis had broken out and I was constantly sick. I bounced from dermatologist to general doctor for awhile and kept getting different answers, and prescriptions. Then my stomach started to hurt and I was losing weight like crazy. Some days I didn't want to get out of bed, let alone eat. I can't count the times that I literally doubled over in pain because it hurt too much to stand. I ended up in the ER, had a bunch of tests done and was told I had an infection in my intestines. More meds and I was sent on my way.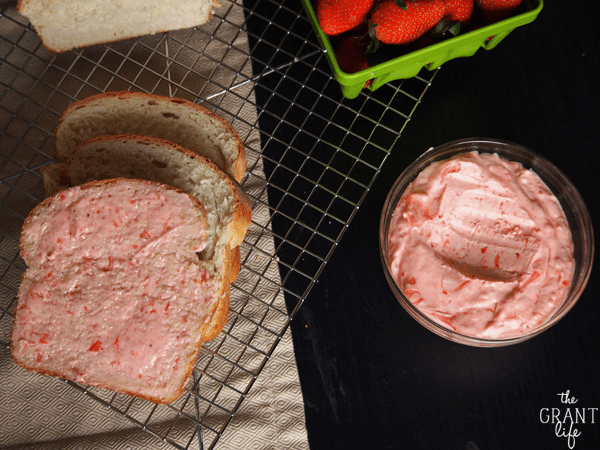 But it was more then an infection and the medicine didn't do anything. It might have made it worse actually. Back to my primary doctor I went to get a referral to see a gastroenteritis. [Which was scheduled 2 months out by the way. Grrr.] I did what I could to maintain the pain, but some days I was knocked out in bed. I was in a haze up until my appointment. The new doctor scheduled a ton of new tests for later that week and I could finally see a light at the end of my hazy tunnel.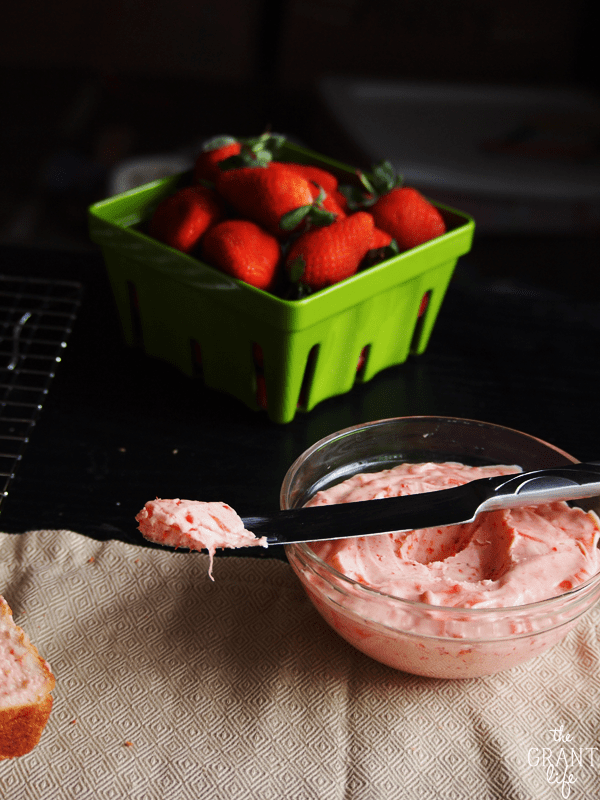 After all my tests, he told me it was Crohns. I cried in the office and I cried when I called and told my mom. [My sweet momma has had Crohns since she was 16 and I have seen what she has been through with it.] The doctor put me on a steroid to bring it back into remission and I have my fingers crossed to get off it soon. I'm just glad to be out of pain and functioning again.
The craziest thing is that after I found out what was wrong and the things I should avoid, its like a whole new food world opened up. I was able to eat again and I wanted good food. Like chipotle pasta skillet and ricotta cake. My taste buds were back and they wanted the good stuff. Which brings me to this butter. It falls into the "good stuff" category. Real good stuff. [Really.]
I knew the day of the tests that it was going to be a turning point in our lives. And it was. We have changed so much in the past few months I don't even feel like the same person. I'm feeling better and I am so thankful for that. I'm also thankful that my appetite is back and that I crave good, natural, homemade food. So my focus on the Grant life has changed a bit. I'm going to be sharing the things I crave – easy homemade recipes with simple ingredients. Here's to good food yall!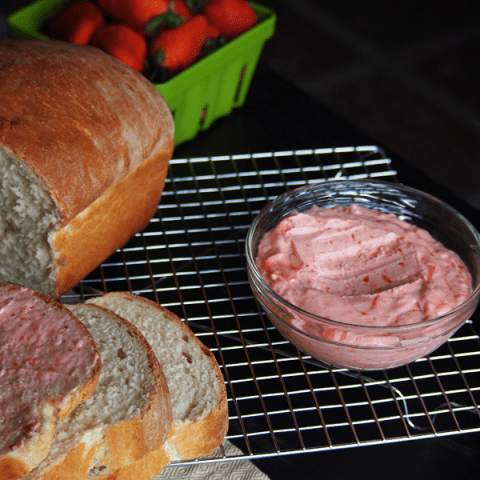 Strawberry Pineapple Butter
Ingredients
2 sticks of sweet cream butter, softened
a dozen fresh strawberries, chopped
5 slices of pineapple
1 teaspoon lemon juice
2 tablespoons sugar
2 tablespoons butter, any kind
Instructions
Melt the butter and sugar in a small saucepan.
Add the fruit and lemon and bring to a slow boil.
Once it boils, mash the fruit a little to expel the juices.
Let simmer for 3-5 minutes.
Remove from heat and let cool.
Put the softened butter and the cool compote in a mixer.
Mix until blended.
Transfer to a container.
Enjoy!
Notes
Fruit is approximate. Add more or less depending on your taste.
Will store in the fridge for a week.
Nutrition Information:
Amount Per Serving:
Calories:

2383
Cholesterol:

547mg
Sodium:

39mg
Carbohydrates:

145g
Fiber:

15g
Sugar:

114g
Protein:

8g
Want more recipes? Check out: