These spicy cheddar sausage balls are an easy appetizer to bring to your next event.  Or whip up for a quick breakfast! These classic sausage balls are made with Bisquick and are ready in under 30 minutes. Everyone will love this quick and easy appetizer!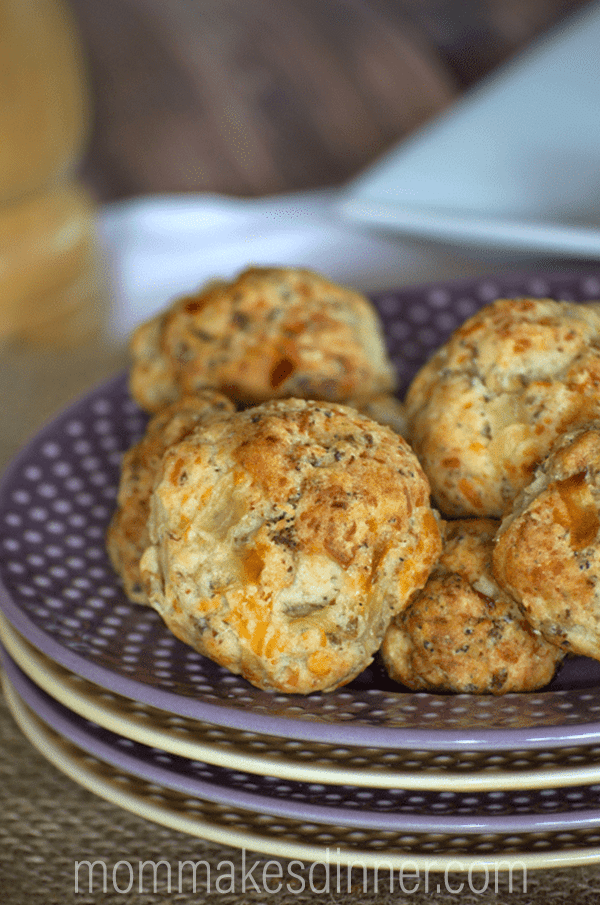 We decided this year to do the book advent calendar thing-y with the kids.  Ya know, where each night you open one wrapped book til Christmas?  That one. My moms and went to the book store and bought 25 books for the occasion. 
Long story short – it didn't go well. The kids fought over who was going to open the present each night and then they lost interest when they realized they were only books. Currently taking suggestions for new advent ideas for next year.
Classic sausage balls
I'm also working on finalizing my menu for Christmas day. We normally start the day with a light breakfast and some appetizers. We finish out the day with a big family meal, which typically includes my momma's lasagna.
These cheesy sausage balls are always on the appetizer list. They come together quick and everyone loves them. They are perfect for snacking on throughout the day.
A sausage ball is exactly what it sounds like – a mixture of sausage and other ingredients, normally cheese and a flour blend. You can customize your sausage balls to your taste and add in (or take out) anything you'd like.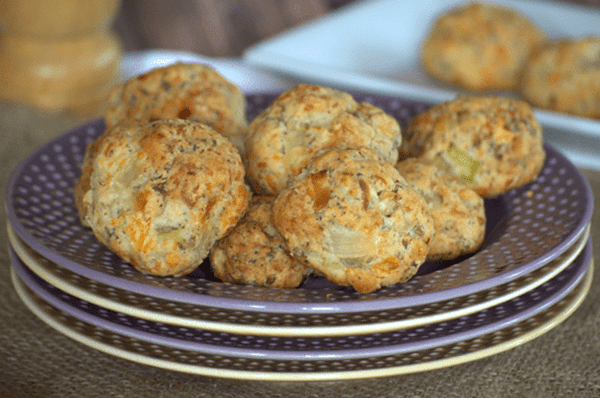 Sausage ball ingredients
The great thing about these classic sausage balls is that there are very few ingredients needed to make them. You will need:
Bisquick
breakfast sausage
cheese
milk
spices
Bisquick – There are a few options when it comes to the type of Bisquick to use here. You can buy the classic Bisquick, grab the gluten-free Bisquick if needed, or make your own! I love using my homemade Bisquick mix because it's cheaper than the store bought and you know exactly what's in it.
Breakfast sausage – You can use any kind of breakfast sausage that you like for these sausage balls. I like to use a spicy pork breakfast sausage, but any type of sausage that crumbles will work here.
Cheese – Again, feel free to use any type of shredded cheese you prefer in this recipe. I love using a sharp cheddar, but any shredded cheese is good.
Milk – You will need 3/4 cup of milk for this recipe. Regular cow's milk is what I used, but you can use any non-dairy milk (almond, coconut, etc) here too.
Spices – I just used salt, pepper and paprika in my sausage balls. The sausage brings most of the flavor so I kept the spices mild. You can add in/subtract any spices you'd like.
Optional add-ins – Like I mentioned, you can customize these sausage balls to your liking. I love adding onion to mine (as seen below!) but you can add in:
jalapenos
fresh herbs
bell peppers
celery
cream cheese
or anything else!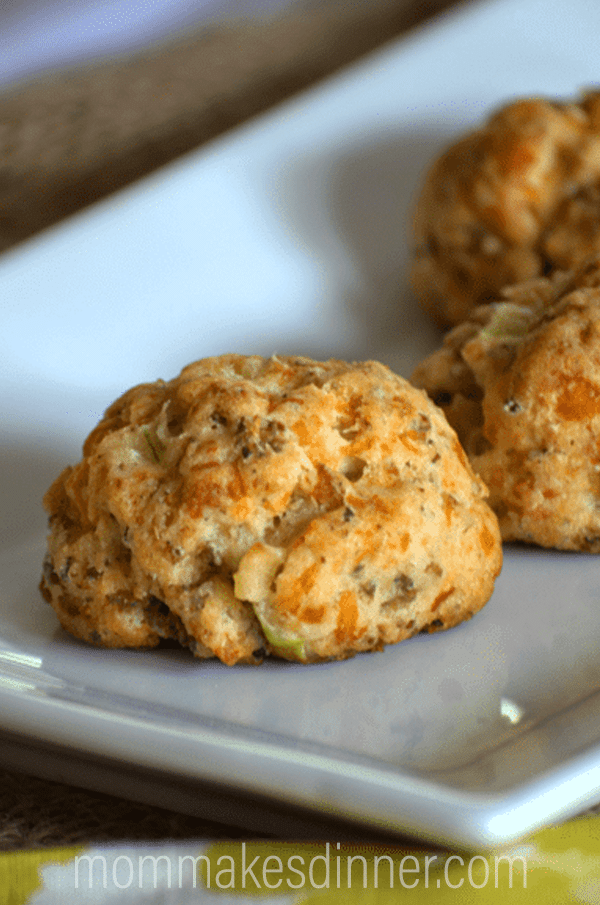 How to make classic sausage balls
Once you have all your sausage ball ingredients gathered, you will also need to grab:
medium sized pan
a mixing bowl
spatula
cooking sheet
silicone liner or baking spray
Start by preheating your oven to 325 degrees. You can either line your cooking sheet with a silicone liner or spray it baking spray. This will prevent the sausage balls from sticking to the sheet.
In your pan over medium heat, cook the breakfast sausage. I added onions to mine and cooked those at the same time. Cook until no pink shows, remove from heat and allow to cool completely.
Once the sausage has cooled, add it to your mixing bowl and mix in the Bisquick, cheese and paprika. Mix everything together until a crumbly dough forms. Slowly stir in the milk and combine.
Roll into balls and drop onto your prepared cookie sheet. You can also drop spoonfuls of dough directly onto the sheet as well.
Bake for 25-30 minutes, or until the edges start to brown. Remove from oven, allow to cool and enjoy!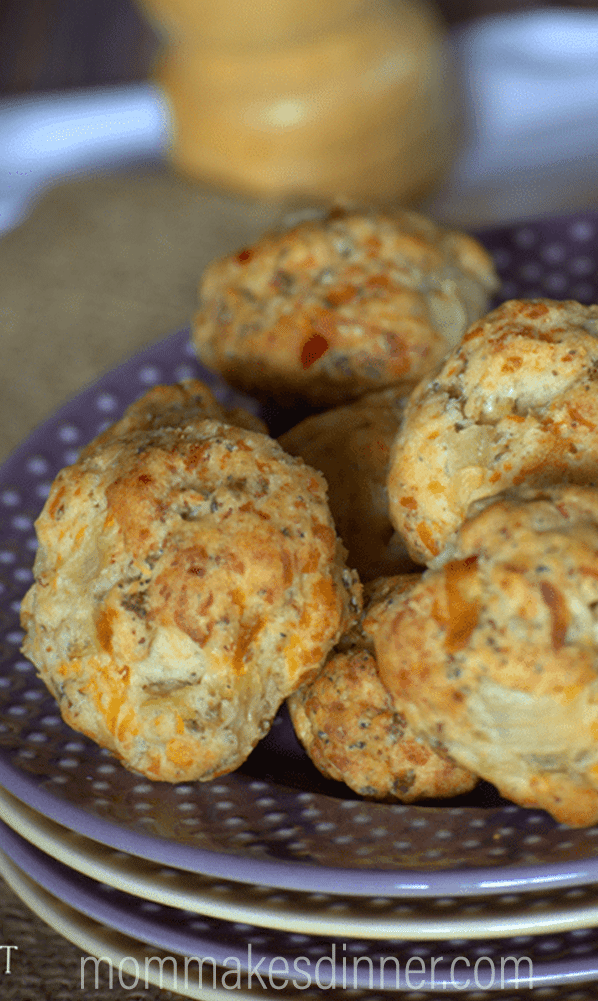 Classic sausage ball questions
These sausage balls are pretty easy to make but I always get the following questions when I share them.
How long are sausage balls good for? – They are good for 2-3 days when stored in an airtight container and put in the refrigerator.
Can you leave cooked sausage balls out? – No. They need to be placed in the refrigerator to be kept safe to eat later.
How do you freeze sausage balls? – In order to freeze these classic sausage balls you need to cook them, allow them to cool completely and then place in the freezer on the cookie sheet. Once they are frozen, remove and place in a plastic bag and put them back in the freezer.
You will want to thaw them out before warming them up in the oven or the microwave.
What can I substitute for Bisquick? – If you don't have any Bisquick on hand, you can try making your own! It's easy and uses basic ingredients. Get the easy homemade Bisquick recipe here!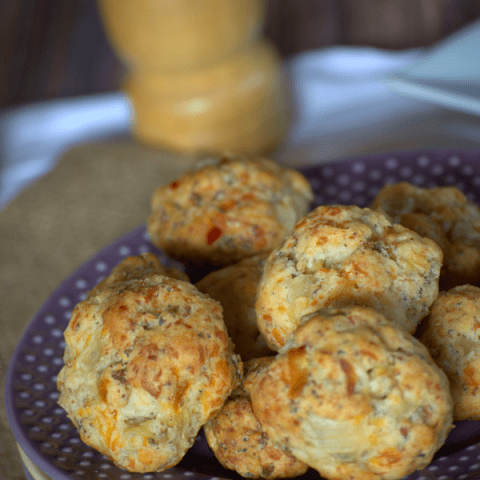 Spicy Cheddar Sausage Balls
Ingredients
1 large onion, diced
1 pound spicy breakfast sausage
3 cups Bisquick mix, or homemade
1 pound sharp cheddar
1/2 teaspoon paprika
3/4 cup milk
Instructions
Preheat the oven to 325 and spray a cookie sheet with cooking spray.
Cook the sausage and onion.
In a large bowl, mix the sausage, onion, Bisquick, cheese and paprika.
Stir in the milk slowly.
Roll into balls and place on the cookie sheet.
Bake for 15-20 minutes or until golden brown.
Nutrition Information:
Amount Per Serving:
Calories:

4916
Cholesterol:

775mg
Sodium:

11254mg
Carbohydrates:

258g
Fiber:

11g
Sugar:

64g
Protein:

204g
Like this recipe? Be sure to check out:
Like it? Be sure to PIN IT!