Yall, I am seriously so excited to share this recipe today! Its my momma's homemade lasagna. And oh my word. Its good. Like we don't count calories and always go for seconds good. Like its even better the next day and its awesome straight out of the fridge. And the best part is – its super easy to make! And the ingredient list isn't big or anything special. It must be the extra love that she puts into it when she makes it. Or the whole milk ricotta cheese. Either way, you need to make this asap!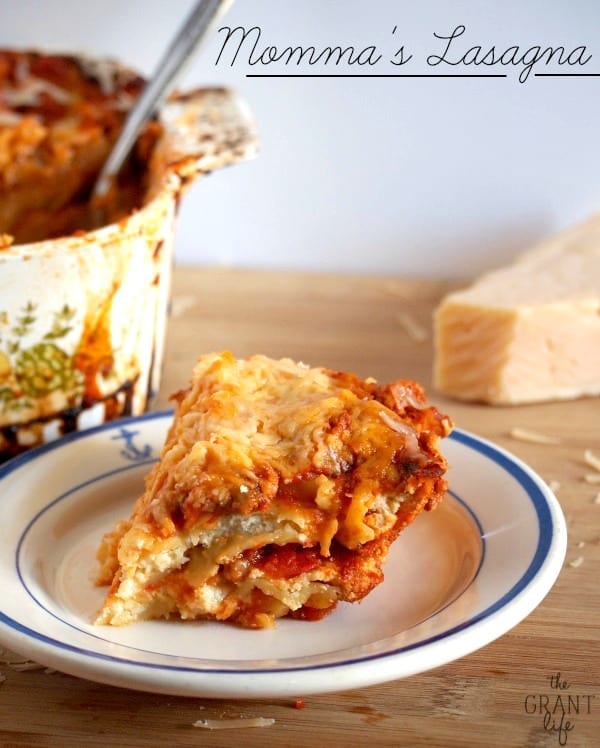 In our house, Sundays are for church and family. We go to church and then head over to my parents for a day of good ole family fun. Any by fun I mean the kids play in the backyard and my momma and I cook. [After we read the Sunday paper and the ads of course. Traditions.] My little brother even makes an appearance and we all sit down for a big home cooked family meal. And I mean big. We normally get sent home with leftovers that I turn into at least two meals during the week. Its the best! [Momma is Italian. We both cook for an army.]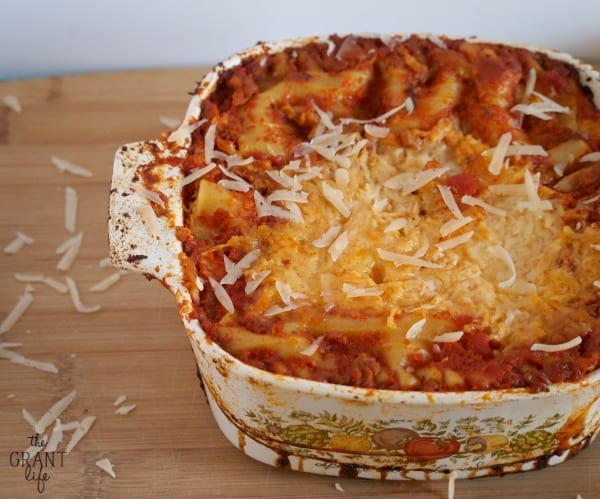 Now momma's lasagna doesn't happen just every ole Sunday. No, its a special treat. We make it during the holidays and a few times during the year when we get a hankerin'. Its not light on the calories and we know that. Its worth it though. Every bite is so good. Oh and its messy. Like, fall all over your plate messy. That's ok too. Because – its amazing. And cheesy. And hearty. And oh so delicious!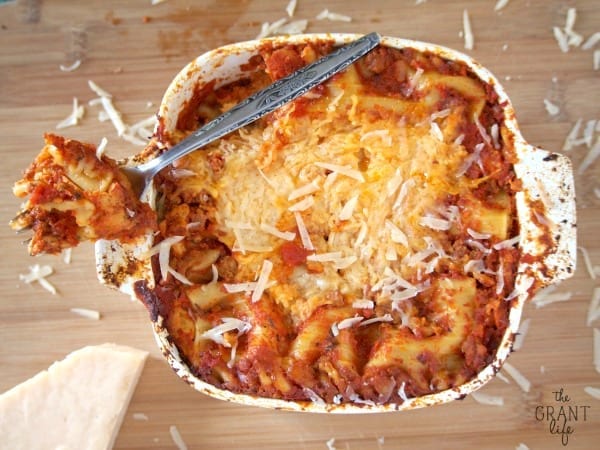 And when we make it, we don't make just one. No, we make like 3 pans of momma's lasagna. This particular time we made two 9×13 pans, one loaf pan [for little brother to take home] and this baby Corelle dish just for me. Yes, just for me. [Ok, I shared but I was hoping it was going to be just for me.] The recipe below is for one 9×13 pan, but if you are making one – you might as well make two! They freeze and heat up so well. So double it if you want to make two and make sure you call me over so I can have a few slices.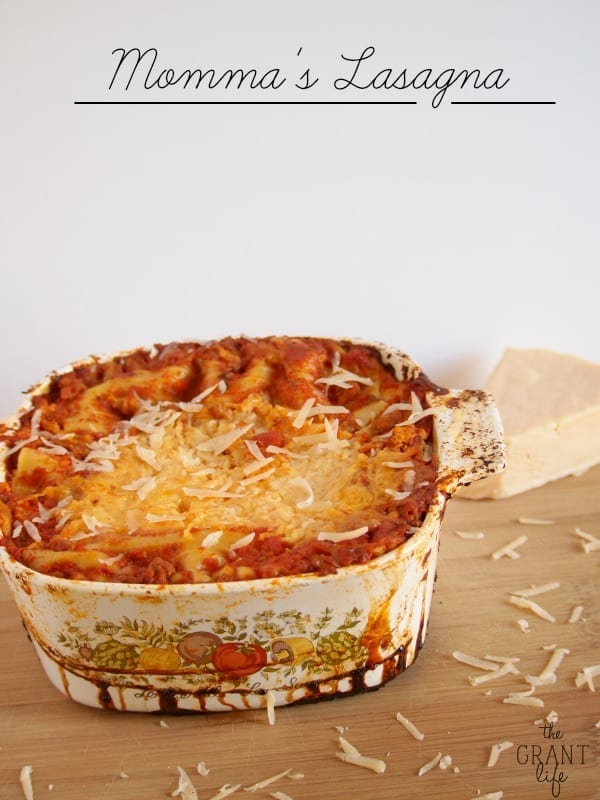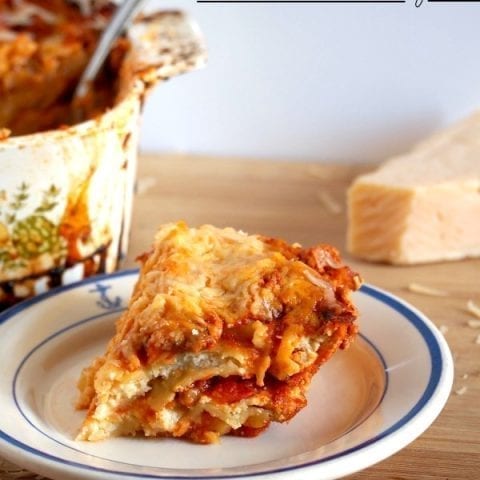 Momma's Lasagna
Cook Time:
1 hour
55 minutes
Total Time:
2 hours
25 minutes
Ingredients
1 box lasagna noodles - no cook
1 lb. ground beef
1 large onion, chopped
2 cloves garlic, peeled and crushed
1 (29 oz jar) spaghetti sauce
1 can (15 oz) crushed tomatoes
1 (15 oz) ricotta cheese
8 oz shredded mozzarella
1 large egg
1 cup Parmesan cheese (fresh is best!)
Instructions
Preheat the oven to 375.
Brown the ground beef, garlic and onions until done.
In a large sauce pan combine the jar of sauce, crushed tomatoes and the ground beef mixture.
Heat until bubbling.
In a large mixing bowl combine the ricotta cheese, 3/4 of the mozzarella, 1/2 of the Parmesan and the egg.
Take your 9x13 pan and cover the bottom with sauce.
Add a layer of cheese mix, layer of meat and layer of lasagna noodles.
Repeat layering until pan is full.
Bake 1 hour covered.
When lasagna is bubbling sprinkle the remaining mozzarella and Parmesan cheeses on top.
Cook for an additional 15 minutes until cheese on top melts.
Let cool!
Notes
This can be doubled or tripled easily! Cover in foil and freeze for a quick and delicious meal later.
Nutrition Information:
Amount Per Serving:
Calories:

3638
Cholesterol:

980mg
Sodium:

8296mg
Carbohydrates:

154g
Fiber:

22g
Sugar:

64g
Protein:

260g
Want more? Check out these delicious recipes: