Miss tacos while on the Whole30 diet? Try these taco boats for your next Taco Tuesday!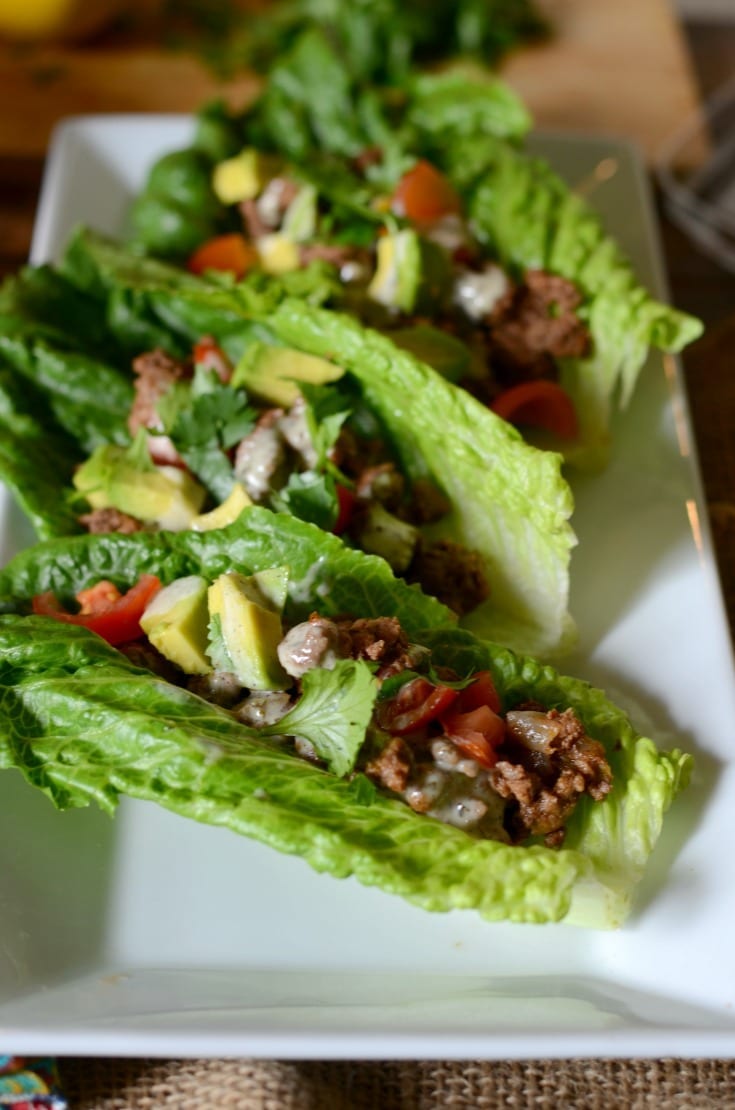 Hey there! This month I decided that I wanted to give the Whole30 diet a go. I have been having issues with my psoriasis lately and had already eliminated grains to see if it helped. It didn't so I made the decision to try the Whole30 elimination diet.
While doing Whole30 (for 30 days!) you are not allowed to have any dairy, grains, alcohol or sugar. All the good stuff! And to be honest, I was nervous at first. I love sugar. I can't even deny it yall. So giving up sugar was my biggest concern when I started the diet.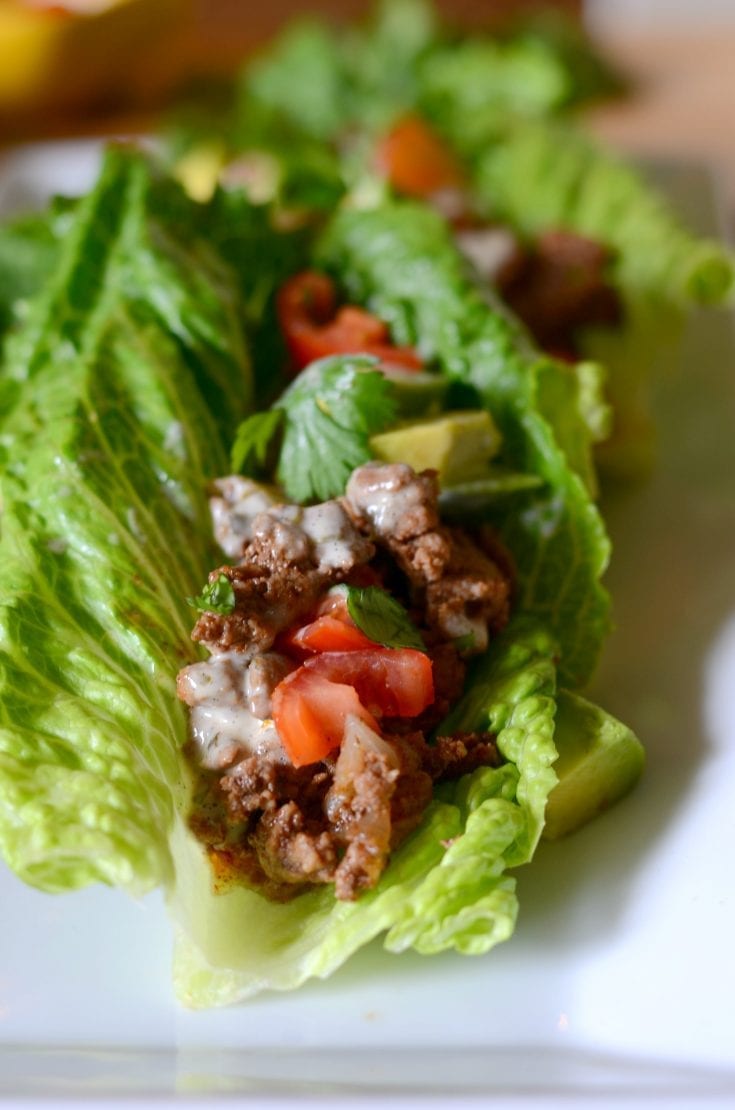 I am halfway through and do you know what I miss the most?!
CHEESE!
Yes. Melty, ooey, gooey, perfect cheese. Oh what I wouldn't give for a slice of Swiss cheese right about now yall.
I totally thought I would miss bread or SUGAR but nope. Cheese.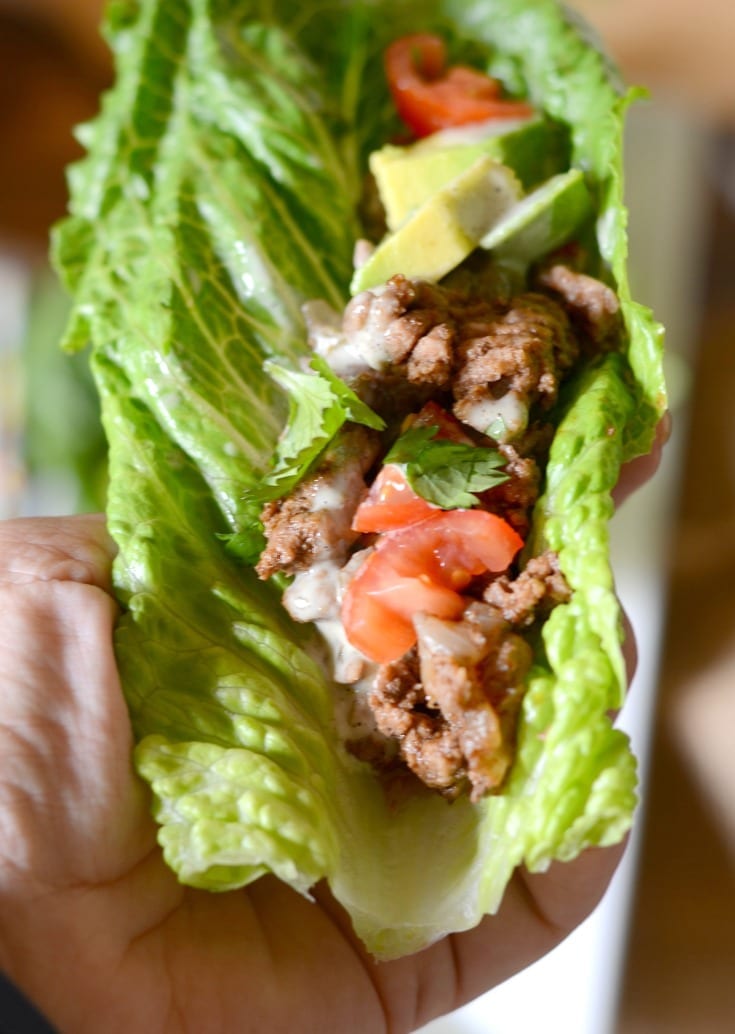 The good news is that I still get to eat tons of great food while on Whole30. I can have all the meat and veggies that I want. I don't count calories. If I'm hungry, I grab a piece of fruit or some veggies. I haven't gone hungry at all. I could go for some cheese every now and then but I am doing ok. The better news is that this week my psoriasis started to clear up! So something is working and my body is adjusting just fine.
If you are looking for a substitute to tacos while on Whole30, try these taco boats! They have all the flavor (minus the cheese) of tacos and are healthier. I used a Whole30 approved dressing for the boats and it was heavenly. (It was Tessamae's avocado ranch!)
A few FAQs about these Whole30 tacos:
Are these tacos Whole30 compliant?
Yup! They are! They don't have sugar, grains, dairy or alcohol. They are perfect for Taco Tuesday!
What kind of meat should I use?
If you are doing Whole30 then you want to use lean grass fed beef. You can also use turkey burger as well.
What if I don't have any lettuce leaves?
If you have any lettuce on hand you can use that to make a Whole30 taco salad. If you don't have any lettuce you can eat just the meat or wait until you do have some lettuce.
What taco seasoning did you use?
I used my homemade taco seasoning! It's Whole30 compliant and easy to make.
I hope you enjoy these Whole30 taco boats!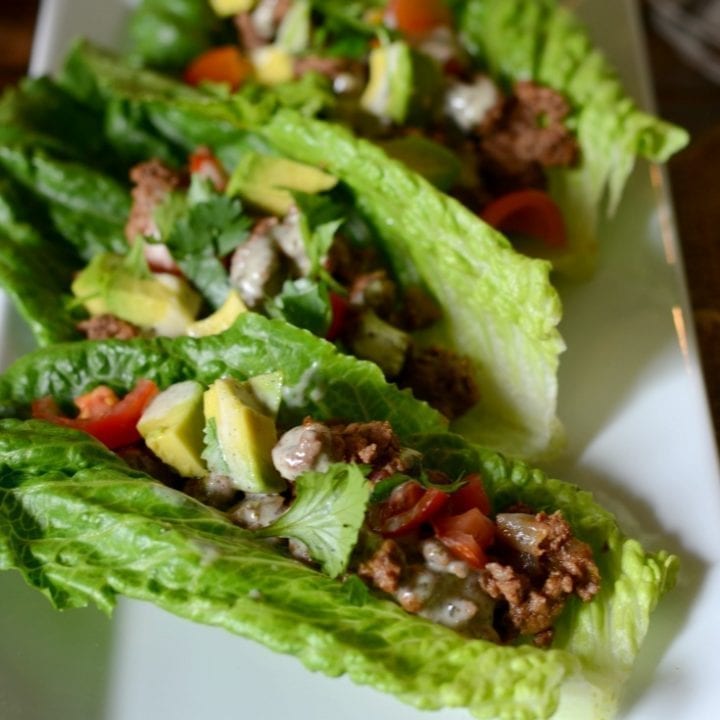 Whole30 taco boats
Ingredients
2 tablespoons olive oil oh ghee
1/2 onion, diced
1 pound lean grass fed ground beef
2 tablespoons of water
large lettuce leafs, washed and dried
diced tomato and avocado for topping
Whole30 approved dressing, optional
cilantro for topping
Instructions
In a large skillet saute the onion in the olive oil for about 5-7 minutes. Add in the hamburger meat and cook into no longer pink.
Pour the water into the pan and then add the homemade taco seasoning. Stir to combine and allow to cook for 2-3 more minutes.
Remove from heat.
Adding the cooked hamburger mix to the lettuce "boats". Top with diced tomato, avocado and cilantro. If desired, add some Whole30 approved salad dressing to the "boats".
Enjoy!