Are you in the mood for a classic? Homemade Coleslaw is in the house. I've always loved coleslaw, but thought it was too hard to make on my own. Turns out – it's easy! Well, from here on out, I'm making my own coleslaw at home. Let me show you how to make homemade classic coleslaw.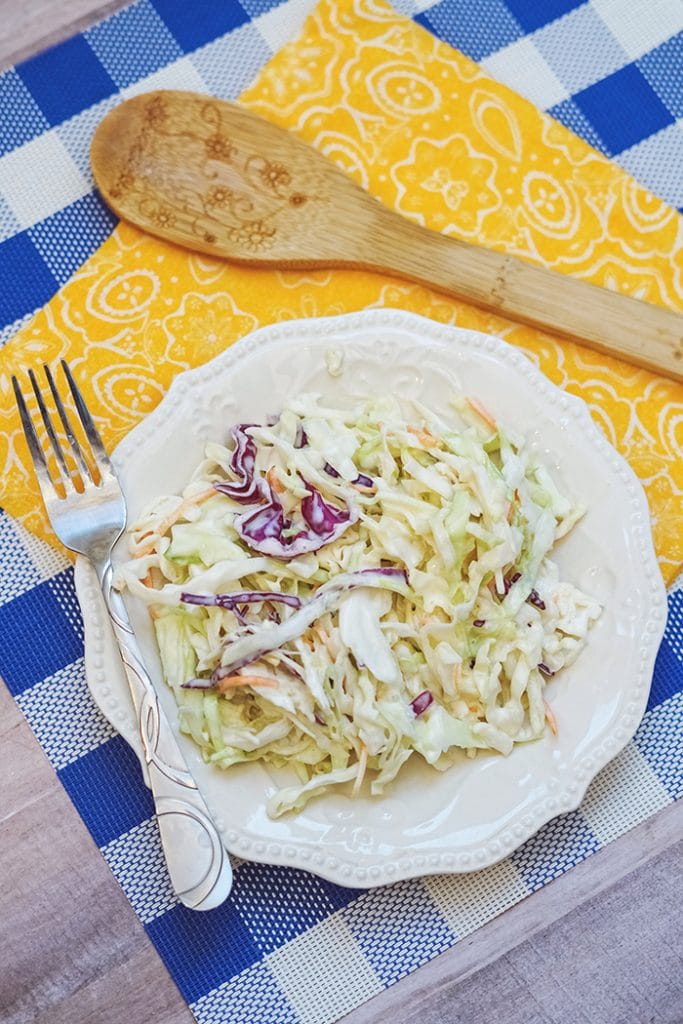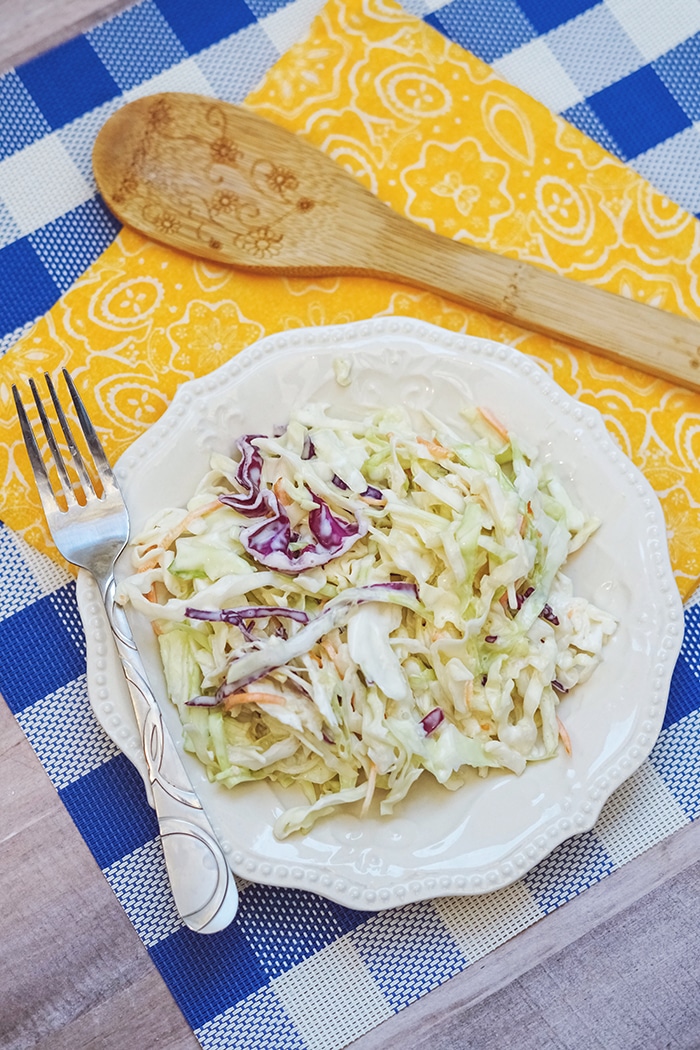 I'll be the first to admit that cabbage is one of my least favorite vegetables. We didn't eat it much as a kid and I kinda of didn't like the smell when it was cooked.
My husband on the other hand LOVES all things cabbage. Like it's his favorite vegetable to eat and loves using it in meals whenever possible.
So we comprised and now we eat classic coleslaw, sauerkraut and other cabbage based dishes.
What is Classic Coleslaw?
Most of you have bought coleslaw from the store, but I'm not sure if you've ever made your own. Coleslaw itself is sliced raw cabbage. You can use different types of cabbages too!
As a whole, it's usually mixed with mayonnaise and sometimes other spices although some people prefer it plain. You can eat coleslaw by itself, but you can also eat it as a topping on hamburgers and hotdogs. It's a very popular dish at BBQs.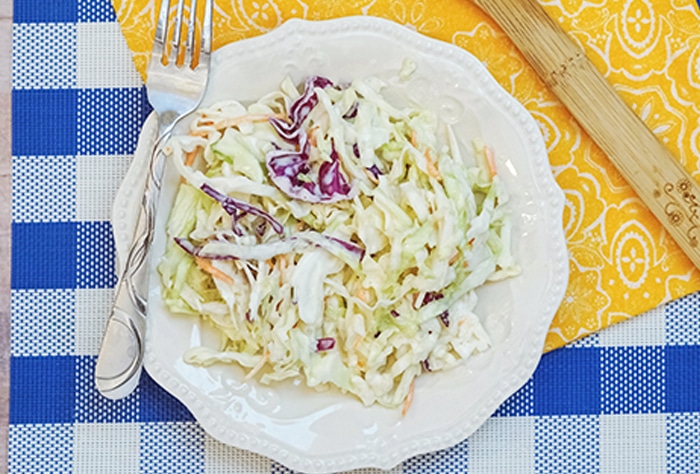 Classic coleslaw ingredient list
I think the best part about this easy coleslaw recipe is that the ingredient list is fairly basic. I bet you even have most of these ingredients on hand already! To make this recipe you will need:
Dry mustard
Vinegar
Sugar
Mayonnaise
Cabbage
Dry mustard – You may be thinking, what is dry mustard? Dry mustard is a type of English mustard. Instead of being mustard in a liquid form, it's mustard made from the seeds of the actual mustard plant. You can use dry mustard as a seasoning and it gives a great aromatic flavor.
Sugar – The sugar takes away a bit of the tang from vinegar and gives this coleslaw a nice flavor.
Vinegar – Plain white vinegar is what I would suggest for this recipe but you can use apple cider vinegar as well.
Mayonnaise – Feel free to use your favorite mayonnaise here or try a hand at homemade mayo! I do not suggest using Miracle Whip or some other type of mayo here.
Cabbage – Cabbage is so inexpensive from the store. You can buy pre-shredded or buy a head of cabbage and shred it yourself. If you buy a head of cabbage you can shredded it in a food processor or simply slice it with a sharp knife until you reach your desired thickness.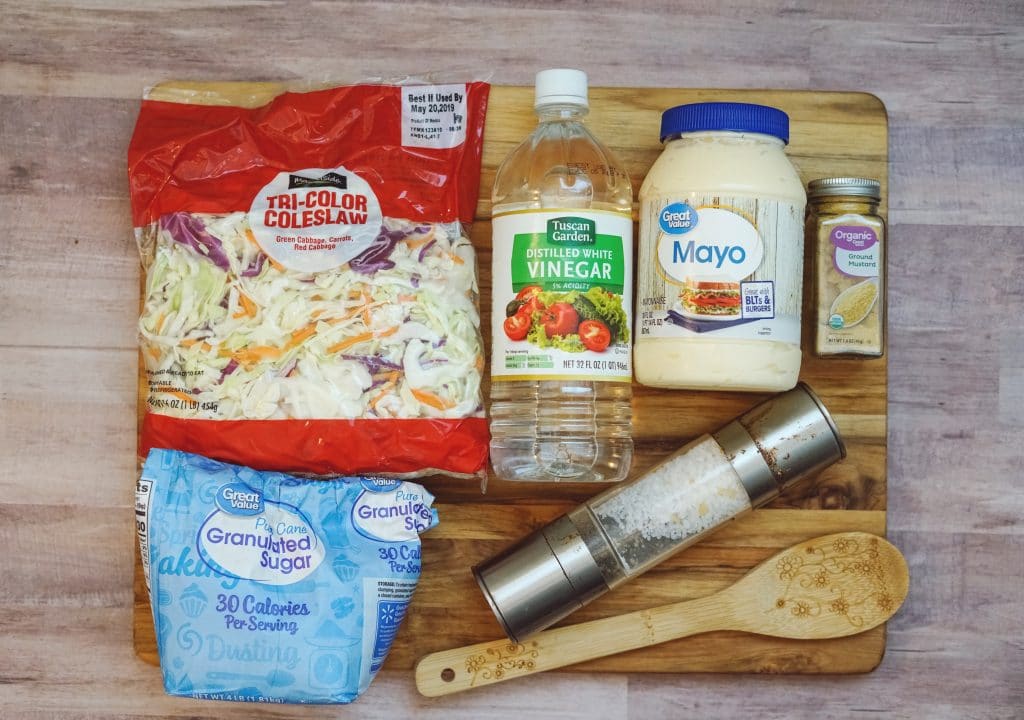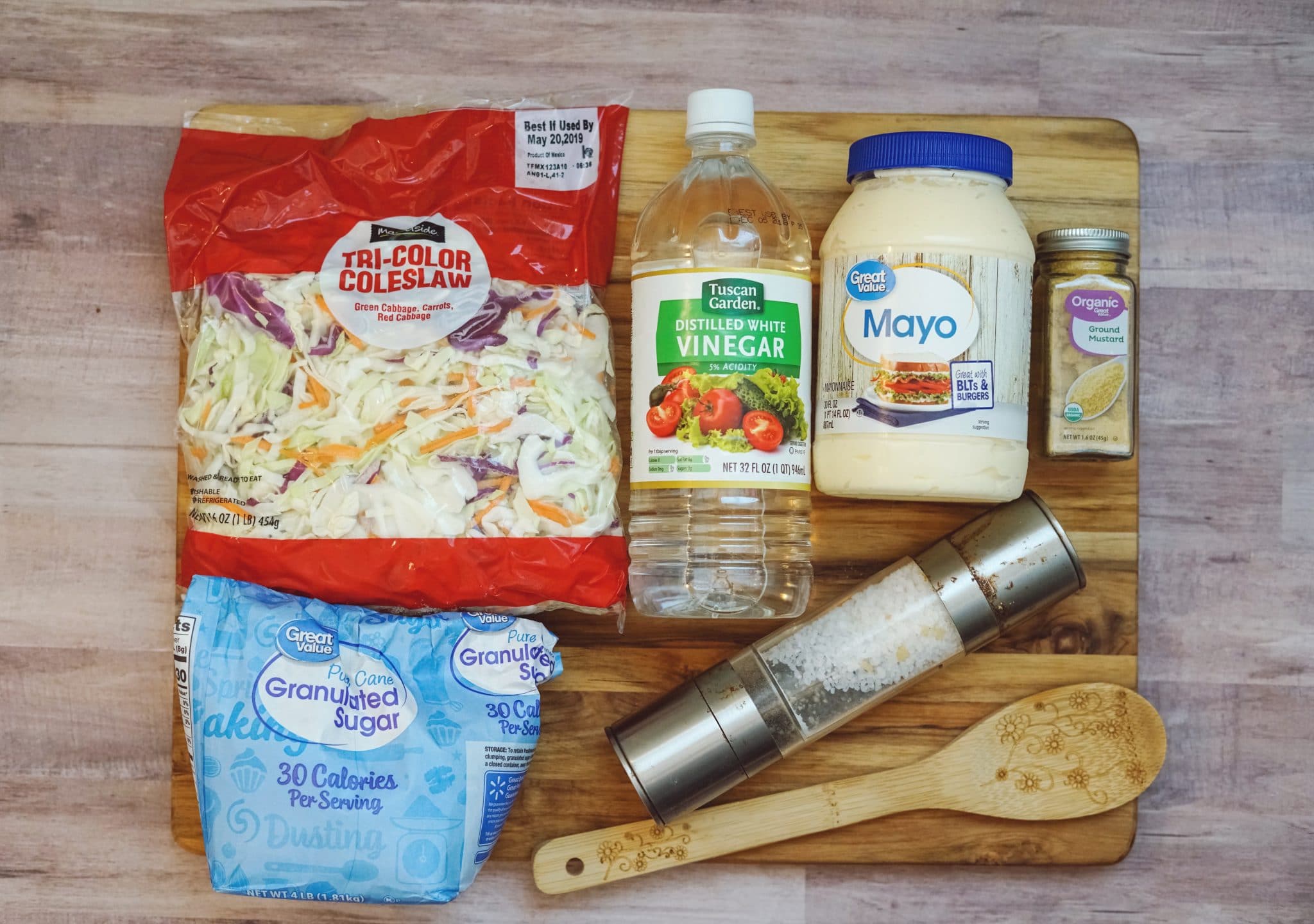 How to Make Classic Coleslaw
Making coleslaw is actually very easy and budget-friendly. Once you have all your ingredients you will also need to grab:
Step 1 – The first step to making homemade coleslaw is to whisk mayonnaise, vinegar, sugar, mustard, and salt together. You want a thick sauce since the cabbage will thin it out a bit with its water content.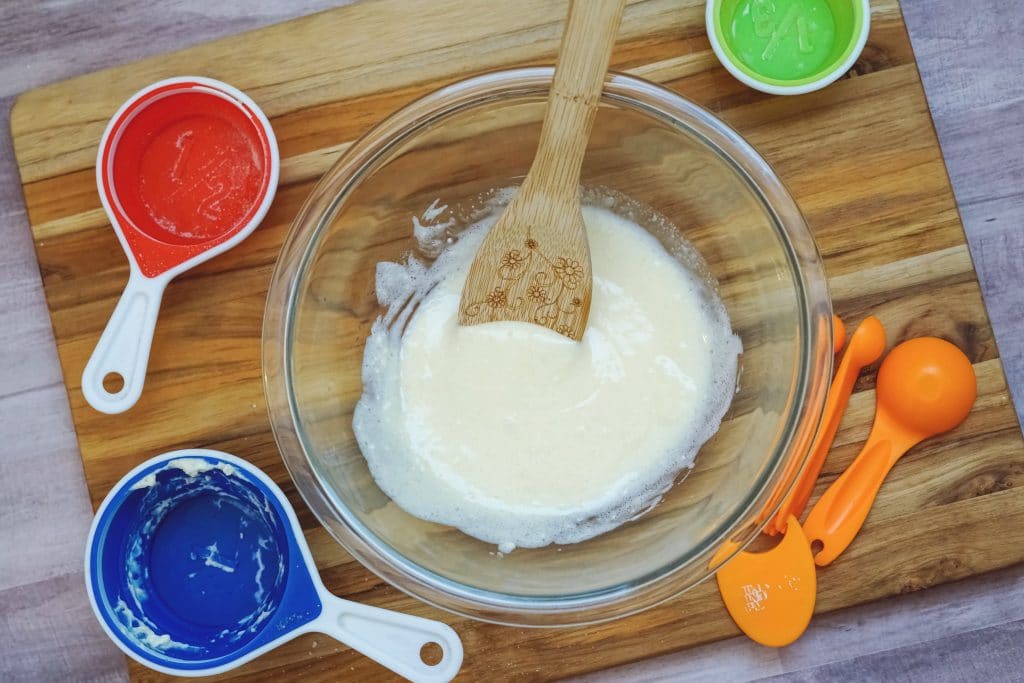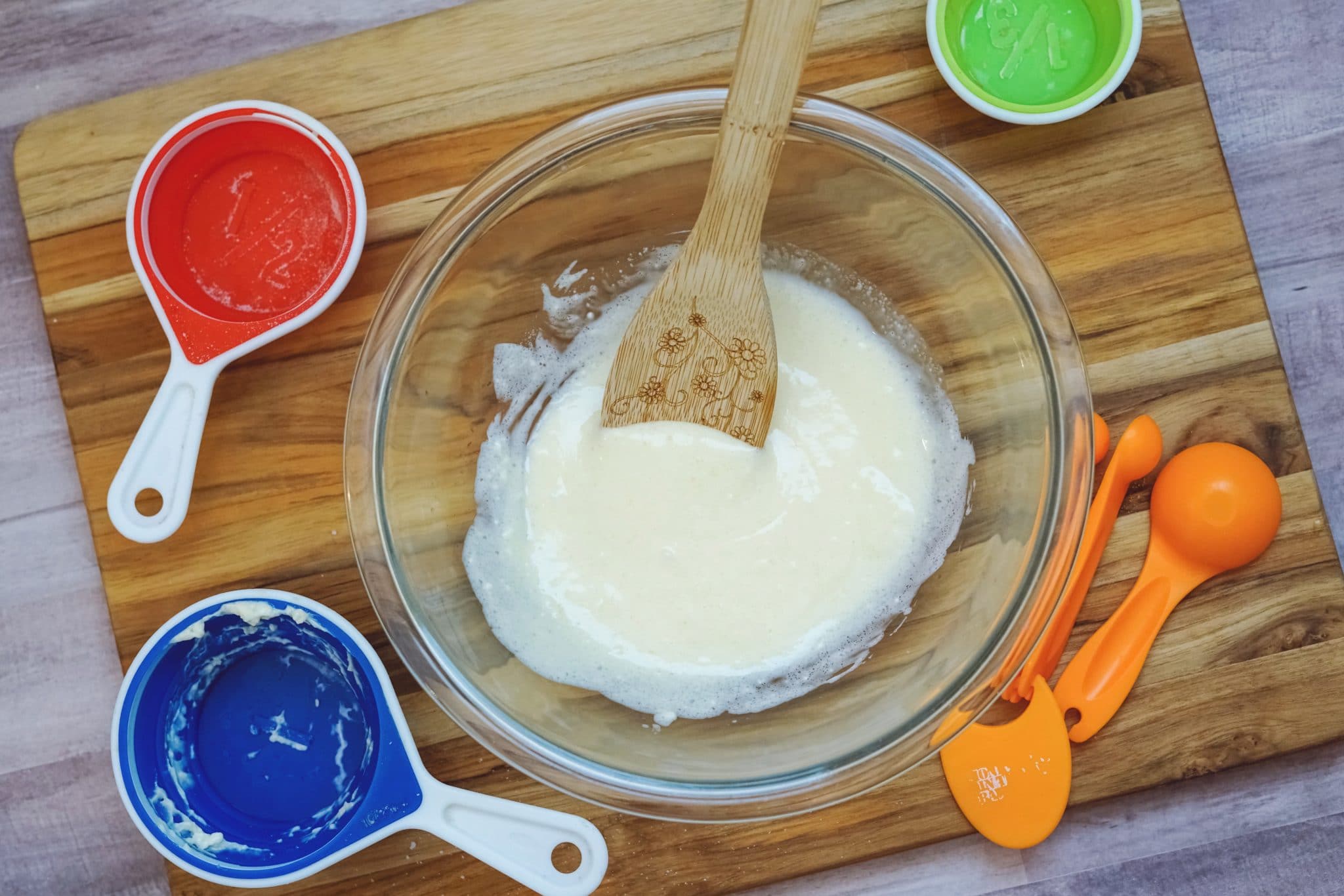 Step 2 – Add the cabbage to the mixture. You can decide how thick you cut up your cabbage if you are not using pre-shredded. Some people like their cabbage thick and others like it thin.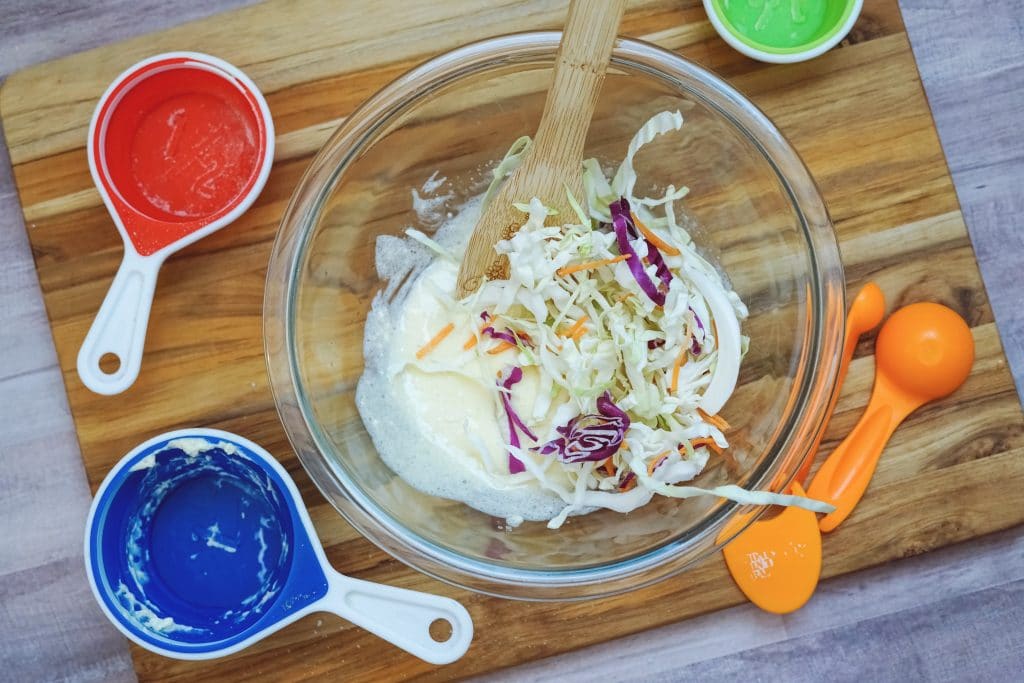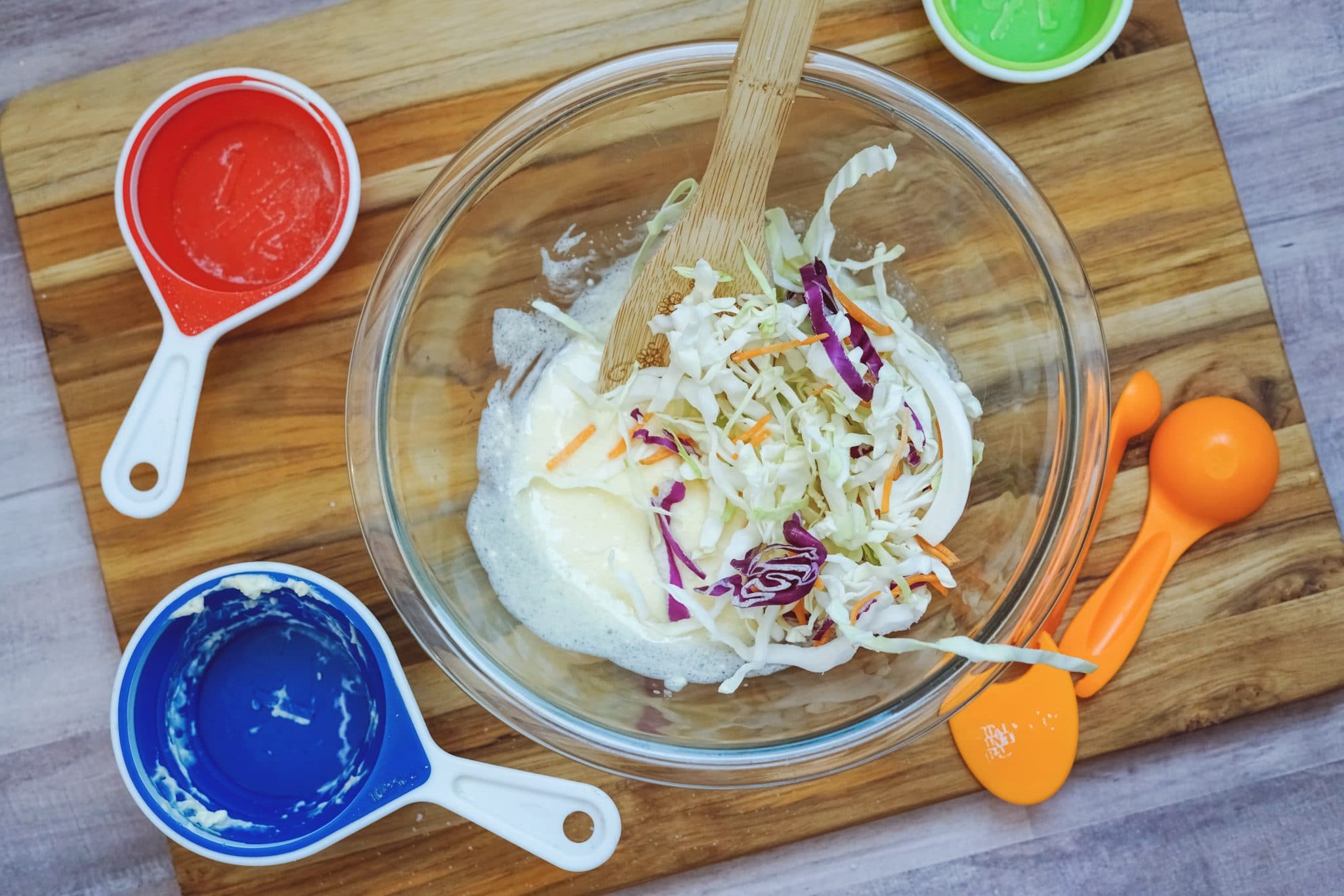 Step 3 – Cover in saran wrap and put the homemade cabbage mixture to the fridge for 2 hours. This helps everything set and taste great. Plus, cold coleslaw tastes way better than not-so-cold coleslaw.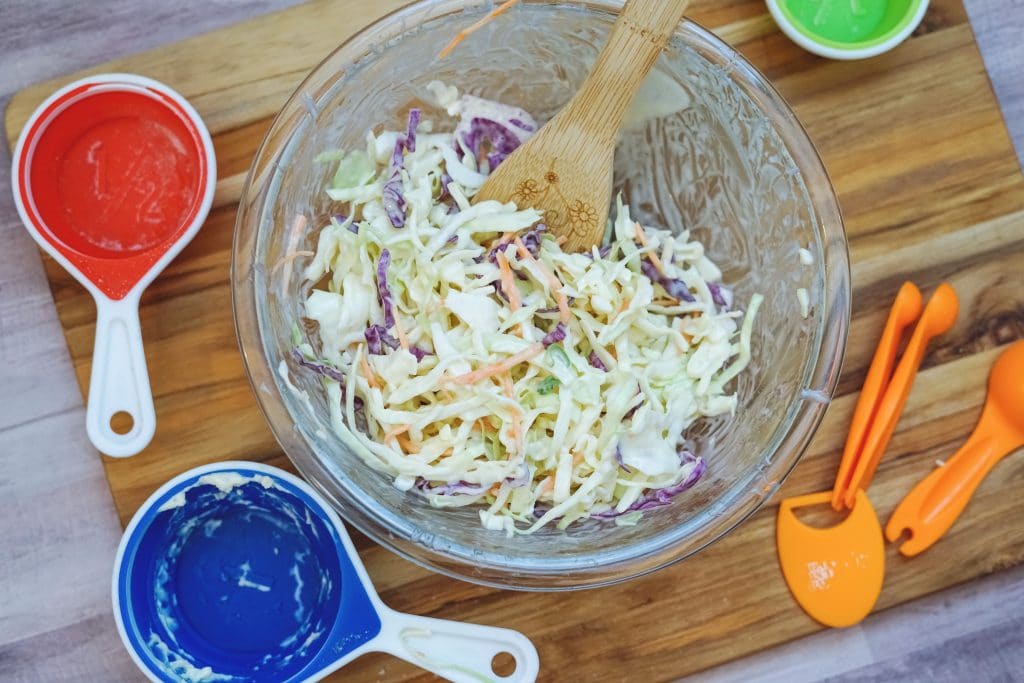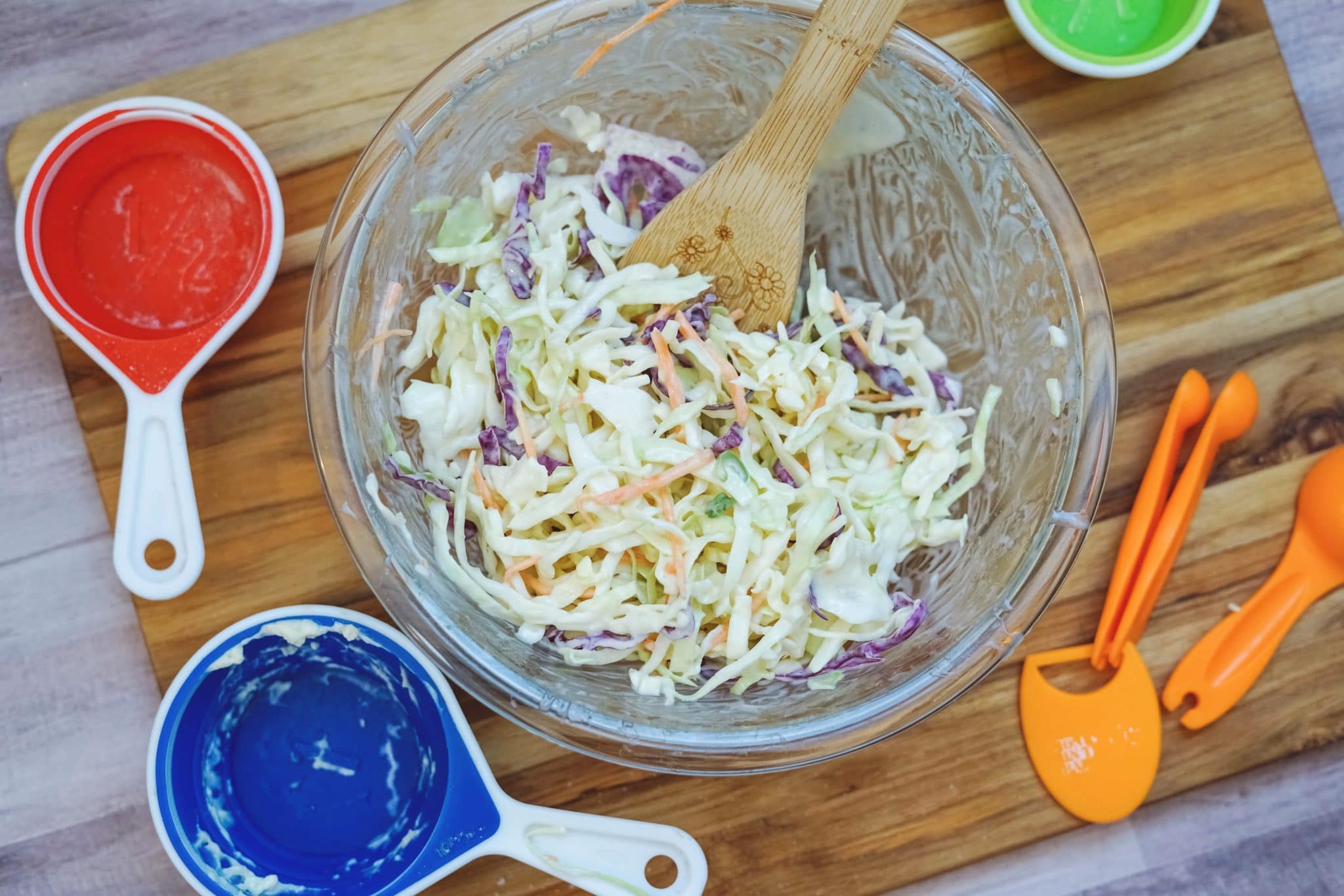 How to Store Homemade Coleslaw
If you plan on storing this coleslaw for later, just know that it needs to be in an airtight container store in the refrigerator. You cannot store this on the counter because it has dairy in it from the mayo. It will last 3-4 days before it starts fermenting and getting a little gross.
If you don't have a lid for your mixing bowl, use some saran wrap or press and seal to keep it fresh.
You can't really freeze homemade coleslaw as a whole. You can freeze it if you haven't added the mayonnaise yet. If you were to freeze the mayonnaise, it would just separate because it's made from oil and vinegar. Truthfully, it would be a wet and watery mess.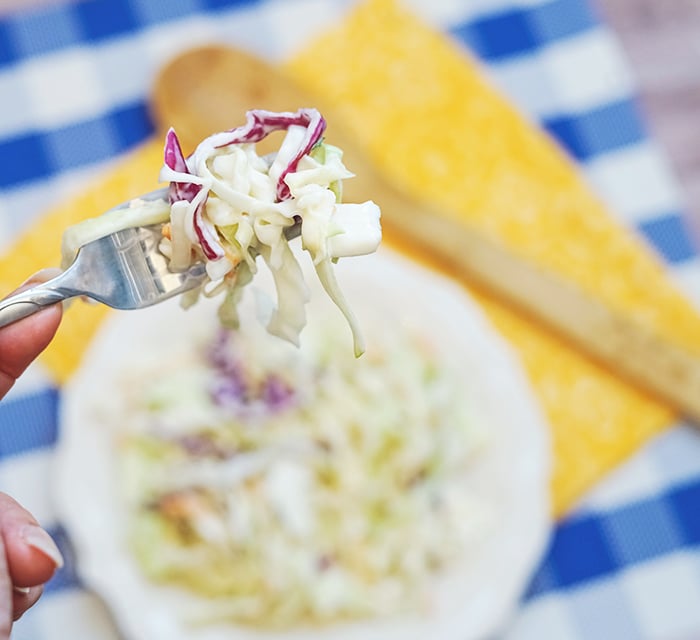 Main dishes to go with your coleslaw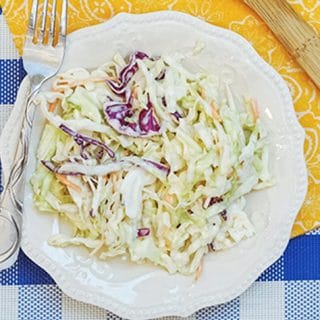 Classic coleslaw
Ingredients
4 teaspoons vinegar
¼ cup sugar
¼ teaspoon dry mustard
¼ teaspoon salt
1 cup mayonnaise
2 10- oz bags finely shredded cabbage, chopped
Instructions
Whisk mayonnaise, vinegar, sugar, mustard and salt together.
Add cabbage
Mix to combine.
Refrigerate for 2 hours and serve.
Notes
Store up to 4 days in the fridge, covered.
Nutrition Information:
Yield:

6
Serving Size:

1 cup
Amount Per Serving:
Calories:

304
Total Fat:

28g
Saturated Fat:

4g
Trans Fat:

0g
Unsaturated Fat:

23g
Cholesterol:

15mg
Sodium:

329mg
Carbohydrates:

14g
Fiber:

2g
Sugar:

11g
Protein:

2g
Looking for more easy side dishes? Try one of these:
Like this recipe? Be sure to PIN IT for later!